Veggie Stuffed mushroom appetizers are rich with buttery, garlic flavor. This mushroom appetizer recipe is simple to make in about 30 minutes.
These yummers look great on a party platter. Your friends and family will devour them!
Make a lot. This easy appetizer is absolutely addicting.
Veggie stuffed Cremini mushrooms disappear off a tray fast.
Choose large Portobellos mushrooms to transform this stuffed mushroom recipe into a gorgeous side dish or special brunch menu item.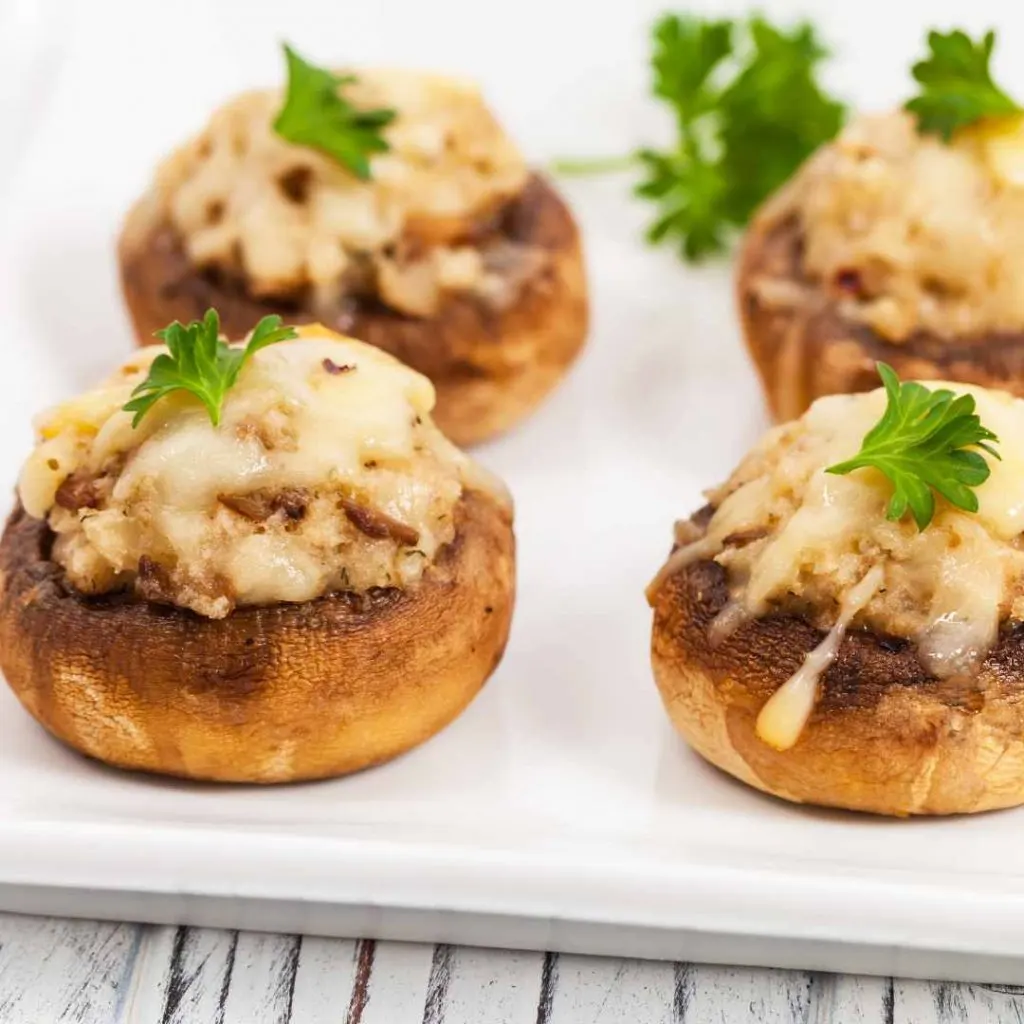 Veggie Stuffed Mushroom Appetizers:
This is my sister Susie's recipe. She surprised us with her Veggie Stuffed Mushroom appetizers at a family event. You have to try these.
These tasty mushroom appetizers are on my list of favorite party food. The spinach stuffed mushrooms vanished quickly at the party. but she left us extra spinach cream cheese filling. It makes a fantastic chip dip.
Remove the stems from the mushrooms. I suggest also slicing a very slim bottom off of each top – giving it a flat surface so when they're stuffed, they don't tip over.
Dice up the mushroom stems, onions and garlic
Saute' the onions and mushroom tidbits in butter or olive oil until brown and soft, about five minutes.
Throw the filling ingredients into a large bowl and mix them thoroughly:
Here's our Filling ingredient list:
Diced spinach leaves
Diced red bell pepper
Sautéd onions, garlic, stems
Salt and Pepper
Cream Cheese
Parmesan Cheese
Feta Cheese
Stuff the mushrooms – if you find your mushrooms falling over, (a problem with the crimini mushrooms due to their round heads), slice a thin piece off the bottom of the mushroom to make a flat surface. Sprinkle freshly grated parmesan cheese over the stuffing.
Stuff the mushrooms.
Arrange the stuffed mushrooms on your baking sheet. I recommend oiling your baking sheet with oil or lining it with a silicone mat.
Bake for 12-14 minutes at 450ºF until the mushrooms are slightly browned
Arrange the baked mushrooms on your serving platter. Enjoy!
Recipe NOTE:
With 13 large Crimini mushrooms, there is quite a bit of stuffing/dip leftover. It is delicious and will disappear FAST so I suggest doubling the recipe for a party.
I made this recipe twice since last year. This time I created the stuffed Portabello mushroom recipes version.
Chock full of fresh veggies and a savory mix of cheeses. These appetizers please a crowd!These portabellas are HUGE! So they are a bit big for finger food at a party. They do make a lovely side dish for a grilled steak though.
I used a dozen Portabellas. The portabella mushrooms are so large they will need the entire filling recipe. So definitely double the recipe if you want some on the side for a cracker dip.
As you can see these are almost a light meal in themselves.
Our party goers demolished these lovely stuffed mushrooms for vegetarians with the delicious spinach mixture. We highly recommend this recipe for a large group event.
This easy appetizer has a large appeal for special dieters too. This vegetarian stuffed mushroom recipe is gluten free and low carb.
Here's Your Printable Recipe Card: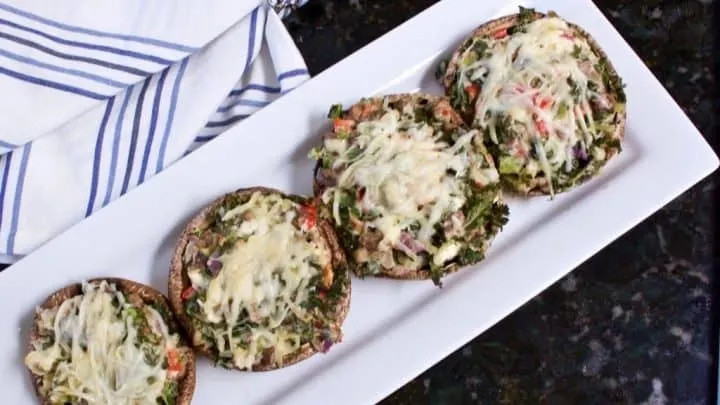 Yield:

32 Cremini or 12 stuffed Portobello mushrooms
Veggie Stuffed Mushrooms
These Stuffed Portobella or large Cremini Mushroom appetizers are rich and delicious. And not difficult to make. These are crowd pleasing vegetarian appetizers.
Ingredients
36 Cremini Mushrooms (or 24 Portobella )with Caps and Stems
2 C Fresh Spinach( or kale) Leaves
1/2 Red Bell Pepper (or whatever heat pepper you enjoy)
2 Cloves garlic, minced
2 Tablespoons butter
1/4 Onion
1/4 teaspoon salt
1/4 teaspoon fresh cracked pepper
3/4 C Cream Cheese
1/4 C Parmesan Cheese
1/4 C Feta Cheese
Instructions
Preheat oven to 450ºF
Pop the stems off from about the mushrooms.
Slice a very slim bottom off of each top if the mushroom heads are round to create a flat surface so they sit level and flat on the baking sheet.
Dice up the mushroom Stems,Onions and Garlic. Sauté them in butter over medium heat until brown and soft: about 5 minutes.
Dice up the Spinach or kale and Red Bell Peppers and add to a big bowl with Sautéd onions, garlic and stems, Salt, Pepper,Cream Cheese, Parmesan Cheese and Feta and mix together
Stuff the mushrooms - if you find your mushrooms falling over, slice a thin piece off the bottom of the mushroom to make a flat surface.
Sprinkle parmesan cheese over the tops
Bake for 12-14 minutes until slightly browned and cheese melted.
Notes
This recipe makes 36 stuffed Crimini mushrooms or 24 portabella stuffed mushrooms.
Recommended Products
As an Amazon Associate and member of other affiliate programs, I earn from qualifying purchases.
Nutrition Information
Yield
12
Serving Size
1 stuffed portabella or 2 stuffed crimini mushrooms
Amount Per Serving
Calories

136
Total Fat

8g
Saturated Fat

5g
Trans Fat

0g
Unsaturated Fat

2g
Cholesterol

23mg
Sodium

180mg
Carbohydrates

12g
Fiber

2g
Sugar

5g
Protein

8g
Follow Us:
We enjoy meeting you on our social networks. Follow us on Facebook, Pinterest, Instagram . Tag us with your pictures of our recipes and comment on how it went for you. We would love to see what you do with them.
We often like, comment and share your posts of our recipes on our daily Instagram stories.
Ask questions and rate the recipe in the comments section below. Please share what you did with this recipe. We are always looking for more and better ways to make homemade food. Other cooks love your ideas!
Recent Posts:
This recipe is included in: Heathy Party Appetizer's Round up at Mariaushakova.com
This recipe is featured in this Link Party: Try A Bite Tuesday
This recipe is part of :20 Magnificent Mushroom Recipes by Patty Anderson