Goat Cheese Stuffed Dates Wrapped in prosciutto and fresh basil are easy to make and VERY yummy.
Serve these healthy appetizers either hot or cold.
Make this recipe for a Holiday appetizer or serve it at any ole party.
These stuffed dates will jump off your serving trays.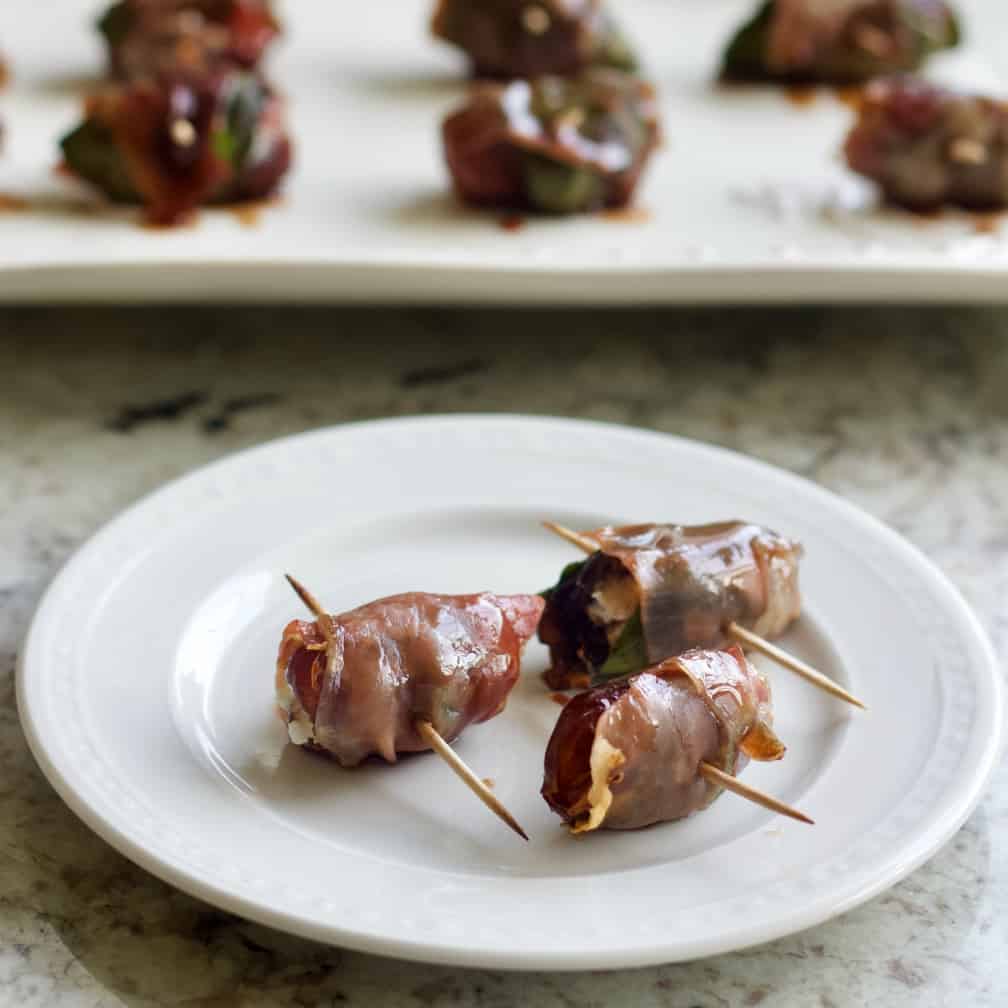 Watch the Video Demonstration:
Watch me make these easy appetizers with the broiler method. These goat cheese stuffed dates are EXCELLENT served hot from the broiler.
But even as they cool the flavors won't disappoint. Leave them for several hours on your party table (if they last). They even make tasty leftovers.
Prosciutto appetizers are food safe raw. That makes these goat cheese stuffed dates yummy and food safe either raw or broiled.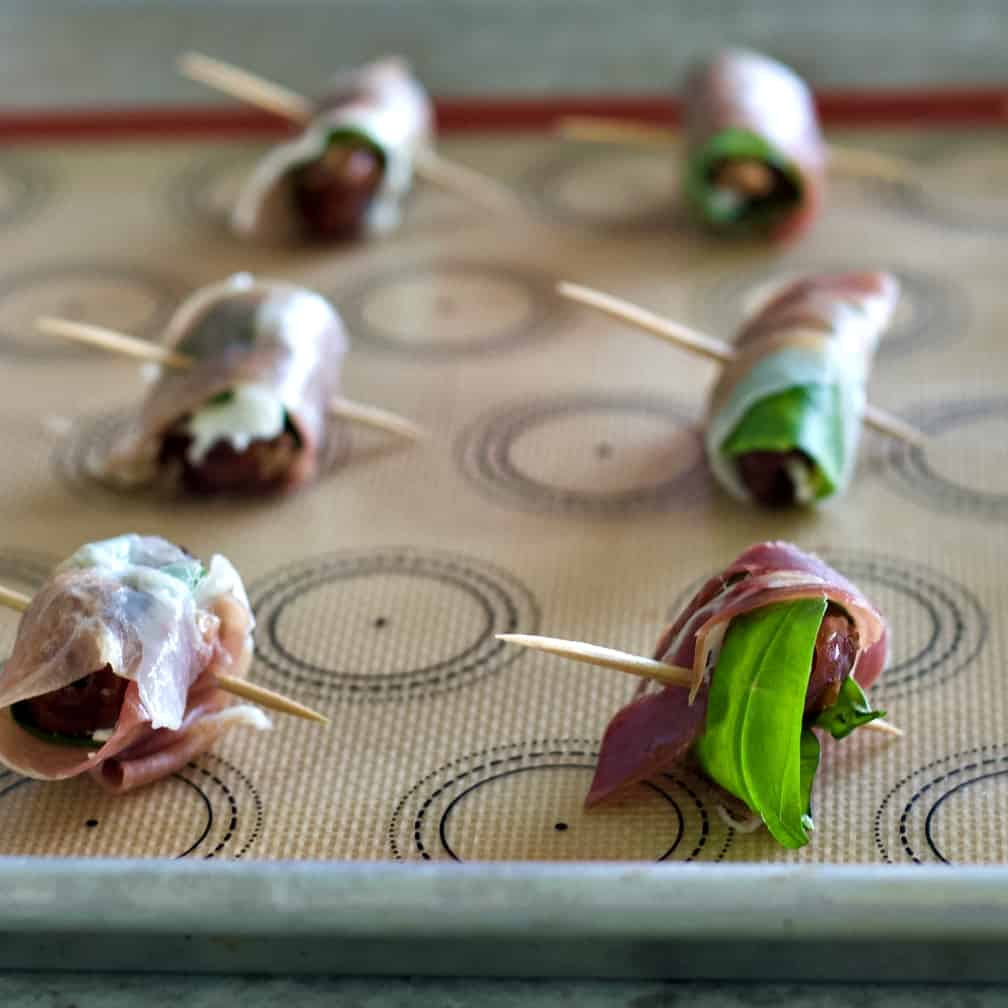 You can stuff and wrap and serve this prosciutto recipe without broiling if you wish.
Your guests will enjoy the stuffed dates either way. They are delicious broiled and served hot. But how handy to also have a cold choice for finger food ideas.
It's going to save you a little time and fuss to serve them raw. You don't even have to soak the toothpicks. But we prefer these stuffed dates broiled. Let us know your favorite method.
More Easy Appetizers and Finger Foods:
All these recipes make finger foods for party all year round. Looking for a fun Christmas appetizer? New Years Party?
Make any of these recipe for delicious Thanksgiving appetizers. All of these party food ideas will be welcomed by your guests.
Prosciutto Wrapped Stuffed Dates with Goat Cheese
This appetizer is pretty versatile. In the busy holiday season you may find some ingredients are not available. So I'm including substitution ideas.
Kayti and I gave you our preferred recipe in the recipe card. But make them however you wish and let us know in the comments section your ideas on this appetizer.
Ingredients:
Dates:
This is a fresh pitted Medjool Date Recipe. However, when I shopped for Medjool dates the store was all out.
If that happens to you fresh deglet noor dates (or regular pitted dates) from the produce aisle will also work. That is what we used and they were very tasty.
Goat Cheese:
Goat cheese recipes are somewhat lighter than cream cheese or Mascarpone. You can interchange the cheeses and choose not to even bake them if you want to serve them chilled.
We think goat cheese is perfectly wonderful with dates and suggest it as a first choice.
Basil:
Each stuffed date is wrapped first in a basil leaf before the prosciutto.
We tried these dates without the basil. Just to see… and they were fine.
And then we wrapped one date in basil and ate it. YES! It's pretty darn amazing. That fresh herb increases the whole flavor profile of this teeny biteful.
Nothing replaces an actually FRESH leaf of basil wrapped around that goat cheese stuffed date. It adds. Believe me.
A good basil bush lasts a long time if you take care of it. Basil adds a nice touch of live green to your kitchen. And that unique basil smell is so Enticing.
Balsamic Reduction Sauce:
The balsamic reduction sauce is Oh so good for a finishing touch. Balsamic offers just the right amount of extra sweet zinginess.
You need a balsamic reduction sauce to get the full benefits of this recipe. The reduction sauce will stay on the dates and the flavor is increased a lot when you use a reduction sauce instead of just a bottle of balsamic.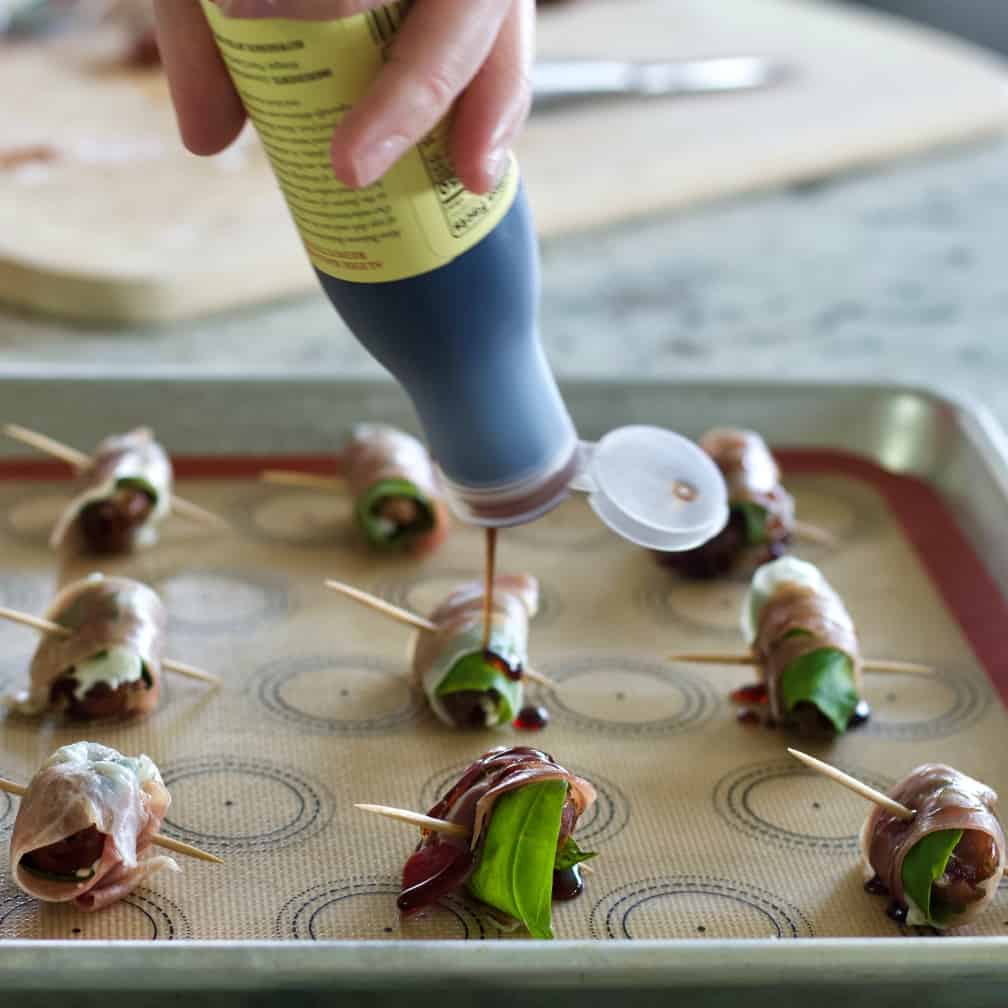 Your Visual Walkthrough:
Here is your step by step visual guide. Please ALSO WATCH our video for a complete demonstration on how to make this appetizer.
Our Printable Recipe card is following this guide. If you have any questions we are here to help.
Please let us know how this recipe works for you. How did you make it? We love feedback, recipe ratings and useful comments from our readers.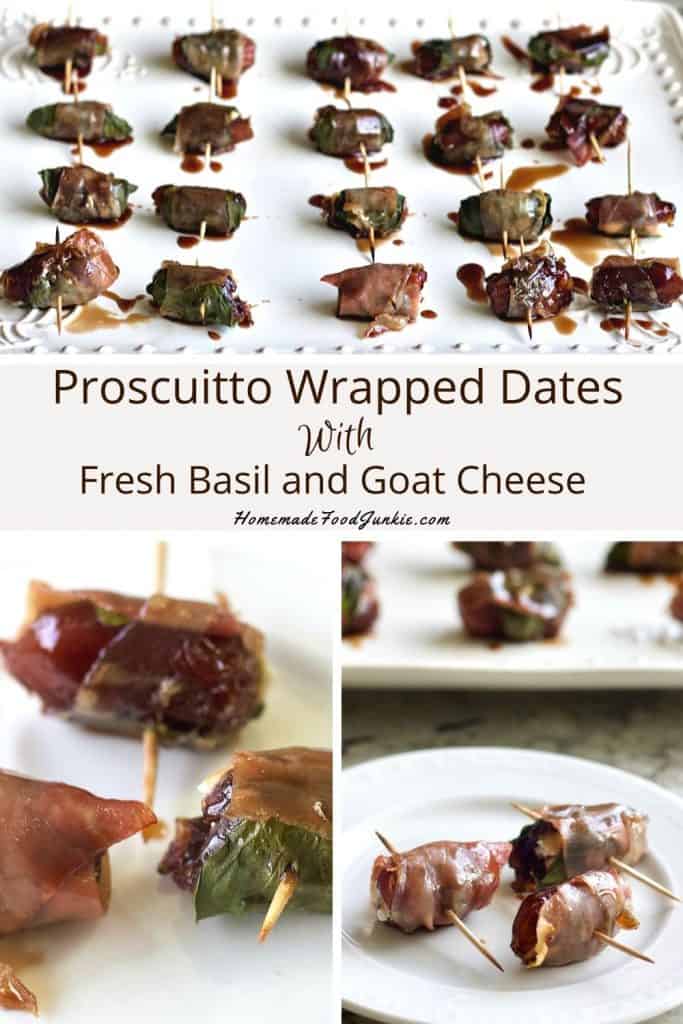 Dates Wrapped in prosciutto with goat cheese are flavorful and easy. Just don't forget the basil and balsamic. Delicious. 🙂 Enjoy!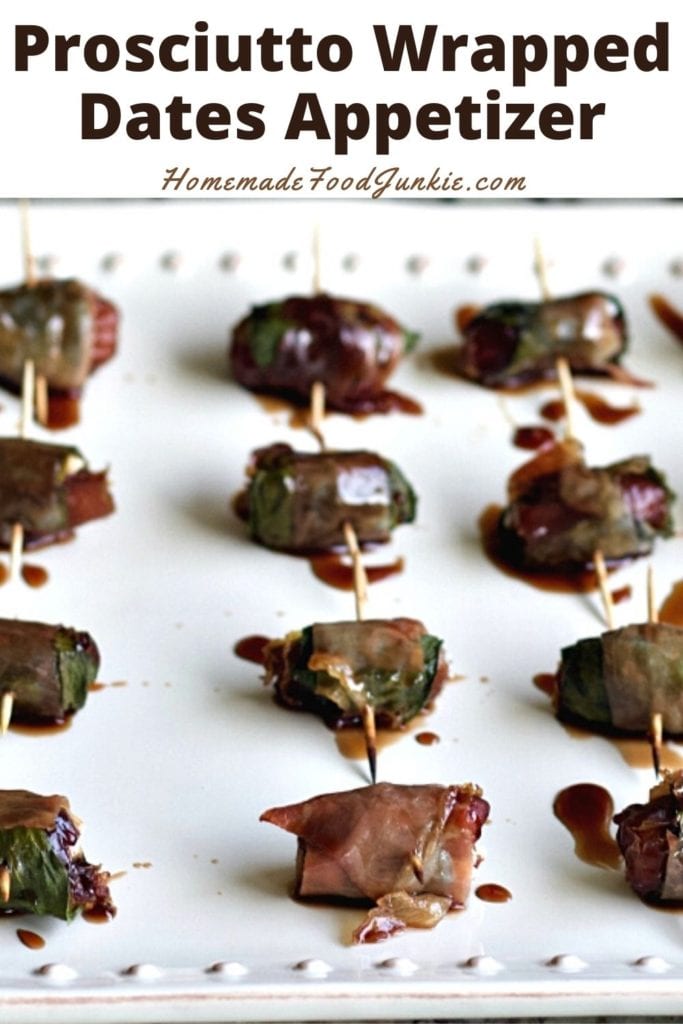 Your Printable Recipe Card:
Yield:

24 stuffed dates
Prosciutto Wrapped Dates with Goat Cheese
Goat Cheese Stuffed Dates Wrapped in prosciutto and fresh basil are easy to make and VERY yummy. Serve these healthy appetizers either hot or cold.
Ingredients
24 Medjool Dates (OR deglets)
Prosciutto
1/2 Cup goat cheese (use soft spreadable variety-herbed if you like)
24 leaves Basil-fresh
1/4 Cup Balsamic reduction sauce (to taste)
Instructions
Before you begin:
SOAK 24 toothpicks in water
Prepare baking sheet with a oil spray or lay a silicone baking mat on it.
Cut a lengthwise slice in the center top of each date. Make sure it is big enough to hold the cheese but don't slice all the way through the date.
Slice prosciutto into 24 pieces about 2 1/2 inches long or however long you prefer to securely wrap the stuffed dates over the basil leaf.
Lay out the dates, prosciutto, goat cheese and basil leaves on a board within easy reach of your baking sheet.
Appetizer Assembly:

Scoop up a teaspoon of soft goat cheese and push it into your sliced date.
Wrap a leaf of basil around the date
Wrap a piece of prosciutto around the basil wrapped stuffed date.
Pierce the date through with a soaked toothpick.
Lay the finished date on your baking sheet.
Repeat until all dates are stuffed and wrapped.
Broiling Instructions:
Broil for 3 to 5 minutes until crispy.
Remove from oven and set on serving tray. Serve hot!
Nutrition Information
Yield
24
Serving Size
1
Amount Per Serving
Calories

91
Total Fat

1g
Saturated Fat

1g
Trans Fat

0g
Unsaturated Fat

0g
Cholesterol

3mg
Sodium

79mg
Carbohydrates

20g
Fiber

2g
Sugar

18g
Protein

2g
Loosely Based on This Recipe From Epicurus