Easy caprese salad bites on a party pick drizzled with a rosemary balsamic dressing. These adorable healthy appetizers are Low-Carb, Low-Sugar, Vegetarian and Gluten-Free. Caprese appetizers belong on any party table. They are the best appetizer recipes for special diet needs.
Caprese salad bites are simple appetizer to make and filled with delicious and healthy vegetables. These bites are a great way to incorporate healthier eating into any gathering. The Caprese bites can be easily changed up to fit a variety of dietary needs. One of our favorite healthy appetizer recipes.
These Caprese skewers are healthy and delicious. This gluten free appetizer quickly vanishes off party trays. We used grape tomatoes this time. Cherry tomatoes also work fine. For larger cherry tomatoes you may cut them in half to fit on your party stick.
In a handful of people now a days someone is bound to have special dietary needs. The healthy bases are pretty much covered in these delicious little salad bites. Adjust the recipe to suit your needs.
This gluten free party food is also a vegetarian appetizer and marvelous cold finger food buffet idea.
Your party guests will enjoy a flavorful, healthy satisfying vegetarian party food to snack on. This finger food offers protein, flavor and nourishment with no meat.
These are an easy summer appetizer for outdoor events.
Finding safe foods to bring to summer outdoor parties at the beach, park or other outdoor events can be a challenge. Mayonnaise and other foods that require refrigeration are not practical for hot days outside.
This is an easy, light appetizer recipe that is safe for your guests outside and so easy to assemble quickly with little fuss.
These are great for Summer parties like graduation parties, wedding receptions, family reunions, baby showers or Father's day. These fit in anywhere and look great on a party table.
For Picnic appetizers:

These Caprese skewers travel well. Make them ahead and pack them into a cooler undressed to keep them fresh. Once plated add the dressing and serve.

These simple appetizers are a good outdoor party food. But try not to get them too hot.
These party appetizers are good at 70 degrees out in the sun. Or shelter them under an awning so the cheese stays fresh.
Check out our appetizer section for more great party food recipes you may love. We have several low carb appetizer recipes. Our salad and sides recipes offer even more variety and party food ideas.
A quick trip out to your garden or local farmers market will win you the freshest, most flavorful tomatoes and Basil.
Add fresh mozzarella squares or buy Mozzarella balls and balsamic vinegar dressing. Viola. A healthy quick and easy light lunch or party food for your friends and family.
Caprese Salad Bites Recipe:
These are a good finger food idea for your party. Just place them on a tray with only a LITTLE dressing drizzled over them(or none). OR offer dressing on the side in small dipping bowls.
Presentation Suggestions:
These salad bites work year round at any event or holiday. Some ideas:
Add blueberries for patriotic themes.
Lay them on a Fall themed table with harvest themed picks and they are perfect Thanksgiving appetizers.
For Christmas appetizers just use a christmas themed party pick or tray.
These really can go anywhere in several different looks with only a few tweaks.
NOTE: This is a KETO appetizer recipe (and diabetic friendly) IF you use a keto friendly dressing. OR choose just plain olive oil and shake it with balsamic vinegar of any flavor to drizzle over your party tray.
If you need more protein for your appetizers and even fewer carbs eliminate one of the tomatoes and/or add another piece of fresh Mozzarella cheese to increase the protein and reduce the carbs. For a little extra flavor, sprinkle on some black pepper.
A Note on the salad dressing: I used a store-bought dressing for this. However, my creamy balsamic Dressing is a good homemade option.
It goes another direction in flavor, more honey mustard. It would be good though and healthy, just different! My Creamy Balsamic salad dressing is made of healthy ingredients and is about 32 calories a serving.
These are such a quick and easy appetizer. Just a quick prep and then load the toothpicks or whatever party skewers you are using. Make them in whatever pattern you desire.
The Party Picks:
NOTE: You can use any party pick you wish and make these any length you need. Adjust the pattern of ingredients to suit yourself as well. but remember to get the correct amount of cheese, basil and tomatoes at the store.
These easy healthy appetizers work great as 2 inch toothpick appetizers. Adjust the amount of ingredients in half. In this size these are great snacks for kids party. One bite finger food.
Drizzle your Caprese salad bites with your favorite balsamic rosemary dressing. Or my creamy Balsamic Salad Dressing is a homemade option that would be great with this recipe.
A full recipe as written will give you 24 -4 inch Caprese Salad Bites. if you are feeding a larger party… just double the recipe. NOTE: Adjust the recipe ingredients also according to how LONG your pick is.
Enjoy this healthy appetizer. We loved these.
Without salad dressing this recipe is very healthy and low carb. You choose the salad dressing to suit your diet needs. and add those calories in as well.
Your Printable Recipe Card: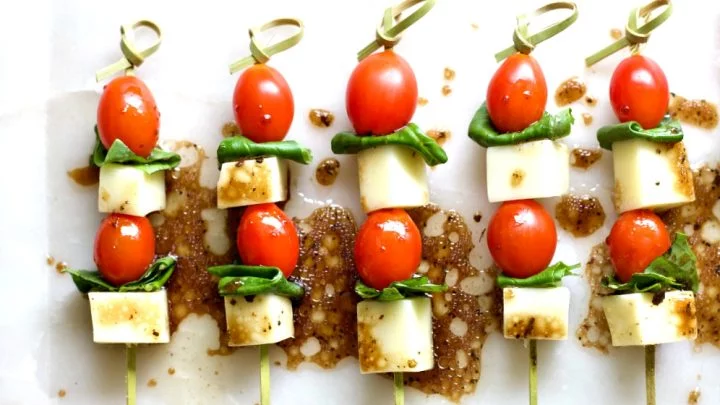 Yield:

24
Caprese Salad Bites Appetizer Recipe
Easy caprese salad bites on a toothpick drizzled with a rosemary balsamic dressing. These easy and adorable appetizers are Low-Carb, Low-Sugar, Vegetarian, Gluten-Free. These little gems are perfect for summer dinner parties, Holiday bashes or anytime really.
Ingredients
50 cherry or grape tomatoes
24 fresh basil leaves, cut in half
15 oz. Mozzarella cheese, cut into 24 1/2 inch squares
3 Tablespoons rosemary balsamic dressing
Instructions
Prep:
assemble 50 grape tomatoes. Larger Cherry tomatoes will also work if cut in half.
Chop the mozzarella into 1/2 inch squares, balls or wedges.
Cut your Basil leaves into half.
Assembly:
load a tomato lengthwise onto your party pick.
Add a Folded basil leaf,
Follow with a mozzarella piece nd repeat the pattern as desired.
lay them side by side on a plate or tray until you have the number you need.
Then simply drizzle them with your favorite balsamic rosemary dressing.
Notes
This recipe calls for a purchased rosemary balsamic salad dressing. The calories of this recipe are posted WITHOUT a calorie count for the dressing. Read the label of the dressing you choose and use the calories for a 2 Tablespoon serving. Then divide that calorie number by 24 servings and add that to the calorie count to determine the total calorie count per serving.
OR Try our Homemade Creamy Balsamic Salad Dressing on this appetizer for a nice healthy change up. About 32 calories per tablespoon which is adding only 2.6 calories per serving for a total of about 61 calories per salad bite. This is a more opaque dressing so it will give you a different look on your party tray.
Recommended Products
As an Amazon Associate and member of other affiliate programs, I earn from qualifying purchases.
Nutrition Information
Yield
24
Serving Size
1 salad bite
Amount Per Serving
Calories

68
Total Fat

4g
Saturated Fat

2g
Trans Fat

0g
Unsaturated Fat

2g
Cholesterol

14mg
Sodium

124mg
Carbohydrates

4g
Fiber

1g
Sugar

3g
Protein

4g
Pin It:
Follow Us:
We enjoy meeting you on our social networks. Follow us on Facebook, Pinterest, Instagram . Tag us with your pictures of our recipes and comment on how it went for you. We would love to see what you do with them.
We often like, comment and share your posts of our recipes on our daily Instagram stories.
Ask questions and rate the recipe in the comments section below. Please share what you did with this recipe. We are always looking for more and better ways to make homemade food. Other cooks love your ideas!
Recent Posts: