A moist, tender roast chicken with vegetables and herbs makes a healthy meal. This oven roasted chicken dinner is easy to make. It's High-​Fiber, Low-​Carb and Gluten-​Free. Everyone will enjoy this delicious traditional Sunday dinner recipe.
In my childhood, Sunday dinner was a "thing". Mom and dad took it seriously. At least once a month our family piled into our 1950 something convertible pontiac.
We trekked up the long, boring road to visit Grandma and Grandpa Cash for the best Sunday dinners in North America. Not kidding.
We traveled the 'old 99' highway. Alongside us, heavy machinery dug and sculpted the new I-5 freeway.
As we drove by we watched the progress each month. Lots of big machines working
Dad always stopped at a honey stand in front of a farm house on old 99 about three quarters into the trip. He bought us a honey bear of local clover honey.
My brother and I bounced in our seats waiting for that honey stand to come into view. We loved that honey and Grandma's house was close!
The smells of grandma's Sunday dinner engulfed us like a hug when we finally walked in her door. I'll never forget it.
Family, visiting, eating an amazing dinner, freeway construction…the honey stop. Memories are so powerful.
Fast Forward to now a days:
This weekend my niece and her family stopped in for an overnight visit. They are soccer champs. The whole bunch!
Two days of soccer games for my niece and a night of eating, fun and visiting for all of us. We loved it.
I made this roast chicken dinner. I thought of Grandma Cash and her Sunday dinners. Make good memories with great food, family and Good times. It's worth it.
Roasted Herbed Chicken Dinner Recipe:
This oven roasted chicken recipe is gluten free with no sauces since we had a guest that is gluten sensitive. This moist, tender bird needed no sauce or gravy. The roasted vegetables were the perfect companions cooked in the chicken drippings.
Don't Wash the Chicken:
There is a BIG controversy about washing chicken these days.
Now the health officials agree that washing chicken spreads harmful germs all over your kitchen.
So don't wash your whole chicken.
Just pull out the giblets and take a wet paper towel to the inside to get any remaining gunk out.
Oil and spice the Chicken:
I used avocado oil on this roast chicken.

Avocado oil is a heart healthy oil and it is stable up to the 400 degrees we need.

That means it will cook well without burning or breaking down.

Over heated oils lose all their health benefits.

Avocado oil is the best choice for this recipe.

Oil the chicken skin and cavity well.
salt and pepper the whole bird.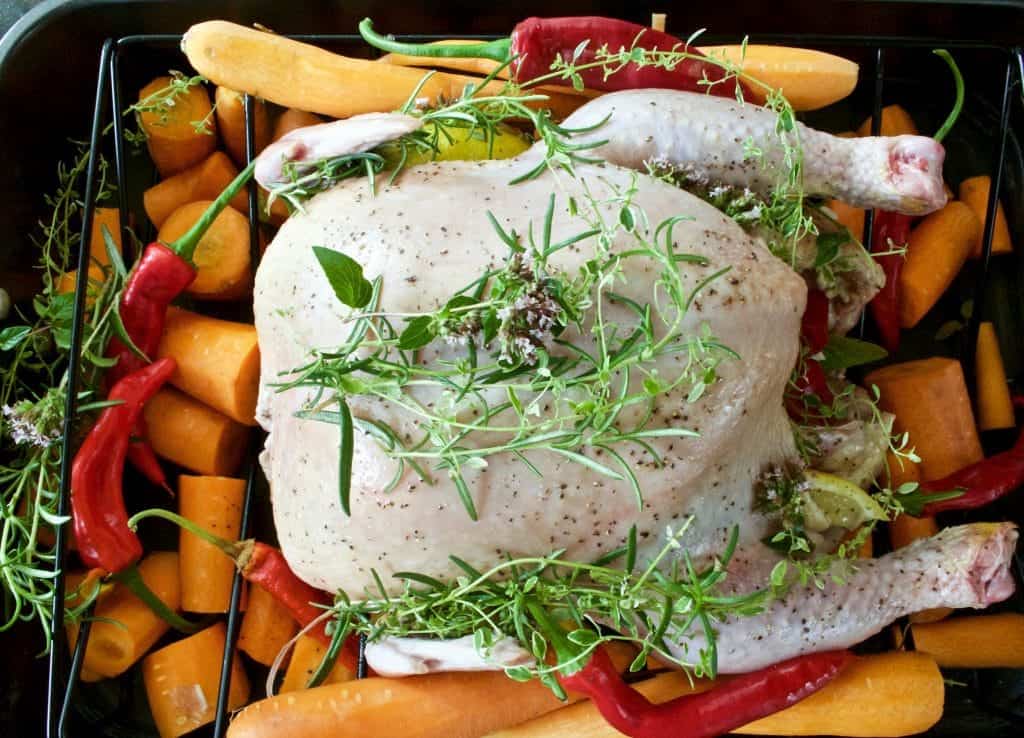 The sweet potatoes and peppers in this are amazing! We are roasting our own carrots, onions, garlic and red flame peppers. A little heat adds zip to this traditional meal.
Those herbs came from our herb gardens. This is the first year I have had enough fresh herbs to use and I'm loving them.
Why the fresh herbs in this Chicken recipe?
I love fresh herbs personally so I used them. They did a good job of flavoring the meat and veggies. Feel free to use whatever herbs you have on hand that will taste good with chicken. We really enjoyed the rosemary, garlic, oregano and thyme sprigs.
A note on the carbs:
This recipe has about 20 carbs when made with the vegetables I chose. For a lower carb dinner I suggest you surround your chicken in low carb veggies like cauliflower, peppers and brussel sprouts.
If low carb is not a concern for you enjoy whatever vegetables you like in this oven roasted chicken dinner.
rosemary and lemon thyme nestled in amongst the marigold and Dave pepper plants
Resting the Roast Chicken:
This is a very important step! Don't omit it.
Why do we rest a whole roasted chicken?
The extra time to allow the meat to rest pays off. The Benefits of allowing a cooked chicken (or any meat) to rest are:
A Juicer meat.
More flavorful chicken
More tender meat.
Don't rush your bird. Give it time and you will enjoy it a lot more.
Optional Gravy:
This recipe is gluten free and low carb. It does not include a gravy recipe. However if you prefer to make a gravy it's very easy to do.
Remove the roast chicken from the oven. You need the drippings so:
Remove the chicken to a cutting board, pull off the herbs, cover it and let it rest.
Transfer the vegetables to a serving bowl. Cover and set aside till serving.
While Resting the bird make the Gravy:
Drain the drippings (or suck them out of the roaster or use the roaster to make the gravy if you want).
You need to boil the drippings in a 2 quart sauce pan.
Meanwhile, in a small bowl whisk together 1/2 Cup of flour (or cornstarch will work too) with seasonings you prefer. Montreal chicken seasonings or other meat seasoning is good.
Add 1 cup of water and whisk it until it make a rue. This is a thin sauce so add more water if you get a paste.
Add the rue to the boiling drippings and whisk constantly. At this point my Grandma always used Kitchen Bouquet to flavor her gravy. use any gravy seasoning mix you like.
Add more water as needed to adjust the consistency so you enjoy it.
Serve.
What to do with the bones?
You WILL get a carcass after your family has eaten it's fill of this roasted whole chicken recipe. Don't waste your organic chicken carcass. There is still a lot you can do to make good food from your roast chicken.
Remove most of the meat, skin and fat from the bones.
Set the bones aside to make bone broth. If you have an instant pot this is a perfect use for it. Read my post on making Instant pot bone broth for more on that process.
Without an electric pressure cooker you can still make bone broth just use a large stock pot. It just takes a lot more time.
If you have leftover chicken meat cut it up and make Chicken Noodle Minestrone or use your homemade bone broth as a base for your own version of chicken soup.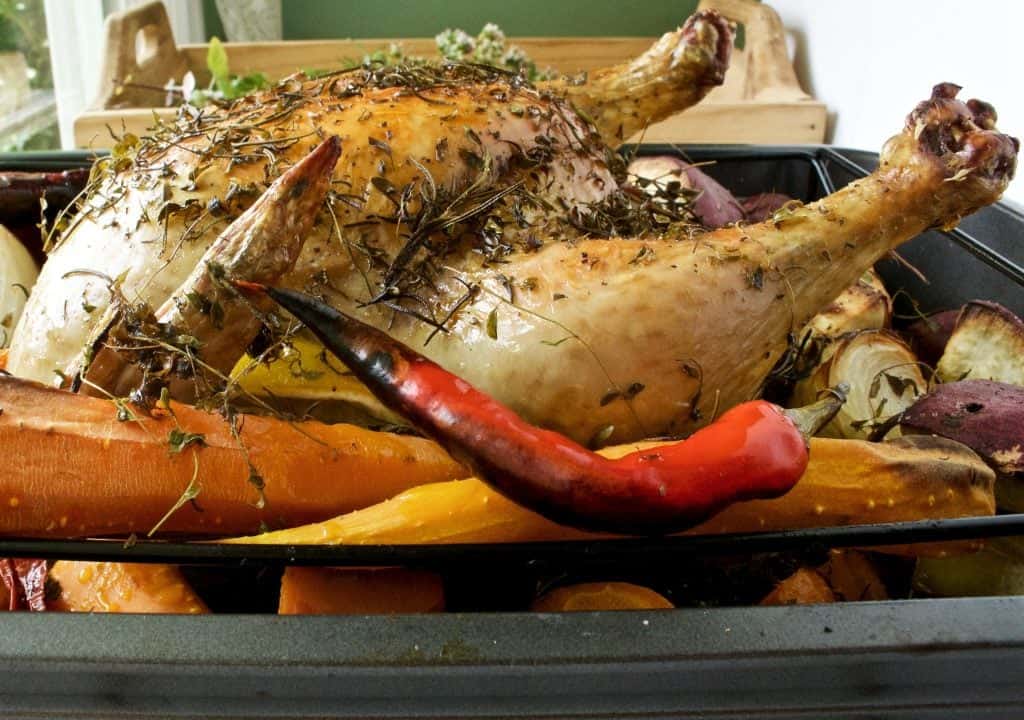 Complete Instructions on how to roast a chicken are included in Your Printable Recipe Card: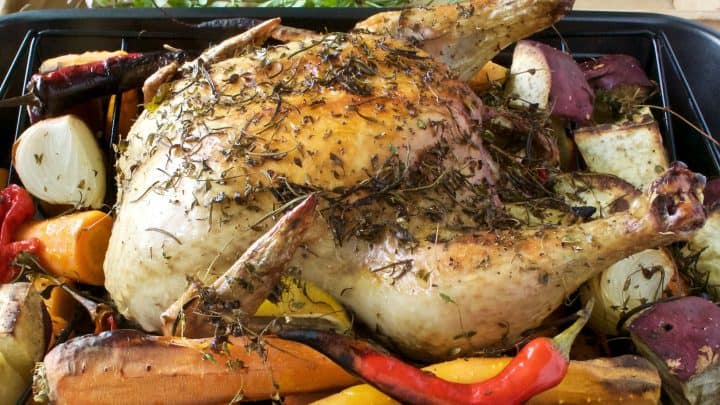 Yield:

6
Roast Chicken Dinner with Vegetables and Herbs
Total Time:
1 hour
40 minutes
Moist, tender roast chicken with vegetables and herbs makes a healthy dinner. This chicken recipe is easy to make and a good choice for Company like a Sunday dinner. everyone will enjoy.
Ingredients
1 whole Chicken (mine was 5 lbs)
1/8 Cup avocado oil
several bunches of fresh rosemary, oregano and lemon thyme
2 fresh lemons
1 tsp. sea salt
2 tsp. black ground pepper
1 sweet potato washed and cut into chunks
8 carrots-peeled
1 onion-quartered
6 whole garlic cloves
6 poblano peppers(or any you like)
Instructions
Preheat oven to 400 degrees Fahrenheit
Prepare your vegetables and set aside
Place a rack into a roasting pan.
Place the whole chicken on the rack.
Oil the chicken inside and out with avocado oil.
Salt and pepper chicken lightly and evenly over the outside and inside.
Stuff the cavity with fresh herbs, lemon and garlic cloves.
Arrange the vegetables around the chicken
Cover the chicken in fresh herbs as desired.
Place a meat thermometer into the thickest part of the chickens thigh.
Roast uncovered for 60 minutes or until the thermometer reads 165 degrees.
Remove chicken from the oven when thoroughly cooked.
Rest your roast chicken on the counter in the roaster covered for 15 minutes before serving.
Notes
The resting stage is very important. The meat will be more tender and moist when allowed to rest covered.
Nutrition Information
Yield
6
Serving Size
1
Amount Per Serving
Calories

357
Total Fat

18g
Saturated Fat

4g
Trans Fat

0g
Unsaturated Fat

12g
Cholesterol

88mg
Sodium

516mg
Carbohydrates

20g
Fiber

5g
Sugar

7g
Protein

30g
Follow Us:
We enjoy meeting you on our social networks. Follow us on Facebook, Pinterest, Instagram . Tag us with your pictures of our recipes and comment on how it went for you. We would love to see what you do with them.
We often like, comment and share your posts of our recipes on our daily Instagram stories.
Ask questions and rate the recipe in the comments section below. Please share what you did with this recipe. We are always looking for more and better ways to make homemade food. Other cooks love your ideas!
Recent Posts: