Moist, tender roasted herbed chicken and vegetables makes a healthy, easy, High-​Fiber, Low-​Carb, Dairy-​Free, Gluten-​Free , dinner everyone will enjoy.
Memories…
In my childhood, Sunday dinner was a "thing". Our family piled into our 1950 something convertible pontiac, once a month and trekked up the long, boring road to visit Grandma and Grandpa Cash for Sunday dinner. We traveled the 'old 99' highway. Alongside us, heavy machinery dug and sculpted the new I-5 freeway, as we drove by, examining the progress each month.
Dad always stopped at a honey stand in front of a farm house on old 99 about three quarters into the trip. He bought us a honey bear of local clover honey. My brother and I bounced in our seats waiting for that honey stand to come into view. We loved that honey, and Grandma's house was close!
The smells of grandma's dinner engulfed us like a hug when we finally walked in her door. I'll never forget it. Family, visiting, eating an amazing dinner, freeway construction…the honey stop. Memories are so powerful.
This weekend my niece and her family stopped in for an overnight visit. They are soccer champs. The whole bunch! Two days of soccer games for my niece and a night of eating, fun and visiting for all of us. We loved it. I made this dinner for us to enjoy. It made me think of Grandma and Grandpa Cash and our Sunday dinners. Making good memories! Good times!
Roasted Herbed Chicken Dinner:
I made this roasted herbed chicken gluten free with no sauces since we had a guest that needed gluten free. This moist, tender bird needed no sauce or gravy. The roasted vegetables were the perfect companions cooked in the chicken juice.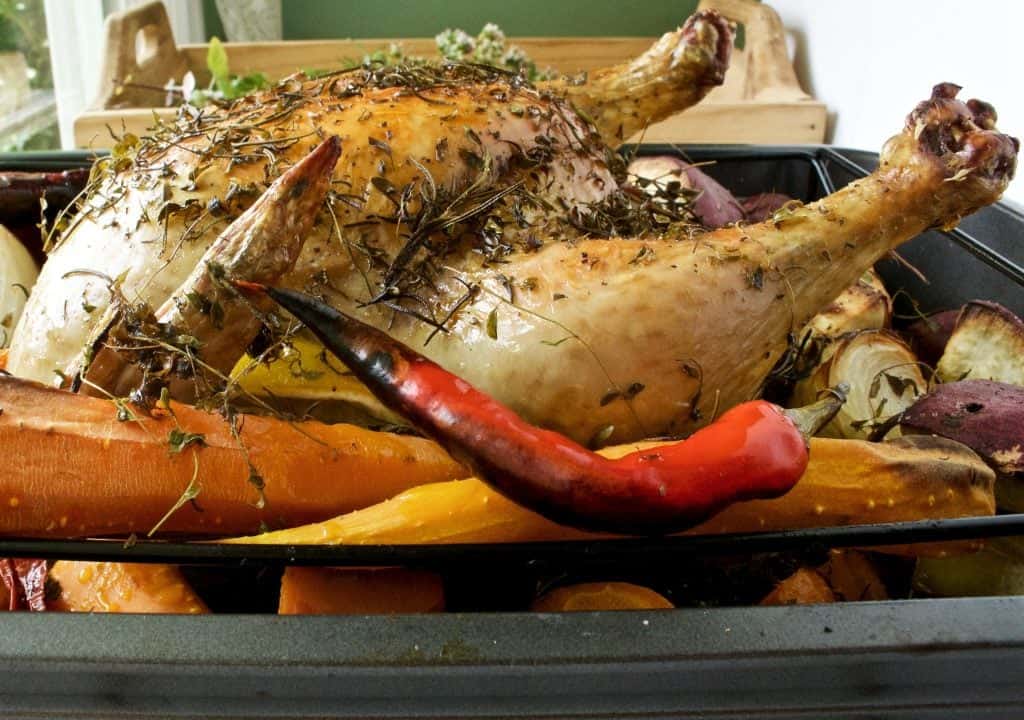 Source Good Organic Chicken for Roasted Herbed Chicken Dinner:
This is a very special chicken! What you are looking at is a gift to us from our friends at FAT PIG FARM. This chicken was organically grown, free range and home processed. Look at that huge, gorgeous bird! I almost thought I was roasting a turkey. So moist, tender and meaty!  Fat Pig Farm feeds their birds on a special homegrown fermented organic mash and free range goodies.
This wins the beautiful chicken award in my experience! I am proud to show it off. Thank you so much Alan And Erica! I am happy to give their business a plug. Contact Erica on their Face Book Page to learn more about them, and order some meat or eggs!
Fat Pig Farm  sells excellent pork as well. I made Slow Cook Pineapple Ham steak in Mustard Sauce with their ham steaks. Excellent quality meat!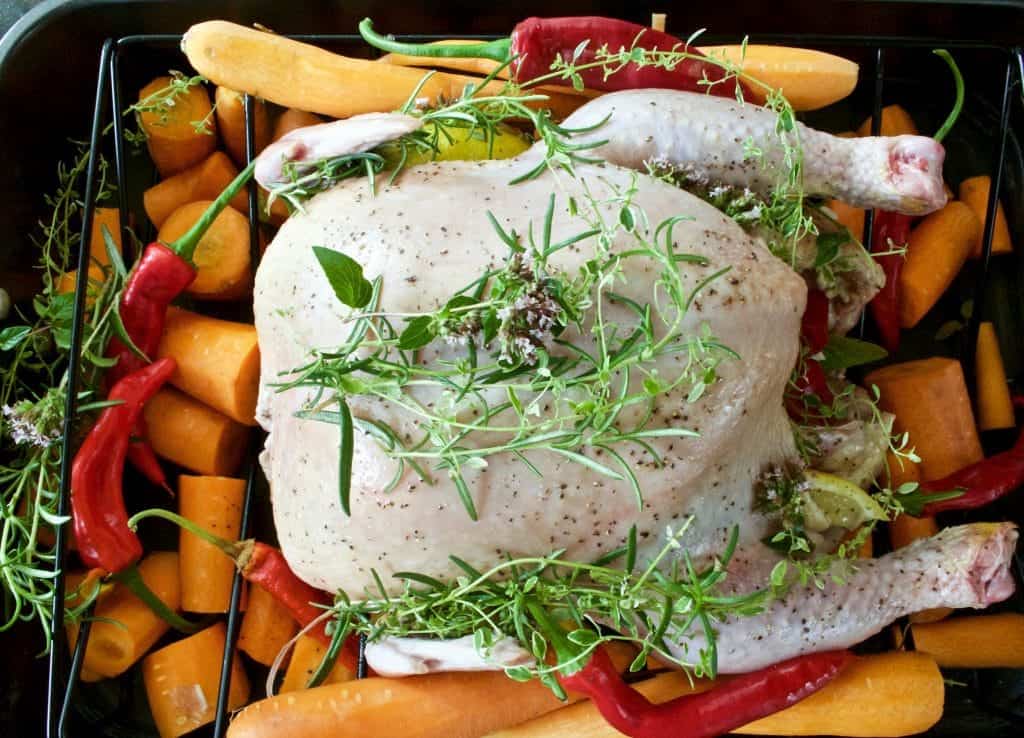 You WILL get a carcass to make chicken soup! That's another delicious, healthy meal. Easily made in a stock pot. Don't waste your organic chicken carcass! Get an organically grown chicken and use good fresh, organic vegetables and herbs. The sweet potatoes and peppers in this are amazing! We are roasting our own carrots, onions, garlic and red flame peppers. A little heat adds zip to this traditional meal.
Those herbs came from our herb gardens. This is the first year I have had enough fresh herbs to use and I'm loving them!
I used avocado oil on this roasted chicken. Olive oil, even coconut oil are not stable at the high heat this recipe calls for. Avocado oil is extremely good for you and is stable up to the 400 degrees we need. That means it will digest well, as it should and not make toxins in your system!
Please Note: The calorie count on this meal is ridiculously overstated in my nutrition app. My app is not smart enough to realize whole chicken bones are not edible. so it thinks you are eating 5 lbs of pure meat. Just so you know…:)
Ingredients
1 whole 5 lb. Organic Chicken
1/4 Cup avocado oil (or coconut oil)
several bunches of fresh rosemary, oregano and lemon thyme
2 fresh lemons
1 tsp. sea salt
2 tsp. black ground pepper
1 sweet potato washed and cut into chunks
8 large carrots-peeled
1 large onion-quartered
6 whole peeled garlic cloves
6 whole fresh poblano peppers(or any you like)
Instructions
Preheat oven to 400 degrees Fahrenheit
Prepare your vegetables and set aside
Wash the chicken and pat dry
Place a rack into a roasting pan. Place the chicken in the rack.
Oil the chicken with avocado oil.
Salt and pepper chicken lightly and evenly over all.
Stuff the cavity with fresh herbs,lemon and garlic cloves.
Arrange the vegetables round the chicken
Cover the chicken in fresh herbs as desired.
Place a meat thermometer into the thickest part of the chickens thigh.
Roast uncovered for 60 minutes or until the thermometer reads 165 degrees.
Remove chicken from the oven when thoroughly cooked.
Let rest on counter for 20 minutes.
Serve