The Moscow Mule Vodka Drink is a refreshing cocktail with vodka and lime juice and ginger beer. Enjoy this delicious carbonated mixed drink alone or with guests. The ginger and lime are so good together.
Watch 5 Easy Vodka Drinks Video
For more Vodka Drinks and other cocktails check out our Cocktails Section.
Moscow Mule History
The history of the Mule is obscure. It's origin is contested. Was it Manhattan NY or LA? There are different stories. The Mule has strong ties to both places.
What is known is this vodka drink was popularized and put in the copper mug by a Smirnoff salesman.
According to the Wikipedia article, The Salesman, Martin "asked bartenders to pose with a specialty copper mug and a bottle of Smirnoff vodka, and took Polaroid photographs of them (to popularize this drink-paraphrase mine)… The copper mug remains, to this day, a popular serving vessel for the Moscow mule."
Why are Moscow Mules Served in Copper Mugs?
Moscow Mules are traditionally served in a copper mug as noted in the history of this vodka mixed drink. There is a good reason to use the copper mug aside from it's great look.
The benefit of serving the Moscow in a copper mug is all about temperature.
The copper mugs help the drink cool instantly. The metal in the mugs reacts quickly to the cold ice.
Consequently, the drink stays a nice and cold icy temperature without much ice dilution. That helps this classic vodka cocktail retain a crisp refreshing flavor.
Some people claim the copper mug also affects the taste of the drink and must be used for the best Moscow Mule taste. You decide about that.
The Great Moscow Mule Mugs Controversy
The Health Concern:
It's been determined by some health officials that drinking Moscow Mule vodka drinks out of a solid copper mug potentially could harm you. (IF you drink it a LOT for a LONG time)
Apparently the copper can leach into food or drinks that have a ph balance below 6.0. The Moscow Mule does have a ph balance that is pretty far below 6.0.
SO. The copper can leach into the drink. You may ingest a TINY amount of copper as a result.
That is scaring the dickens out of people.
Fun fact of the day: It is now illegal to serve moscow mules in a copper mug in the state of Iowa!
The Rebuttal:
There is another side to the story.
This Huffpost Article with input from Chemist Trisha Andrew says it's not at all likely that you are capable of drinking enough copper in a moscow mule to even make you a little bit sick. She is not alone it this point of view in the medical community.
From what I found in my research you would have to be drinking a fairly large volume of moscow mules quite often to attain a large enough quantity of copper to see any symptoms at all.
Bottom line: Make up your own mind about the copper mugs. Click the links for more information.
Solutions for Food Safety:
If you are concerned about the safety of pure unlined copper mugs:
For the Moscow Mule vodka drink you can buy this Moscow Mule gift set of 4 copper mugs lined with stainless steel.
I've linked more Copper Mugs in the recipe card. Both pure copper mugs and some lined with stainless in different styles.
If copper mugs are just not going to work for you. You can also serve this Moscow Mule recipe in a 14 oz. Tom collins glass.
Or drink it from a 14 oz. mason jar. It won't stay ice cold as long in glass compared to the copper mugs though.
So watch the dilution if you drink it out of glass.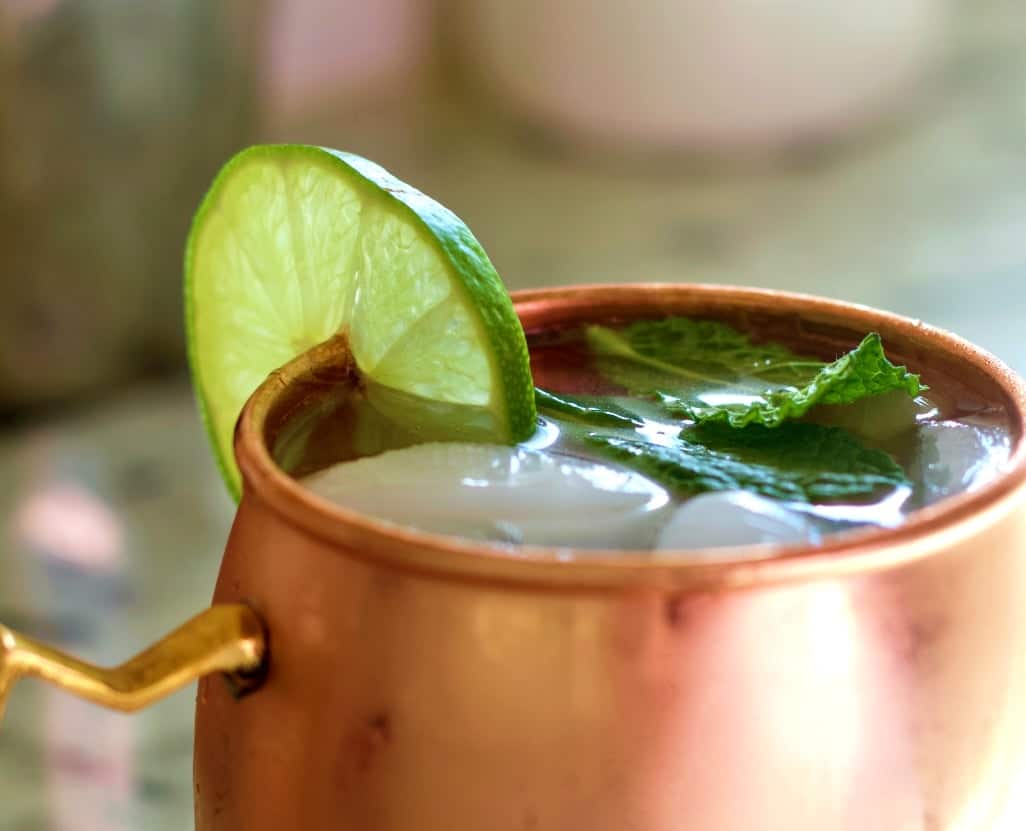 Moscow Mule Vodka Drink Recipe:
This cocktail is easy to make and doesn't require a lot of expensive alcohol. The ginger beer and fresh lime juice beautifully balance the flavors of the vodka.
Connoisseurs of the Moscow Mule will have favorite brands of Vodka and ginger beer chosen at the outset. If you're new to the Mule here are some helps for you.
Moscow Mule Ingredients:
There are only THREE main ingredients in the traditional Moscow Mule Cocktail. All the rest is embellishment.
Vodka
12 oz bottle of ginger beer.
Fresh lime or lime juice
Finish the cocktail with ice
Garnish with a fresh lime wheel and mint leaves as desired.
For some REAL ginger kick. Shave a small piece of raw ginger root and lay it in the bottom of the glass.
The major success of this vodka cocktail is getting the flavors of the vodka, ginger beer and lime in balance.
Spice blends in the ginger beer matter and so does the bite of the vodka. The flavor balance and spice blend will vary depending on which brands you choose.
The best Vodka for Moscow Mule
like everything else taste related thisis a matter of opinion.
This article by Vinepair.com is a quick comparative review of different vodkas using Bundaberg ginger beer. It's a help if you're really at sea choosing a vodka for this recipe.
We think Grey Goose is a good choice for the Moscow Mule. It is so smooth.
The ginger beer and lime in this cocktail drink need to balance the vodka flavor. We also use Skyy brand vodka. Smirnoff is also a popular vodka for this drink. but NOTE: The cheaper vodkas do impart harsher tone to the flavors.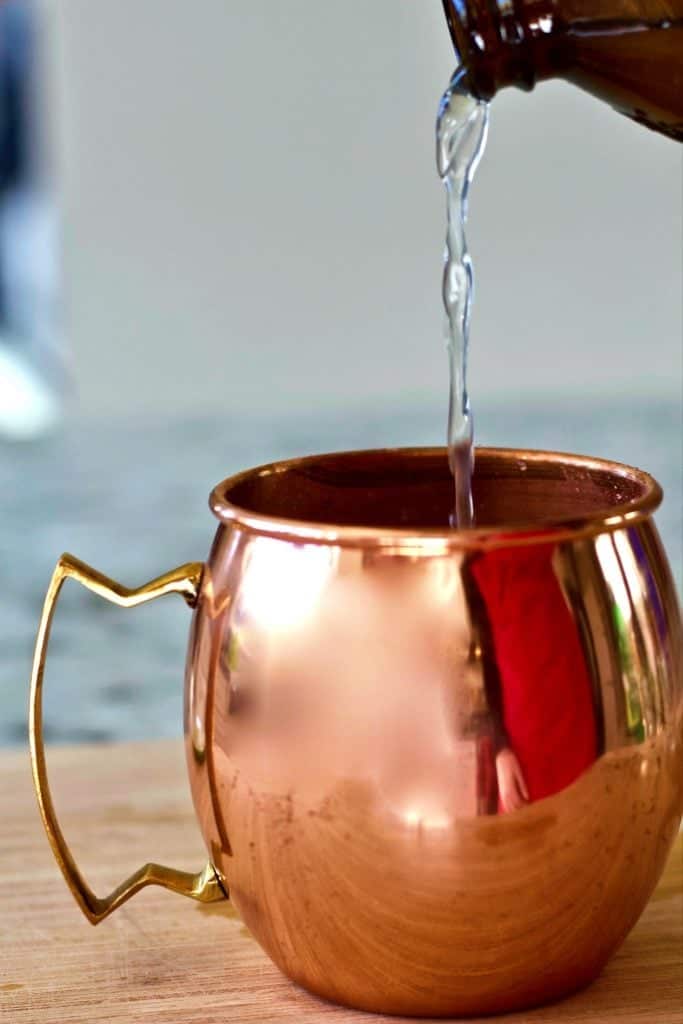 Choosing The best ginger beer for Moscow Mule
It is all about how you like the flavor of your Moscow Mule Drink.
We chose Bundaberg ginger beer and enjoyed it. It's a safe choice for most people's tastes.
However, Ginger beers have different flavor profiles. Choose the ginger beer with the spice blend you like best with your vodka in this cocktail recipe.
Bundaberg ginger beer has a fresh sweet flavor profile that most people find pleasing in this vodka drink.
For a spicier less sweet option try Q Ginger beer or Fever Tree brand.
For a sharper ginger taste with a good citrus balance try the Ginger People Ginger Beer.
To Reduce Calories:
The best way to bring the calorie count of this recipe down is to choose a diet ginger beer. Or a lower calorie brand.
Bundaberg ginger beer 12 oz. serving is 170 calories. The diet Bundaberg ginger beer is only 21 calories.
If you want to go no calorie ginger beers they are out there too.
Or choose a zero calorie ginger ale if it suits you.
Remember: The taste is going to change if you go with diet ingredients. Don't destroy the enjoyment of this drink by over focusing on calories.
Cocktails are meant to be an occasional indulgence like ice cream. Choose the ingredients you love and enjoy it!
The taste of alcohol in this drink is very light, so you really get the taste of fresh citrus and ginger in this cocktail. It's very refreshing.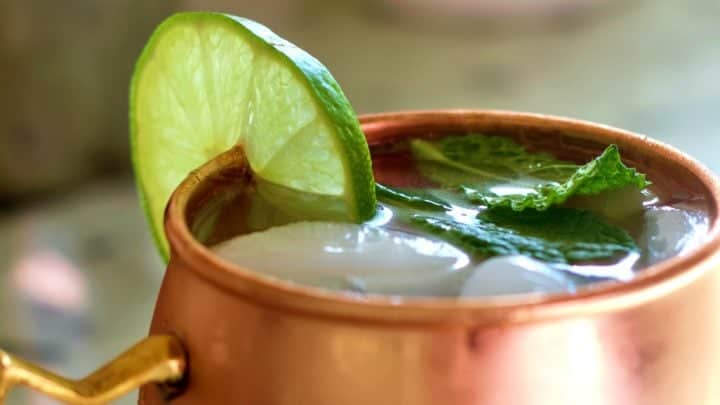 Yield:

1 -6 oz. Cocktail
Moscow Mule Vodka Drink
The Moscow Mule is a delicious and refreshing cocktail filled with citrus flavors and a pop of carbonation. This cocktail is so pretty served in copper mugs, and makes a great mixed drink to sip on in the evening.
Ingredients
2 oz. vodka
1 oz. lime juice
Garnish:
ice cube
fresh lime slice
fresh mint leaves
Instructions
Pour in the Vodka, Lime Juice and Ginger Beer into a glass.
Stir
Garnish:
Add ice, a fresh lime slice over the side of the glass and fresh mint leaves to brighten the flavors.
Serve immediately
Notes
You may serve this drink in a traditional copper mug, a collins glass, or a mason jar. I have linked both lined and pure copper mugs for you.
Nutrition: To reduce the calories in this recipe choose a diet ginger beer or go with ginger ale if you prefer.
Nutrition Information
Yield
1
Serving Size
6 oz.
Amount Per Serving
Calories

177
Total Fat

0g
Saturated Fat

0g
Trans Fat

0g
Unsaturated Fat

0g
Cholesterol

0mg
Sodium

9mg
Carbohydrates

15g
Fiber

3g
Sugar

6g
Protein

1g
Follow Us:
We enjoy meeting you on our social networks. Follow us on Facebook, Pinterest, Instagram . Tag us with your pictures of our recipes and comment on how it went for you. We would love to see what you do with them.
We often like, comment and share your posts of our recipes on our daily Instagram stories.
Ask questions and rate the recipe in the comments section below. Please share what you did with this recipe. We are always looking for more and better ways to make homemade food. Other cooks love your ideas!
Recent Posts: