This Light and refreshing watermelon and peach cocktail is bursting with mid summer fruit flavors.
Create a beautiful fruity cocktail with Peach Schnapps and Watermelon Vodka and real fresh fruits. Your guests will love this pretty cocktail.
No blender is required with this method. It's very quick and easy and not a lot of mess to clean up either. A favorite summer cocktail for us. Hope you love it too.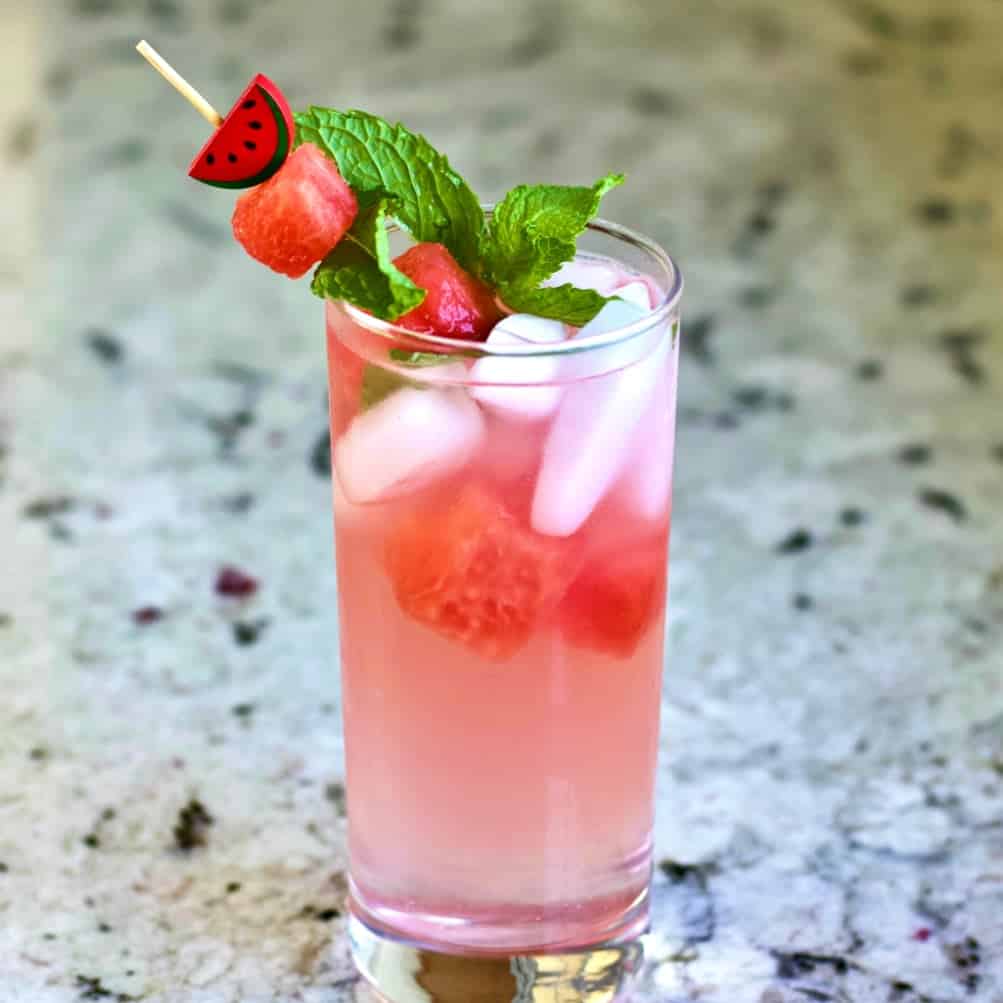 I'm on a cocktail kick lately. Homemade Food Junkie has its own cocktail section now. Take a look! I add new cocktails regularly.
The Original Blender Drink Version of Watermelon Peach Cocktail:
I decided this yummy drink also needed 'remodeling'. It's a delicious drink in it original form. But I made some changes I believe make it even better. And prettier.
SO…now we have two very different presentations of this Watermelon Peach cocktail.
Make this an easy blender drink as pictured below with a Fresh pureed watermelon peach juice. This is the way I created this vodka drink originally.
We enjoyed it but it is kind of pulpy because I did not strain the juice.
Originally I didn't use the peach Schnapps either. Without the Peach Schnapps this is a vodka based cocktail with watermelon. The fresh peach puree is a mere fruit accent to the watermelon cocktail.
The Schnapps is a HUGE improvement in this recipe. So our recipe is adjusted to include it now.
I have added the instructions for proportions of fruit I used to create the homemade watermelon peach juice in the Notes section of our printable recipe card for you.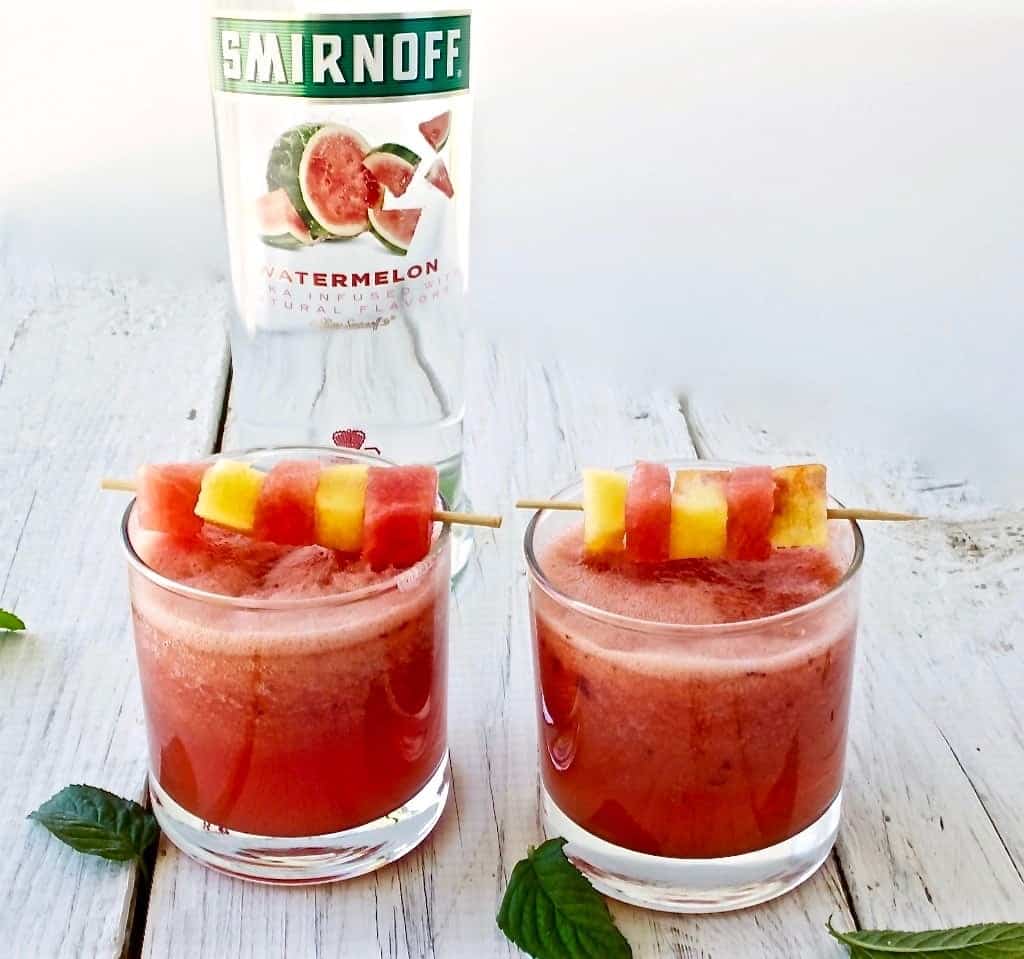 This alcoholic drink with fruits is easy to create as a blender drink.
Watermelon Peach Cocktail Ingredients:
Use your favorite store brand Watermelon juice and Sprite. It's easy to create this Peach Schnapps drink with vodka. Your guests will love the light sweet fizz Sprite offers this beautiful drink.
I've added peach schnapps into this 'remodeled' watermelon vodka recipe. You are going to love the flavor blend. The peach liqueur really enhances and balances the watermelon vodka.
Since peaches are out of season right now I'm using fresh watermelons and a clear watermelon juice. If you really want to push the peach flavor you can try adding peach juice. Just saying, I never tried that.
The Juice:
My latest version of this drink uses a store bought watermelon juice. That makes this drink extremely quick and easy to build. it also keeps the mess down and you have no blender to clean up.
This is more of a watermelon drink than peach drink when made as I originally created it. In that form the only peach flavor comes from the fresh pureed peach in the pureed juice.
For the pureed Watermelon peach juice you need both a small seedless fresh watermelon and 2 fresh ripe peaches.
Scoop out the flesh of the watermelon and peel the peaches.
Blend them up in a blender and that is your juice.
If you prefer you could add a splash of lime juice to brighten the flavor.
Or put some mint leaves down into the drink with the watermelon chunks for garnish to brighten the flavors.
I suggest you strain the juice before adding it to your drink unless you want a lot of texture. It does satisfy some people to chew your drink.
Peach Schnapps:
To get a more balanced flavor in this fruity vodka drink I made it with Peach Schnapps this time. The added peach liqueur is the perfect balancer for this watermelon coctail.
I had planned to add fresh peaches to this recipe as the original recipe calls for. But they are out of season for several months. So I used the Schnapps for this peach alcoholic drink instead.
We actually LOVE this new version. Add the schnapps! 🙂
You don't need any fresh peaches to make this drink. Just add the Peach Schnapps. Even with the only juice being a strained watermelon juice from the store the peach flavor blended really well.
It's delicious. I'm very happy with the results of this updated recipe. It's a very easy cocktail to make.
The peach liqueur flavor balances wonderfully with the watermelon vodka. And Sprite adds a bit of sweet fizz. And it's cute!
The Vodka:
For this recipe with Watermelon Vodka we used the Smirnoff brand.
FYI: This is NOT a sponsored post. You can use any watermelon vodka you prefer or have on hand.
Here are three Vodka brands we like and the links to their sites.
Smirnoff Watermelon Vodka is what I used. W

atermelon Smirnoff

is easy to find almost anywhere and it's pretty cheap.

Ciroc vodka is a pricier brand but a delicious watermelon vodka. Here is the link to Ciroc watermelon vodka.
Skyy Watermelon Vodka is also very popular vodka and easy to find in your local grocery store.
Watermelon Ciroc, Skyy vodka or Smirnoff watermelon vodka recipes are all good in watermelon flavored drinks like this. HINT: Premium vodkas are a bit wasted when they are overwhelmed in this fruity drink.
Vodka drinks with fruit are delicious in all their many forms. This mixed drink is a keeper for sure!
The Garnishes and Glasses:
If you purchase Items from our affiliate links we may earn a small commission at no extra charge to you. Thank you for supporting Homemade Food Junkie!
We are showing you two very different presentations of this cocktail.
The pureed fruit version in a short glass garnish ideas:
Skewer fresh peach and watermelon cubes on a wooden toothpick and lay it across the top a short lead free hand blown whiskey glass or lead free crystal scotch or bourbon glass.
Add mint leaves for an extra flourish.
A small watermelon wedge on the glass edge.
A slice of peach affixed to the glass edge.
The clear juice version lends itself to garnishing the whole glass.
We used these 11 oz.lead free crystal hi ball glasses.
They are the perfect shape for this long spear of fruit chunks.
Mint leaves add a nice accent color.
Alternating the watermelon cubes with the ice also adds interest to the glass.
The cocktail spears are made of bamboo and are fully biodegradable. I LOVE the cute watermelon on top!
Other Garnish Ideas:
Seedless Watermelon Wedge on the glass edge is a popular look.
A peach slice floating in the drink or affixed to the glass edge.
You can rim your glass with sugar if you want a shimmer on the edge of your summer drink.
The ice! I wish I had used a square ice cube mold for this drink. I think it would look better with the watermelon chunks.
Also, My ice melted rather quickly. Quick melting ice means a somewhat higher dilution rate for this sipping cocktail. I'm going to use a slower melting ice cube next time.
This set of ice cube molds is perfect. They are a set of two silicone molds. One circle mold and one 2 inch cubes.
If you make this drink Tag us in instagram with a picture! We'd love to see what you do with it. Think Memorial Day, Fourth of July parties, grill night refreshment and family reunions.
More Cocktails for Summer Celebrations.
Sex on the beach vodka cocktail with Peach Schnapps. It is a VERY yummy fruity drink you will want to check out for your summer parties.
Malibu Sunset Cocktail is a beautifully layered Rum based drink with a definite tropical feel.
Tequila Sunrise Margarita Like the Malibu Sunset this is a gorgeous layered drink with grenadine.
Pin it: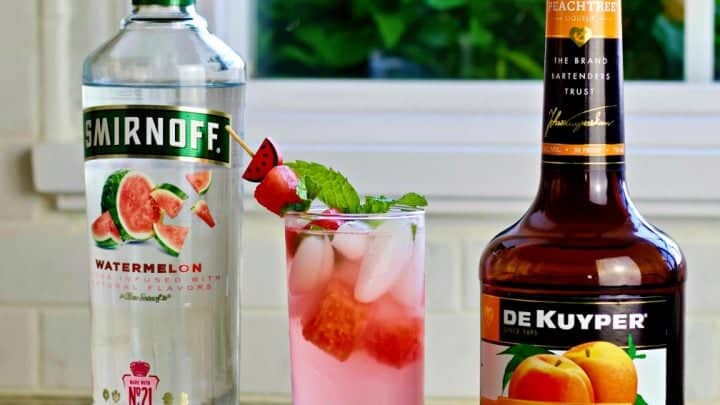 Yield:

1-11 0z. cocktail
Watermelon Peach Cocktail
Lots of summer flavor in this Light and refreshing watermelon and peach cocktail. This cocktail is made with watermelon juice (or fresh peach and watermelon puree-your choice). Mixed with watermelon vodka, peach schnapps and sprite. Delicious!
Ingredients
1 oz peach schnapps
1 oz watermelon vodka
1/4 cup watermelon juice
1/4 cup sprite
Garnishes:
1 Cup Fresh seedless Watermelon cut into 1 inch chunks
1/4 peach for chunks as desired
Instructions
Make the Watermelon Peach Cocktail:
Set out an 11 oz. highball glass
Alternate ice chunks with watermelon cubes
Measure and pour the watermelon vodka over the ice and melon chunks.
Measure and pour in the Peach Schnapps
Measure and pour in the watermelon juice
Measure and pour the Sprite in last.
GARNISH Ideas:
Watermelon chunks on a bamboo cocktail stick with fresh mint leaves
Peach chunks alternated with the watermelon chunks.
Watermelon triangles are also often put on the drink edge for a cute look.
The stick may be submerged into the drink or laid across the top of the glass as desired for proper display.
The watermelon chunks in the drink are also for display. They do not add the the drink flavor.
You can experiment with using ripe peach slices for garnish.

Notes
Fresh Fruit Puree Variation:
Originally I made this drink with fresh pureed watermelon and peaches. If you wish to make your own fruit juice blend it's very easy.
Here's the Recipe:
Ingredients:
1/2 small seedless watermelon (I used a Hermison seedless watermelon)
2 whole peaches
Instructions:
Cut up the watermelon and the peaches into chunks.
Puree in a blender until they are smooth (add in ice to the blender if you would like)
Pour the watermelon and peach blend into a cocktail glass.
If you want a clearer less pulpy juice strain the pulp after you puree the fruit. Use 1/4 Cup of this juice for one cocktail.
Recommended Products
As an Amazon Associate and member of other affiliate programs, I earn from qualifying purchases.
Nutrition Information
Yield
1
Serving Size
11 oz. cocktail
Amount Per Serving
Calories

384
Total Fat

0g
Saturated Fat

0g
Trans Fat

0g
Unsaturated Fat

0g
Cholesterol

0mg
Sodium

154mg
Carbohydrates

66g
Fiber

2g
Sugar

60g
Protein

2g