Lots of summer flavor in this Light and refreshing watermelon and peach cocktail. This cocktail is made with a  fresh peach and watermelon puree and mixed with sprite and watermelon vodka.
It has been so long since I have posted. Brian and I finally purchased our first home! yay! Life has been very exciting and topsy turvy. We have been moving and unpacking while running after our 7 month old baby girl who just learned how to crawl this week! whew!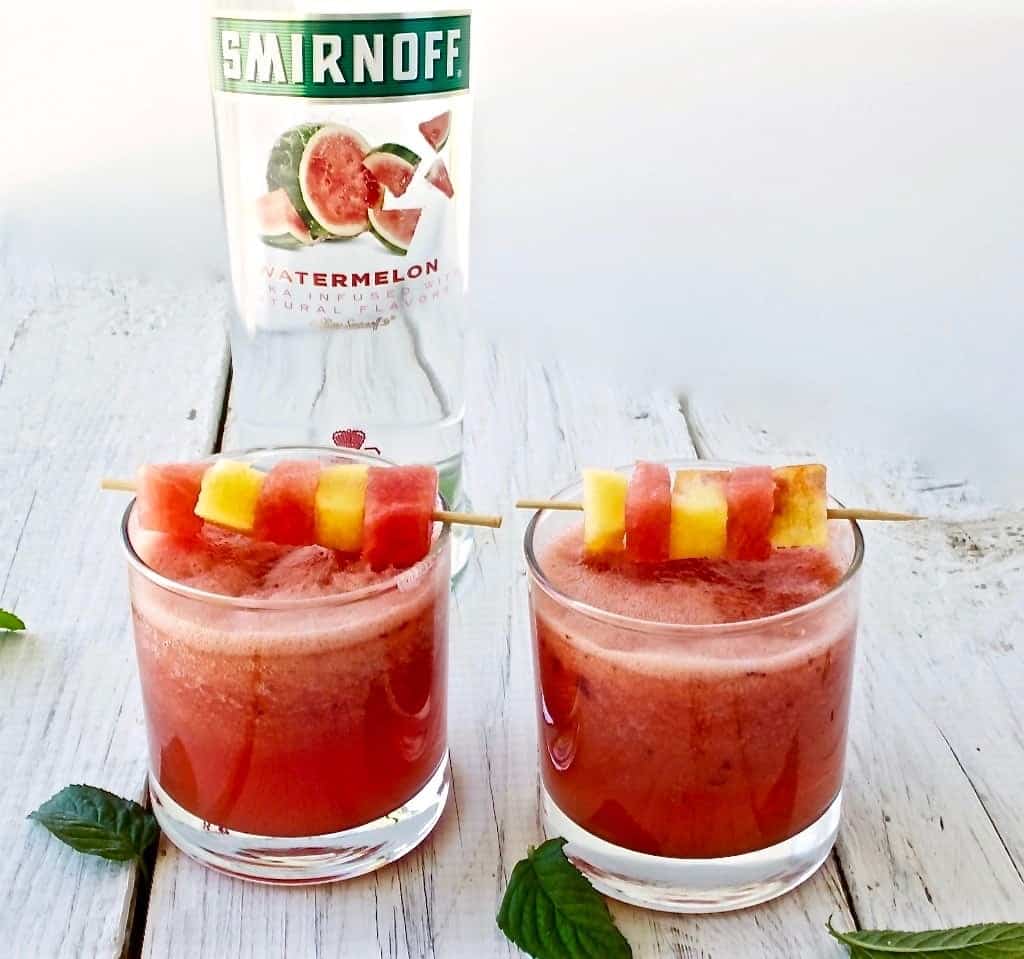 Time for a break. And a cocktail. I am hip deep in cardboard boxes. But I found my blender!
Laying around by the pond and fire pit with a Watermelon peach cocktail is a nice wind down from all of the stress and business of buying a house. I'm all about watermelon and peaches this year. I love the juiciness of both of those fruits and they are so easy to make into a yummy and not too thick puree. That makes a great base for this refreshing summer cocktail. Perfect for a relaxing moment on our new veranda.
Brian and I love to entertain. When we finally get things settled; our friends will be over. Our new home is roomy so lots of socializing and family events will be happening here! Watermelon peach cocktail is a good one for summer entertaining when the fruit is ripe and bursting with flavor. It's  all about fruity summer fun.
I recommend our Malibu Sunset Cocktail for rum lovers and Limoncello Prosecco drink for a light summer party drink as well. Nothing like a refreshing cool drink.
Watermelon Peach Cocktail Recipe:
Here's how to make this delicious summer drink:
Blend cut up watermelon and fresh peach slices together in a blender until they are juiced. Put ice cubes into the blender with the watermelon and the peaches. I didn't use any with the first batch that I made, but I it will add a yummy cold tang to the drink.

Pour the watermelon and peach blend into a cocktail glass.
The sprite and the vodka are the last thing you want to mix together in the drink.
I recommend pouring the vodka first and then pour the sprite slowly into the glass so it doesn't fizz over.
Watermelon and Peach Cocktail
Ingredients
1/2 small seed less watermelon (I used a Hermison seedless watermelon)
2 whole peaches
1 oz watermelon vodka (2 tbsp)
1/4 cup sprite
Instructions
Cut up the watermelon and the peaches into chunks.
Puree in a blender until they are smooth (add in ice to the blender if you would like)
Pour the watermelon and peach blend into a cocktail glass.
Next, pour the vodka in and then follow with the sprite, pour slowly so the drink doesn't fizz over.
I garnished with slices of cubed watermelon and peaches on a skewer stick.
Enjoy!

Pin it: