This delicious Chicken Tortellini Alfredo is made with our homemade Alfredo sauce, and pairs wonderfully with fresh, steamed vegetables and a glass of chilled white wine for a simple dinner. The delicious, robust flavor of the homemade sauce is what really elevates this meal, and by using fresh grilled chicken, it provides a high protein recipe that is satisfying and scrumptious.
Our chicken Alfredo tortellini recipe can be made in a variety of ways depending on your preferences and the amount of time you want to spend preparing it. When made as directed it is a simple skillet chicken tortellini Alfredo that builds and intensifies the flavors throughout the cooking process.
There are some variations of ways that this dinner can be made, but if you're looking for an easy skillet dinner, this is it.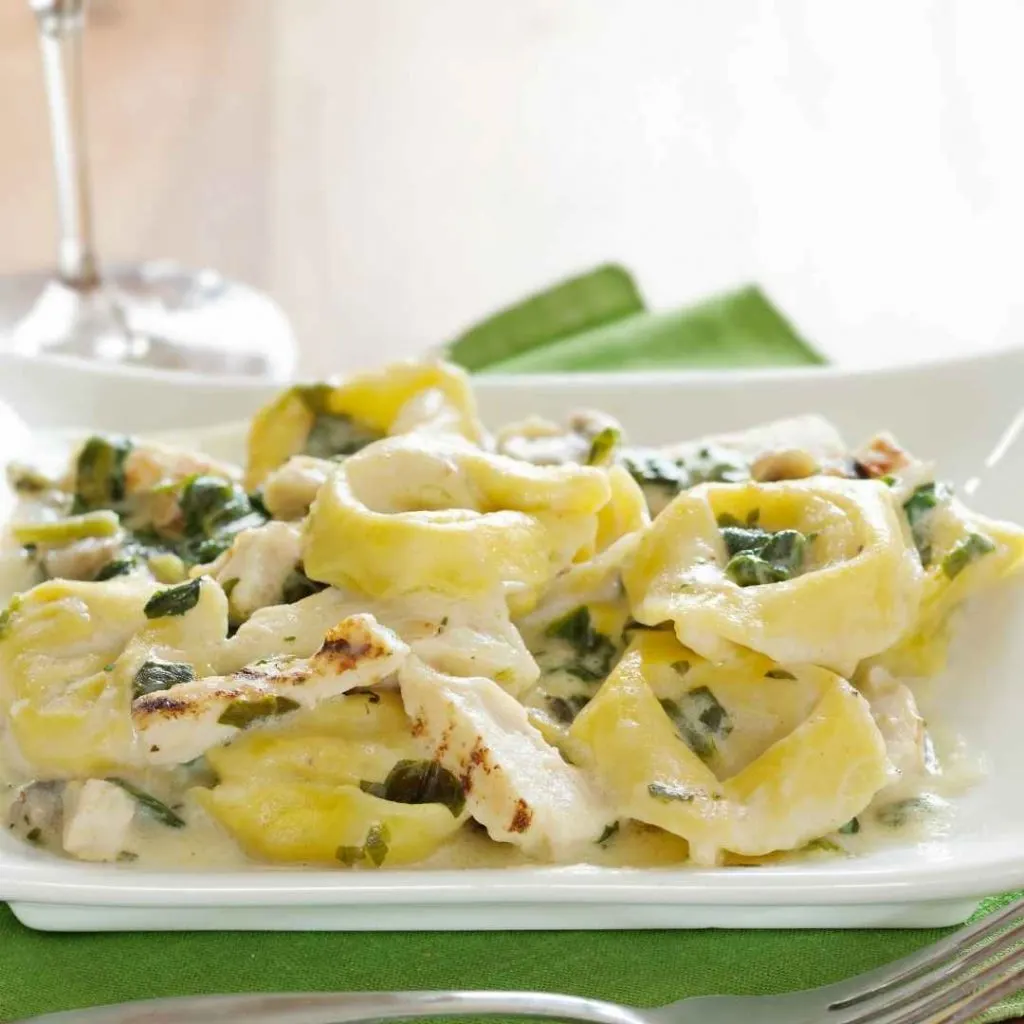 Chicken tortellini is always a favorite dinner, especially when it is prepared with our creamy homemade Alfredo sauce. This is basically a variation of the super popular Panera chicken Alfredo tortellini. The chicken and veggies can be cooked in the same skillet, while the sauce can be prepared in a small saucepan either beforehand, or while the chicken is cooking.
Take 2 minutes to boil the tortellini noodles and mix everything together. You can also serve this dinner with a fresh green salad and warm dinner rolls for a complete, multi course meal that would be excellent for a dinner party or family gathering.
Chicken Alfredo Tortellini Video Tutorial
What is Chicken Tortellini Alfredo?
Chicken tortellini Alfredo is a popular dish that is know because of the chain restaurant Olive Garden, and the Panera chicken tortellini Alfredo recipe. It consists of seasoned, grilled chicken and cheese filled tortellini style noodles covered in a rich, creamy Alfredo sauce.
There are variations in the way this dish can be made including slow cooker chicken alfredo tortellini, and chicken alfredo soup with tortellini. We have another version of tortellini soup that you can try as well! It is our simple sausage tortellini soup and combines veggies and sausage with the delicious stuffed noodles.
You can also change up the flavors simply by using different varieties of tortellini noodles. Spinach stuffed, tomato basil, or sun dried tomato and pesto filled tortellini would all be delicious substitutions for the traditional cheese stuffed.
What protein goes best with Alfredo?
A traditional Alfredo is made without the addition of meats, however, over the years folks have learned to love the Italian pasta dish with various meats that add protein and robust flavor to the creamy noodle recipe.
Fortunately, the flavors of Alfredo are versatile and welcoming to a variety of different proteins. Grilled chicken breast is the most popular meat that accompanies the recipe; but shrimp, chicken strips, sausage, meatballs, and lobster or sea scallops have all been successful additions to Alfredo dishes.
This Alfredo recipe is designed for tortellini pasta. Traditionally, Fettuccine noodles are what make up an Alfredo, but fresh cheese tortellini is a step up from fettuccine in this recipe. Tortellini is filling and flavorful with a cheesy filling and satisfying textured, fluted edges.
How do you make the best Chicken Tortellini Alfredo?
Fresh, refrigerated tortellini is full of cheesy flavors that blend well with the parmesan cheese in the alfredo sauce. We do not recommend dried tortellini for this recipe. The sauce coats the fresh tortellini better and the flavor is superior, so reach for a good quality, fresh tortellini noodle.
Whenever possible, always make your own Alfredo sauce. It is a simple sauce that builds quickly and delivers an unbeatable flavor. Making your own sauce also allows you to control exactly what goes into it, while avoiding low quality ingredients like preservatives, fillers, and excess sugars or sodium.
Season and cook your meat well to develop the natural flavors of the meat and deepen the flavors of the dish. Grilled chicken breast is the most popular meat added to an Alfredo, because the flavor is a delicious accent to the creamy, cheesy sauce.
Use fresh, aromatic herbs and spices for deeper flavor development. Use fresh garlic, fresh parmesan cheese, and fresh vegetables to enhance the dish and create a satisfying texture. Frozen or dried ingredients can of course be used in a pinch, but it will affect the flavor and overall quality of your chicken tortellini Alfredo.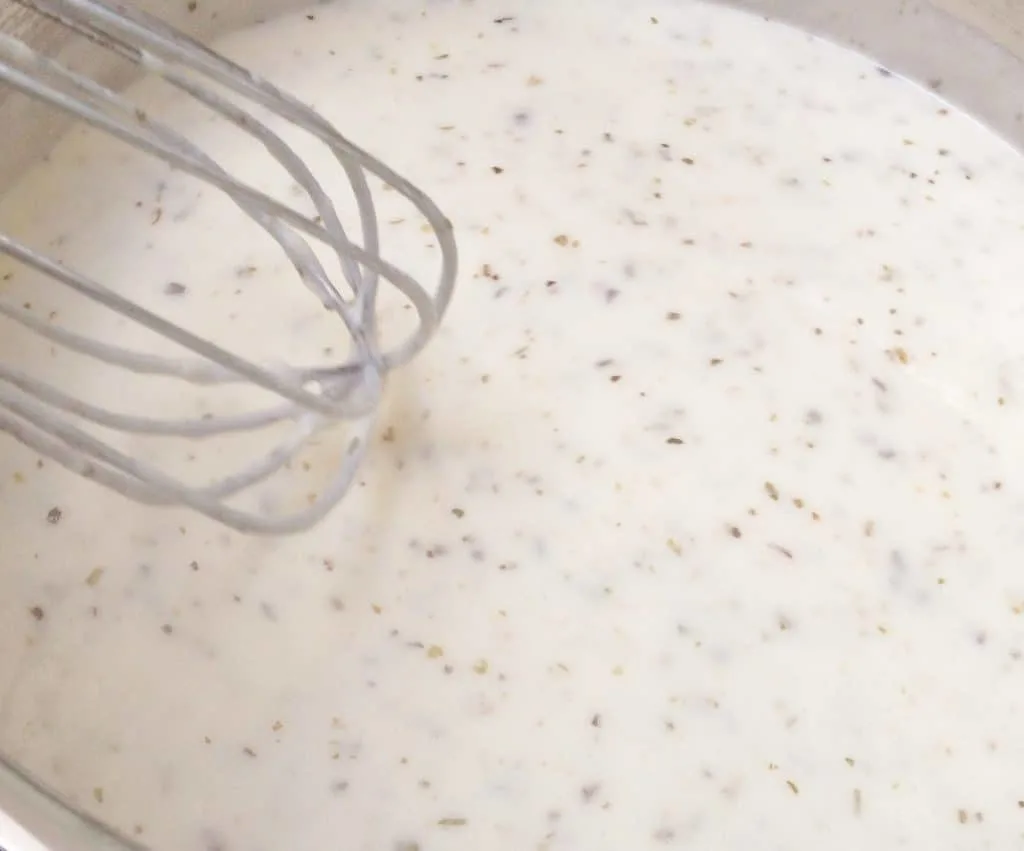 How do you make the best Alfredo Sauce?
Alfredo sauce offers a rich creamy texture and gorgeous Italian flavors to your meal. The ingredient list and instructions for this delicious easy Alfredo sauce are right in the recipe card. This sauce is built with butter, milk, fresh parmesan and garlic, flour to thicken, and finished with fresh basil and Italian herbs for a robust flavor.
Alfredo sauces can vary, but our will yield a thick, creamy, pourable sauce that is rich in flavor and accompanies the cheese stuffed noodles beautifully.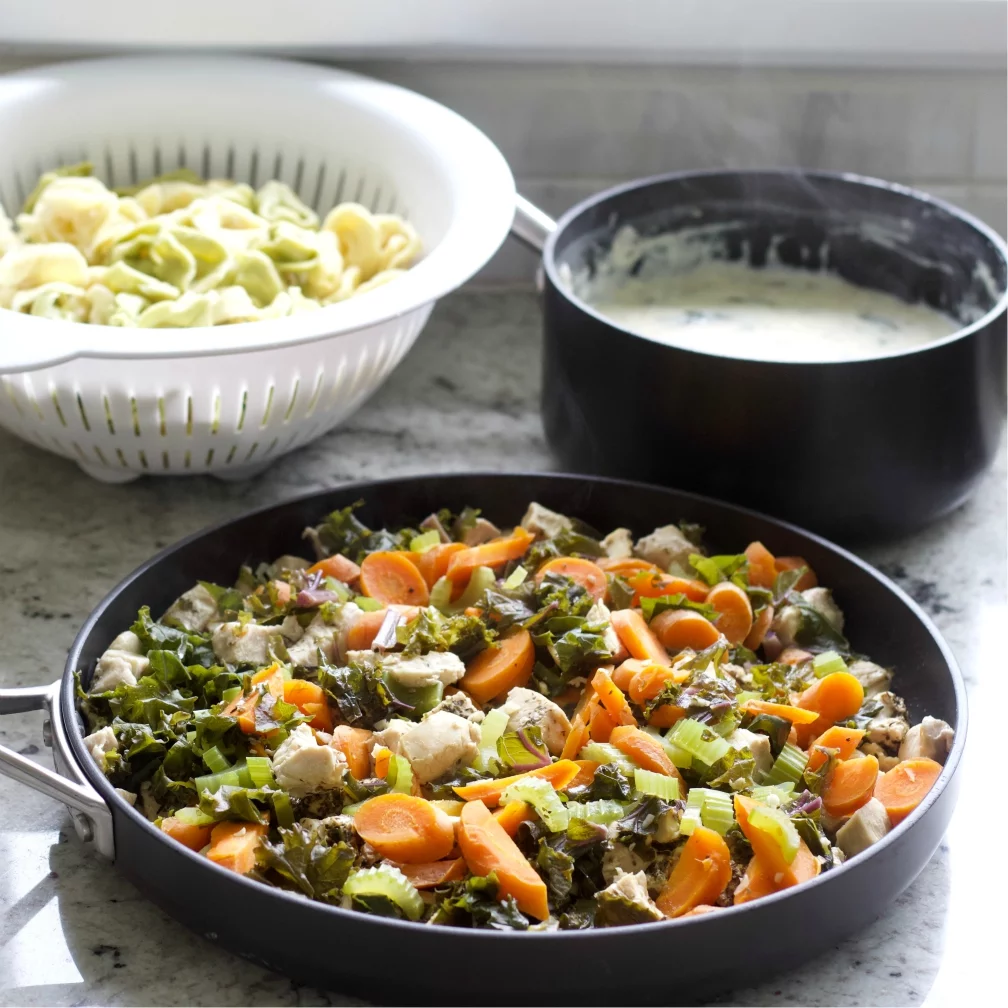 We chose bright orange carrots, lots of fresh garlic, green celery and leafy kale for the vegetables. They work well together in this recipe.
If you wish to substitute the vegetables in this chicken tortellini recipe, here are some great options
Either green onions, yellow or white would be delicious additions
Fresh green beans cut into one inch pieces
Asparagus tips
All the fresh Italian herbs like rosemary, oregano and basil work great in this recipe to your taste
Marinated artichoke hearts
Add a side of roasted butternut squash or diced sweet potatoes
Spinach can be used in place of the kale
What can you serve with Chicken Tortellini Alfredo?
Like most pasta dishes, this recipe is very versatile and can be enjoyed all on its own or with an array of sides. If you are building a full meal for a dinner party or feeding a large crowd, here are some great ideas for side dishes to serve alongside your tortellini Alfredo
Making Homemade Chicken Tortellini Alfredo
Prepare your chicken by dicing into small portions
Heat the water for the noodles
Place the chicken in an oiled skillet and allow it to sear on each side
Prepare the veggies and add them in with the chicken
Boil the tortellini noodles, these noodles are done when they get soft and float to the top of the water. Stain and set the noodles aside
Prepare the Alfredo sauce
Combine the drained, cooked noodles, Alfredo sauce and cooked chicken and veggies together and enjoy!
In about 30 minutes you'll have a filling dinner that serves roughly twelve.
Freezing the sauce
This Alfredo recipe makes a lot. If you don't need all of it take half of the recipe and freeze to enjoy at a later time. It is also a fantastic freezer meal to share with family and friends who could use a full sized dinner.
Place your leftover Alfredo chicken tortellini in an airtight freezer safe container
Label the container with the recipe name and date
Write the reheating instructions on the outside fo the container
It can be frozen for up to 1 month without compromising flavor and freshness
When you are ready to enjoy, transfer it to your refrigerator and allow it to thaw
You can heat it in individual portions in your microwave, or by adding a bit of chicken broth and warming in a saucepan on your stovetop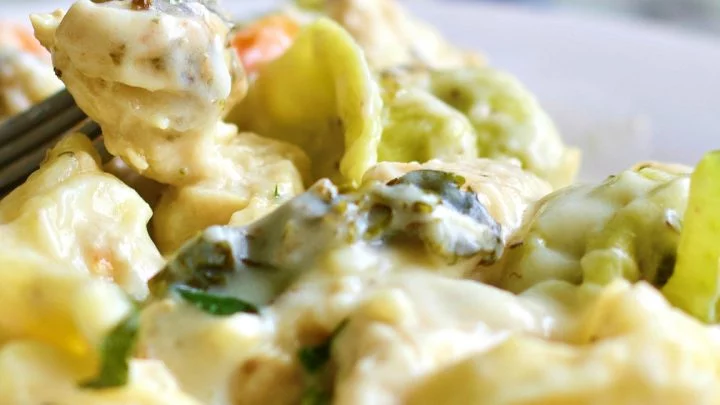 Yield:

12 servings
Chicken Alfredo Tortellini with Homemade Alfredo Sauce
Chicken Tortellini Alfredo with homemade Alfredo sauce from scratch. Put it together with fresh vegetables, chicken and cheese tortellini. They all combine to make a wonderful Italian taste sensation. This recipe is quick to make and delicious.
Ingredients
3 boneless, skinless, chicken breasts chopped into one inch cubes
3 medium to large carrots cut into sticks(julienne)
3 cloves of fresh garlic-crushed, or 5 garlic shallots minced up the stem
2 tablespoons fresh celery minced with leaves
2 Cups kale, rough chopped, into strips
3 tablespoons coconut oil
24 oz package fresh cheese tortellini noodles
For the Homemade alfredo sauce:
1/2 C butter
1/4 cup white flour
3 cups milk or as needed until thickness of sauce is pleasing.
1 cup Parmesan cheese
1 Tablespoon Italian seasonings
2 Tablespoons chopped fresh basil to taste
2 garlic cloves diced and crushed or 2 tsp. garlic powder
Instructions
Put a large pot on to boil for the noodles
Place a large skillet on the stove and melt 2 tablespoons coconut oil
Add chicken and simmer on medium low, while preparing the vegetables
mince and crush the garlic, chop the celery fine, cut the carrots into sticks and chop the kale into strips. Add the vegetables to the skillet with the chicken, raise the temperature to medium and put a lid on it.
When the pot of water boils, add in 1 tablespoon coconut oil and the noodles. Cook according to the package directions. When they are done drain them and set aside in the covered pot.
Make the alfredo sauce as follows:
In a 2 quart sauce pan melt butter on low with garlic and seasonings.
Stir it until well blended.
Add the flour and whisk it on medium high until the flour-butter mixture bubbles gently and thickens.
While whisking it continuously, Add the milk 1 cup at a time and cook until it thickens and then add the Parmesan.
It will continue to thicken so keep adding milk until it develops the sauce consistency you want, whisking constantly. Then remove from heat and it's ready to use!
When the chicken and vegetables are done and tender, add in the tortellini and cover with the alfredo sauce. Gently stir it together and serve!
Nutrition Information
Yield
12
Serving Size
1
Amount Per Serving
Calories

436
Total Fat

20g
Saturated Fat

12g
Trans Fat

0g
Unsaturated Fat

6g
Cholesterol

82mg
Sodium

555mg
Carbohydrates

41g
Fiber

3g
Sugar

2g
Protein

23g
Click any of the pictures below to explore these recipes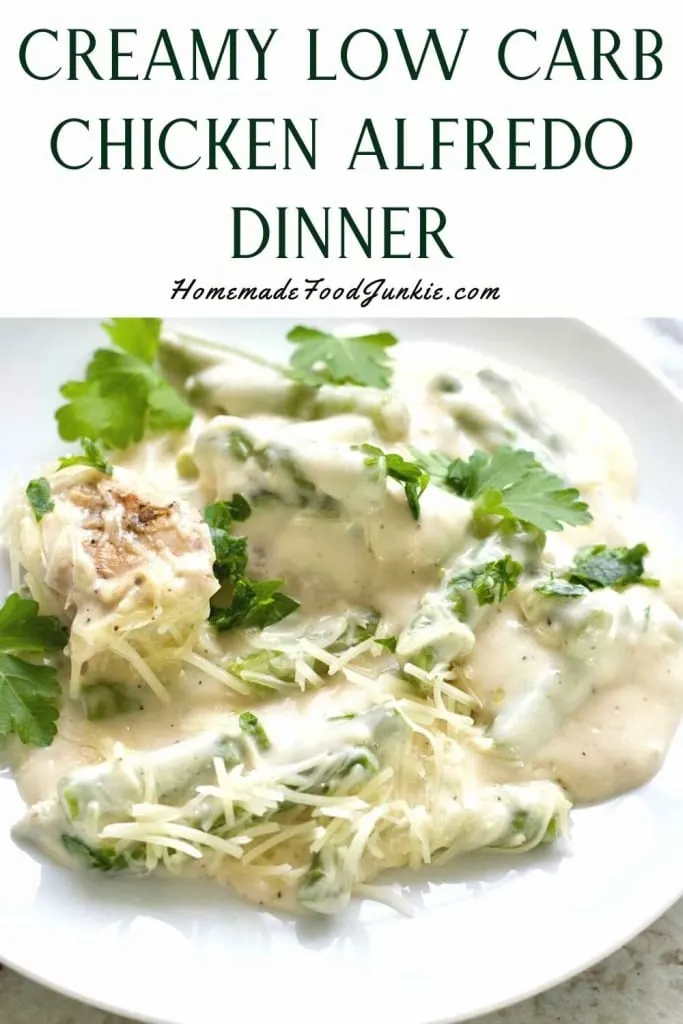 Follow Us:
We enjoy meeting you on our social networks. Follow us on Facebook, Pinterest, Instagram . Tag us with your pictures of our recipes and comment on how it went for you. We would love to see what you do with them.
We often like, comment and share your posts of our recipes on our daily Instagram stories.
Ask questions and rate the recipe in the comments section below. Please share what you did with this recipe. We are always looking for more and better ways to make homemade food. Other cooks love your ideas!
Recent Posts: