Our sausage Tortellini soup is SO full of flavor. Add in vegetables and kidney beans for flavor, nutrition and protein. Cheesy tortellini noodles in a tomato broth pull it all together.
Let this beautiful soup simmer all day in your crockpot or instant pot…OR make the yummy recipe in your instant pot on the soup function. An easy nutritious, sustaining dinner is ready at the end of a busy day. Put your feet up and enjoy.
Sausage tortellini soup is a very hearty meal. And it's loaded with flavor. Perfect for lazy day meals. Or busy days too.
Make a lovely kale salad Or a spinach salad if you prefer. Either will be a good companion to this soup.
Sausage Tortellini Soup Recipe:
I strongly recommend fresh tortellini noodles from the refrigerator section of the grocery store. I have used the dried tortellini noodles. They don't have the texture or the flavor of fresh.
My personal favorite brand is Kirkland 5 cheese tortellini from Costco. I LOVE it.
However, There are SO many varieties of tortellini and sausage in the store. Choose your personal favorites. I'm sure they will make a lovely soup.
I put those scrumptious noodles into my crock pot with some yummy companions and… dinner is served. The slow cooker function of your instant pot (assuming you have one) will also make this soup. Just adjust it to the MORE for heat and you are all set.
My slow cooker, crockpot and soup pot is my instant pot. THAT is a handy kitchen tool. It works great as a slow cooker for soup like this that are pretty much using fully cooked ingredients.
This soup is sustaining. However, add some dinner rolls or crusty french bread if you love those. My husband will have toasty bread with ANY meal.
Put together a delicious Kale Apple salad with honey dressing for a sweeter salad side. It's a beautiful light salad that goes with this heavy smoky soup really well.
Make this easy CrockPot Tortellini Soup into a weekend soup pot. I usually make at least one large pot of soup every weekend. It's a great way to stretch the budget. And it's a good way to keep nourishing food on hand to avoid junking out.
Slow cooker soup is amazing comfort food. This Tortellini soup recipe will please the family. The Smells and tastes! Ladle up a cup for a cozy 'cup of soup' lunch with tortilla chips on the side.
Sausage Tortellini Soup Recipe:
This is a wonderfully versatile recipe. I have made this soup recipe several times. We love this filling, noodly comfort food. The sausage contributes the meaty, smoky flavor that satisfies the taste buds.
Make this soup easy on yourself:
You CAN make this soup on your stove top if you have an hour. Just assemble the ingredients and heat on medium high heat for about 30 to 45 minutes.
This is a Simple sausage tortellini soup to put together. The cooking method you choose for making this meal is more about how your day is going. What works best for you? How much cooking time do you have?
In the recipe card you will find most of these ideas: Let us know what you do and how you prefer it.
Substitution Ideas:
If you are out of something go ahead and substitute. Want to try a new flavor? Ok. Here are some of my ideas.
Kielbasa sausage is hard to beat. The flavor is intense and smoky. Just the way we like it. However, you can change up the sausage.
Turn it into Italian sausage tortellini soup by using a bulk italian sausage and Italian seasoning. You will need to brown any bulk sausage you choose to use before cooking it with the other ingredients. This gives you the best texture and flavor.
Low fat Spicy Chicken sausage is another nice choice for this crockpot sausage tortellini soup. Tortellini noodles will also work well with a hot Italian sausage or any hot sausage you like. Chorizo anyone? 🙂 (let me know if you try that)
This time I omitted the tomato sauce and carrots (I was out of both). I used sweet potatoes for the carrots. They worked amazingly well.
So did my homemade sun dried tomatoes instead of the canned tomatoes and sauce. I added more chicken broth (a whole quart instead of two cups). To make up for the lost liquid.
hot peppers can be added if you can take the heat. 🙂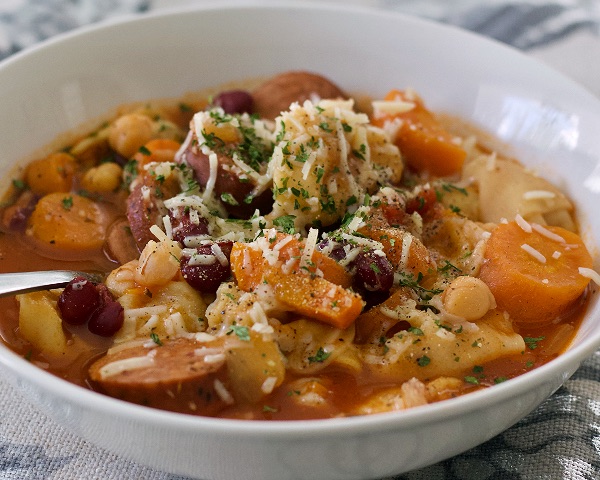 Make this delicious soup for dinner. Follow this recipe and substitute as you need to.
Yield:

10
Simple Sausage Tortellini Soup
Total Time:
4 hours
20 minutes
Delicious Sausage Tortellini soup made in a crock pot, soup pot or your instant pot. Sausage, vegetables, kidney beans and cheesy tortellini noodles in a tomato broth simmered all day or make it in a hurry. An easy nutritious soup ready at the end of a busy day
Ingredients
1.5 lbs. refrigerated cheese Tortellini
1-12 oz. package chicken sausage-sliced into 1/2 inch rings(or organic kielbasa sausage)
2 Tablespoon olive oil
1 Tablespoon crushed or diced garlic
1 medium yellow onion-diced medium
2 large carrots-diced large (or 2 medium sized sweet potatoes)
1 14 oz. can red kidney beans
1-4 oz. can garbanzo beans
1-14 oz. can tomato sauce
1-14 oz. can Italian flavored stewed tomatoes (or marinaded sun dried tomatoes)
6 Cups Chicken broth
1 tsp. galic salt.
1 tsp. Italian seasonings
1 tsp. salt
1 tsp. pepper
Instructions
Place oil, onions and garlic into the bottom of a 6 quart or larger instant pot.
Set the pot to saute function and cook the onions until soft.
Turn off the sauté function.
Add the sliced carrots and sauage.
Sprinkle in the seasonings.
Pour the chicken broth, kidney beans, tomatoes and tomato sauce over all.
Place the tortellini noodles on the top of the rest. Do not mix the pasta in. Let it sit on top.
Set the instant pot to soup function for 20 minutes. Quick release and serve.
Notes
For slow cooking set the slow cooker to low for 4 hours.
You can make this on the stove too. Just use a large pot and follow the instructions for assembly. Turn the pot on simmer for 20 minutes until the carrots are soft.
Recommended Products
As an Amazon Associate and member of other affiliate programs, I earn from qualifying purchases.
Nutrition Information
Yield
10
Serving Size
1
Amount Per Serving
Calories

499
Total Fat

20g
Saturated Fat

7g
Trans Fat

0g
Unsaturated Fat

11g
Cholesterol

89mg
Sodium

1587mg
Carbohydrates

52g
Fiber

6g
Sugar

6g
Protein

28g
Please leave a comment for us with your opinions, ratings and questions. We will get back to you.
Follow Us:
We enjoy meeting you on our social networks. Follow us on Facebook, Pinterest, Instagram . Tag us with your pictures of our recipes and comment on how it went for you. We would love to see what you do with them.
We often like, comment and share your posts of our recipes on our daily Instagram stories.
Ask questions and rate the recipe in the comments section below. Please share what you did with this recipe. We are always looking for more and better ways to make homemade food. Other cooks love your ideas!
Recent Posts:
Subscribe to Homemade Food Junkie Newsletter for weekly updates to our recipes and garden. We'd love to get to know you better.