Snappy, sweet, and tart the Green Apple Jolly Rancher Drink perfectly reflects the flavors in this most famous of all candies.
Fall and Halloween parties for adults should have a set of Green Apple Jolly Rancher drinks to liven things up. This recipe can make a round of shots, or be enjoyed as a single drink with the iconic candy as a fun garnish.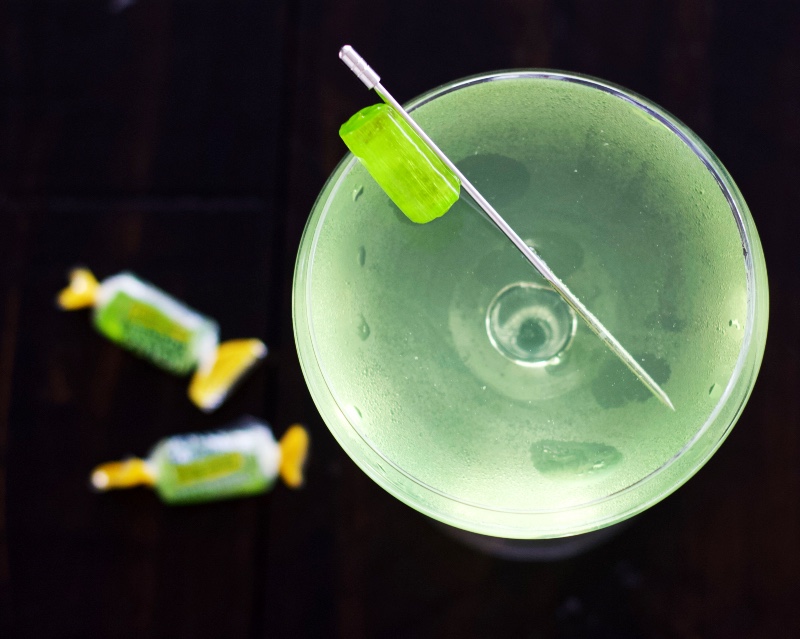 Read the Jolly rancher story to learn more about this popular candy brand.
Watch our video tutorial and watch this drink come together
What is a Jolly Rancher shot made of?
The Jolly Rancher shot is made by combining white cranberry juice, sour apple pucker, green apple vodka, and sweet and sour mix. This mixture comes together for a sweet, slightly tart, apple flavored cocktail that tastes like the famous Green Apple Jolly Rancher Candy.
Will Jolly Ranchers dissolve in alcohol?
Yes, you can infuse tequila and vodka with Jolly Rancher candies. Simply drop the candies into the alcohol, shake periodically and allow them to dissolve and infuse. It will take 3-4 hours for the candy to dissolve completely.
They will create a very sweet flavor so it is best to infuse straight alcohol rather than the mixers. We chose to use the candies as garnishes for the drink. Dissolving candies in the drinks made them a little too sweet.
More Candy Drinks
Grab a bag of Pink Starbursts and White Gummy Bears while you're at it. We have drink recipes for those too!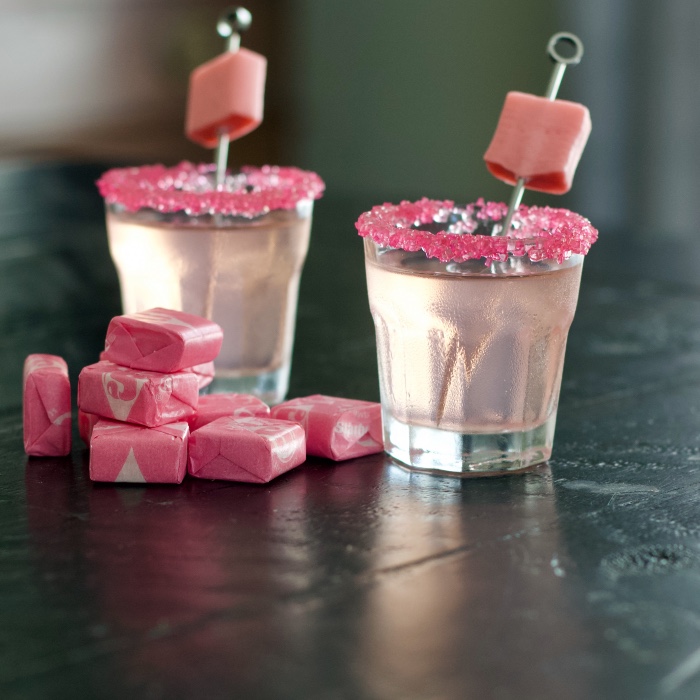 Find all of our cocktail recipes here
Can you make different flavored Jolly Rancher drinks?
You can absolutely make a lineup of different flavored Jolly Rancher drinks. We have recipes for Green Apple, Watermelon, Blue Raspberry, and Cherry.
What alcohol is best for Jolly Rancher Drinks?
Vodka is best for these Jolly Rancher drinks. You can make a homemade Jolly Rancher Vodka by infusing the vodka using the famous candies, but you don't have to.
Most of what you need is already in your cupboard. And the rest of the ingredients are easy to find or order on Amazon. We made each of our 4 Fabulous Jolly Rancher Drinks with vodka and various flavored mixers for amazing color and the perfect balance of sweet and slightly tart.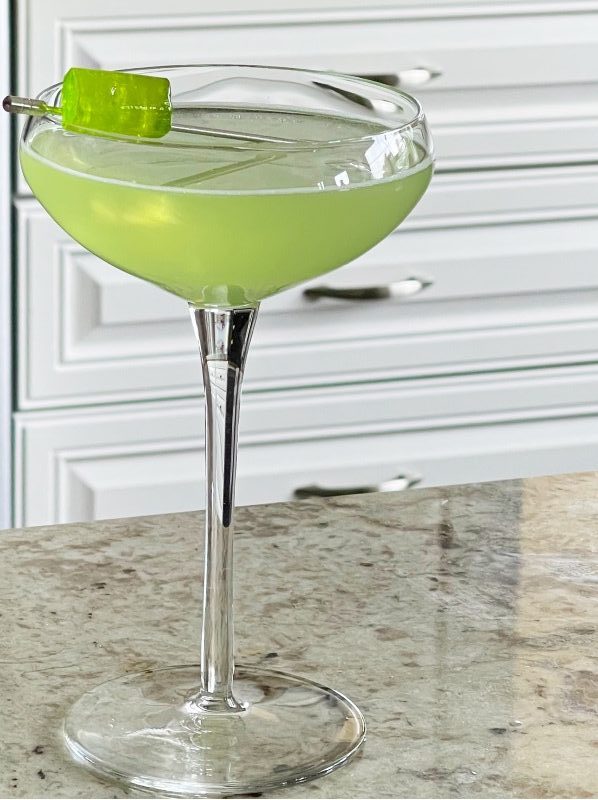 Ingredients:
Here's a quick peak at the ingredients list. Your local grocery or liquor store should carry these. Amazon links are provided if you can't find these things locally.
Sour Green Apple Pucker
Green Apple Vodka
Green Apple Jolly Rancher Shot Recipe
If you want to make this recipe into four shots you will need to add another 1/2 oz. of Green apple vodka to even up all the shots.
Here's some fun ideas for shot glasses for Jolly Rancher shots on Amazon. Or go to Etsy for even more creative ways to serve those candy shots.
Below is our printable recipe card for the Green Apple Jolly Rancher Drink. If you print out the recipe the pictures will not print. This is to save you paper and ink. Please also watch our recipe demonstration video. Enjoy!
Yield:

1 drink
Green Apple Jolly Rancher Drink
Snappy Sweet tart Green Apple Jolly Rancher Drink will perk up your Fall Parties and add a whimsical element of fun. And it's delciious! We made it taste just like the candy it's famous for. Enjoy!
Instructions
Pour ice into your shaker
add in all the remaining ingredients.
Shake the shaker vigorously until very cold
Strain the drink into your glass.
Garnish. INSTRUCTIONS IN NOTES.
Serve
Notes
We served ours in a coop glass. Any 6 oz. glass stemmed or stemless will work fine for this candy flavored cocktail. Here is the one we used.
For shots-you can find any number of cute shot glasses with the jolly rancher them on Etsy.
This recipe will make ALMOST 4 short 1 1/2 shots. Add another 1/2 oz of green apple vodka to even up the shots. or short the glasses a tiny bit.
Garnish:
We used a stainless cocktail pick and a jolly rancher candy. Get the pick wet and adhese it to the candy.
Try to balance the pick onto the center of the candy for the best look.
Just hold the candy onto the wet pick until the connection hardens. This will take 10 to 20 seconds.
Set the pick into your glass keeping the candy out of the drink.
The candy can be eaten on the side.
You can slice green apple wheels and dip them in lemon juice to keep them from browing. Serve on the glass side with or without the candy pick.
Nutrition Information
Yield
1
Serving Size
1
Amount Per Serving
Calories

234
Total Fat

0g
Saturated Fat

0g
Trans Fat

0g
Unsaturated Fat

0g
Cholesterol

0mg
Sodium

16mg
Carbohydrates

27g
Fiber

1g
Sugar

25g
Protein

0g
Follow Us:
We enjoy meeting you on our social networks. Follow us on Facebook, Pinterest, Instagram . Tag us with your pictures of our recipes and comment on how it went for you. We would love to see what you do with them.
We often like, comment and share your posts of our recipes on our daily Instagram stories.
Ask questions and rate the recipe in the comments section below. Please share what you did with this recipe. We are always looking for more and better ways to make homemade food. Other cooks love your ideas!
Recent Posts: