Snappy sweet tart Green Apple Jolly Rancher Drink perfectly reflects the flavors in this most famous of all candies. We LOVE jolly rancher candies.
Read the Jolly rancher story of this most popular candy brand. It was founded in Colorado in 1949. And the rest is as they say…history.
Of course we want to make an adult beverage that reflects the flavors of Jolly Ranchers. What's not to like? Green apple is the perfect Fall flavor.
…What else do you have to do with your kids leftover Halloween candy? It's a virtuous thing to trade the kids something healthy for their Jolly Ranchers. Right?
Give those yummers a higher purpose. Fall parties for grown ups should have a set of Green apple Jolly Rancher drinks to liven things up.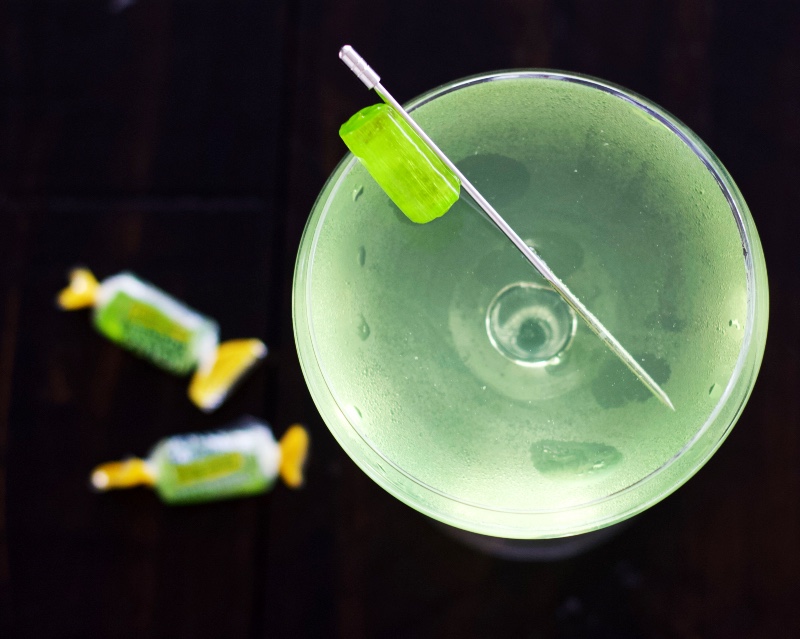 More Candy Drinks:
Grab the extra stash of Pink starbursts and White gummy bears while you're at it. We have ideas for them too. 🙂
Find all of our cocktail recipes here.
I created this green apple jolly rancher drink with the sweet tart profile in mind. I REALLY wanted to make it taste just like a green apple jolly rancher. My hubby and I think this recipe does that perfectly.
And the color is perfect. You won't have to make homemade Jolly rancher vodka in this green apple drink. Most of what you need is already in your cupboard. And the rest of the ingredients are easy to find or order on Amazon.
We are working on a whole series of vodka drinks that taste just like some of the favorite Jolly rancher candies. So keep coming back for more yummy candy drinks.
They will be posting new every week. We have Jolly Rancher Drink recipes ready for the Blue Raspberry, watermelon and cherry flavors. Grape is in the works. Stay tuned!
How to make a Jolly Rancher Drink with Snap!
We leave the candy out of the glass. It's just too sweet when you put the candy in the bottom of the glass in my opinion. And you know I'm all about sweet drinks.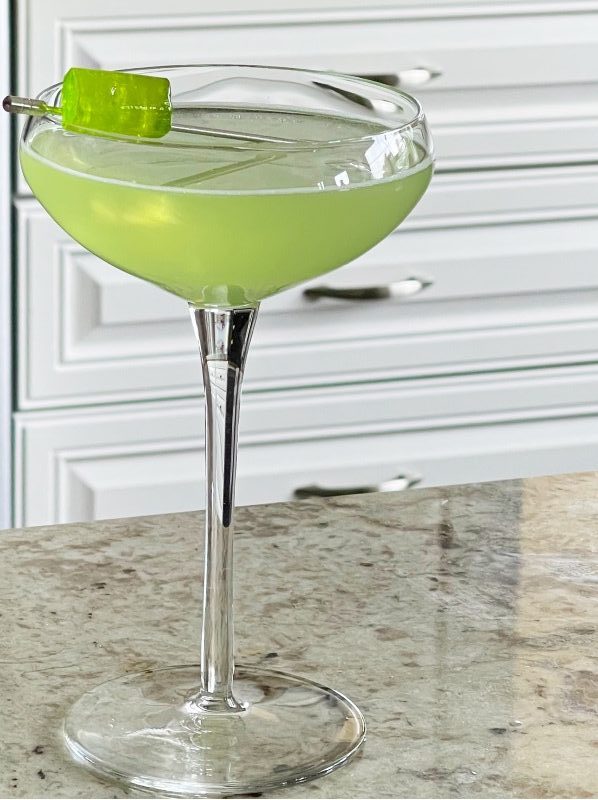 Ingredients:
Here's a quick peak at the ingredients List. Your local grocery, Bevmo or liquor store should carry these. Amazon links are provided if you can't find these things locally.
Sour Green Apple Pucker
Green Apple Vodka
Green Apple Jolly Rancher Shot Recipe:
If you want to make this recipe into four shots you will need to add another 1/2 oz. of Green apple vodka to even up all the shots.
Here's some fun ideas for shot glasses for Jolly Rancher shots on Amazon. Or go to Etsy for even more creative ways to serve those candy shots.
Below is our printable recipe card for the Green Apple Jolly Rancher Drink. If you print out the recipe the pictures will not print. This is to save you paper and ink. Please also watch our recipe demonstration video. Enjoy!
Yield:

1 drink
Green Apple Jolly Rancher Drink
Snappy Sweet tart Green Apple Jolly Rancher Drink will perk up your Fall Parties and add a whimsical element of fun. And it's delciious! We made it taste just like the candy it's famous for. Enjoy!
Instructions
Pour ice into your shaker
add in all the remaining ingredients.
Shake the shaker vigorously until very cold
Strain the drink into your glass.
Garnish. INSTRUCTIONS IN NOTES.
Serve
Notes
We served ours in a coop glass. Any 6 oz. glass stemmed or stemless will work fine for this candy flavored cocktail. Here is the one we used.
For shots-you can find any number of cute shot glasses with the jolly rancher them on Etsy.
This recipe will make ALMOST 4 short 1 1/2 shots. Add another 1/2 oz of green apple vodka to even up the shots. or short the glasses a tiny bit.
Garnish:
We used a stainless cocktail pick and a jolly rancher candy. Get the pick wet and adhese it to the candy.
Try to balance the pick onto the center of the candy for the best look.
Just hold the candy onto the wet pick until the connection hardens. This will take 10 to 20 seconds.
Set the pick into your glass keeping the candy out of the drink.
The candy can be eaten on the side.
You can slice green apple wheels and dip them in lemon juice to keep them from browing. Serve on the glass side with or without the candy pick.
Nutrition Information
Yield
1
Serving Size
1
Amount Per Serving
Calories

234
Total Fat

0g
Saturated Fat

0g
Trans Fat

0g
Unsaturated Fat

0g
Cholesterol

0mg
Sodium

16mg
Carbohydrates

27g
Fiber

1g
Sugar

25g
Protein

0g
Follow Us:
We enjoy meeting you on our social networks. Follow us on Facebook, Pinterest, Instagram . Tag us with your pictures of our recipes and comment on how it went for you. We would love to see what you do with them.
We often like, comment and share your posts of our recipes on our daily Instagram stories.
Ask questions and rate the recipe in the comments section below. Please share what you did with this recipe. We are always looking for more and better ways to make homemade food. Other cooks love your ideas!
Recent Posts: