This is a fun series of candy drinks. Each of these jolly rancher drinks is made to TASTE just like a popular jolly Rancher flavor.
These drinks do not use infusions of the candies with Vodka. You will see most often the way people make this drink is to drop candy into vodka and infuse it.
For us, this produces an incredibly sweet drink that misses the mark. So Kayti created these recipes to bring a better balance to the various flavors.
All these cocktails are made with ingredients from your wet bar or local store.
The Jolly Rancher candies make a great garnish on a metal pick. The simple trick is to wet the metal pick and press the candy onto it. As the candy dries it adheres to the pick.
Very quick and simple. And you get to suck the candy before, during or after you enjoy the drink itself. 🙂
All these Jolly Rancher drinks are Very simple to make and elegant in a coop glass.
Not feeling fussy but want the drink? Use any mason jar or glass that suits your fancy.
More Candy Drinks: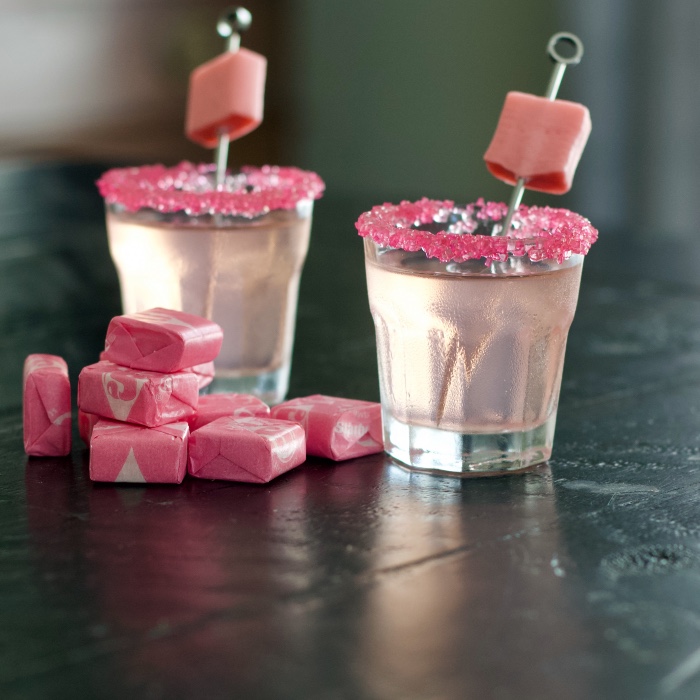 These are all fun drinks to serve to your friends for an event. Pink Starburst Shots, White Gummy Bear Shots and Cinnamon Toast Crunch Shot (ok that one is a cereal. But still in the spirit and yummy) 🙂
Four Fabulous Jolly Rancher Drinks:
These candy drinks are PERFECT for your party or friends gathering. They are beautiful, tasty and make a great presentation.
Also there is no ice needed. Just a quick shake and pour. They will taste great even as they warm to room temperature.
Pop that hard candy in your mouth when ever you like and enjoy.
Jolly Rancher Drink List:
These candy drinks are made with a variety of flavored vodkas, including, Raspberry vodka and Green Apple vodka. We used Smirnoff brand but any brand will work well.
We think you'll enjoy every one of these delicious candy cocktails.
Four Fabulous Jolly Rancher Drinks
Jolly Rancher Candies are that perfect blend of sweet tart fruit candy. Just a few ingredients in a glass and you can enjoy your favoirte flavors of these yummy candies. Make them all together for a beautiful party drink display. Your friends will love them. Enjoy!
Follow Us:
We enjoy meeting you on our social networks. Follow us on Facebook, Pinterest, Instagram . Tag us with your pictures of our recipes and comment on how it went for you. We would love to see what you do with them.
We often like, comment and share your posts of our recipes on our daily Instagram stories.
Ask questions and rate the recipe in the comments section below. Please share what you did with this recipe. We are always looking for more and better ways to make homemade food. Other cooks love your ideas!
Recent Posts: