Enjoy the piquant sweet tart Blue Raspberry Jolly Ranchers flavors in this fun candy cocktail. This beauty makes a delicious jolly rancher drink or with a bit of adjustment to the recipe you can get four jolly rancher shots out of it.
This is a perfect party drink. Make this one and our Green Apple Jolly Rancher drink for yourself and a bestie. yuummie!
We are working on a Jolly Rancher Drink collection. This is the second in our series. Jolly Ranchers is THE most popular candy. Pretty much anywhere. Of COURSE we had to make them part of our candy shots and drinks collection.
You are going to be happy we did. Yummy!
This recipe does NOT require you to make a vodka infusion or anything fancy. You'll have all or most of these ingredients already sitting in your wet bar.
I am so pleased with how this recipe came out! Pure delicious blue raspberry Jolly rancher flavors.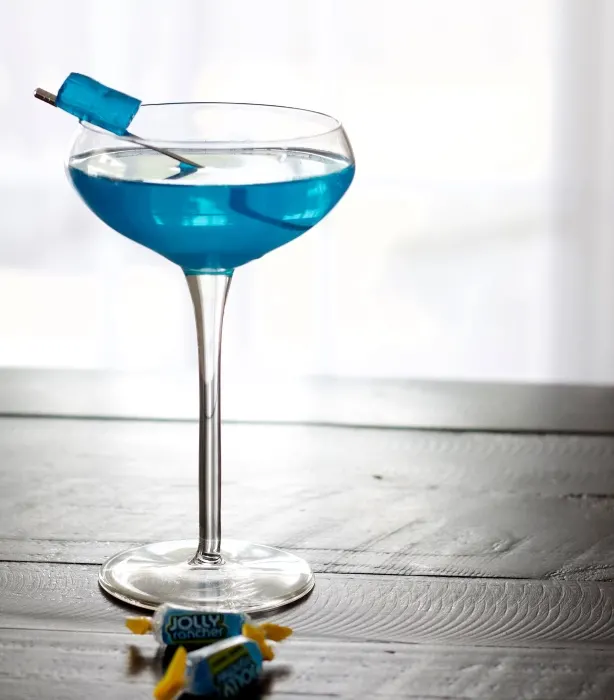 You won't want to miss our other Candy shots either. Try the white gummy bear shot recipe and the Pink Starburst shot for even more fun candy drinks. I mean seriously, candy is always welcome at a party. 🙂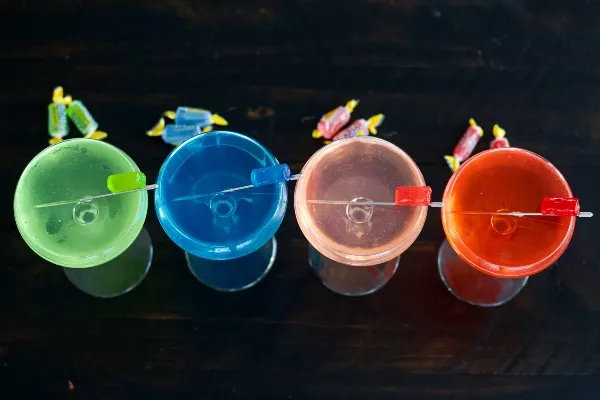 Beautiful and delicious! Here is our entire Series of jolly rancher drinks. Next up is the most famous Watermelon!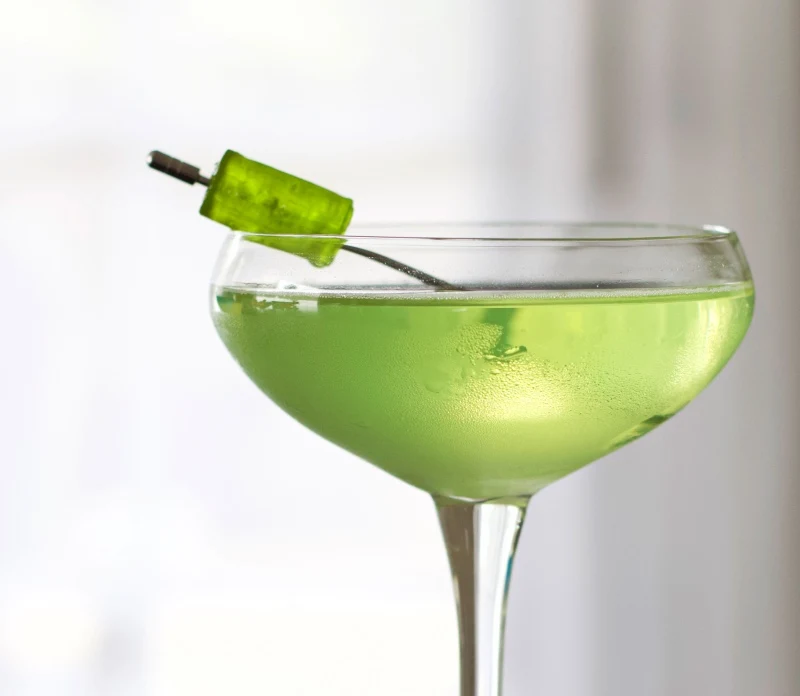 Blue Raspberry Jolly Ranchers Drink Recipe:
The bright blue color of Curaçao is perfect for this drink. Everything about it looks inviting and delicious. And it is!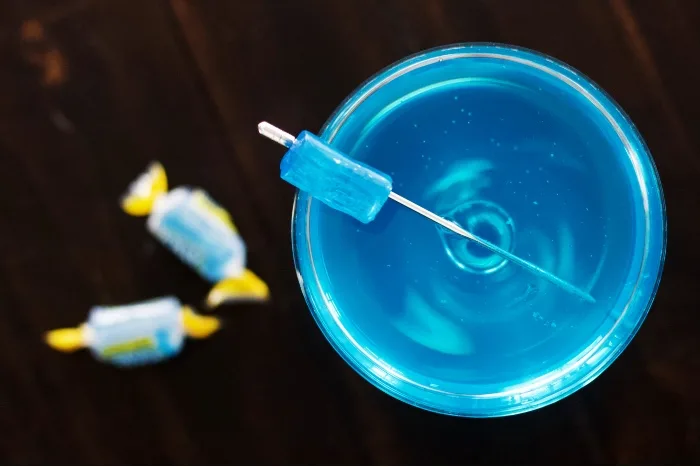 The other jolly Rancher Drinks we ran across require making a vodka infusion with jolly rancher candies. Pardon me. I don't want to infuse a quart of vodka for a drink I won't make too often.
It Just did not make sense for me to do that. And they were not really coming up to snuff with the intense flavor you want. Lots of sweet and not much else comes through in my opinion.
SO, I put on my thinking hat and brainstormed. I played with flavors of some typical ingredients you will have in a wet bar and came up with this recipe.
The raspberry vodka might be the thing you will have to shop for. At least I did. But if you have to buy it you can choose a small bottle for a few bucks if you feel like you'll never need it again.
We think you'll be delighted with the results of this flavor combination. Please let us know how you like it.
Ingredients:
Raspberry vodka
lemon lime soda
Garnish and Glass:
One blue raspberry jolly rancher on a pick. Simple. And I love the way it looks.
We have a neat trick for the garnish. We use a metal pick and wet it in hot water. The Jolly Rancher candy will easily adhere to the wet metal pick. Just give it a few seconds to harden. Easy!
We used a coop glass. There is something so classy about the coop. You can choose any glass you like and theme it for your event if you like. Tone it down with a mason jar or make it elegant with a coop. You do you.
Esty shops have truly creative ideas for cocktail glasses and supplies like the MyCajita Shop we are featuring below. You can also support many more small artisans and shops on Etsy.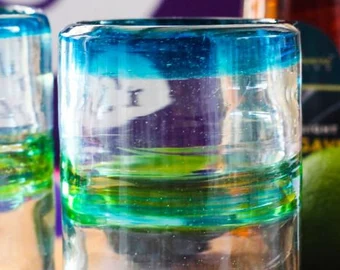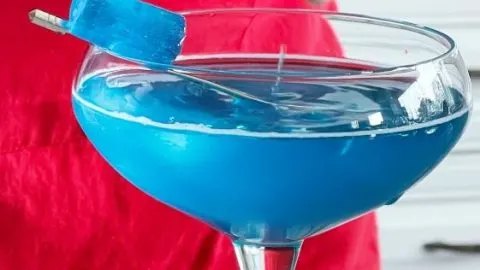 Yield:

1 Jolly Rancher drink
Blue Raspberry Jolly Ranchers Drink
This pretty blue Jolly Rancher drink has all the sweet tart flavors and yummy blue raspberry zing you want in this good candy flavored jolly rancher drink. It's easy to make and SO good.
If you want to make jolly rancher shots out of this recipe. We show you how in our NOTES section under the recipe. Only ONE simple ingredient adjustment is needed. Enjoy!
Ingredients
1 oz. Blue Curaçao
1 oz. Raspberry vodka
2 oz. lemon lime soda
Garnish:
1 Blue Jolly Rancher
Notes
To make four equal size shots. You will need 1 1/2 oz. of the rasberry vodka.
Nutrition Information
Yield
1
Serving Size
1
Amount Per Serving
Calories

370
Total Fat

0g
Saturated Fat

0g
Trans Fat

0g
Unsaturated Fat

0g
Cholesterol

0mg
Sodium

116mg
Carbohydrates

37g
Fiber

2g
Sugar

26g
Protein

1g
We always welcome feedback on our recipes and you, our reader, can often add wonderful new ideas to our posts.
Follow Us:
We enjoy meeting you on our social networks. Follow us on Facebook, Pinterest, Instagram . Tag us with your pictures of our recipes and comment on how it went for you. We would love to see what you do with them.
We often like, comment and share your posts of our recipes on our daily Instagram stories.
Ask questions and rate the recipe in the comments section below. Please share what you did with this recipe. We are always looking for more and better ways to make homemade food. Other cooks love your ideas!
Recent Posts: