Chocolate Ganache is a rich, low sugar, dark chocolate frosting. Add class, style and rich chocolate deliciousness to your pastries, cakes and cookies with this homemade Ganache.
How is this two ingredient ganache even possible? I thought making chocolate frosting was a big process involving cocoa powder and other messy ingredients.
This french method is my new "go to" for all things chocolate and frosting.
I have used this recipe several times now. It is so good! And Seriously EASY! I mean two ingredients. How tough can it be?
Not very as it turns out. Just heat the cream and stir in the chocolate. Wait…and it's done. …well….There is more to it. Read on learn more tips.
Try dipping my Crunchy cornmeal cookies in this delectable rich topping.
Ganache is a creative, multi use miracle. Use organic dark chocolate chips, semi sweet baker's chocolate or your favorite gourmet chocolate bar.
Using high quality ingredients is the secret to a really luscious result. Choose a heavy cream and the best quality dark chocolate you can to amp up the creamy richness of your dessert.
And then just fall into heaven as you feel the chocolate creaminess in your mouth. Best Chocolate Frosting EVER.
And then there is these. Chocolate Eclair Cupcakes filled with ganache. That ganache calls for a bit of butter too. So good with the custard filled vanilla cupcakes.
Chocolate Ganache Recipe:
Here's the Method:
Pour the cream into a one quart pot and whisk it until it just begins to bubble.
Remove from heat and add the chopped up chocolate.
Put a tight lid on the pot and let the chocolate melt for about 15 minutes.
Take off the cover and whisk the chocolate into the cream until it is thoroughly homogenized with the cream. Do NOT add air in. Hand whisking is best.
Now its ready to use as a glaze. If you cool it even further or refrigerate it will thicken into a delicious chocolate frosting.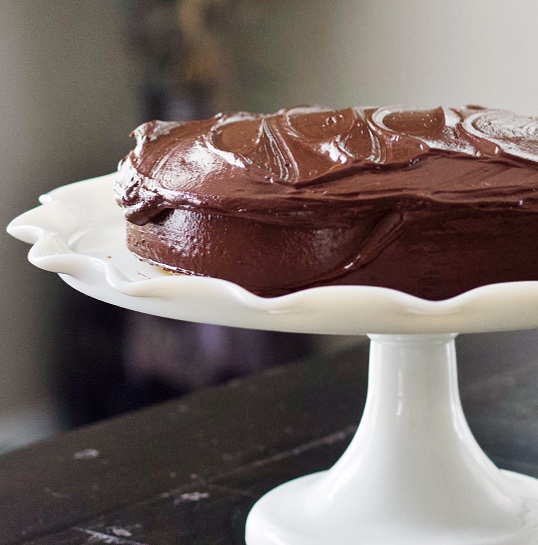 The Ratios Matter:
Our Recipe use the 1:1 ratio of cream to chocolate. This gives you a Glaze at warm temperatures or when cooled to room temperature it firms to a frosting.
For a stiffer result when cooled double the chocolate.
Temperature Also Matters:
When you stir the ganache together at warm temperatures it make a yummy warm chocolate sauce. You can pour this over anything. We used it for Ice cream and it was delicious.
You can use it for a drip layer over a heavy frosted or fondant cake. Crepes are good with it too. Use it for Pretty much anything that needs a liquid chocolate sauce.
As the ganache cools it will firm up. Depending on how much chocolate you use. All the pictures you see in this post are done with the 1:1 ratio this recipe calls for. All that changed is the temperature.
Wanna make a cake??? Try Chocolate Zucchini Cake with Chocolate Ganache for a classy dessert!
As you can see pictured above this ganache works well as a drip over our chocolate ganache cake. otherwise know as chocolate zucchini bread made in a cake pan. 🙂
Just pour it on the cake when it is warm and saucy. Then it will firm up to just the right texture for a fork.
The Chocolate:
This will also impact the ganache results. I use dark baker chocolate at 60% or higher dark chocolate content. If you use candy melts or other chocolate it can impact your results. So play with it.
Dark chocolate is not as sweet as semi sweet bakers chocolate so be careful you get the results you want. I REALLY like the less sweet richer flavor I get from the dark chocolate. You do you!
Chocolate does harden as it cools so for the thick saucy texture that is perfect for pouring use it SLIGHTLY above room temperature. If you let it cool to room temperature it will get thick and make a frosting you can spread.
Too thick? Warm it for 10 seconds in the microwave and stir it up. Play with this too until you get the texture just right for your purposes.
Yield:

2 Cups Ganache
Chocolate Ganache
Chocolate ganache icing or frosting. Yummy and easy.
Ingredients
8 oz. Bitter sweet dark chocolate, 60 percent chocolate content or higher is best. chop into small pieces.
1 Cup heavy cream
Instructions
Chop up your chocolate into one inch or smaller pieces.
Pour your cream into a one quart pot and turn on medium high.
Whisk constantly until it bubbles and immediately remove from heat.
Add the chocolate pieces and put the lid on.
Fifteen minutes later come back, remove the lid and whisk the chocolate into the Ganache.
Use as your recipe requires
Notes
This recipe yeilds enough to easily frost one double layer 9 inch cake.
Nutrition Information
Yield
16
Serving Size
2 Tablespoons
Amount Per Serving
Calories

268
Total Fat

18g
Saturated Fat

11g
Trans Fat

0g
Unsaturated Fat

5g
Cholesterol

24mg
Sodium

28mg
Carbohydrates

25g
Fiber

2g
Sugar

21g
Protein

3g
Follow Us:
We enjoy meeting you on our social networks. Follow us on Facebook, Pinterest, Instagram . Tag us with your pictures of our recipes and comment on how it went for you. We would love to see what you do with them.
We often like, comment and share your posts of our recipes on our daily Instagram stories.
Ask questions and rate the recipe in the comments section below. Please share what you did with this recipe. We are always looking for more and better ways to make homemade food. Other cooks love your ideas!
Recent Posts:
For More On Chocolate Ganache read this article by Sugar Geek Show. She also has posts on Vegan Ganache, ganache made with water and white chocolate ganache.