This delicious sweet and spicy Candied Jalapeño recipe is a perfect way to use up your extra garden Jalapenos. This is an easy water bath canning recipe.
Make a double batch and give some jars of this spicy condiment away for foodie gifts.
Call them Cowboy Candy Jalapeños for fun. This recipe did in fact come from an urban Cowgirl friends of ours. Carrie made these for years and needed some Jalapenos for this year.
We brought her a few batches worth of Jalapeño peppers. Carrie showed us around her new root cellar (I might have been a little jealous). And she gave us this recipe.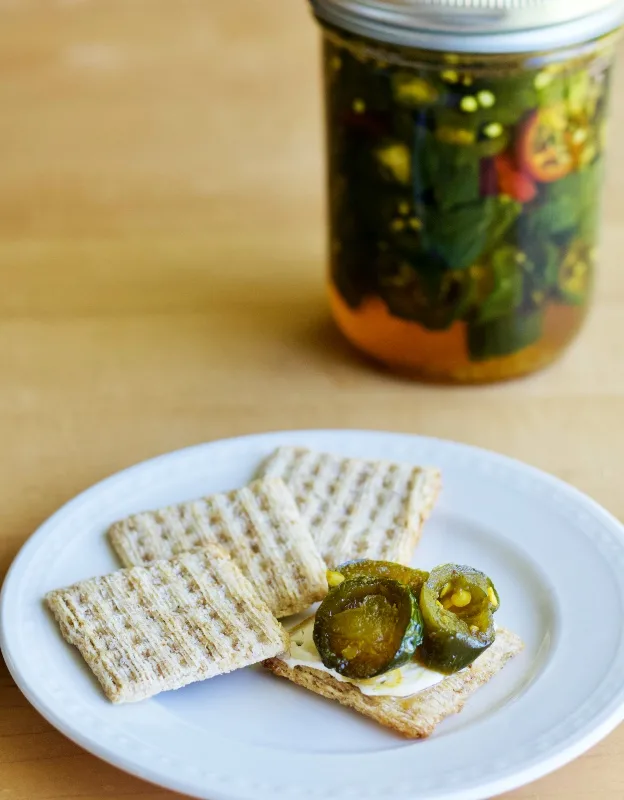 To make this a Candied Jalapeño relish recipe you will want to chop up the peppers fine. I use my food processor for that. It also makes this recipe quite a bit faster.
We wanted the beautiful evenly sliced peppers showing in the jars so we took the time to make the candied Jalapeños hand sliced. This way you can see the different colors of the red and green peppers and the seeds.
Yes. All those seeds…make this a HOT and spicy recipe. If you are not up for the heat you can remove the seeds from the peppers. However, It will add time to the recipe.
And you need a LOT of peppers for each batch. We filled a five quart bowl almost all the way up.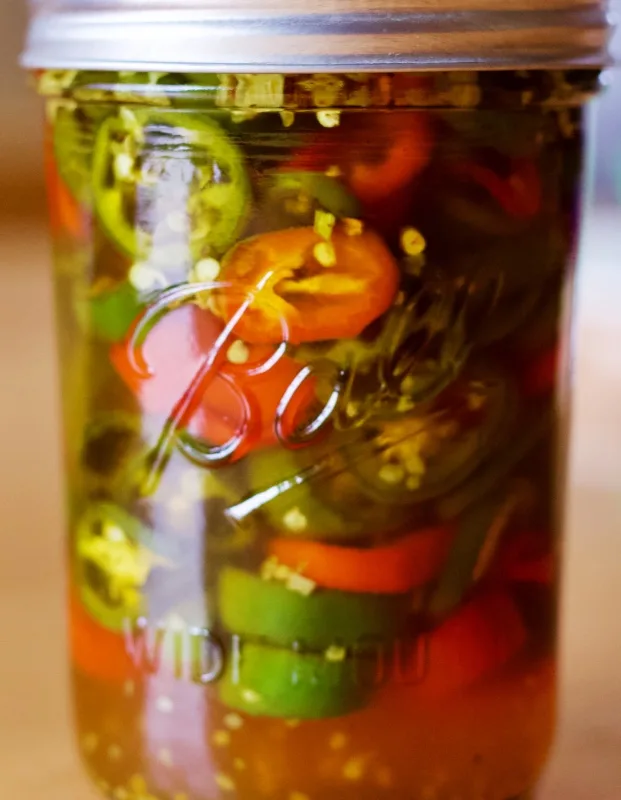 Candied Jalapeño Recipe Notes:
Helpful Canning Tools:
Look for these in your local hardware store. Feed and Garden stores sometimes carry canning supplies and some grocery stores too. If you can't find them locally Amazon has them. I've linked them below for you.
Like most pickling recipes this one requires some patience. DON'T open the jars for at least a month. It's just not fair to eat this recipe straight out the jar first day.
The flavors need to mellow together. So enjoy the pretty jars on your canning shelf for a while before you break into them.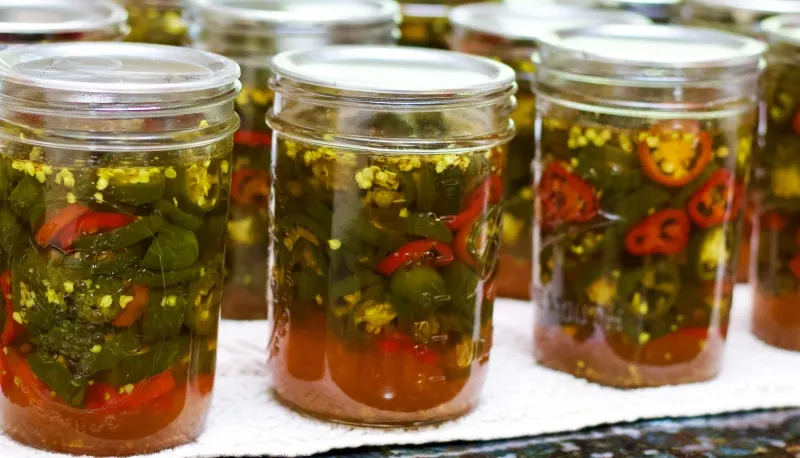 Pro Tips For New Canners:
Follow the recipe exactly. Canning recipes are created to be food safe AS WRITTEN. When water bath canning this is especially important. The proper acidity of the recipe is vital for food safety. Normally I'm all about changing recipes to suit yourself. NOT with water bath canning please.
Wear gloves when handling hot peppers like Jalapeños. The pepper oils are EXTREMELY irritating to eyes, mouth, nose, under your nails and other sensitive parts. Wash your hands throughly after chopping even with gloves.
To save time warm the canner water to the same temperature as your filled hot sterile jars. But do NOT boil the canner water if your jars are only warm or your jars may crack.
I use a dishwasher to clean and heat my canning jars. If you don't have a dishwasher fill your sink with hot water. Clean the jars and rinse them. Refill the sink with VERY hot water and put in a few drops of bleach to sanitize the jars as needed. Keep the jars in the hot water until you need them. Pull them out one at a time to fill and seal.
Boil the lids and then keep them Warm. This will soften the gummy seal and improve sealing.
The brine is VERY sticky. Keep the tools clean and be SURE to wipe off your jar tops of the jars will not be able to seal.
I set a towel under the jars as I fill them to keep the counter cleaner.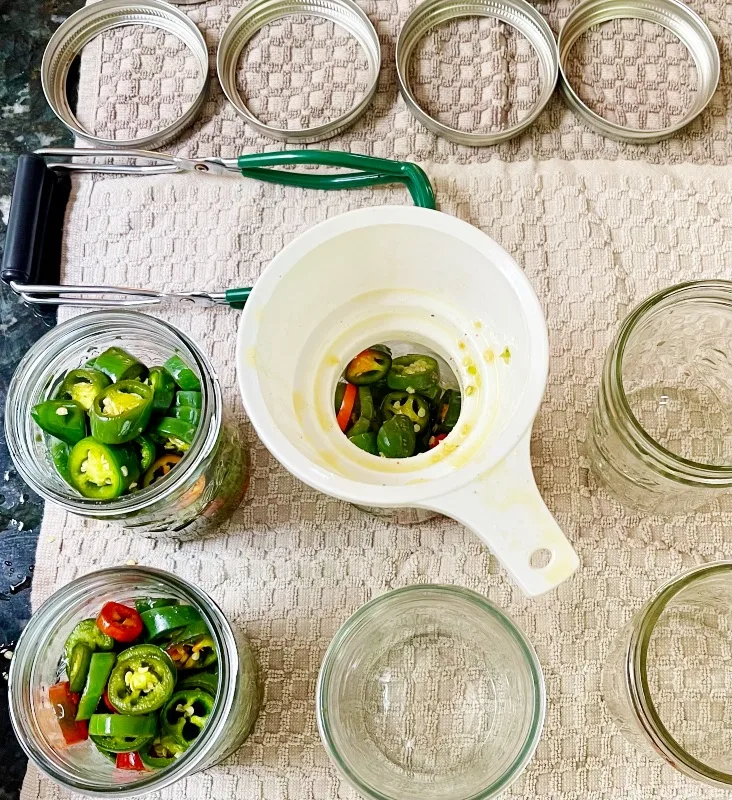 This my set up for Filling the jars when I make Candied Jalapeños. I had wide mouth jars and lids so that's what I used.
Here is the Printable recipe with pictures for helps. The pictures will not print. That is to save you paper and ink. Happy Canning!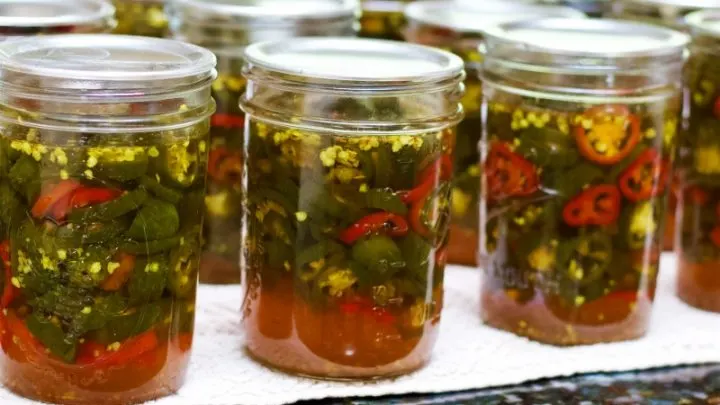 Yield:

14 half pints OR 7 pints
Candied Jalapeño Recipe
Total Time:
1 day
1 hour
15 minutes
This delicious sweet and spicy Candied Jalapeño recipe is a great condiment to add to burgers, sliders, sandwiches, cream cheese and crackers, appetizer recipes, Mexican and Southwest foods.
Ingredients
3 pounds Jalapeños (or other hot peppers-not Anahiems)
2 Cups Apple Cider Vinegar
6 Cups granulated Sugar
1/4 tsp. turmeric-ground
1/4 tsp. Celery Seed
3 Tsp. Garlic-granulated ground
1 Tsp. Cayenne Pepper-ground
Instructions
PREP:
Gather lids, jar bands and jars. Inspect jars for smooth jar top. Do not use jars with chipped tops.
Fill the canner and set on stove on warm heat.
Sterilize jars. (I wash mine in the dishwasher and leave them in it to keep them hot while building the recipe.
Count out jar lids needed for one batch. Set them in a 1 quart pan on stove. Do NOT heat them yet.
Get out a large pot for making the brine.
Making the Relish:
Chopping Peppers:
TIP: Wear Gloves to handle the peppers. Keep hands away from face, eyes, lips and other sensitive parts. The pepper oil is HOT. Wash hands after chopping.
Cut stems off the pepper. Leaving seeds in the pepper, cut the peppers into evenly sliced 1/4 inch rounds. (you can deseed the peppers if you want a less hot relish but the heat is surprisingly good in this recipe).
Set peppers aside.
Making Brine:
In the large pot, pour in the 2 Cups Vinegar, 6 Cups Sugar, 1/4 tsp. turmeric, 1/4 tsp. Celery Seed, 3 Tsp. Garlic, 1 Tsp. Cayenne Pepper. Stir it all together.
Bring the syrup to a boil. Reduce heat and simmer for 5 minutes.
Add the sliced peppers and simmer for EXACTLY 4 minutes.
Boil your Jar lids for five minutes. Reduce heat to warm.
Filling the Jars:
Use a slotted spoon to transfer cooked pepper slices to prepared hot sterlized jars.
With a ladle (and canning funnel if you have one) pour the boiling syrup over the peppers to 1/2 inch from the jar lip.( Do NOT overfill the jars).
Take a knife or chopstick and insert it into the jar in several places to release trapped air in the pepper/syrup mix.
Wipe the jar top with a damp towel (paper towels are easy).
Set the lid on each jar top. Now screw down the lid band to just finger tip tightness.
Canning Instructions:
Place jars in your canner, replace the lid and bring canner to full roiling boil. (or place hot jars into boiling water in canner to speed up process)
Water bath jars for 10 minutes for 1/2 Pints. 15 minutes for pints. Keep the full boil going until jars are done.
With your canning tongs remove the hot jars from the canner to a cooling rack. (or dry towel on counter).
Let jars sit 24 hours. The seals will complete as the jars cool. You will hear the lids making popping sounds as the lids suck down onto the jars.
The jars are sealed when the tiny bump on the lid top sucks down. You can see this. And the jars will ting when you thump them most likely.
When jars are sealed and cooled 24 hours you can remove the jar bands if they come off with no pressure on the lids.
Lable and store them in a dark cupboard at temps of 50 to 70 degrees.
Let them sit at least two weeks (or a month) before opening to allow the flavors to fully merge and give you the best flavor.
Candied Jalaopeños can be served in many ways. See Notes for more serving ideas.
Notes
This is delicious sweet and spicy Candied Jalapeño recipe is very good on burgers, beef cuts, pork, and chicken.
Use it to dress up cream cheese and cracker, appretizers, Jalapeño poppers and LOTS of other ways.
If you don't have a scale to determine the correct amount of sliced peppers. Use about five quarts sliced peppers.
Nutrition Information
Yield
32
Serving Size
1
Amount Per Serving
Calories

161
Total Fat

0g
Saturated Fat

0g
Trans Fat

0g
Unsaturated Fat

0g
Cholesterol

0mg
Sodium

3mg
Carbohydrates

41g
Fiber

1g
Sugar

39g
Protein

0g
More Ways to Preserve Good Food:
Take a good look at our section on preserving, freezing and making Homemade sauces and condiments for your family. It's really easy to make most of these recipes. Enjoy the harvest season and learn how to preserve and enjoy it through the year. This section is Perfect for home gardeners and DIY cooks.
Here's a few of our popular preserving recipes. Also, Don't miss our post on freezing Roasted peppers, corn and zucchini and many more…
Follow Us:
We enjoy meeting you on our social networks. Follow us on Facebook, Pinterest, Instagram . Tag us with your pictures of our recipes and comment on how it went for you. We would love to see what you do with them.
We often like, comment and share your posts of our recipes on our daily Instagram stories.
Ask questions and rate the recipe in the comments section below. Please share what you did with this recipe. We are always looking for more and better ways to make homemade food. Other cooks love your ideas!
Recent Posts: