Fall garden salad is full of Bright, crisp kale and other fall greens and vegetables. Bed them down with our suggested delicious healthy add ins to make this salad a healthy meal replacer.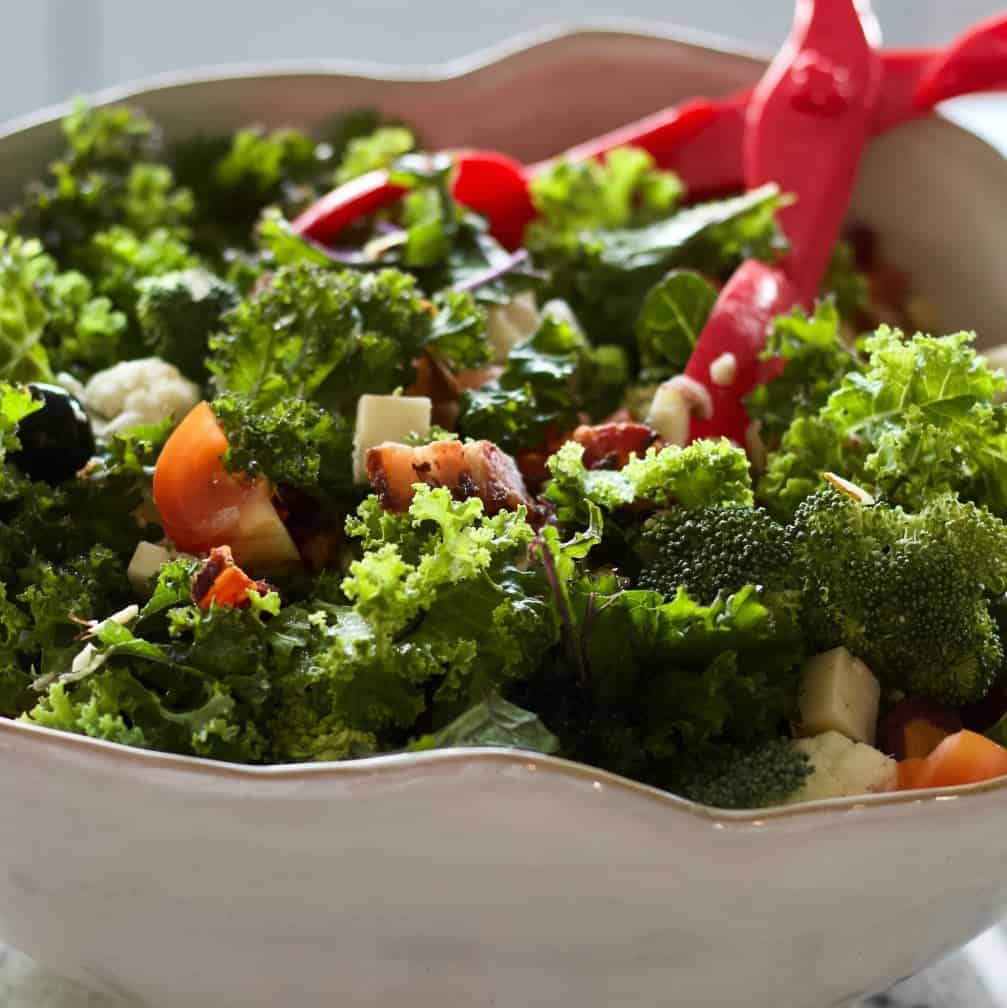 This post is a How to or idea post to help inspire you to learn how to make kale salads and salads with fall greens. With the correct add ins kale salad makes a healthy and delicious meal all on it's own.
We love these healthy fiber rich salads. We just add in whatever we have in the pantry and enjoy an adventurous splendid meal. It's always good!
We eat Garden kale salads for dinner in Fall. We have so much produce growing in our garden we go through every night and choose salad ingredients as they ripen.
It's always a nice cleansing detoxifying salad. Full of fiber and nutrient rich ingredients you choose yourself.
How To Make a Garden Salad:
What's in your fridge or pantry that would taste great in a salad full of strong flavored Fall greens?
Prepare homemade salad dressings ahead and let them chill in the fridge. This helps the flavors blend.
Prepare and Assemble your salad greens and other garden veggies. Be sure to cut and slice pieces of your salad that easily fit on a fork.
Now for the add ins. Choose ingredients what compliment the salad components with zesty flavors and textures.
Finally, add the cooked (and cooled) bacon, any chilled quinoa grain blend and cheeses to keep the distinct texture and flavors each ingredient has to offer.
Use what you have. Don't be afraid to experiment. Use Fall Green salads to use up odds and ends. The strong flavors and texture of kale work well with lots of other ingredients.
More Hearty Garden Salads:
Fall Garden Kale Salad Recipe:
Salads made with kale hold well and are still enticing and delicious for days! Be sure you leave off the salad dressing until serving time to keep your salad crisp.
Three Advantages of Kale Greens in salad:
All the kales are thicker and stronger in flavor and texture than lettuces so they provide a good base for all the add ins we like.
All the varieties of Kale (there are several) have more nutrients than lettuce and hold their freshness longer in the fridge.
Thick hearty greens also have a ton more flavor and give good chew value which makes this salad very filling and sustaining.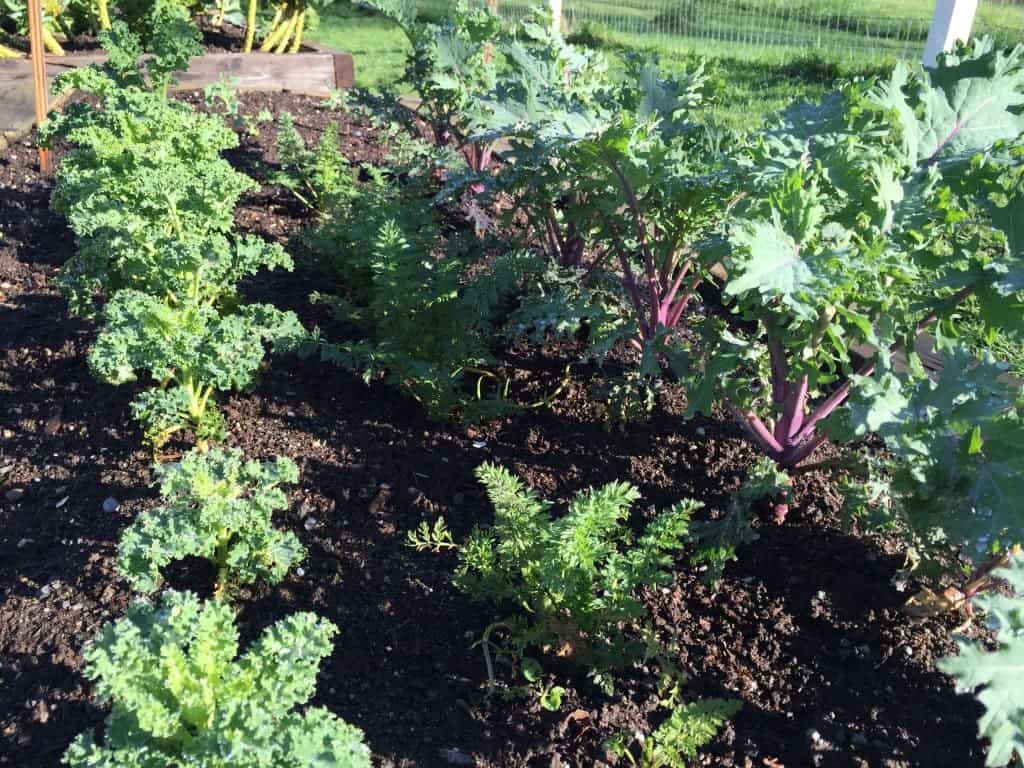 Working with Kale:
Kale leaves should be stripped or cut from the fibrous ribs. The ribs are sometimes too stringy to enjoy.
Kale is a very tough leaf. Unlike lettuce you can cut it with a knife and the leaves will not turn brown or wilt.
Messaged Kales leaves are tenderized by gently rubbing them in your fingers with a bit of oil and salt. We usually eat kale leaves the way we find them in the garden. We like the texture and fiber.
Have fun playing in your vegetables and creating fantastic fresh fall Kale salads. Kale makes a great base for hearty salads.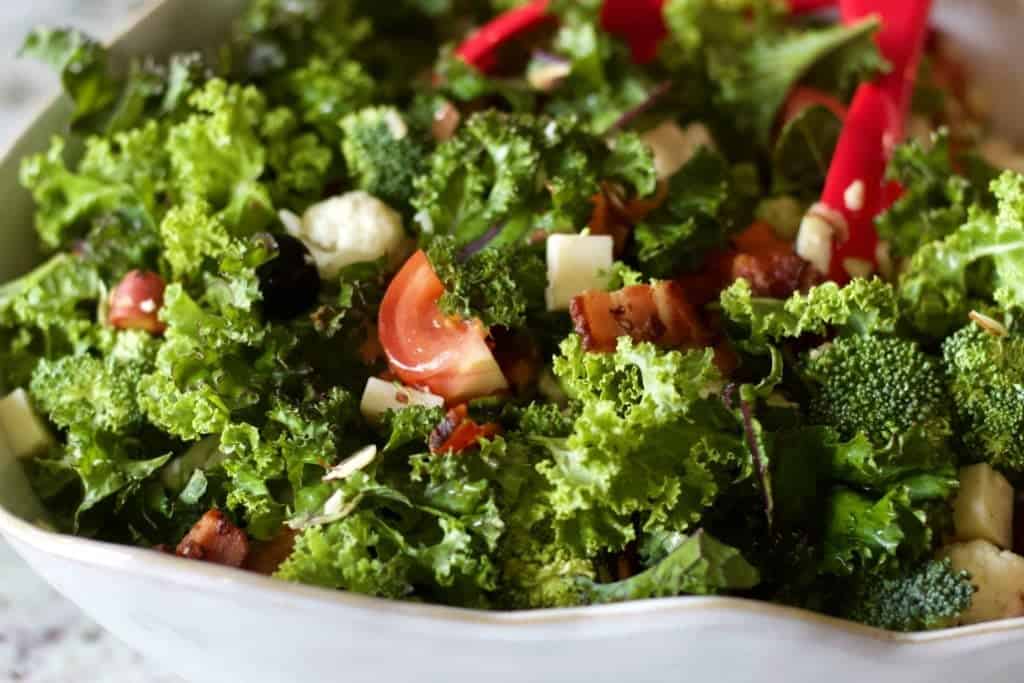 More Fall Green Suggestions:
If you wish to balance kale (or replace it) with other Fall greens try these ideas for how to make a green salad of any kind.
Swiss chard
Spinach
Beet tops
Collard greens
Young tender parsnips tops
Kale Salad Ideas for Add Ins:
You can turn a boring salad into a masterpiece by getting creative. Stores sell many different salad topper mixes and nut blends just for salads. And don't forget the croutons. Here are some other ideas for jazzing up your greens.
Nuts like walnuts, pine nuts and pecans offer a crunchy nutty flavor, good texture to your salad, protein and healthy fats.
Sweeteners like Dried sweetened Cranberries and cherries provide a zippy and pleasing counterpoint to the greens.
Try whole fresh berries like blueberries, raspberries and blackberries. They are extremely good for you and delicious in salads.
Marinated vegetables also add new and interesting flavors to the salad. Try marinated artichoke hearts, olives and small bits of dilly beans.
Cheeses like pepper Jack, cheddar, colby, goat and Feta add more texture, flavors, fat and proteins.
Seeds like sunflower and pumpkin have crunch, satisfying saltiness if you choose the dry roasted varieties, tons of protein and healthy fats to sustain you.
The various Fall vegetables offer a wealth of nutrients and textures. Choose broccoli, cauliflower and carrots for crunch.
Bacon is NOT good for you but the flavor and satisfaction it offers make it well worth the added sodium and unhealthy fats (IT's only a little).
Make a Kale Quinoa salad with healthy sustaining high protein and fiber rich Brown Rice/Quinoa Blend or plain cooked and chilled quinoa.
Top this Fall Garden Salad off with a flavorful healthy salad dressing and Croutons for a lovely meatless meal (If you chose not to use the bacon) is quickly on the table.
Pomegranate seeds are a fun splash of color and texture in a late Fall salad.
mushrooms are always a good addition.
Kale Salad Dressing Suggestions:
TIP: To keep your greens crisp. Dress your salad Only at serving time. The acids in the dressing will degrade the salad ingredients if allowed to sit for long hours.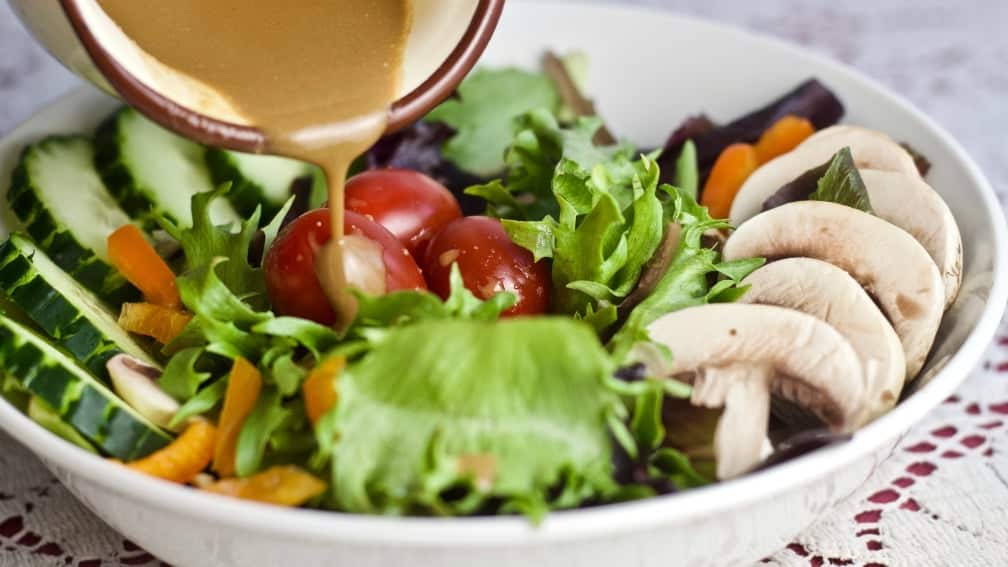 Our Creamy Balsamic Vinaigrette salad dressing is one of the best dressings for kale salad. It has a strong creamy tangy flavor that balances the kale and enhances the other ingredients beautifully.
Another great choice is the sweet Honey dressing we use in our Kale Apple Salad.
Ranch Dressing is also a good dressing for these stronger flavored greens.
Your Printable Recipe Card:
Yield:

8 servings
Fall Garden Salad
Fall garden salad is a Bright, crisp kale salad with peppers and tomatoes bedded down with pumpkin seeds, cubed Pepper Jack cheese, crunchy crumbled bacon and black olives. Top it all off with a delicious Creamy Balsamic Salad Dressing for a piquant sweetness.
Ingredients
4 Cups kale leaves, we used several varieties
1 small head Broccoli- cut up very small
1 rib celery-sliced fine
1 clove garlic- minced and smashed
2 shallots- minced
6 slices natural bacon-cooked and crumbled
1/2 cup cubed pepper jack cheese
1 medium heat or sweet pepper-finely chopped
2 medium tomatoes, chopped
1 can black pitted olives- drained, pitted whole or sliced
1/2 cup sliced almonds
1/2 cup pumpkin seeds
Instructions
Make your Quinoa Rice grain blend ahead if using and cool in fridge before adding to the finished salad.
Make the creamy balsamic salad dressing. Set in fridge until serving
Cook your bacon on medium heat until thoroughly cooked but not burned.
Wash all greens thoroughly and pat dry.
Remove kale leaves from stem and chop up the leaves small.
Prepare and assemble all of the other ingredients.
Check on your bacon and turn it over.
Mix all the other ingredients into your salad bowl.
Remove bacon from heat and dry it on paper towels five minutes.
With a large knife, cut the bacon fine until crumbled and mix it into the salad.
Serve with the balsamic salad dressing and other toppings of your choice.
Notes
Fall Garden Salad is a healthy meal replacer if you add in all the extras. This will increase the calories and carbs. But also the protein as well. This recipe is more of a suggestion than built in stone. Use what you like and enjoy!
Click the links to the creamy balsamic salad dressing and the Brown Rice/Quinoa Blend For more nutritional information on these healthy add ins.
The time this salad takes to make changes according to how much you do beforehand if making the salad dressing and grain blend too.
OPTIONAL:
1 Cup grain blend, cooked ahead and cooled
1 recipe Creamy Balsamic Salad Dressing. Make it ahead, cover and store in fridge
Recommended Products
As an Amazon Associate and member of other affiliate programs, I earn from qualifying purchases.
Nutrition Information
Yield
8
Serving Size
1
Amount Per Serving
Calories

170
Total Fat

10g
Saturated Fat

3g
Trans Fat

0g
Unsaturated Fat

6g
Cholesterol

15mg
Sodium

225mg
Carbohydrates

13g
Fiber

4g
Sugar

4g
Protein

9g