This Broccoli Salad is loaded with bacon, cheddar cheese, dried cranberries, sunflower seeds, and onions. Finished with a creamy vinegar and mayo dressing that brings a tangy sweetness. We love this hearty salad and it is one of our most popular side dish recipes.
Serve this as a holiday salad, enjoy it as a satisfying lunch, or bring along to a potluck event. It's a classic favorite that can be prepped in under 20 minutes.
How is Broccoli Bacon Salad made?
The well loved Broccoli Salad brings together fresh chopped broccoli florets, bacon and cheddar cheese for a wonderful serving of protein and fats. Finished with dried cranberries, pumpkin and sunflower seeds, and diced onion for wonderful flavor and crunch. The dressing is made from mayonnaise, a bit of sugar and a splash of cider vinegar for a bright, sweet and tangy topping.
This salad is able to be made ahead of time and can be kept in the fridge for 3-4 days. We recommend waiting to add the bacon until you are ready to serve, as it will become soggy over time.
Watch our video tutorial for how to make the Broccoli Salad
In our family this recipe is well loved and eagerly anticipated. It's one of those staple dishes for all of our family events, right along with Grandma Cash's Hamburger Bean Casserole and her Hash Brown Casserole.
This Broccoli bacon salad uses up a load of fresh broccoli and lends itself well to various additions. Organic dried cranberries, sunflower seeds, nuts, and pumpkin seeds are perfect. You can also add sesame seeds, and substitute the dried cranberries with dried cherries if you prefer.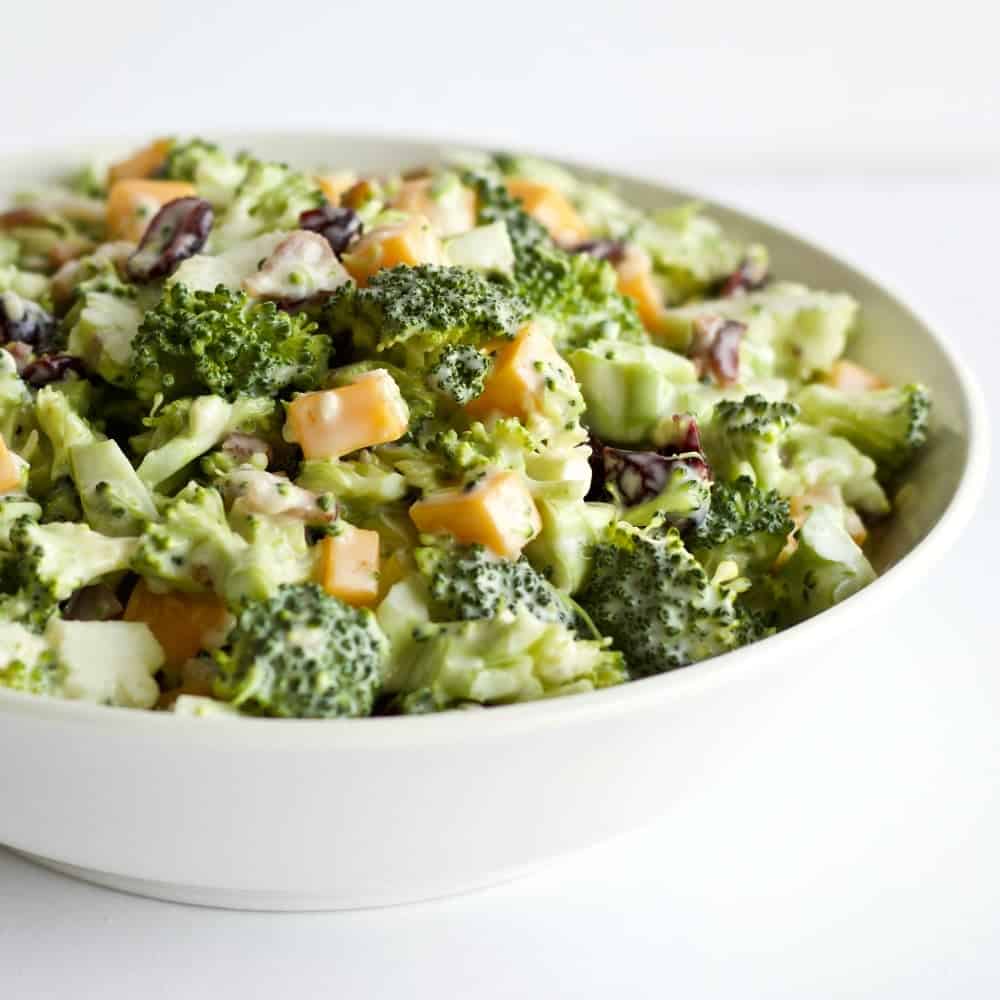 How do I make the best Broccoli Salad?
The flavors and textures of this Broccoli Salad recipe are key to its overall appeal. It is a hearty salad with a lot of crunch and mouthfuls of interesting flavor. We are sharing our tips for how to make the absolute best Broccoli Bacon Salad that everyone will love.
Square cheese cubes work best in this salad. Shredded cheese tends to clump up and get lost. Cube the cheese so it creates pops of yellow and a distinct flavor pop.
Cook the bacon to a slightly crispy stage but be careful not to overcook it. You want the bacon grease mostly cooked out so the salad is not greasy, but keep it brown not charred for the best flavor and texture.
Chop the broccoli into a variety of sizes, while keeping them all small enough to easily eat. The dressing will not penetrate very dense pieces of broccoli crown.
How can I make Broccoli Salad healthier?
This is a beautiful, simple and satisfying Broccoli Salad and it makes a lovely side dish. While it doesn't rank high on the health scale for salads, there are some ways you can improve the overall nutrition.
For a heart healthy salad dressing recipe use our Homemade Healthy Mayonnaise recipe. It is delicious and uses avocado oil which is a healthy fat. By making your own mayo you control exactly what goes into it, and avoid the unnecessary additives that are found in store bought brands.
To reduce the carbs in this salad, use your favorite sugar substitute.
This salad is most often made with granulated sugar, but you can replace it. In the video we use pure maple syrup.
Maple syrup or honey can be used as a natural sugar option.
Broccoli is so delicious, versatile and healthy for you. Click the link to find out more about this wonderful vegetable and how it benefits your health. Choose an Organic head of broccoli to avoid unhealthy pesticides.
It is always recommended to source local unprocessed bacon whenever you can. We use the ButcherBox subscription service for our uncured humanely raised meats. You may find locally available uncured bacon in your grocery. It's also great to find local farms in your area and get to know the farmers. Using uncured bacon introduces fewer chemicals into your diet.
This salad is always a crowd pleaser at holiday gatherings and potlucks. It keeps well for days in the fridge, so don't be afraid to make extras for leftovers. You can also play around with the extra ingredients adding things like chopped nuts, other dried fruit, even different cheeses like feta or fresh parmesan.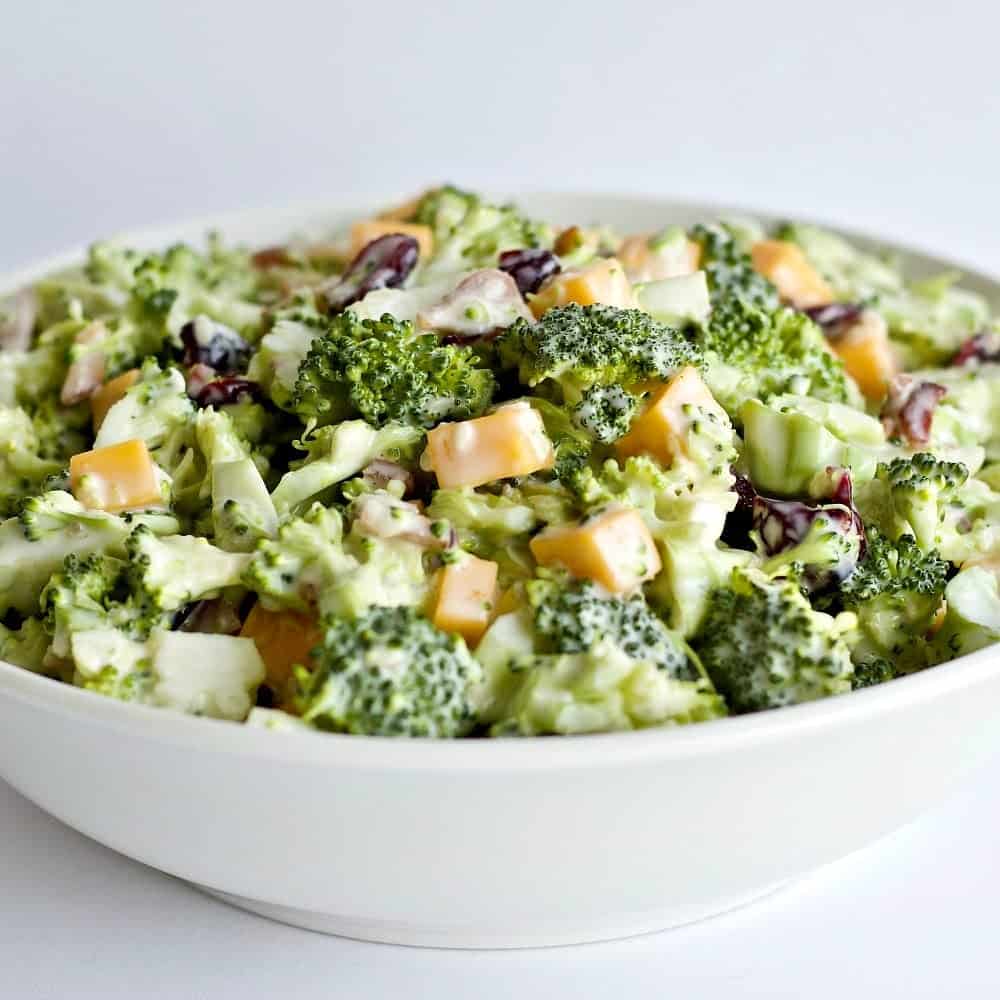 Your Printable Recipe Card: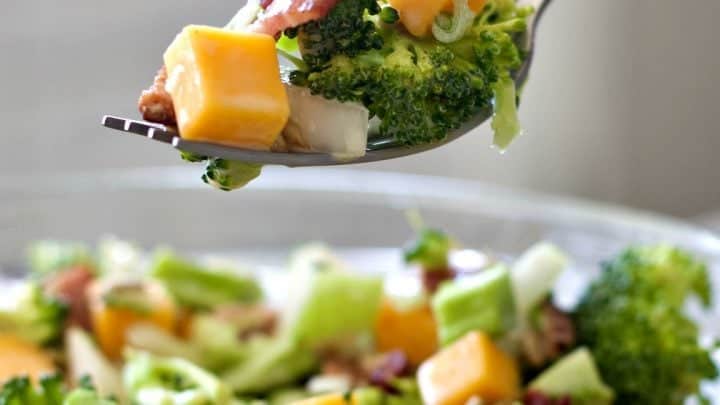 Yield:

10
Broccoli Bacon Salad with Cranberries
Bacon Cheddar Broccoli Salad is gluten free and low carb. A healthy, nutritious side dish the whole family will love. Party food, grill side or a healthy salad for lunch. This salad is very easy to make. It's full of healthy ingredients. The whole family will love it. Try this popular potluck or party food!
Ingredients
Dressing:
1 cup mayonnaise
2 tablespoons apple cider vinegar
1/4 cup sugar ( or equivalent sweetener of your choice)
For the Broccoli Salad
4 Cups Broccoli cut into bite-sized pieces, stalk and all(except tough parts)
5 strips cooked bacon
1/2 cup onion, finely diced (I use white onion)
1 Cup dried Cranberries
1 cup cheddar cheese (cut into 1/4 inch cubes)
1/8 Cup sunflower seeds
1/8 Cup pumpkin seeds
Instructions
For the Dressing:
Whisk together the dressing ingredients and adjust them to your personal taste. Set aside until needed.
For the Broccoli Salad:
Set a skillet to medium heat. Lay the bacon strips in and cook covered until browned. Turn the bacon over and cook covered a few more minutes until browned but NOT burned.
Remove bacon to a cutting board and chop when cool to touch into 1/4 inch pieces. Set aside.
Meanwhile chop and measure broccoli, onion and cheese and pour into a large bowl.
Add the chopped bacon and remaining ingredients.
Pour the dressing over the assembled salad ingredients and stir gently until all parts of the salad are evenly coated.
Serve at room temperature or chilled. This salad can be made a day ahead and refrigerated. It holds up to a week in the fridge covered as leftovers.
Notes
Adjust the serving size according to your needs by doubling or halving this recipe. The dressing can be adjusted to your taste.
Use mayo with avocado oil and unprocessed bacon for best nutrition. For a lower Carb option use sugar free sweetener.
Recommended Products
As an Amazon Associate and member of other affiliate programs, I earn from qualifying purchases.
Nutrition Information
Yield
10
Serving Size
1 Cup
Amount Per Serving
Calories

355
Total Fat

25g
Saturated Fat

6g
Trans Fat

0g
Unsaturated Fat

18g
Cholesterol

28mg
Sodium

476mg
Carbohydrates

28g
Fiber

4g
Sugar

19g
Protein

8g
Please Note: This recipe is recently re-posted with new content and Pictures.
Follow Us:
We enjoy meeting you on our social networks. Follow us on Facebook, Pinterest, Instagram . Tag us with your pictures of our recipes and comment on how it went for you. We would love to see what you do with them.
We often like, comment and share your posts of our recipes on our daily Instagram stories.
Ask questions and rate the recipe in the comments section below. Please share what you did with this recipe. We are always looking for more and better ways to make homemade food. Other cooks love your ideas!
Recent Posts: