Raspberry Cheesecake Squares are a rich, thick and creamy tray-bake style dessert that makes 36 servings. It is the perfect recipe for an event, party or potluck. You can make this dessert ahead, let it sit in your fridge overnight and allow those flavors to blend and develop. It will taste even better and save you time in your busy day.
These cheesecake bars can be made completely gluten free if you desire, and there are many options for healthier ingredient substitutes which we share in this post. We also go over the best tips for baking cheesecake, and making your own raspberry sauce so you can be sure you will have successful results.
You can leave these raspberry bars in the sheet pan or present them in a beautiful display on a platter for your event. They will bake and chill firm, allowing you to display and serve them however you desire.
Do cheesecake bars need to be refrigerated?
Cheesecake bars, whether baked or not, need to be kept in your fridge or cooler. Traditional cheesecake desserts incorporate many perishable ingredients, including eggs and cream cheese. Perishable and diary based ingredients are especially prone to bacteria growth, so take care not to leave your cheesecake bars in a warm environment for extended periods of time.
What is the difference between Philadelphia style cheesecakes and New York style cheesecakes?
Most of us are accustomed to Philly style cheesecake recipes, this style isn't tied to the city but rather the brand Philadelphia cream cheese. This style of cheesecake uses cream cheese as the main source of fat and flavor in its recipes. New York style utilizes sour cream and heavy cream for a heavier fat content and tangy flavor.
Philadelphia style is well loved because it typically has a lighter texture and fuller flavor. New York cheesecakes can be heavy and more challenging to bake as the surfaces of the cheesecakes are more prone to cracking due to the texture.

Watch the Complete Process of making this Recipe:
This is the perfect dessert for hot summer nights. Anytime you have fresh or frozen raspberries to use up remember this easy dessert recipe.
Do I need to put a pan of water in the oven when I bake my cheesecake bars?
Traditional cheesecake require lower heat and a slower baking time, along with the added moisture that a pan of water, known as a water bath, provides. This prevents cracking as well as allowing the cheesecake to fully bake without burning the surface.
Cheesecake bars will not require this level of care which is one reason we love them so much. They are thinner so the heat distribution will be dispersed more evenly throughout the pan, and a water bath will not be necessary because cracking is not a problem in cheesecake bars.
Looking for more Cheesecake Desserts? Check out our entire Cheesecake Recipe List.
What can you top cheesecake with?
Cheesecake is one of the most decadent and well loved desserts you can find and there are endless possibilities for topping ideas. The most popular cheesecake toppings are fruit sauces such as raspberry, strawberry, lemon and blueberry. But we have a handful of other ideas for you to try if you want to change it up.
A silky salted caramel topping
A cookies and cream topping
A cinnamon apple crisp topping
Rich pecan praline
Shredded coconut cream topping
Exquisite chocolate ganache
A toasted marshmallow s'mores topping
Banana cream
Cinnamon roll topping
Chocolate peanut butter fluff topping
Raspberry Cheesecake Squares Recipe Notes:
Gluten free crust option:
This cheesecake recipe has a gluten free cheesecake batter and topping.
To make this recipe gluten free Replace the graham cracker crust with the gluten free almond crust we use in our Sugar Free Pumpkin Cheesecake. Then you'll have a fully gluten free raspberry cheesecake dessert.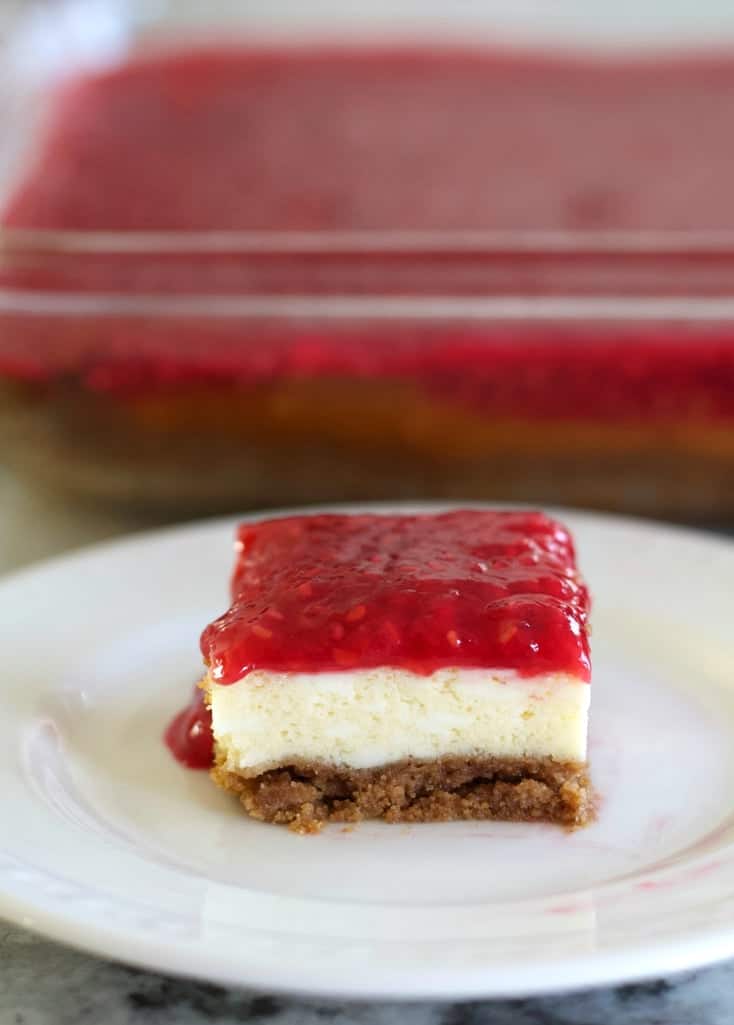 Healthy options for this dessert recipe:
You may replace the sour cream with Greek Yogurt for a leaner cheesecake.
You may also replace the granulated sugar with the sugar replacer of your choice. I recommend a stevia based sweetener for best flavor. I used Stevia (affiliate link in the recipe card) in our sugar free pumpkin cheesecake and everyone enjoyed that dessert.
Try Nectiva (affiliate link in the recipe card) for a sugar replacer in the raspberry sauce. You will need to add more cornstarch to thicken the sauce since you are increasing the liquids.
Tips for baking this cheesecake bar recipe:
Always set out your eggs and dairy and let them come to room temperature before making any cheesecake. The texture of the cheesecake will be much better and bake more evenly if you do this.
The crust is a simple press-in graham cracker crust made in your food processor. Utilizing a blender or food processor will hurry up the time spent crushing your graham crackers. You can crush the grahams in a large ziplock bag with a rolling pin if you do not have either of these kitchen tools.
The filling can also be made in your food processor. It's really easy and does a good job. Just don't over do the processing. Too much mixing the cheesecake batter will not give best baked results.

A stand mixer like the KitchenAid Artisan or even a hand held electric mixer also work well for mixing this recipe. Hand mixing is not ideal as it will not result in a smooth, creamy batter.

This cheesecake is perfectly baked when it pulls away from the sides of the pan, is lightly golden browned and the middle is firm. There should be no jiggle in the consistency of the cheesecake bars.
This is an oven baked cheesecake. It can be presented and served as a sheet cake. Or once it has fully chilled, you can cut into 36 bars display on a party platter for easy serving.
Notes on the Raspberry Sauce Recipe:
This raspberry topping for cheesecake is an easy to make stove top recipe done in just a few minutes while the cheesecake bakes.
Set the finished sauce aside to cool in your fridge or countertop until needed.
NOTE: This sauce will thicken more as it cools and sets. So don't go overboard with the cornstarch while cooking.
Always boil the sauce after adding cornstarch at least a minute or so until the sauce goes from a milky cloudy look to clear and transparent. That tells you the cornstarch is fully cooked in.
Let it cool to room temperature before spreading it on your cooled cheesecake.
Notice the difference in the stiffness of the raspberry sauce recipe. In the picture below you see it made stiffer.
This is very helpful if you are worried about a clean edge to your cheesecake squares.
It also keeps the sauce on the cheesecake and not on the plate.
The recipe calls for 2 Tablespoons of cornstarch for 4 Tablespoons of water.
Depending on how much liquid your berries are producing you may need to add one more Tablespoon of cornstarch to get the stiffer set on the sauce.
Tips for FROZEN berries:
If you are using frozen berries you will need to add more cornstarch to thicken the sauce. Frozen berries have more liquid than fresh berries once thawed.
Measure the frozen berries before thawing them for best results.
Like all cheesecake recipes this raspberry dessert needs to chill and set for several hours before serving. Up to a day ahead of serving is best to really get the flavors melded.
If you are making this in high heat weather. Make it in the morning when it's hopefully cooler and let it chill all day. It will set much better and hold up wonderfully when served. Even in high heat.
Freezing this cheesecake recipe:
You may freeze the baked cheesecake and crust up to two months if you properly cover it tightly in plastic and double wrap it in foil. Be sure to only freeze the baked cheesecake without the raspberry topping. The cornstarch based raspberry sauce will not freeze well.
Defrost: Defrost the frozen sheet cake in your fridge or counter for several hours before topping it with your raspberry sauce. Be careful not to allow it to warm all the way through. After topping, the cheesecake will need to set another couple of hours to stiffen the topping for serving.
Your Printable Recipe Card: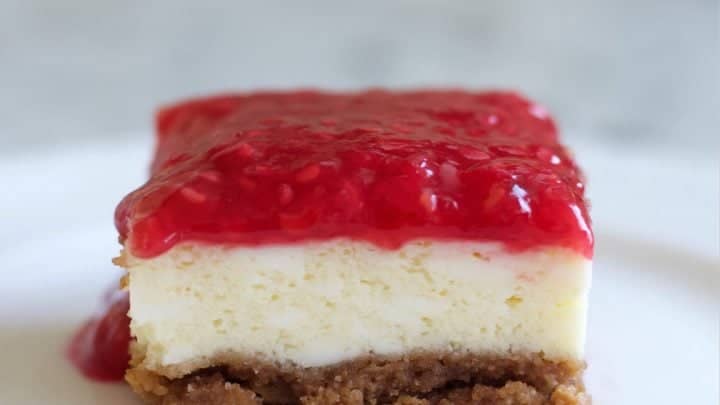 Yield:

36 2 x 2 inch squares
Raspberry Cheesecake Squares
Total Time:
1 hour
25 minutes
Raspberry Cheesecake Squares are an easy potluck dessert. These cheesecake bars are rich, thick and creamy and make 36 servings. Make them ahead and let them sit in your fridge up to a day before serving and they will taste even better.
Ingredients
Crust
10 ounces, weight (2 Sleeves) Graham Crackers
1/2 cup Pecans Or Walnuts
1/2 cup melted coconut oil(that's what I used) or butter
1 teaspoon Vanilla Extract
FILLING:
3 packages (8 Ounces Each) Cream Cheese, Softened
1-1/2 cup Sugar
1-1/2 teaspoon Vanilla Extract
4 whole Eggs
1/2 cup Sour Cream
TOPPING:
4 cups Raspberries
1 cup Sugar
1/4 cup Water
2 Tablespoons Cornstarch
4 Tablespoons Water
Instructions
Preheat the oven to 350 degrees.
Place a 9 x 13 inch pan (or other ovenproof pan) of hot water into the bottom rack.
For the crust:
line a separate 9 x 13 inch baking pan with parchment paper. Oil the parchment and pan sides.
Add the graham crackers and pecans to the bowl of a food processor. Pulse them until they're fine crumbs. Drizzle in melted coconut oil pulsing until it's all incorporated. Pulse in the vanilla.
Pour the crumbs into the prepared pan and press the crumbs firmly into an even layer. Set aside.
For the filling:
Beat cream cheese, sugar, and vanilla together until smooth.
Add eggs one at a time, beating after each addition.
Add sour cream and beat until incorporated.
Pour the filling into the crust and smooth the surface.
Bake for 45 minutes, then turn off the oven and leave the door closed for an additional 10 minutes. Finally, open the door halfway and leave it in the oven for an additional 10 minutes. Remove the cheesecake and let it cool completely.
For the topping:
add Raspberries, sugar, and 1/4 cup water to a saucepan.
Bring it to a boil and cook until the juices thicken slightly, about 4-5 minutes.
In a small bowl, mix the cornstarch with 4 tablespoons water to make a slurry, then add it to the berries.
Let it boil for another 1 to 2 minutes, then turn off the heat and allow to cool. (This step can be repeated if it doesn't thicken enough the first time.)
Pour the raspberries over the cheesecake and place the pan into the fridge to chill and set for at least 2 hours. Cut with a very sharp, thin knife(I used a steak knife), cleaning it often, to keep the layers distinct
Notes
You can use any fresh berry to make the topping. Just follow this recipe for the topping and adjust the cornstarch for the thickness you desire.
Recommended Products
As an Amazon Associate and member of other affiliate programs, I earn from qualifying purchases.
Nutrition Information
Yield
36
Serving Size
1
Amount Per Serving
Calories

138
Total Fat

5g
Saturated Fat

2g
Trans Fat

0g
Unsaturated Fat

2g
Cholesterol

26mg
Sodium

59mg
Carbohydrates

23g
Fiber

1g
Sugar

17g
Protein

2g
Follow Us:
We enjoy meeting you on our social networks. Follow us on Facebook, Pinterest, Instagram . Tag us with your pictures of our recipes and comment on how it went for you. We would love to see what you do with them.
We often like, comment and share your posts of our recipes on our daily Instagram stories.
Ask questions and rate the recipe in the comments section below. Please share what you did with this recipe. We are always looking for more and better ways to make homemade food. Other cooks love your ideas!
Recent Posts:
Source: Adapted from Pioneerwoman.com