Peanut Butter Cookies are a delicious twist on an old American Favorite cookie. Including sourdough starter adds a deeper flavor with a bit of tang.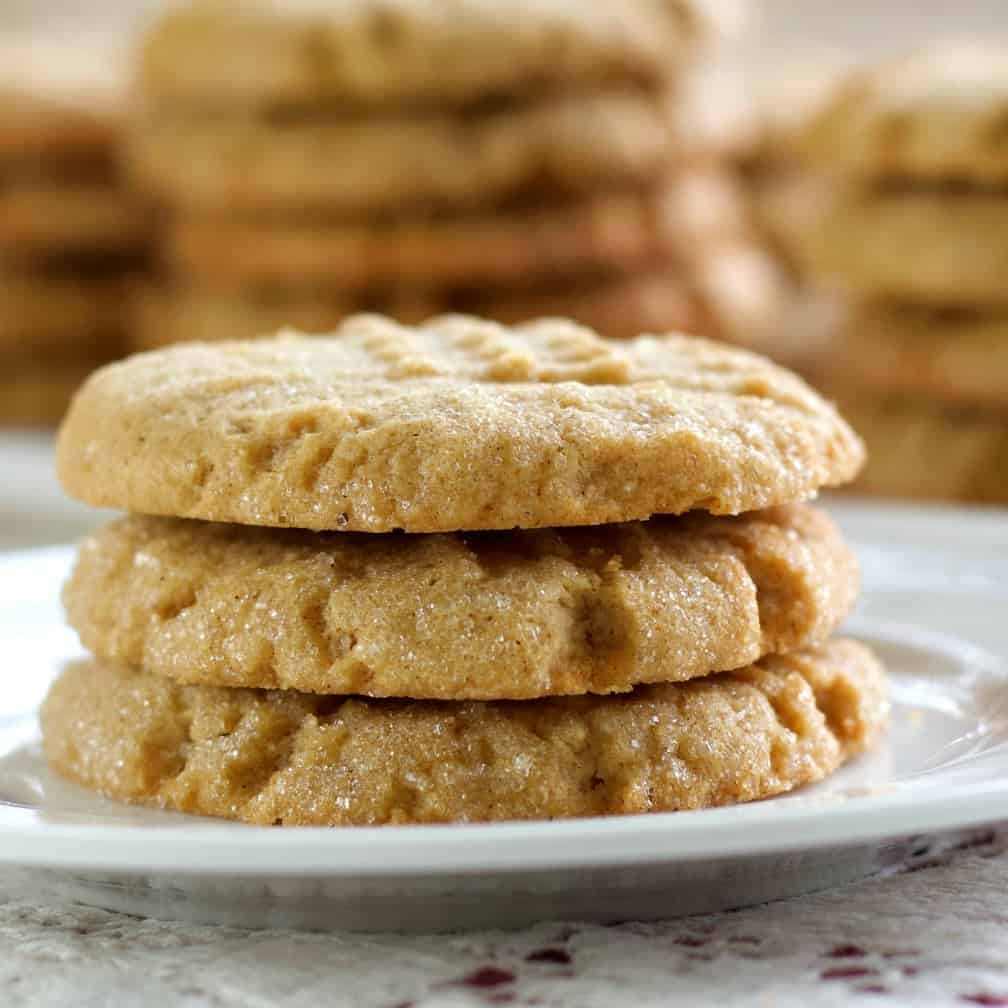 Add Chocolate Chips or other varieties of baking chips for Bursts of sweet yummies in these flavorful peanut butter cookies. That adds even more flavor to these delicious desserts.
If you are a sourdough baker you know the sourdough discard can become a problem. Who wants to throw it out?? Not me. That is Money and good ingredients going down the drain.
And you have to wash that starter down the drain with a LOT of water. If you don't your pipes might get full of a gooey floury cement over time.
Since animals LOVE sourdough starter I really don't think it belongs in the compost pile either. It attracts pests. Who needs that?
My solution is finding easy yummy recipes that use up sourdough discard in all it's many phases. When you feed sourdough it goes through stages. So does the discard. Always check and see if your recipe requires an inactive or active starter for best results. These cookies have the advantage of using starter fed or unfed.
I recently made sourdough White Chocolate Cookies. They were a huge win. The family and office friends were all about those cookies.
Sourdough discard dessert recipes are usually pretty popular. The sourdough adds an intensity of flavor and a touch of tanginess that benefits sweet recipes.
These easy peanut butter cookies with sourdough are a big hit. I've made them in a couple of different ways now. So far they are good in all the variations I've tried.
Stay tuned. I have my eye on several more sourdough recipes for dessert. I need to use up that constantly growing sourdough discard. And we love dessert 🙂
Peanut Butter Chocolate Chip Cookies With Sourdough Recipe:
This is an easy dessert recipe. That's why I enjoy these cookies so much. This recipe is easy for me and popular with the family.
…And I can use up sourdough starter in almost any stage.
NOTES:
Homemade Food Junkie is a member of Amazon Affiliate Program. If you click our affiliate links we may earn a small commision at no extra charge to you. Thank you for supporting us!
Fully active starter will certainly puff the cookies up more. If your using starter that's been unfed in your fridge several weeks don't expect much puffing up. But you WILL have a lot of strong tangy sourdough flavor in your cookies.
That's where the baking chips come in. HINT: They work really well with tangy flavored starter.
However, This is a basic recipe that you can choose to tweak if you prefer. Use the baking chips. Or not. Your choice.
I use creamy peanut butter. I just do. You can use chunky peanut butter if you love it. Up to you. I do recommend a natural peanut butter.
I do use granulated sugar in this recipe. For the dipping of the dough balls and criss cross pattern dipping in sugar works best for me.
Tips for evenly baked cookies:
Cookie dough bakes best when it is evenly sized and placed evenly apart on your baking sheet. I recommend these steps to control the size and separation of your cookies.
line your baking sheets. I use silicone matts. I really like the ones with the cookie spacing marked on them. My cookies are much more evenly baked now. I can easily see if the cookie size and spacing are correct.
Use the correct sized cookie scoop. Using a spoon or other utensil may work to make cookies. But for the BEST cookies that are evenly baked. Please use a cookie dough scoop. they are SO worth it.
Other versions of this peanut butter cookie recipe you may want to try:
I chose to make these without the chocolate chips this time. That's why your not seeing any chips in the cookies. The chocolate chips are optional.
These cookies are great plain or with chocolate chips. They are ALSO good with white chocolate chips or peanut butter chips. And they may taste great with other chips as well.
Please let us know how you make this recipe. Comment in the comment section and rate this recipe. How did it go for you? What did you do with it?
Yield: This cookie recipe makes about 50 cookies. UNLESS you add the chocolate chips. Then add another dozen cookies to the count. If you don't need that many you can divide the recipe in half.
Stored in an airtight jar these cookies will stay fresh several days to up to a week.
You can freeze these peanut butter cookies. Here's How:
Place your extra COOLED and set cookies into a heavy duty freezer ziplock bag.
SUCK out all the air with a straw. Or suck it out through the uncompleted seal and then seal it fast.
Label the bag with the recipe name and date.
Freeze for up to two months.
Your Printable Recipe: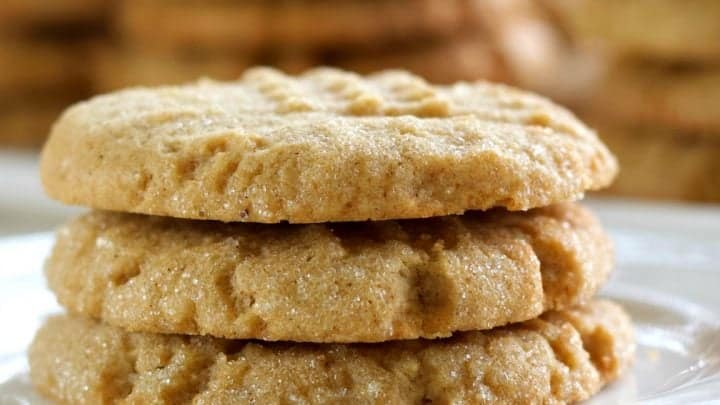 Yield:

50 cookies
Peanut Butter cookies With Sourdough Starter
Peanut Butter Chocolate Chip Cookies are a delicious twist on an old American Favorite cookie. Including sourdough starter adds a deeper flavor with a bit of tang.  Bursts of sweet chocolate in these flavorful peanut butter cookies make a good cookie great.
Ingredients
1 cup sourdough starter
1 cup peanut butter
1/2 cup organic coconut oil-softened
1 cup brown sugar
2 eggs
1 tsp. vanilla extract
2 cups flour
1 tsp. baking powder
1 tsp. baking soda
1/2 tsp. salt
1 to 2 cups flavored baking chips (optional-choose any kind you like)
Instructions
Preheat Oven to 350 Degrees F.
In a large mixing bowl: Mix together the brown sugar, peanut butter, vanilla and softened coconut oil.
Add in the sourdough starter, and eggs. Mix Gently until combined.
In a smaller mixing bowl Sift together the dry ingredients (except the chips).
Add the dry ingredients into the wet in thirds, mixing after each addition.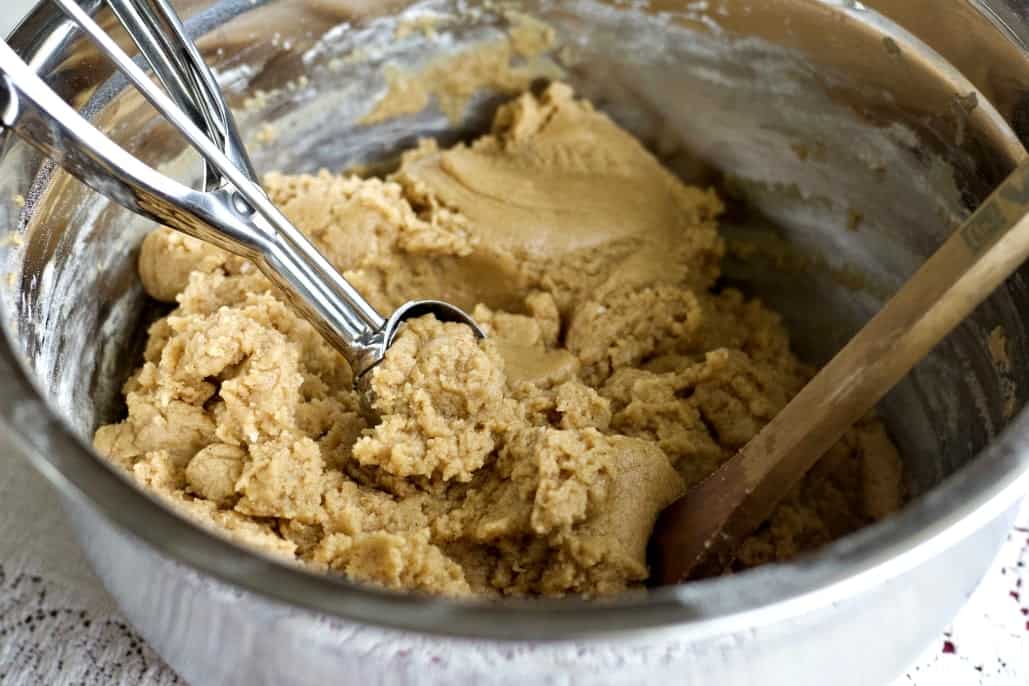 Finally add the baking chips (if using) and mix by hand until dispersed into the dough.
Roll the dough into one inch balls.
Place each ball 2 to three inches apart on your lined baking sheet. They will expand and need room on the sheet.
Using a fork dipped in sugar gently press the fork into the dough balls and criss cross the dough balls as shown.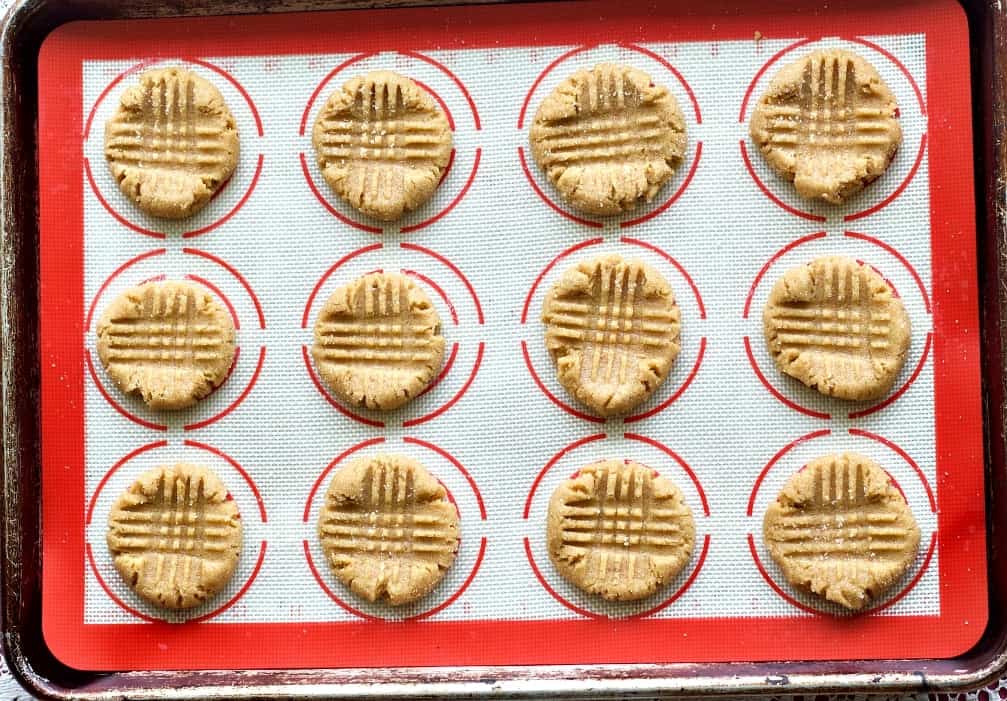 Bake 10 to 12 minutes until the cookies are LIGHTLY browned. Notice the increase in cookie size when baked.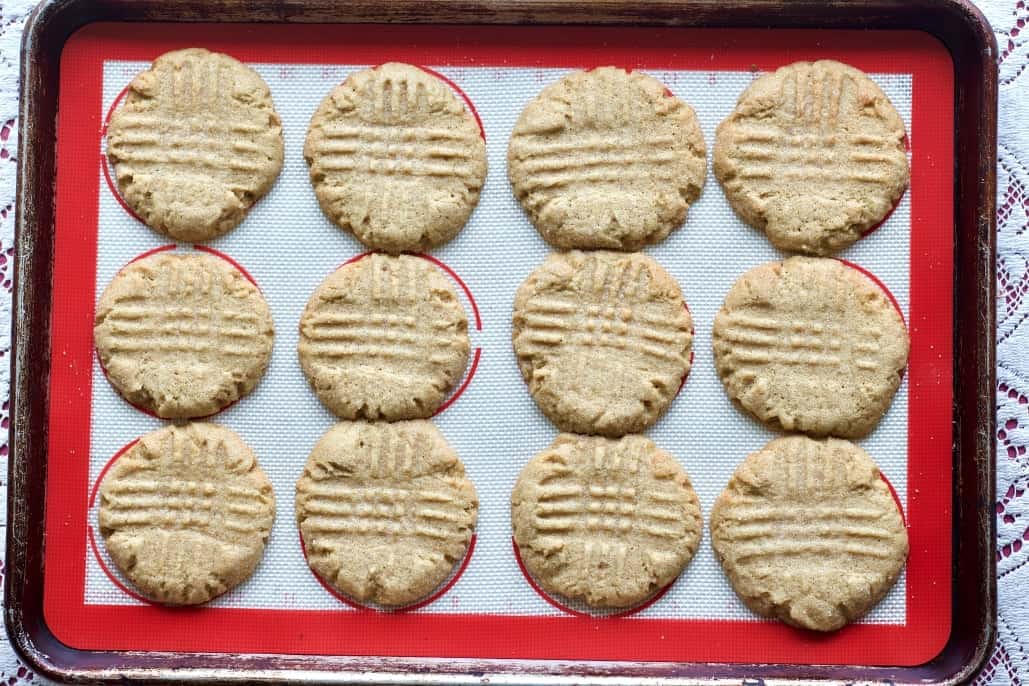 Remove from oven and let sit 5 minutes.
Remove to cooling racks. Serve.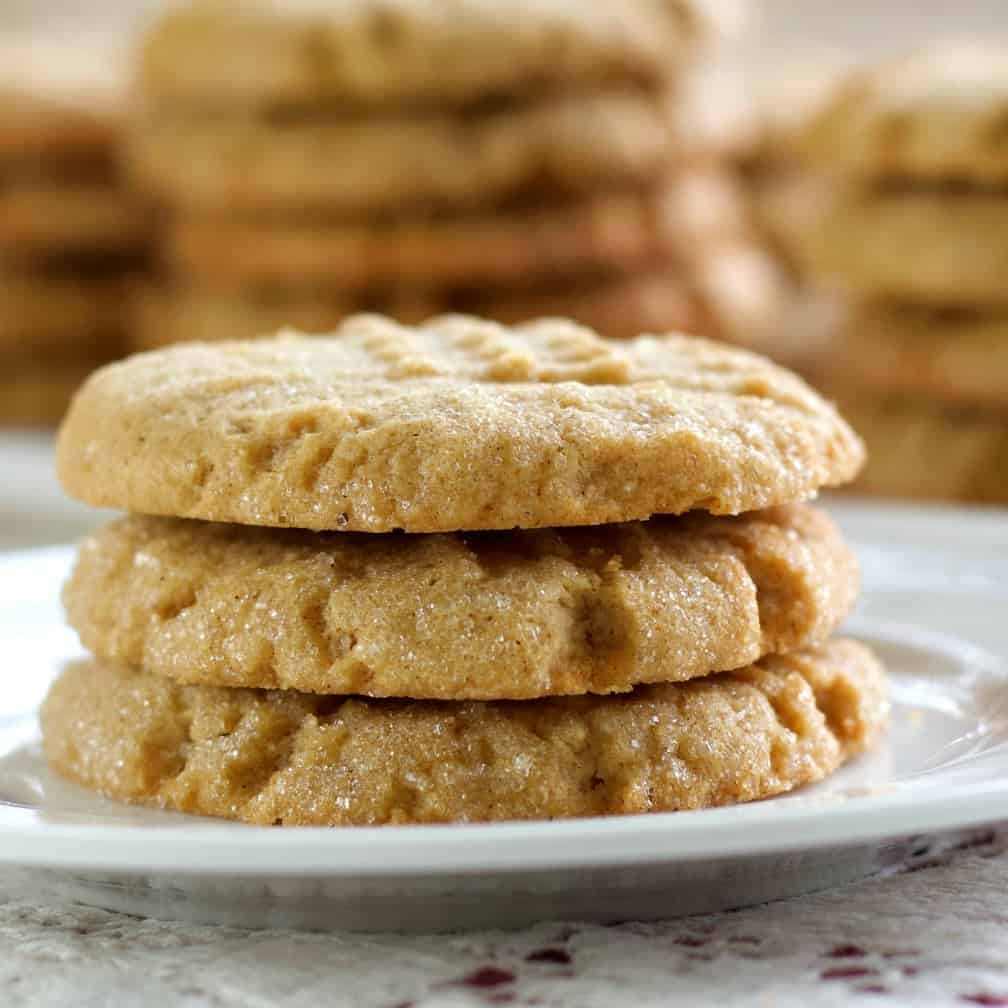 Notes
The chocolate chips are optional. They may be omitted or replaced with other baking chips you may prefer. Some good choices are white chocolate chips and peanut butter chips.
Recommended Products
As an Amazon Associate and member of other affiliate programs, I earn from qualifying purchases.
Nutrition Information:
Yield:
50
Serving Size:
1
Amount Per Serving:
Calories:

106
Total Fat:

6g
Saturated Fat:

2g
Trans Fat:

0g
Unsaturated Fat:

3g
Cholesterol:

7mg
Sodium:

99mg
Carbohydrates:

12g
Fiber:

1g
Sugar:

4g
Protein:

2g