Homemade Sourdough English Muffins have a rich flavor. Use up your sourdough discard and deepen your English Muffin flavor with this excellent sourdough recipe.
The yogurt in these overnight Sourdough English muffins works with the sourdough starter to produce a wonderfully tender texture. And you get all the added health benefits of sourdough fermentation in this method too.
Extra Sourdough discard is produced when you feed your sourdough starter to get it active for your next bread masterpiece.
You have to discard some of that yeasty magic elixir. Sourdough discard recipes like this one use that discard in various stated of activity.
Recently fed starter is not active enough to properly rise a loaf of bread but will give these muffins good lift as they cook on your griddle.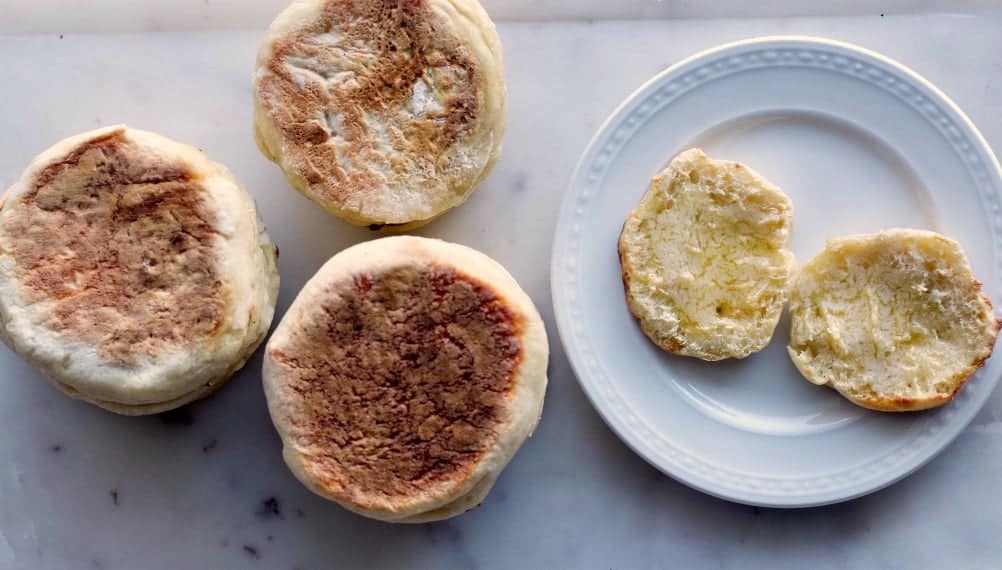 Toasted sourdough english muffins with butter are EXTREMELY tasty.
Visit Our Sourdough Recipes for MORE great sourdough bread and discard recipes!
Can you Freeze Sourdough English Muffins?
You absolutely can freeze these muffins.
Here's the Method I Use:
For Short Term Freezing:
Allow the muffins to cool completely.
Place the muffins into a plastic bag (I use recycled bread or even produce bags) and suck out the air.
Close the top of the bag and freeze for up to a month.
For LONGER term freezing:
Place the sealed air tight bag of muffins into an air tight freezer container or larger ziplock bag with all the air sucked out.
Freeze up to 6 months.
To Defrost the Muffins:
Remove the bag from freezer and allow to sit in the fridge or at room temperature until defrosted. Do NOT microwave the frozen muffins. They can be overcooked with poor results.
These muffins can go directly from the freezer into the toaster.
This easy sourdough English Muffins recipe is very straightforward. Just follow the simple instructions in the Printable Recipe card at the bottom of this post.
The tips below are offered as support. I suggest you read them over and the entire recipe before you begin.
For the Best Sourdough English Muffins:
Read this section to learn how to make great sourdough English muffins. The starter has a LOT to do with how these turn out.
You will need to start this sourdough starter recipe the night before but don't let that scare you off. Sourdough is all about fermentation. Fermentation takes time. But the sourdough does the work. Mostly you just need patience.
A few tips on Recipes using Sourdough Starter:
My sourdough starter is not your sourdough starter.

Mine might be either wetter or drier than yours. I tend to go a bit drier with my starter than 100 percent hydration (which is a one to one proportion of water to flour). Mine is more a 100 percent starter to begin and then I add more flour than water to keep it fed.
ALSO my starter might be more or less ACTIVE than yours. That's why I included the picture of the starter just before I used it. So you can see the bubble action and the consistency. This starter was fed within 24 hours of using it for this sourdough English Muffin recipe.
SO how do you make a recipe with sourdough discard that gives consistent results?
Learn how to feel the dough. Your dough will tell you when it's right. Knead this dough by hand until you feel the elasticity develop. This won't take long.

Add more flour if the dough is extremely wet. It should feel like a baking powder biscuit dough with a bit more resilience (and stickiness) by the time you're done.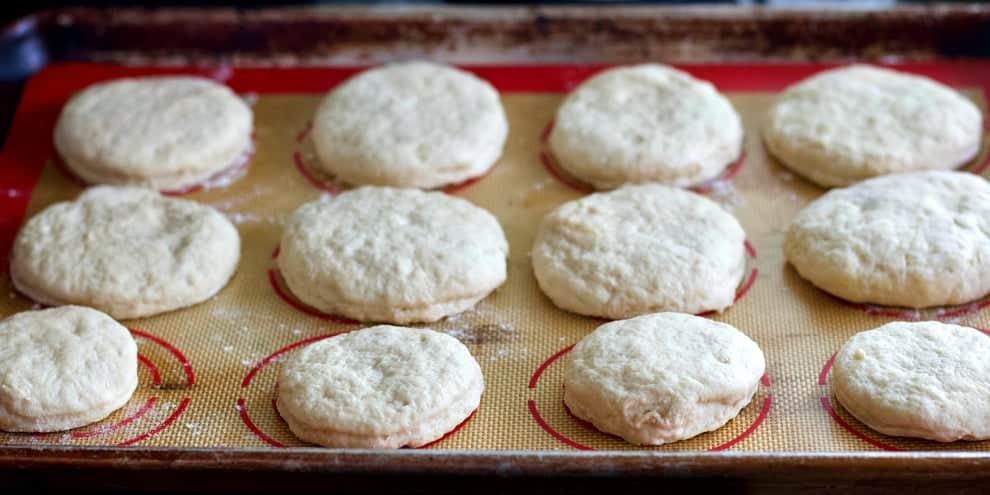 When you cut the English Muffin dough out it should be pretty easy to get onto the baking sheet for raising. But still a tender delicate dough. DON'T overwork the dough before rolling it out or your muffins will be tough.
You can use any size cutter you like to form your English muffins. I used BOTH a regular sized mason jar ring (you can see a row of these smaller muffins in the foreground.) AND a wide mouth size jar ring for the other two rows.
To get 12 muffins you will need to roll the dough out evenly about 1/2 inch thick if you are using the large jar rings. We preferred the larger sized muffins.
To get 12 large muffins you will need to use your scraps too. That's easy enough.
Just squeeze the scraps into a dough ball and knead it a few times to get it back together.
NOW REST the dough a few minutes to let it really form.
NOW roll it out, cut the dough into shapes and repeat until your muffins are all on the baking sheet.
The baking sheet must be lined with parchment or a silicone mat OR well oiled (NOT preferred).
You can raise the muffins per the recipe timing instructions. OR you can set the baking pan in your fridge and retard the dough until your ready. (No more than 10 hours).
Just remove the baking sheet from your fridge an hour before cooking time to let them get to room temperature before cooking. I retarded mine 6 hours so we could have them with dinner.
I love the way these turned out. The texture and flavor are perfect English muffin. I ALWAYS toast my english muffins. We love that extra bit of crisp and heat that melts the butter perfectly.
Pictured are the larger sized sourdough English muffin in the background stacks. The muffin split open on the plate is the smaller size.
Tips on handling sticky dough:
This dough can stick to your hands and utensils. Here is what I do to solve that.
WET your hands and utensils as necessary. Wetting is like magic. Dough will not stick to water.
Dust the dough with flour to make it easier to roll out if your really struggling. The dough is probably a bit too wet and needs more flour to stiffen the dough (Only a little though or the muffin will be tough).
After you have the muffins cut out you can dust them with cornmeal as is traditionally done. I did NOT dust my muffin with cornmeal. I was out of it. But the muffins were perfectly workable with wet hands and a wet dough scraper to help place the muffins and keep the proper shape.
Cook them as long as it takes to completely cook the middle of the muffin. Depending on how thick you make the muffin that can vary. The raising and cooking times called for in the recipe are a STARTING place. Use them as a guide but learn the dough and you will get a better result.
Flatten the muffins top with your spatula as they cook. You can see if the dough middle tries to squeeze out the sides. Keep cooking the English muffins until the middle is firm and the bottoms are well browned.

Your Printable Recipe Card: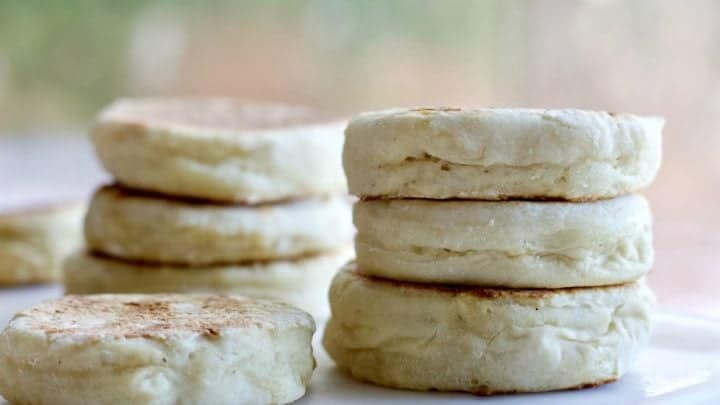 Yield:

12 english muffins
Sourdough English Muffins
Total Time:
1 hour
20 minutes
Sourdough English Muffins have a rich flavor. Use up your sourdough discard and deepen your English Muffin flavor. The texture will also be improved. So good!
Ingredients
2-3/4 Cups All purpose flour (divided)-350 grams
1/2 cup recently fed starter-130 grams
1 Cup Greek Yogurt-285 grams
1/4 Cup water-59 grams
1 Tablespoon honey-20 grams
3/4 Tsp. salt-1.5 grams
1 tsp. Baking soda-4 grams
Instructions
Night Before:
Mix starter yogurt and and water together in a large bowl
Add 2 Cups of the flour and let sit 8 hours or overnight covered at room temperature.
In the morning:
Add remaining ingredients including the extra 3/4 Cup flour.
Mix by hand and then turn out onto your work surface.
Knead lightly until the dough becomes elastic.
Roll out on a floured board to 1/2 inch thick.
Cut out muffin rounds with a mason jar lid or circle cutter.
Arrange the muffins on a baking sheet lined with silicone mat or parchment paper.
Let rise 45 minutes or longer. You can put them in the fridge and let them sit all day if you like. Then pull them out an hour before cooking time. They should look like this when ready to cook.
Heat your griddle to to medium and cook muffin 8 to 10 minutes until golden brown on the bottom.
Turn the English muffins and cook for another 8 to 10 minutes or until the bottom is browned to your liking and cooked thoroughly. Flatten the top with your spatula as necessary to create the flat top.
Notes
This dough is a trifle sticky. To make it easier to work with keep your hands wet and use a wet dough scraper.
If you find it necessary use cornmeal or a bit of flour to dust your english muffins to make them easier to handle.
Nutrition Information
Yield
12
Serving Size
1 english muffin
Amount Per Serving
Calories

121
Total Fat

0g
Saturated Fat

0g
Trans Fat

0g
Unsaturated Fat

0g
Cholesterol

1mg
Sodium

258mg
Carbohydrates

24g
Fiber

1g
Sugar

2g
Protein

5g
More Sourdough Discard Recipes:
Sourdough discard makes so many delicious recipes your family will love. Here are a few of our favorites! All of these recipes are made with sourdough discard in some stage of activity. you will be surprised how much the action of the starter impacts your recipes. Sometimes low action (unfed) starters make the best recipes.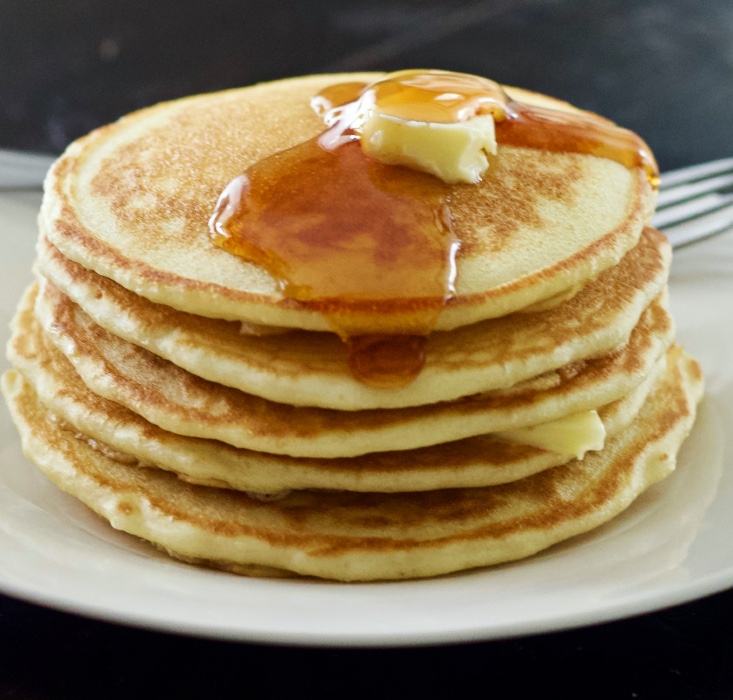 Follow Us:
We enjoy meeting you on our social networks. Follow us on Facebook, Pinterest, Instagram . Tag us with your pictures of our recipes and comment on how it went for you. We would love to see what you do with them.
We often like, comment and share your posts of our recipes on our daily Instagram stories.
Ask questions and rate the recipe in the comments section below. Please share what you did with this recipe. We are always looking for more and better ways to make homemade food. Other cooks love your ideas!
Recent Posts: