Soft and chewy Sourdough Molasses cookies are delectable. My family loves these flavorful molasses cookies. And they use up your sourdough discard.
These cookies are perfect for the lunch box and after school treats. They will hold up well and are not too messy.
I have had cravings for molasses cookies for months. My mom and grandma made molasses cookies when I was a kid.
I have my Grandma's recipe book. but I could NOT find her molasses cookie recipe.
I invited Mom over. We sorted through all the bits and pieces of paper recipes grandma had taped into her cookbook. Many had faded and disintegrated so it wasn't easy.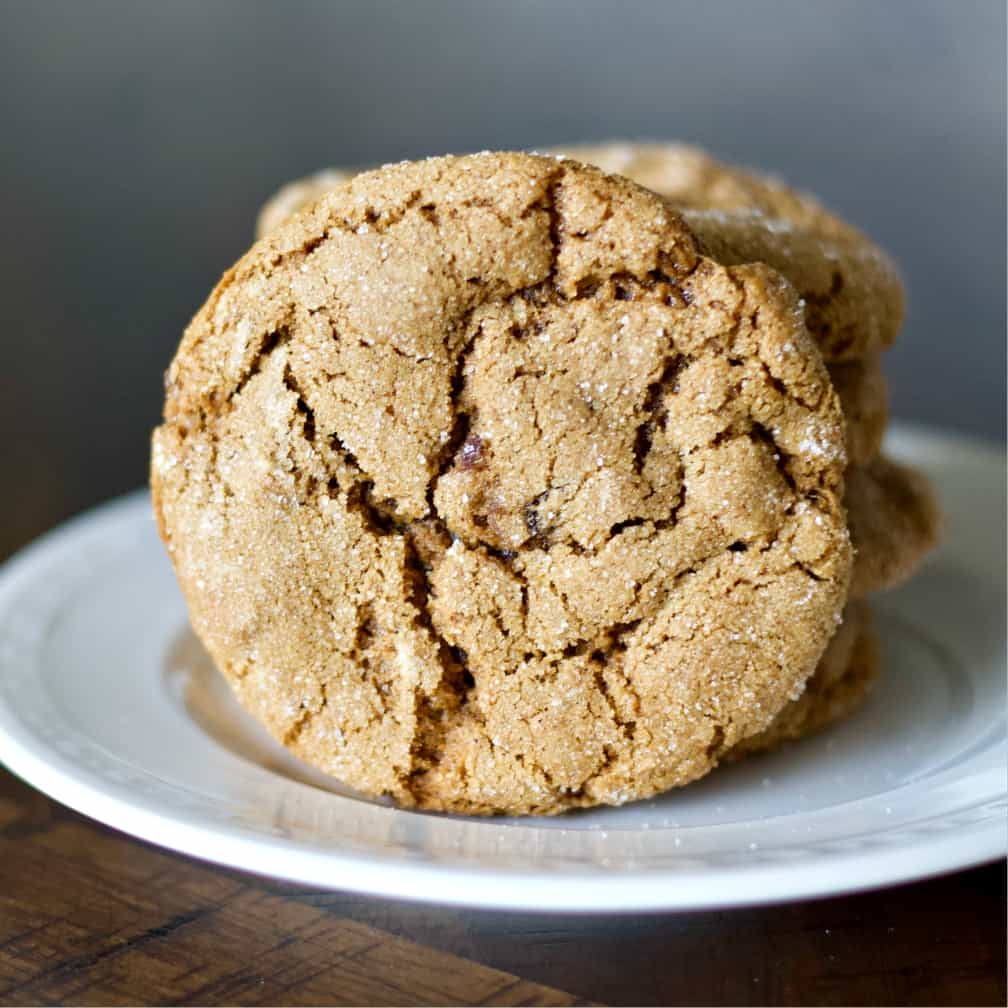 We finally found the recipe. Mom gave me tips on just how they are made to Perfection.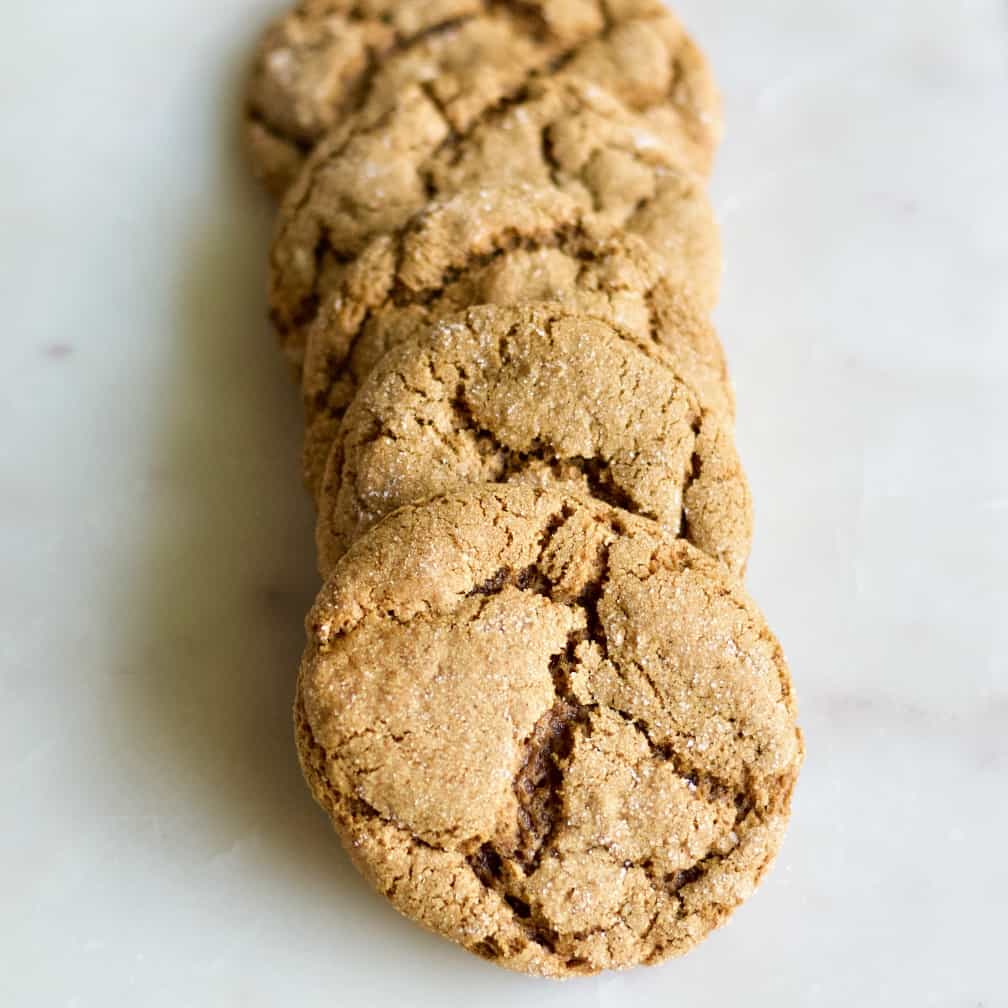 We baked and ate molasses cookies and remembered all the good things…and then I got my sourdough starter out.
More delicious Sourdough Discard recipes:
Using up sourdough starter discard is a fun challenge. If you prefer to bake with your discard rather than throw in away. Here are a few more of our discard recipes.
Looking for more sourdough recipes? Check out our entire section on sourdough recipes.
Sourdough Molasses Cookie Recipe:
I love Grandma big soft molasses cookies Betty Crocker Recipe. but I also enjoy the difference sourdough starter in the batter makes.
I'm a sourdough baker. I always have sourdough starter sitting around feeding and growing. It's a wonderful addition to these cookies.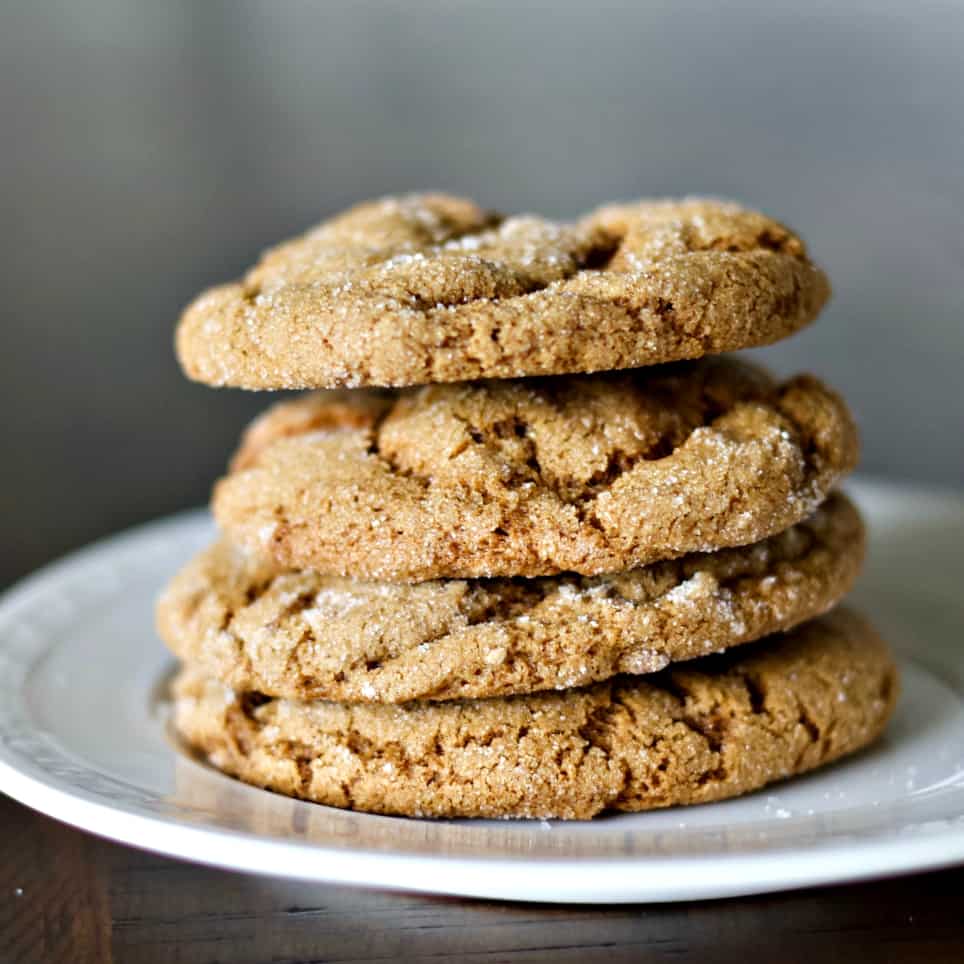 So of course in it went.
Sourdough Molasses Cookies Ingredients:
Unfed sourdough discard improves the texture of these cookies quite a bit in my opinion. And adds only a slightly more intense flavor.
The Starter:
The cookies pictured in this recipe post cam from two different batches. The ONLY difference in the recipe is the sourdough starter.
You control the outcome of your cookies appearance, texture and to some degree flavor with the starter.
TIP: Recently fed starter will add a milder flavor and puffiness to your cookies.
An old gray unloved starter gasping for flour in your fridge will make a deeper flavored cookie that is also less cake like. Do what you like.
You'll recognize a starving (weak) starter by its gray hooch sitting on top. And lack of bubbles in it. Poor thing.
Stir it up for a good sour starter and feed it. Using that in this recipe before it's fed will definitely put some tang in your cookie.
The same is true for our sourdough peanut butter cookies. The starter makes a difference every time.
Adding sourdough starter to this recipe makes a chewy molasses cookies that is also fairly soft. The starter will help puff the cookie if it's recently fed.
I also added baking powder. So now we have a crinkly soft chewy molasses cookie. If you prefer a LESS puffy cookie and have a recently fed starter eliminate the baking powder.
If you are looking to use up some sourdough discard give this recipe a try.
The Fats:
Let's get it right out there on the table. Cookies are not health food. OK. Moving right along.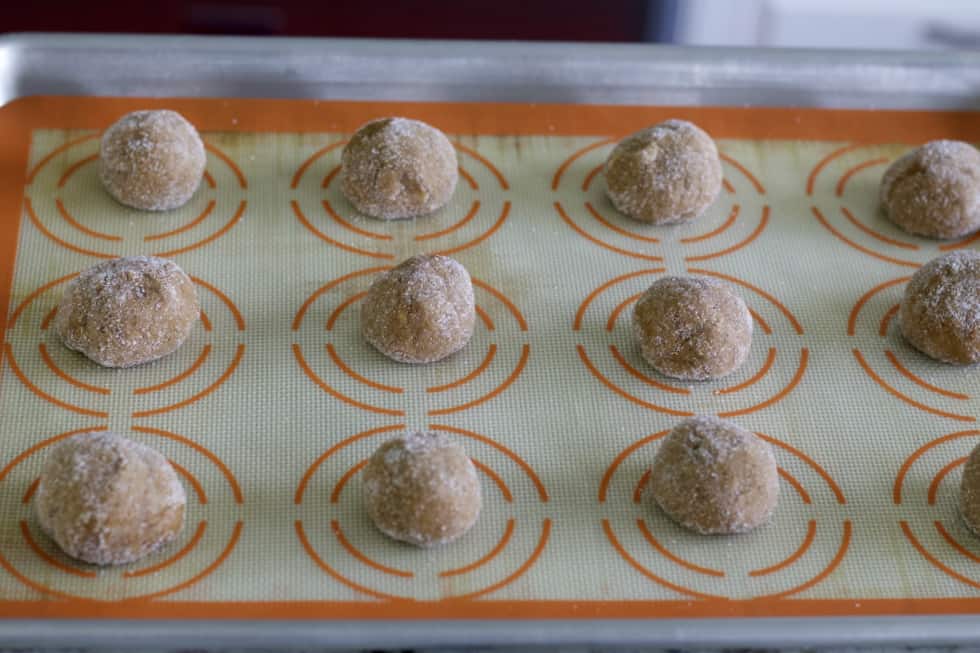 I never use shortening. It's a bit TOO much hardening of the arteries for me. So I exchanged the shortening in grandma's recipe for either butter or Coconut oil in this recipe.
Use what you like. A true healthy oil like avocado oil or other oil will destroy the cookie structure. Just can't do it.
TIP: DON'T melt the fats. softening means room temperature. NOT liquid. Or your cookies will be flat and crispy.
Shortening is always an option for you if you have it around. I put a note in the printable recipe card for you.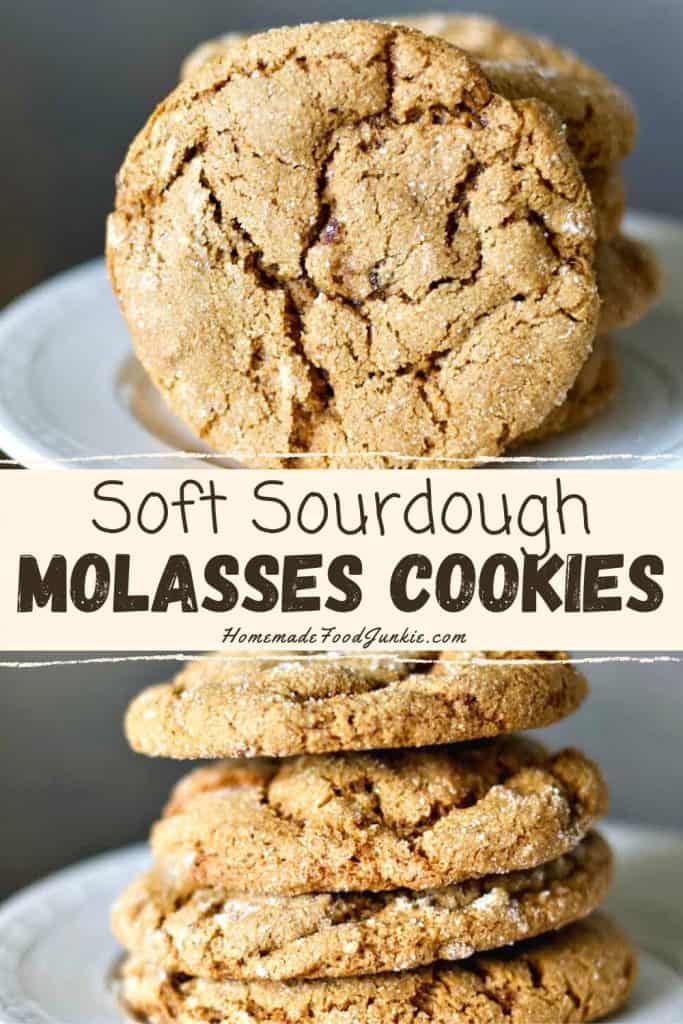 Visual Walkthrough:
Here are all the steps of mixing and forming these great sourdough discard cookies. Please also watch out video for a complete recipe demonstration.
Our printable recipe card is at the bottom of the post for you. Happy Baking!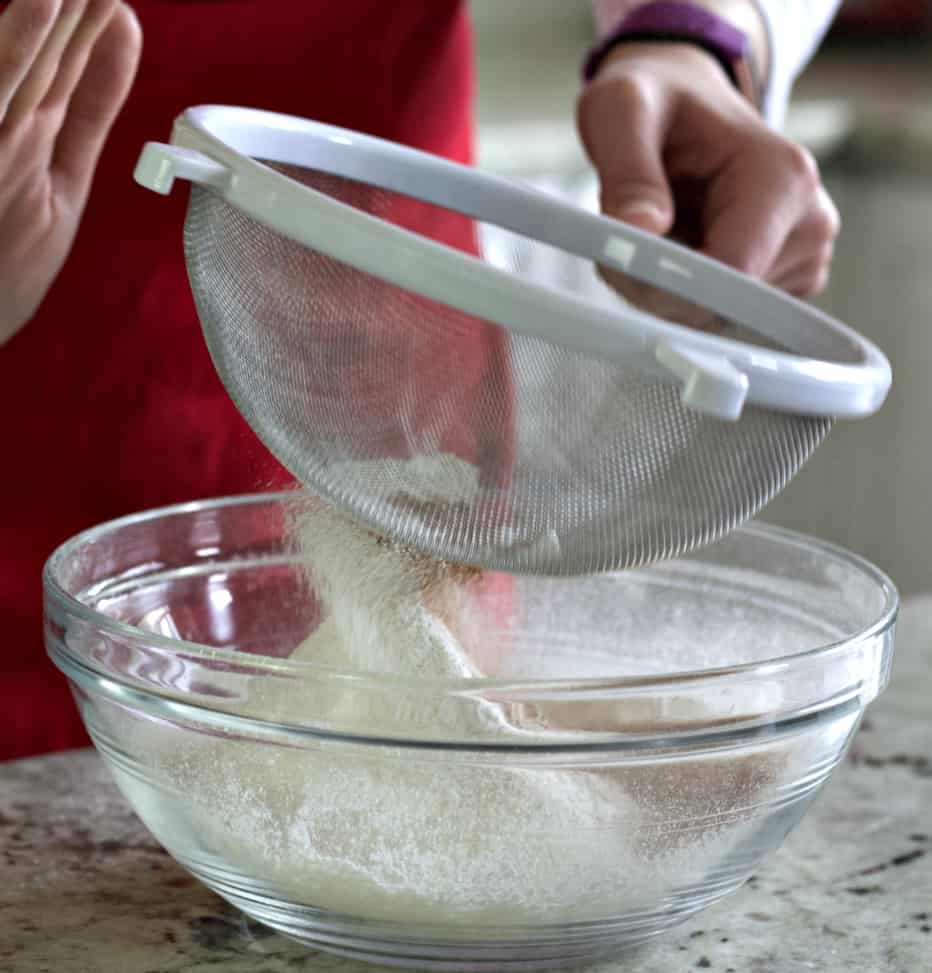 TIP: Prepare your baking sheet with parchment paper or lay silicone mats on the sheets to prevent sticking. If you have neither grease the baking sheets.
Cool the cookies on wire racks and serve.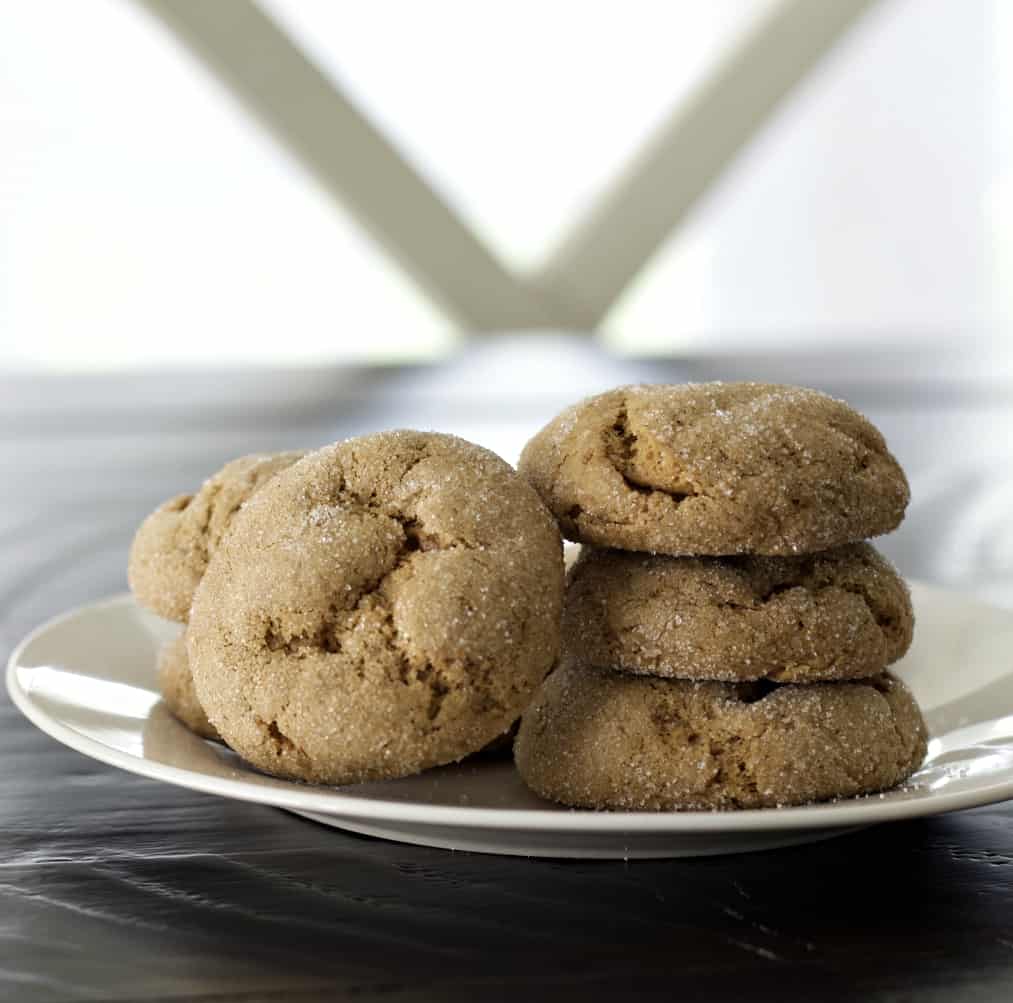 These cookies will stay fresh several days in your airtight cookie jar. They need to be covered or they will dry out.
You can store them in a plastic bag in your fridge for longer fresh storage. (up to a week) Just keep the air away from them.
Freezing:
Short term:
Stack the completely cooled cookies with parchment between the cookies to keep them from sticking together.
Place the stacks in an airtight freezer container.
Label with the Name of the recipe and date
Store in freezer up to one month.
Longer freezing:
Wrap the stacks of cookies in plastic wrap tightly and then bag or box in freezer bags or containers. Or vacuum wrap the cookies. They will keep up to two months.
Defrost by setting on the counter at room temperature for quicker defrost. Or set them in the fridge for longer defrosting.
Your Printable Recipe Card: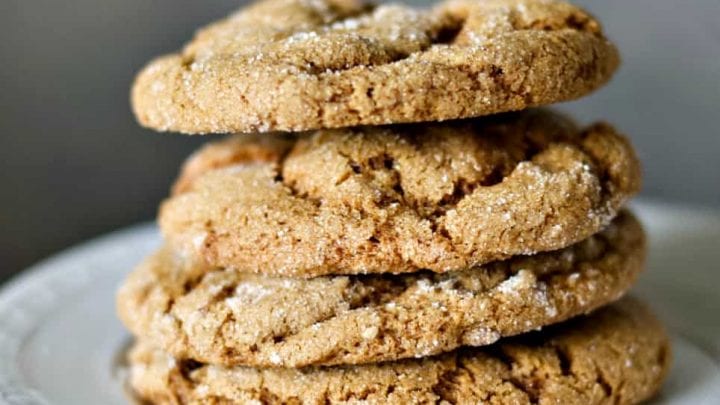 Yield:

24 cookies
Sourdough Molasses Cookies Recipe
Delicious molasses cookies full of flavor. These ever popular cookies are so easy to make. Your family will love them!
Ingredients
1/2 Cup sourdough starter (recently fed)
1 Cup Brown sugar
1/4 Cup softened Butter
1/4 Cup molasses
1 egg
2 Cups all-purpose flour
1 tsp. baking soda
2 tsp, baking powder
1 tsp. pumpkin pie spice
1 tsp. Cinnamon
1/2 tsp. ginger
1/4 tsp. ground cloves
1/4 tsp. salt
Additional Ingredient: 3 tablespoons sugar for rolling cookies
Instructions
Preheat oven to 325 degrees
In a medium bowl Sift together the dry ingredients. Set aside.
In a large bowl beat sourdough discard, brown sugar, butter, egg and molasses (I'm using an electric mixer)
Mix the dry ingredients into the wet mixed ingredients with a large wooden spoon.
Shape dough by rounded Tablespoonful into one inch balls.
Dip tops into sugar
On ungreased cookie sheet, place balls, sugared side up about 2 inches apart.
Bake 13 to 16 minutes or until cookies are set and appear dry.
Immediately remove from oven, and place cookies on cooling rack.
Notes
Options:
Use 1/4 Cup shortening (easiest to use the oblong shortening blocks) in place of the butter or coconut oil.
Use your starter recently fed or when it's very hungry. Play around with this idea. Your cookies will change quite a bit in texture depending on the condition and liveliness of your starter.
This cookie has a lot of spice. We LOVE them. if you prefer a milder cookie eliminate the cloves and reduce the ginger by half.
Eliminate the baking powder for a less cake like puffy cookie.
Nutrition Information
Yield
24
Serving Size
1 cookie
Amount Per Serving
Calories

119
Total Fat

3g
Saturated Fat

1g
Trans Fat

0g
Unsaturated Fat

1g
Cholesterol

13mg
Sodium

143mg
Carbohydrates

23g
Fiber

1g
Sugar

12g
Protein

2g