Sourdough pancakes are amazingly light, tender and fluffy. These pancakes are made from fed discard starter with a fool proof method that offer you the very best quality pancakes.
Sourdough discard makes SO many wonderful recipes. This sourdough pancakes overnight discard recipe is just one way to use up your discard and enjoy a luscious sourdough breakfast.
A hungry unfed starter or a young starter that needs several more days to come to its full power, will make delicious thin sourdough pancakes.
In fact the ones we made in the video are from a weak young starter not fully ready to bake bread. They are delicious but thinner than a fully strong starter can make them.
That is why this recipe asks you to feed your starter and allow it to strengthen to double its size before you use it for pancakes. All that fluffy.
However, if you decide to make pancakes on the fly early in the morning and didn't get your starter fed the night before, let it come to room temperature and use it. They will still be good.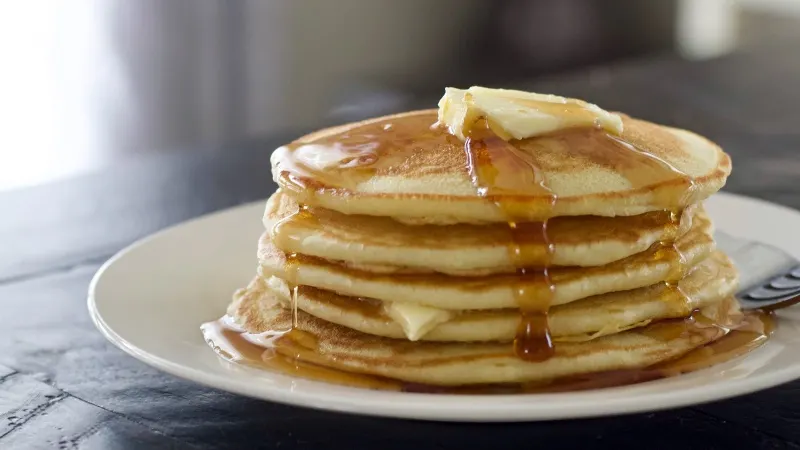 How to Cook Perfect Sourdough Discard Pancakes:
It's frustrating to follow a sourdough pancakes or waffles recipe and get poor results. This recipe post is full of helpful information on how to make your pancakes light fluffy and pleasing.
How to Make this recipe Vegan: Making these sourdough pancakes vegan is pretty simple since the recipe is already vegan except for the eggs You only need to replace the eggs with Flax eggs or some other vegan egg substitute. To make two flax eggs Add two Tablespoons of flaxssed meal to 6 Tablespoons of water in a small bowl.Stir it together and let sit five minutes to absorb the water. Now add the flax eggs to your recipe.
Here's a few key points to cooking fluffy and delicious tender pancakes.
The ingredients and method of the pancake recipe have a lot to do with how the rise and texture of the cooked pancakes turn out.
Properly mixing the batter ensures the pancake batter can build a good structure.
Cooking with the proper heat ensures evenly done, well risen pancakes that can achieve a good rise and release easily from the cooking surface.
Learn the signs of when a pancake is ready to flip so it only has to flip over one time to prevent compression of the cake.
Allow the pancake to cook without squashing the crumb by flattening it with a spatula during cooking.
Use a flat, level cooking surface with even heat for the highest pancakes.
Use little to no oil or butter when cooking pancakes. As they cook, pancakes will will absorb the oil. This makes them heavier and oily tasting. Instead use a non stick surface or brush the tiniest amount of coconut oil or avocado oil on the pan to prevent sticking.
Avoid cooking sourdough pancakes with butter. Butter tends to burn at the proper heat necessary to perfectly cook a good pancake.
Do NOT cook until the cooking surface heat is correct.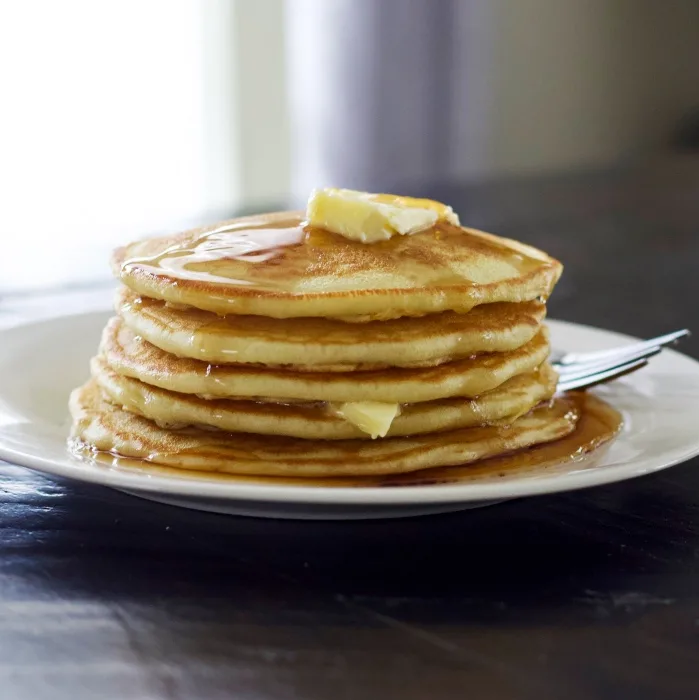 More tips On Cooking Sourdough Pancakes:
The lightness of sourdough pancakes and their rise depends to a large degree on the activity of the starter. But there are other factors…Here's a few tips on how to cook a good pancake.
When Do I Turn My Pancakes? A pancake is ready to turn over when small bubbles rise the top of the batter and the outer edge is firm. If you are not sure lift ONE edge of the pancake to check if it is golden brown.
Why are my pancakes flat and dense? Avoid squishing your pancake flat by pressing them down while cooking with your spatula. Allow pancakes to cook as they will.
You only want to turn a cooking pancake once. Over handling a pancake as it cooks will compress it and make it tough. Do NOT press your pancake with the spatula as it cooks.
Why are my sourdough pancakes gooey? Over mixing the pancake batter or cooking the batter on too hot or too cold cooking surface can create gooey pancakes.
Do NOT overmix pancake batter. Overmixing pancake batter removes the oxygen from the batter. The pancake batter relies on the oxygen and leavening agents to create the structural scaffolding of the pancakes. Overmixing the batter (Mixing until all the lumps are out) often results in a dense gooey center in your pancakes.
You can see the pancake batter actually getting denser as you mix it too much. When the batter is light with small lumps quit mixing.
Mix pancake batter to only the just mixed stage with a fork or a whisk. There will be small lumps in the batter. This is fine and ensures the batter has the oxygen it needs to properly rise as it cooks.
Stand mixers or hand held electric mixers will over work the batter and are not generally recommended to mix pancake batter.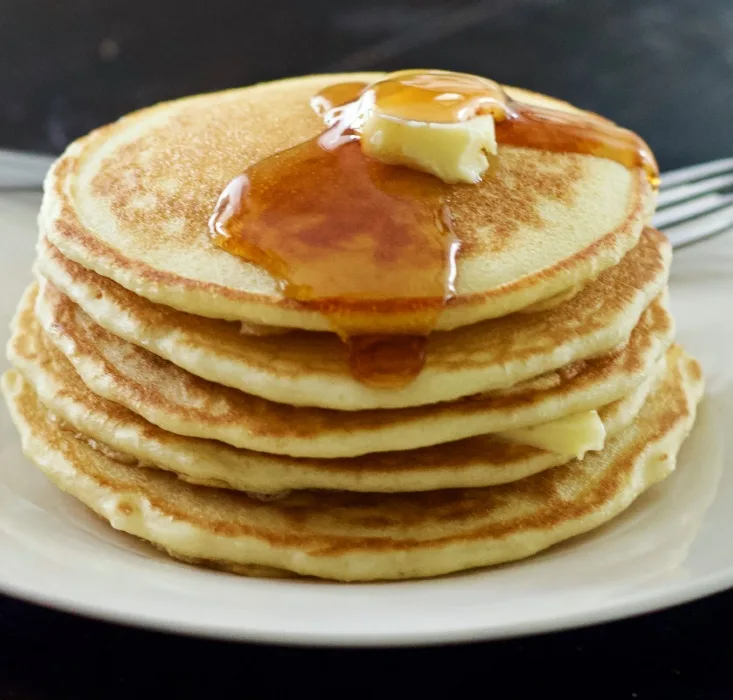 How Long after mixing is sourdough pancake batter good at room temperature? Best sourdough pancakes are cooked within 30 minutes of mixing the starter, eggs, oil, and salt together. You can let this mix rest up to this half hour mark.The batter will continue to develop in the bowl.
But leaving the batter out more than 30 minutes may give you less tender or fluffy batter. The batter will continue to ferment and change so be aware your pancakes may be more tangy and less fluffy.
Do NOT let this sourdough pancake batter sit out for a long period of time after you mix in the water and baking soda mixture and stir it into the rest of the batter. The baking soda activates the batter and gives you those light fluffy, tender pancakes you want. Once your baking soda loses its bubbliness you need to cook the pancakes or they will be denser that optimum.
You can leave mixed sourdough pancake batter covered for an hour or so at room temperatures between 65 and 75 degrees F and it will still be food safe. But this batter does contain eggs so try to use it right away.
What is the Best Cooking Equipment for Pancakes? An electric griddle is the best cooking equipment for cooking sourdough pancakes. This one by Bella. It is well rated and has a non toxic surface.
A freestanding electric griddle will give you a large flat surface with even temperatures that will perfectly cook crispy sourdough pancakes and release the cooked pancakes easily.
You can also use a flat heavy bottomed cast iron or aluminum clad skillet. The most important part of cooking pancakes is a reliable, even heat and flat, level cooking surface that will easily release the pancakes.
When is a Cooking Surface is Ready to Cook Pancakes? Your skillet or griddle is hot enough to cook the best sourdough pancakes when a few drops of water sprinkled over the cooking surface skitters on the surface and vanishes into steam. This is usually at the medium heat setting on your stove or griddle (350 to 375 degrees F).
But all stoves and griddles are not the same. We recommend you use the water drop test to make sure your surface heat is correct.
Cooking pancakes too hot will result in gooey unevenly cooked pancakes. They will be cooked on the outside but the center will not have time to cook and rise. Your pancakes will be gooey and flat rather than fluffy with a cooked center.
Too COLD a griddle will mean pale dense gummy pancakes, since the center does not get hot enough to activate and cook properly.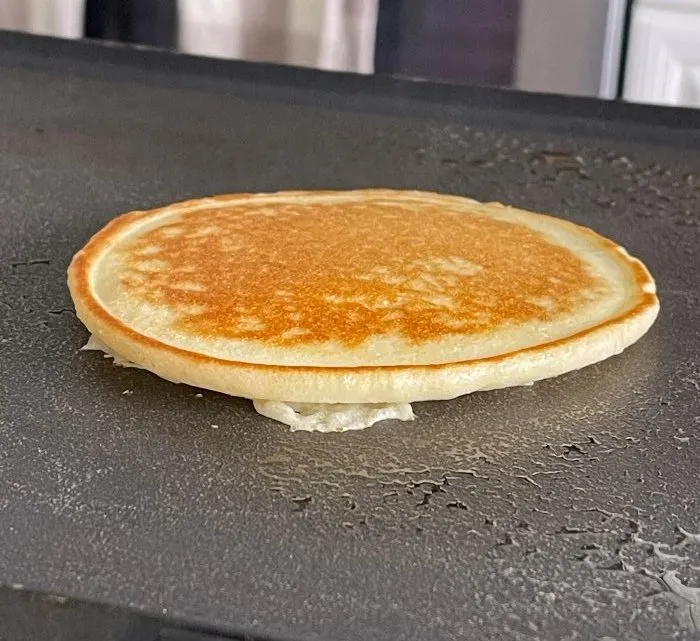 How long does sourdough pancake mix last in the fridge? If you have a really strong sourdough starter that is recently fed it may make decent pancakes for you from refrigerated leftover batter if it is stored only a day or two. But these will be thin sourdough pancakes. They will be chewier and denser than the pancakes you made from the fresh pancake batter.
When leftover pancake batter is stored in the fridge, the starter continues to ferment the batter and slowly loses strength. At the same time, The gluten strands will toughen and shrink as they chill and the baking soda will degrade and lose its leavening ability as well.
What to Do with Leftover Pancake Batter:
It is best to whip up and make the pancake batter fresh for best fluffiness and the most tender pancakes. Rather than storing pancake batter in the fridge, Cook up the whole batch of batter into pancakes.
Make ALL the batter into pancakes. Leftover pancakes can be covered and stored in the fridge up to a week. Just reheat the pancakes in the microwave. Are they as good as fresh? Probably not. But they will still be ok and worth eating.
If you REALLY want to play around with ways to use up leftover pancake batter other than making pancakes. Here's a few inventive leftover pancake batter recipes from Wiki How.
Can you Freeze Sourdough Pancakes?
The best way to store leftover sourdough pancakes is in the freezer. Sourdough baked goods freeze really well. You can put sourdough pancakes in ziplock bags with all the air squeezed out and remove them for a quick warm up or put them in your toaster.
If you want them to come apart as singles you will have to wrap them separately in plastic wrap or put a layer of paper towels between the cakes so they don't stick together. Now put the separated stack of pancakes in the ziplock bag and suck out all the air before you seal it.
Sourdough pancakes, properly stored will freeze well for up to three months.
Thaw to room temperature and then microwave only a few seconds on high heat until they are warmed through. Over heating them will cause the pancakes to dry out and toughen as they cool.
To make toaster pancakes remove frozen pancake from packaging and toast it frozen on a light heat setting.
Yield:

20 pancakes
Sourdough Pancakes Recipe
Total Time:
8 hours
20 minutes
Light fluffy and tender sourdough pancakes bring in the delicious flavor of sourdough to your morning meal. Sourdough pancakes are easily diegestible and delicous!
Ingredients
2 cups (about 300 grams) fed sourdough starter (room temperature, fed and doubled in size per prep instructions below)
2 tablespoons granulated sugar
2 eggs
4 tablespoons coconut oil (or avocado oil)
1/2 teaspoon salt
1/2 teaspoon baking soda
1 tablespoon warm water
Instructions
Recommended Preparation:
Feeding your starter the night before will increase its ability to make the fluffiest pancakes. You can omit this step if your starter is already pretty active. This recipe uses a large amount of starter so feed it and then use discard for this recipe. Make sure the starter is at room temperature before you begin the pancake recipe.
NIGHT BEFORE COOKING PANCAKES: (or 8 hours)
Remove starter from fridge and allow to reach room temperature.
In a small mixing bowl add 100 grams room temperature starter to 100 grams flour to 100 grams warm water.
Mix well and set aside until it doubles in size. (about 8 hours or overnight)
Making Sourdough Pancake Batter:
In a large bowl combine the sourdough starter, sugar, egg, oil and salt.
Mix these ingredients well set aside to rest for up to 30 minutes.
Mix 1 teaspoon baking soda in 1 tablespoon of warm water in a small bowl. Set aside until ready to bake your pancakes.
When You are ready to cook the pancakes.
Stir the baking soda mixture gently into the prepared pancake batter (do not beat or overmix).
This will cause a gentle foaming and rising action in the batter. Let the mixture bubble and foam a minute or two before using.
Heat up a lightly-greased griddle to 375 Degrees F. (or hot enough to skitter drops of water on it)
Ladel or pour 1/4 to 1/2 Cup sourdough pancake batter onto the heated griddle in discreet rounds with lots of room between them.
Cook the pancakes until small bubbles rise to the surface of the cake. and the edges of the panckae are firm.
Flip the pancakes and cook 1 to 2 minutes more until golden brown.
Remove from heat and serve with your favorite toppings.
Notes
*Only add the baking soda/water mixture to the pancake batter just before you are ready to cook the pancakes. Make certain everything is ready to go, the griddle hot, so the Sourdough can be cooked while the air is still working in the batter. This will produce light sourdough pancakes that melt in your mouth.
How to Make this recipe Vegan :
You will need to replace the eggs with Flax eggs or some other vegan egg substitute. to make two flax eggs Add two Tablespoons of flaxssed meal to 6 Tablespoons of water in a small bowl.Stir it together and let sit five minutes to absorb the water. Now add the flax eggs to your recipe.
Nutrition Information
Yield
20
Serving Size
1
Amount Per Serving
Calories

76
Total Fat

3g
Saturated Fat

2g
Trans Fat

0g
Unsaturated Fat

0g
Cholesterol

9mg
Sodium

120mg
Carbohydrates

10g
Fiber

1g
Sugar

1g
Protein

2g
What Can I do With Unwanted Sourdough Discard?
Unwanted sourdough discard can be used in many sourdough recipes, including banana blueberry bread, sourdough cookies, pretzels and this fantastic sourdough pie crust.
No need to throw discarded sourdough starter away. Use is to feed your family delicious foods of all types. Here are a few of our favorite ways to use up sourdough discard.
One of our most useful discard recipes is our Sourdough Pie Crust. It has a deep rich flavor and goes with just about any pie filling. Our Sourdough Molasses Cookies Recipe is absolutely the best sourdough cookies recipe. You really need to try these cookies.
Here are several more discard recipes you are going to love.
We have so many delicious recipes to use up all your starter. We also have informative sourdough posts to help you have better success at sourdough baking.
Follow Us:
We enjoy meeting you on our social networks. Follow us on Facebook, Pinterest, Instagram . Tag us with your pictures of our recipes and comment on how it went for you. We would love to see what you do with them.
We often like, comment and share your posts of our recipes on our daily Instagram stories.
Ask questions and rate the recipe in the comments section below. Please share what you did with this recipe. We are always looking for more and better ways to make homemade food. Other cooks love your ideas!
Recent Posts: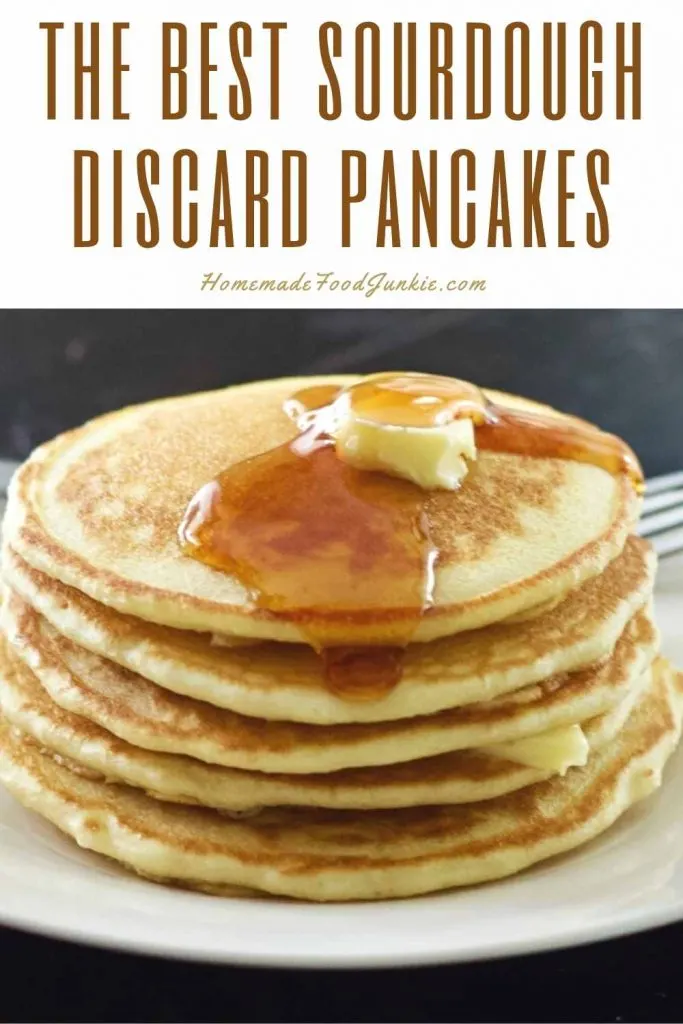 Recipe Source: Zourdough Sourdough