Delicious Sourdough Peanut Butter Oatmeal Cookies sourdough discard. your family will love these yummies.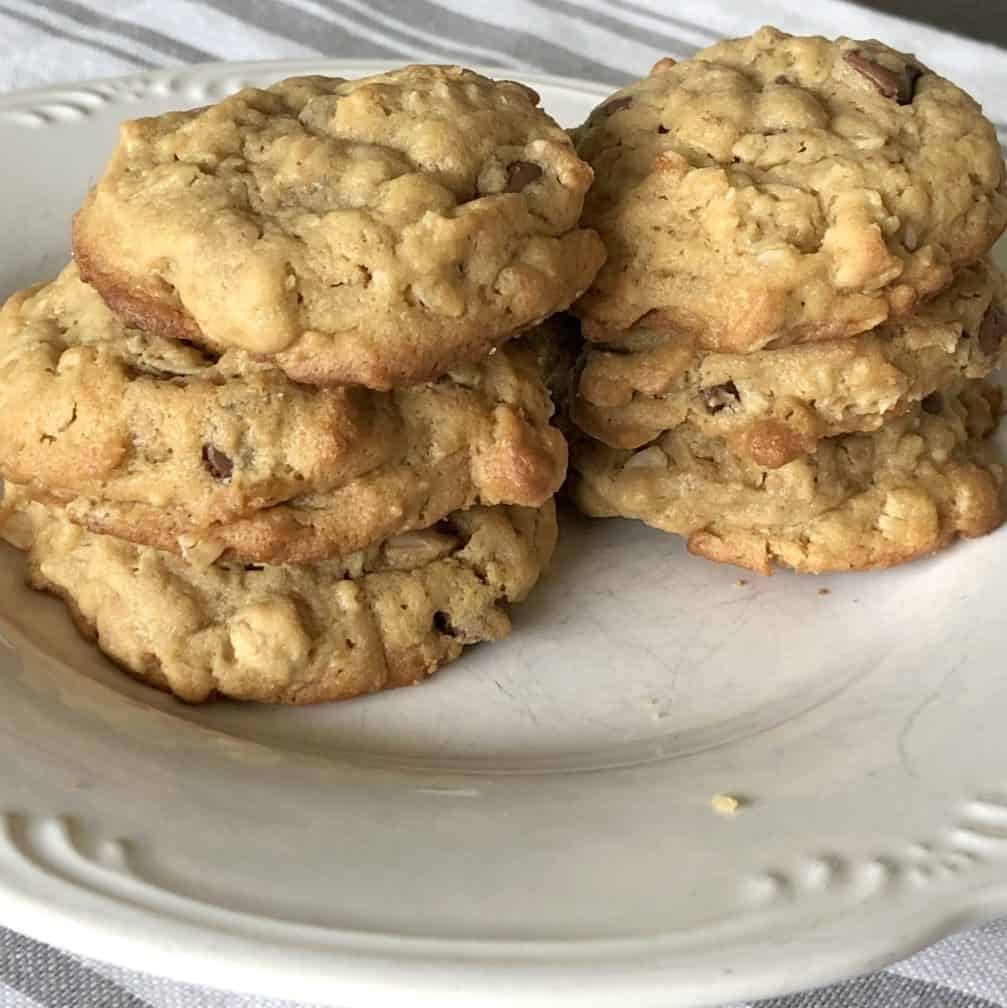 Add chocolate or butterscotch chips to really up the sweet yumminess. The unfed Sourdough starter discard brings a deeper flavor to these chewy oatmeal chocolate chip cookies.
More Sourdough Cookies:
Sourdough discard cookies are one of our favorite ways to use up extra unfed starter. Your family will love these delicious sourdough cookies.
Find ALL of our sourdough discard recipes in our SOURDOUGH SECTION. We have so many great recipes to use up your extra sourdough starter both fed and unfed. Yum!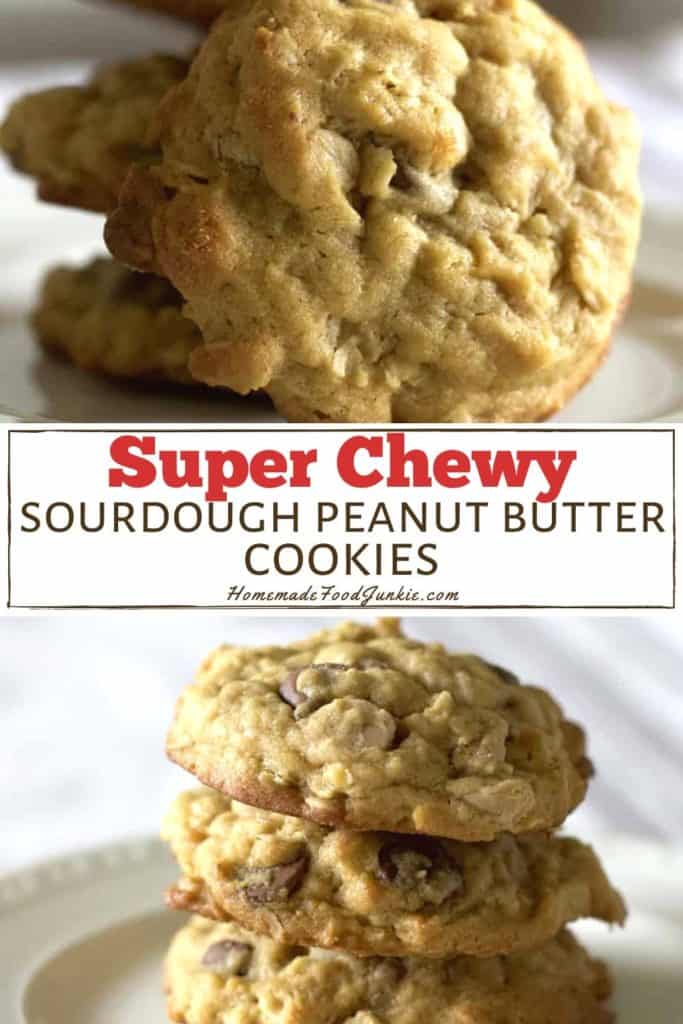 Sourdough Peanut Butter Oatmeal Chocolate Chip Cookies Recipe:
Homemade Food Junkie Community Involvement:
One of our sourdough bakers, Eva, requested this recipe. She made our peanut butter sourdough cookies and requested a chewy oatmeal cookie with the peanut butter.
I spent a morning working up this recipe. It turned out EXCELLENT. It's been tested by several bakers from our instagram audience. They all loved it. I hope you agree.
Meanwhile Eva also made her own version of sourdough peanut butter oatmeal cookies. She kindly shared her low sugar recipe. I've reprinted it below our recipe card if you want to give it a try.
We love when our readers contribute recipes. Thanks so much Eva. 🙂
ADDITIONS AND SUBSTITUTIONS:
The world of homemade cookies has a lot of flexibility. Here are some ideas for additions and substitutions
Replace the chocolate chips or mix 50/50 with raisins to make oatmeal raisin cookies.
To increase the peanut butter flavor use UNFED starter and don't use more than the recipe calls for. (You can reduce the starter by a third for more peanut butter flavor too.)
The baking chips can be chocolate chips OR (our favorite) butterscotch chips. OR any flavored baking chips you want to try.
Nuts can be added in small quantities (1 cup or less) so they don't over power the cookie taste or texture. Make sure they are finely chopped.
You can omit all the baking chips and still have a great cookie.
TIPS:
Use a creamy Jiffy style peanut butter (any generic peanut butter like Jiffy will work fine). Natural peanut butters can make the cookies dry and crumbly.
Use regular old fashioned oats for best texture results.
Use UNFED sourdough discard. This means your discard is needing to be fed and cannot rise bread. A fed discard will alter the flavor and add puffiness.
Chill the dough only about 20 minutes for best results. you can store the dough in the fridge (up to three days in an airtight cover).
To bake with Long chilled dough set the dough out an hour or so to relax it before trying to make the cookies.
Line your cookie sheet with parchment paper or silicone mats for easiest cookie removal.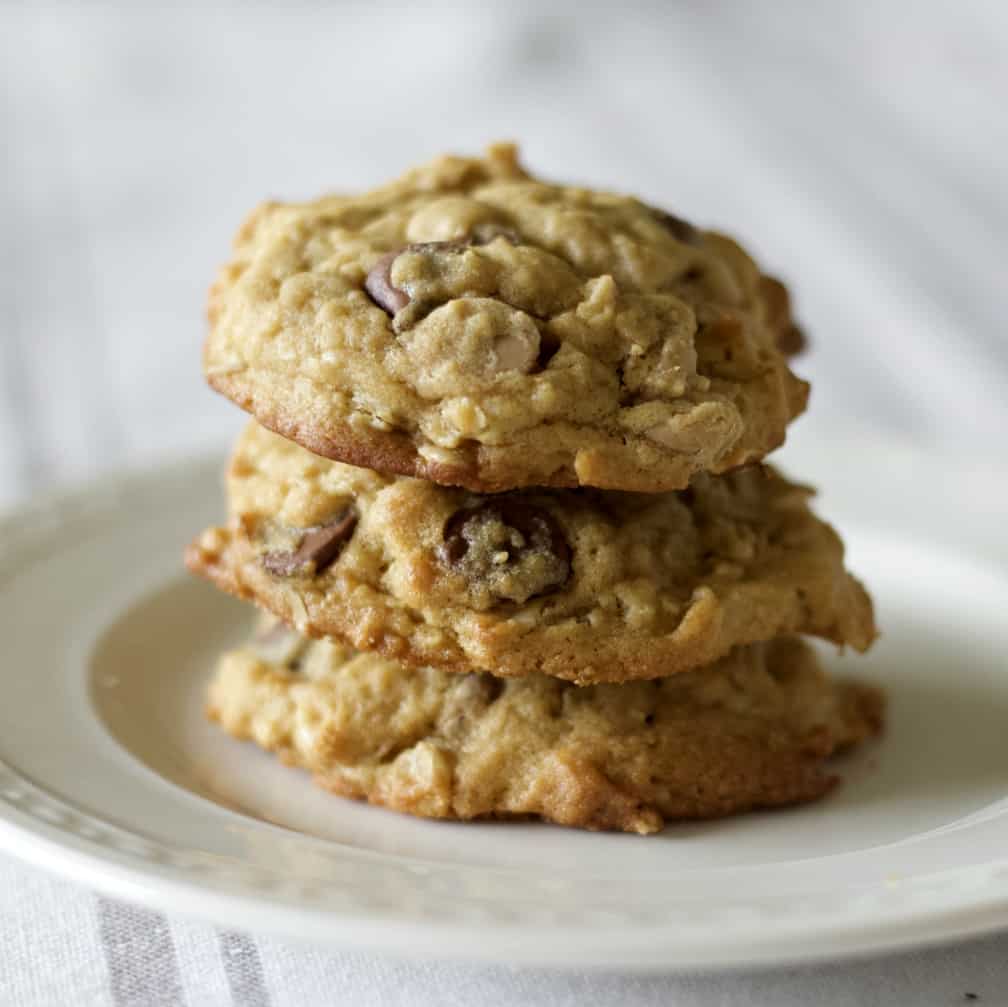 Freezing These Cookies:
This Oatmeal cookie recipe holds well in your cookie jar several days. They also freeze well.
I suggest you double the recipe and freeze one half of the recipe. These cookies make great foodie gifts BTW. 🙂
Place your extra COOLED and set cookies into a heavy duty freezer ziplock bag.
SUCK out all the air with a straw. Or suck it out through the uncompleted seal and then seal it fast.
Label the bag with the recipe name and date.
Freeze for up to two months.
To Defrost:
Remove from the freezer bag the amount of cookies you wish to defrost. Set them out on the counter covered at room temperature.
They should defrost within an hour. Do NOT microwave the frozen cookies for a quick defrost. They will not defrost evenly and your results will be unsatisfactory.
Your Printable Recipe Card:
Eva's Low sugar Version:
While I was creating my sourdough peanut butter oatmeal cookies Eva made her own low sugar version. They are VASTLY different recipes.
Eva was generous and kindly shared her recipe for those of you with a low sugar requirement. Thank you so much Eva!
I have reprinted her recipe below for your convenience. But it will not print. You will need to copy and paste the recipe into your personal notes system.
Ingredients:
4 Cups Old-Fashioned Oatmeal
2/3 Cup Boiling Water
2 Cups self-rising Flour
1 tsp Salt
2 tsp Baking Soda
1/2 Cup golden sugar (scant)
1 Cup Canola Oil
2 heaping spoonfuls of creamy peanut butter – about 1/2 cup
2 eggs
6 TBS unfed sourdough starter
1/2 cup mini-choc chips
Instructions:
1. Add water to oats and stir. Let stand 15 minutes so the oats absorb water and the mixture cools down.
2. Combine the flour, salt and baking soda and sugar in a large bowl.
3. In another mixing bowl (I use my 4 cup measuring cup), mix the oil and peanut butter with a whisk.
4. Add eggs and starter. Mix well.
5. Add the softened oats to the flour mixture and mix until blended (can use hands).
6. Add the wet to the dry.
7. Add the chocolate chips if using
8. Shape into balls
9. Preheat an oven to 375 F.
10. Bake for 15-20 minutes until they are golden brown.
Please let us know how your cookies turn out and which recipe you are working with. We LOVE input from our Homemade Food Junkie community.
Tag us on instagram with your stories and pics of our recipes. We like and share!