Warm up your kitchen with a hearty and delicious meal of Instant Pot Beef and Noodles. This one-pot wonder is a comfort food classic, made with tender beef, sausage, bow tie noodles and a delicious savory sauce. The Instant Pot makes it incredibly easy to prepare and cooks the meal to perfection in a fraction of the time it would take to make it on the stove. Get ready for a mouth-watering meal that's perfect for a busy weeknight or a cozy weekend in.
This Beef and Noodles recipe is a simple option for dinner as it is made all in one pot with very little effort, and comes together quickly for those busy nights. Combining ground beef, Italian sausage, mozzarella cheese, and Italian seasonings all cooked in a flavorful tomato sauce makes the best beef and noodles recipe. Seriously, this meal is sure to be a favorite in your family.
We use the Instant Pot more than almost any other kitchen appliance. It is a fantastic tool once you incorporate it into your routine and learn what it has to offer. We use it to make soups, noodle dinners, our own yogurt, even cheesecakes!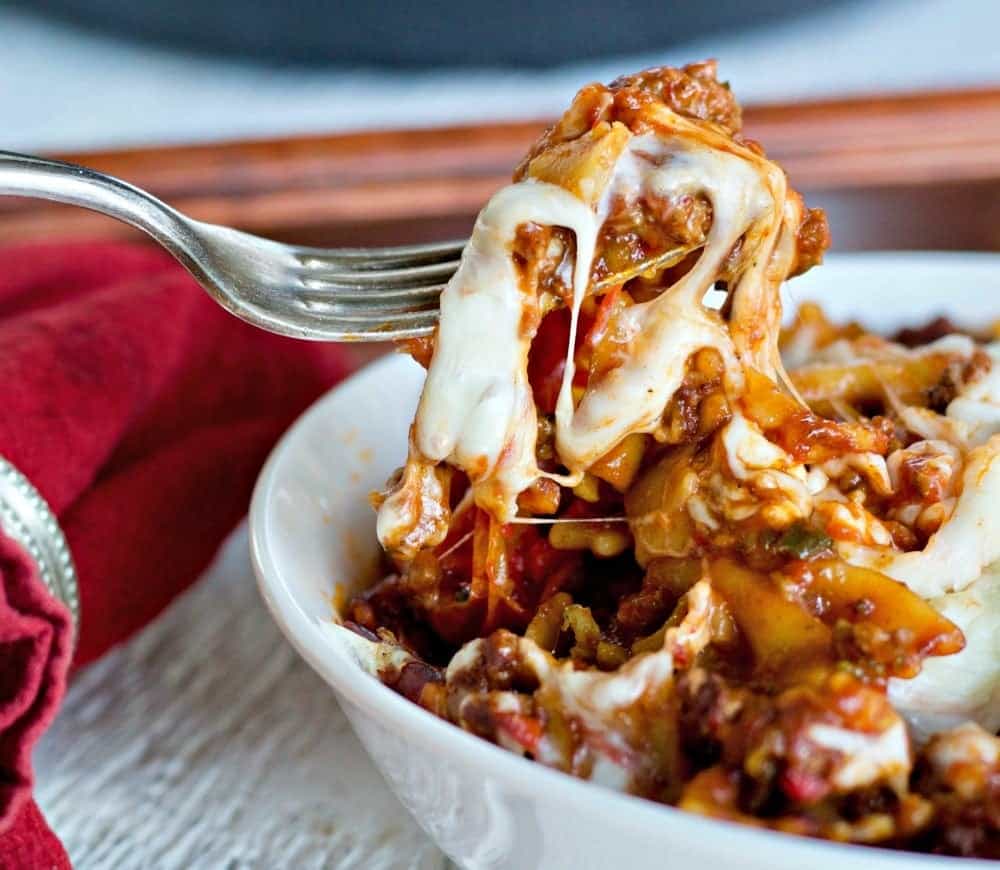 Where does beef and noodles come from? The basic Beef and noodles recipe is a popular dish that has roots in various cultures and cuisines. It's a classic comfort food that has been enjoyed for generations and can be found in many different variations around the world.
We love this homemade Beef and Noodles recipe. At the bottom of this post we link a few more of our favorite beef and noodles recipe. You'll find our beef and noodles recipe for the skillet dinner which has more of a cowboy trail dinner vibe. It also has instructions for both the instant pot and its a recipe for crockpot beef and noodles too. Highly recommend!
In the United States, Beef and Noodles is often associated with Midwestern cuisine and is a staple in many households. The dish typically consists of tender beef, egg noodles, and a savory gravy or sauce, and is often served with vegetables or mashed potatoes.
It's believed to have originated as a simple, hearty, and economical way to feed a large family or group, as the ingredients are readily available and can be prepared in bulk. Over time, it has evolved into a comfort food classic and remains a popular dish in many homes today.
We have had to modify this recipe a bit for the instant pot. We traded out the egg noodles for pasta that will cook more reliably in the instant pot without giving you the dreaded BURN message.
Can you cook pasta in your Instant Pot?
Like we said before, we use the Instant Pot multiple times a week and it's easily become our favorite kitchen tool. You can cook pretty nearly anything in it, including pasta! Yes, dried pasta noodles can be cooked in your Instant Pot for recipes like this where you are throwing everything together for a goulash type meal.
Cooking pasta in your Instant Pot on their own could definitely be done too, but you wouldn't be able to ensure that they cook al dente. For a recipe like this the noodles absorb so much flavor and seasoning, and they cook to a perfect consistency every time.
For our beef and noodles recipe it works great to cook the recipe with the noodles since this recipe is really quick to cook in the instant pot. But be careful of using pasta in the instant pot for longer recipes. Best to cook the pasta separately or include it at the end of the recipe.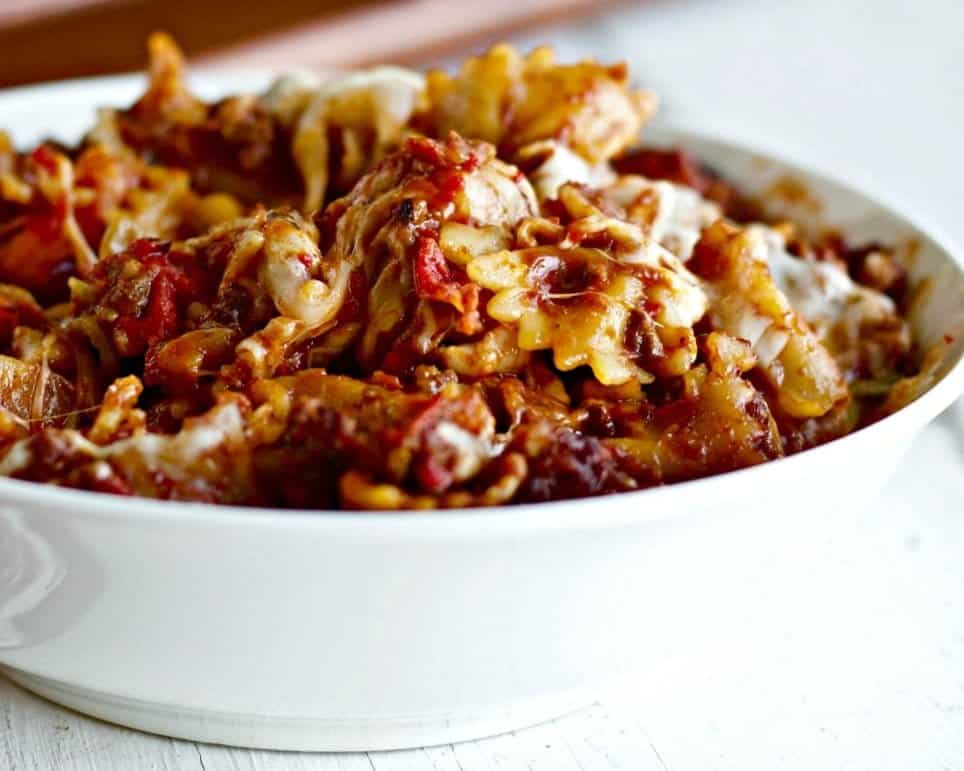 Which Noodles Cook Best in an Instant Pot?
For an all in one pot beef and noodles recipe like this we find that thicker style pasta noodles work best. They cook to a pleasant texture and balance everything out. Our favorites are penne and large bow tie pasta. Smaller pastas will of course be fine, but they may cook too soft and not hold their shape and texture due to the cooking time.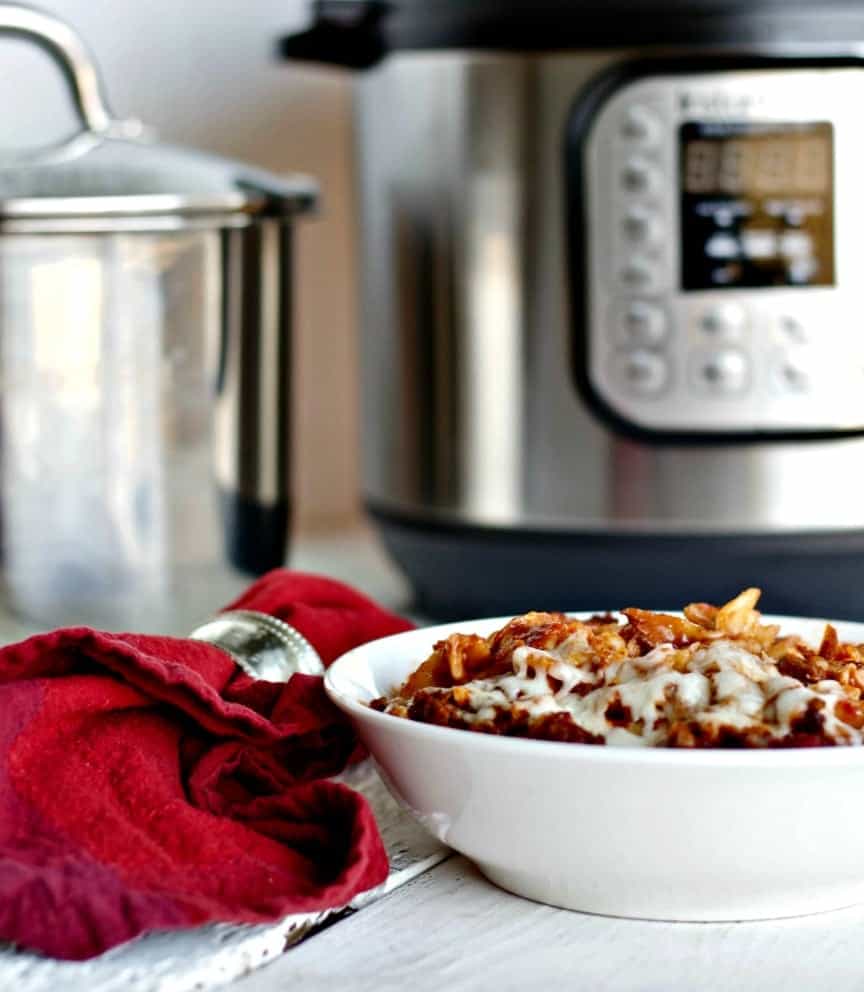 For this Instant pot recipe beef and noodles dinner I usually make it with my frozen homemade roasted peppers and frozen whole tomatoes from our own garden. You can always use jarred roasted red peppers and canned whole or diced tomatoes if that's what you have.
Do you have to saute beef before cooking it in the Instant Pot?
The Instant Pot provides the convenience of 'hands off cooking' and does not require meat to be seared or sauteed before cooking it in the Instant Pot. However, for meat recipes like this we love utilizing the sauté function that is built into the Instant Pot.
Sautéing or searing meats gives a wonderful depth of flavor to your instant pot meal so we highly recommend it first.
How do I thicken up my beef and noodles?
I doubt you will need to thicken up this beef and noodles recipe in your instant pot but if you want it really thick, There are several ways to thicken beef and noodles:
Cornstarch Slurry: Mix 2 tablespoons of cornstarch with 2 tablespoons of cold water to make a slurry. Stir the slurry into the sauce or gravy in the Instant Pot and cook on high pressure for 2-3 minutes to allow the sauce to thicken.
Flour: Mix 2 tablespoons of flour with 2 tablespoons of cold water to make a paste. Stir the paste into the sauce or gravy in the Instant Pot and cook on high pressure for 2-3 minutes to allow the sauce to thicken.
Roux: Make a roux by melting 2 tablespoons of butter in a saucepan, then whisking in 2 tablespoons of flour. Cook for 2-3 minutes, then stir the roux into the sauce or gravy in the Instant Pot and cook on high pressure for 2-3 minutes to allow the sauce to thicken.
Reduce the Liquid: BE CAREFUL HERE. We need some liquid to cook the noodles. Cook the recipe and THEN see if you need to reduce the liquid after cooking If the sauce is too thin. You can simply allow it to simmer and reduce in the Instant Pot until it thickens to the desired consistency.
Note: You may need to adjust the amount of thickener used based on the desired thickness of your sauce or gravy.
Beef And Noodles Recipe Tips:
As Instant pot Italian beef and noodle dinners go, this one is a winner. The flavors are similar to lasagna, it is quick and easy to make, and we love it.
NOTE: The balsamic vinegar is an important ingredient in this recipe so be sure you have some on hand, it brings that rich, signature Italian flavor to the meal. If you are out of balsamic vinegar do not substitute with red wine vinegar or apple cider vinegar, the flavor will become too acid and not pleasant.
The Instant Pot Pasta Recipe Tricks:
The manual cooking pressure for this recipe is low as some folks have had trouble with this recipe cooking too hot and burning to the bottom.
If you're new to the Instant Pot or have never cooked pasta in the instant pot please follow the instructions for this beef and noodles recipe carefully.
TIPS:
Here's how to adjust the pressure to low pressure as I suggest in the recipe.
There is a pressure button right above the manual button on your instant pot control panel. At least that is true on my 6 quart duo-Your Pressure cooker may have a different panel.
If you push this button it toggles back and forth between high and low pressure. A light will light up in the bar above the pressure button and the less normal more button that shows you if the pot is on high or low pressure.
I hope this helps. If you have a different pressure cooker please refer to your manual on how to adjust the pressure to low for this recipe.
At serving sprinkle the mozzarella cheese over the top for flavor and garnish as desired.
This instant pot ground beef recipe with bulk Italian sausage is full of delicious Italian flavor.
Beef and Noodles Recipe Printable Recipe Card:
PLEASE NOTE: We made a video demonstration for you on this recipe. I says to natural release the instant pot once the dinner is cooked. That is incorrect. I meant to say QUICK release.
Yield:

8
Instant Pot Beef and Noodles Recipe
A very fast, easy and delicious dinner with lots of Italian flavors.
Ingredients
1 15 oz. can can of whole or diced tomatoes with juice
1 Tablespoon Avocado oil (or any oil)
1 lb. Mild Italian bulk sausage
1 lb hamburger
4 cloves garlic-chopped
1/2 Cup roasted peppers-chopped
12 oz. uncooked pasta, (choose a thick pasta like penne or bow ties)
1 8 oz. can can tomato paste
1 15 oz. can tomato sauce
2 Tablespoons Balsamic Vinegar
2 Tablespoons Worcestershire Sauce
2 1/2 Cups water
1 Cup Mozzarella Cheese
Instructions
Select saute' function on NORMAL and add the oil.
Add the meat and break it up into bite sized chunks and cook until completely browned. (I use the GLASS lid during saute' to keep the splatters in the pot)
Add the chopped garlic and chopped peppers and stir.
Add the uncooked pasta and the water.
Add the liquids and the tomatoes. Stir it all together.
Secure the PRESSURE COOKING lid. Vent closed.
Select MANUAL function. Select ADJUST and set the time for 5 minutes.
Select PRESSURE button and choose LOW pressure. (See notes on this in recipe notes)
Seal the vent.
When cooking is done turn the instant pot OFF and use quick release. The pasta should be completely cooked but not mushy. If it needs a few more minutes, hit the Saute' function button and cook until you're happy with the noodles. (mine came out perfect)
At serving Sprinkle the Mozzarella cheese over the top for flavor and garnish as desired.
Notes
The total time on this recipe is around 40 minutes. The instant pot should come to pressure in 10 minutes or so after it is loaded, locked down and set.
Once it counts down the 5 minutes and beeps. Shut it off! Quick release the pressure valve and at serving garnish with the cheese.
Note on Video Demonstration: I incorrectly said natural release on the video. PLEASE QUICK release the pot once it's done.
Note on the pasta: I have made this recipe several times with different pastas. I would choose the bow tie pasta or other thick pasta like penne.
*TIP: Don't use very thin egg noodles or other thin noodles for this recipe. I have had good luck with penne noodles and spiral noodles and the bow ties.
*TIP: Use ONLY balsamic vinegars. If you don't have it omit it.
*Tip: If you DO get the burn message turn off you pot and quick release immediately. The dinner is usually fine to serve. A few noodles may have stuck to the bottom.
Nutrition Information
Yield
10
Serving Size
1 1/2 Cups
Amount Per Serving
Calories

463
Total Fat

23g
Saturated Fat

8g
Trans Fat

0g
Unsaturated Fat

12g
Cholesterol

61mg
Sodium

899mg
Carbohydrates

43g
Fiber

2g
Sugar

8g
Protein

20g
More Easy Pasta Dinner Ideas:
Here is our entire selection of Instant Pot recipes for you. Perfect for busy nights and makes fantastic leftover meals.
Try these chicken pasta dinners when you want something new on the dinner table.
For more Beef and noodles recipe start here!
Follow Us:
We enjoy meeting you on our social networks. Follow us on Facebook, Pinterest, Instagram . Tag us with your pictures of our recipes and comment on how it went for you. We would love to see what you do with them.
We often like, comment and share your posts of our recipes on our daily Instagram stories.
Ask questions and rate the recipe in the comments section below. Please share what you did with this recipe. We are always looking for more and better ways to make homemade food. Other cooks love your ideas!
Recent Posts:
This Recipe is featured in 14 Recipes That Will Convince You To Buy An Instant Pot. Lots of great instant pot recipes in this collection!
Recipe adapted from The Instant Pot Electric Pressure Cooker Book