Instant Pot Greek Yogurt puts store bought in the back seat. It's incredibly easy to make. This yogurt is delicious and cost effective.
Making homemade greek yogurt in the instant pot is a simple task. This greek yogurt can be started in the evening and be ready for straining in the morning. Homemade Greek yogurt is much cheaper to make than buying expensive store bought yogurts. Add sweeteners or flavoring in it to change it up from plain greek yogurt.
Instant pots make wonderful recipes. Simple soups, Meaty Italian Pasta Dinner, pulled pork, and batches and batches of instant pot Greek yogurt.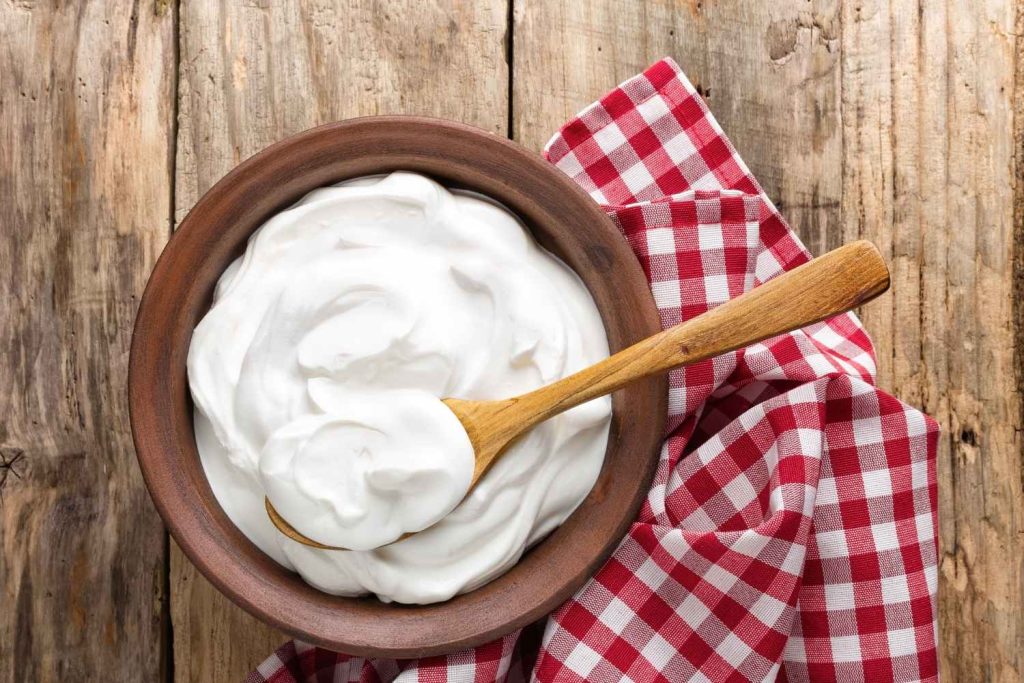 Can you make Greek Yogurt in the Instant Pot?
Greek Yogurt is easy to make in the Instant Pot. There are many advantages to making greek yogurt using the Instant Pot method over traditional stovetop methods. The Instant Pot is designed to hold a certain temperature (much like a crockpot). The Instant Pot can keep the milk temperature at 180 F and maintain an even temperature. Traditional stovetop methods require hours of supervision to ensure the milk does not get too hot and burn. The Instant Pot method requires very little stirring and close supervision.
Why isn't my Yogurt Thickening in the Instant Pot?
If the yogurt is not thickening in the instant pot, it can be due to several reasons. The most common problem is the milk fat. Do not use skim, 1% or 2% milk. Always use whole milk when making greek yogurt. The fat in the milk is essential for properly thickening yogurt.
Make sure that the milk has reached the proper temperature. The yogurt button on the Instant Pot does not always get the milk up to 180 F. Use a thermometer to check the temperature of the milk and ensure that it has reached the proper temperature.
The longer the yogurt rests and ferments, the more it will thicken. Make sure that the yogurt is allowed enough time to properly ferment and thicken up. If you try to strain the yogurt too early, the yogurt will be too thin and runny. If the yogurt still looks thin after the resting process, it's likely it needs to be rested longer.
How long does it take to strain Greek Yogurt?
Greek Yogurt takes between 3-4 hours to strain. Strain the greek yogurt according to the desired consistency that you want to achieve. Thicker greek yogurt requires longer straining time. The yogurt can be strained all day long in the refrigerator if you are looking for a very thick yogurt. Straining for shorter amounts of time will result in a thinner yogurt.
If you have strained the yogurt and feel that it is now too thick, add whey back in. A small amount of whey can be stirred back into the yogurt until you like the consistency.
How to use leftover Whey from making Greek Yogurt:
The byproduct from making greek yogurt is whey. The whey is the liquid byproduct that is leftover after making yogurt. A normal batch of homemade yogurt will leave you with 2-4 cups of pure whey. Many people want to use the whey instead of throwing it out. Fortunately there are many health benefits to be found in the consumption of whey. Whey protein contains high amounts of calcium, phosphorus, and B vitamins like ribo­flavin, pantothenic acids, and vitamin B-12, which makes it an excellent source of energy.
Our favorite way to use up Whey:
Pizza Dough
Pancakes
Smoothies
Ferment Vegetables in Whey
Homemade Bread
Pet Food (add it in for an extra protein boost)
Hair Conditioner
Buttermilk Substitute (pancakes, waffles, other baked goods)
Salad dressing (in a vinegar dressing)
Brine (great for turkey brining)
Make Cheese (whey makes great Ricotta and Cream Cheese)
Freeze Leftover Whey
Is Homemade Greek Yogurt cheaper?
Making greek yogurt at home is much cheaper than buying store bought greek yogurt. There are two benefits to making greek yogurt at home. The first benefit is ingredient control, you can make the yogurt using ingredients you feel comfortable with. The second benefit is cost. For a 32 oz container of plain greek yogurt, the cost is nearly double that of the homemade yogurt. A batch of homemade greek yogurt will yield around 72 oz of yogurt or 9 full cups.
Here is our cost breakdown of homemade vs store bought yogurt:
| | | | |
| --- | --- | --- | --- |
| Brand | Size (oz) | Cost | Cost (Per oz) |
| Chobani | 32 | $6.99 | $0.22 |
| Fage | 32 | $6.69 | $0.21 |
| O Organics | 32 | $6.99 | $0.22 |
| Oikos | 32 | $4.99 | $0.16 |
| Homemade | 72 | $7.37 | $0.10 |
The price comparison is made with 1 gallon of Organic milk priced at $6.49
More Delicious Instant Pot Recipes:
To get a feel for REALLY cooking from scratch and saving lots of money and time. Try our four bean soup recipe in the instant pot.
Instant Pot Greek Yogurt:
The instant pot is the easiest method I have found with no fuss and not much mess either.
I LOVE that it safely boils the milk to exactly 180 degrees F and I don't have to watch it OR stir it to avoid burning the milk. (I have burned a lot of milk boiling it on my stove over the years).
I also don't have to worry about incubating the milk and yogurt starter in less than ideal circumstances.
The instant pot has preset the correct temperatures for both the boiling the milk and incubating the yogurt. Set it and forget it!
The biggest challenge I have with using my instant pot for yogurt is I can't use it for other things while it's incubating
Tips For Making Greek Yogurt in the Instant Pot:
I most often incubate the yogurt at night and switch the yogurt to a different large pot or my Cuisinart strainer for the final strain. That way I can get the instant pot back in business if I need it.
The 8 quart Instant Pot makes a gallon of milk into a half gallon of Greek Yogurt with room to spare. The six quart will also hold a gallon of milk for this process.
Use whatever milk you prefer. For kids, I recommend using organic whole milk. That is nutritionally the best for them. They need healthy fats and organic milk is actually nutritionally superior to conventional milk. Look for organic whole milk on sale. Milk just past its sell date it still perfect for making yogurt and often on sale. Even buying it at regular price you can find less expensive organic milks if you look around. You will still save money and organic Whole fat yogurt is REALLY hard to find. So make your own.
One more thing…when you strain yogurt you are removing the hard to digest lactose. Learn more about how Greek style yogurt is more digestible for the lactose intolerant.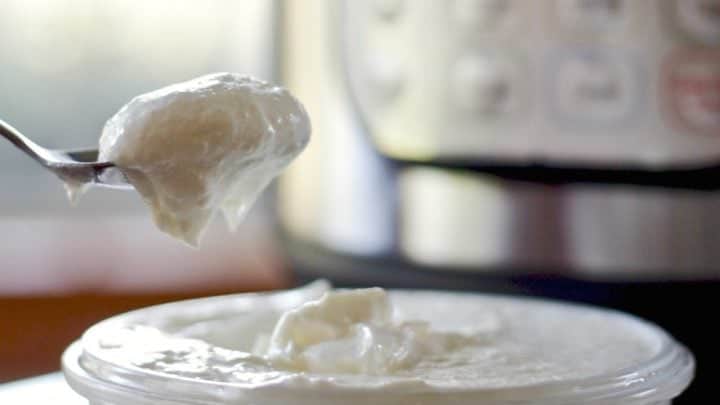 Yield:

8 cups Strained Greek yogurt
Instant Pot Greek Yogurt
Total Time:
16 hours
5 minutes
Homemade Greek yogurt makes so much sense. Especially if you make it in your Instant pot pressure cooker. It's delicious, easy to make and saves you so much money. The kids in our family love it!
Ingredients
1 Gallon whole milk, organic preferred
1/2 cup plain organic yogurt, (no additives)
Instructions
Pour the milk into your instant pot.
Press the yogurt function key. Press the adjust button and set to BOIL.
Close the lid but don't bother to seal it. We are not working under pressure.
Once the instant pot chimes to tell you it's done remove the lid. Let the yogurt cool to 115 degrees F. (this will take some time. Set it your fridge an hour. Set the timer and check it.
When the milk is cooled to around 115 degrees F. add your yogurt starter and whisk it into the milk.
Set the lid on the instant pot and press the yogurt function. Press the yogurt button until the control panel show a time.
Press the adjust key until you find the time that best works for you. (I usually use from 8 to 16 hours)
Let the instant pot sit until the timer dings or you are ready to check your yogurt. Jiggle the pan a bit to make sure its set. Add more time if you want your yogurt more set.
Your yogurt is now ready to eat BUT IT IS NOT GREEK STYLE YET.
GREEK STYLE: You must strain the yogurt through a cloth until it thickens for the Greek yogurt style.
Let the yogurt strain several hours to all day to thickness you prefer.
The more you strain it the more lactose you remove. If you strain it long enough it will go to a soft cheese texture.
Scoop the greek yogurt out of the strainer.
Pour the whey into a mason jar and store in fridge. (Whey is useful for baking breads and making greek yogurt pancakes)
Notes
The fermenting time shown is VERY adjustable. I like to make yogurt after dinner and then let it sit on the yogurt function all night.
I strain it the next day until I like the thickness. Your yogurt is fairly fail safe so you can adjust the times as you prefer.
Collect the whey that this straining process leaves and store it in your fridge (at least a week) in an airtight container to use in baking. Your baking products will improve and use will use up all that milk you purchased!
Sometimes I just leave the yogurt straining in my fridge all day. When I check it if it's too thick I just add back some of the whey and whisk it back into the yogurt until I like the consistency.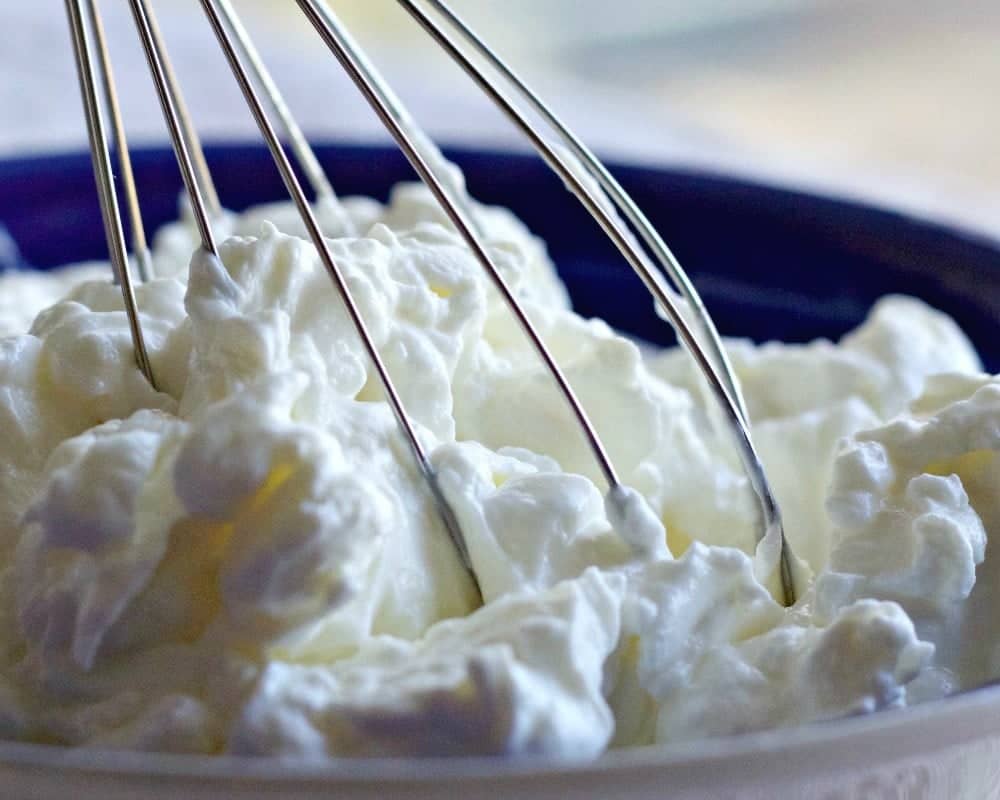 Watch our demonstration video below for a complete demonstration of this recipe.
Recommended Products
As an Amazon Associate and member of other affiliate programs, I earn from qualifying purchases.
Nutrition Information
Yield
16
Serving Size
1
Amount Per Serving
Calories

153
Total Fat

8g
Saturated Fat

5g
Trans Fat

0g
Unsaturated Fat

2g
Cholesterol

25mg
Sodium

110mg
Carbohydrates

12g
Fiber

0g
Sugar

13g
Protein

8g
Follow Us:
We enjoy meeting you on our social networks. Follow us on Facebook, Pinterest, Instagram . Tag us with your pictures of our recipes and comment on how it went for you. We would love to see what you do with them.
We often like, comment and share your posts of our recipes on our daily Instagram stories.
Ask questions and rate the recipe in the comments section below. Please share what you did with this recipe. We are always looking for more and better ways to make homemade food. Other cooks love your ideas!
Recent Posts: