Delicious Banoffee pie is layered with Dulce De Leche, sliced bananas, and fresh whipped topping.
Garnish this sweet treat with a little chocolate shavings and you have an easy dessert to share.
Your guests will love this sweet caramel banana flavor combination. You will love how simple it is to make. 🙂
Just assemble this refrigerator pie and chill until serving time.
This creamy rich dessert recipe is simple to put together.
The perfect choice for a busy holiday dessert.
My friend Emily made her Banoffee pie for our friends wedding reception with me. It was absolutely delicious and VERY popular at the reception.
Talk about disappearing dessert. I think my dad ate most of it.
So of course…I had to put the recipe on the blog for later. And for you too. 🙂
Thanksgiving, Christmas or other Holidays are great for this pie.
Recipe Notes On Banoffee Pie From Scratch:
This yummy pie is a combination of banana and toffee, hence the name Banoffee. This flavor combination is genius.
It's a very easy pie to make. It just requires a little bit of time if you make it all from scratch. SO worth it.
Dulce De Leche Caramel Spread:
Mexican style creamy caramel is known in culinary circles as Dulce De Leche.
It's a Wonderfull sweet layer of caramel in with those sliced ripe bananas.
I went the slower (from scratch) route with homemade dulce de leche.
One can of sweetened condensed milk is all it takes for this pie. Slow cook it to the proper temperature. Over time the milk caramelizes and thickens the milk into a lovely caramel spread.
Our friend Inger share this recipe with us. It certainly is tasty and pours on easily over the bananas. If you have the time it's worth doing.
If you want to make you own caramel spread make it ahead. Let the sauce cool to slightly warm or room temperature so it is easily speakable.
You can get the easy homemade recipe HERE.
It is certainly easier to buy couple of cans from the store. And it takes no time at all. Just open and spread it on. If it is too thick 30 seconds in the microwave, (microwavable container please), and it will spread easily.
Now make the crust.
The Crust:
The baked graham cracker crust is also very simple to make.
Just grind up some graham crackers, mix it with a stick of melted butter, put it in a pie pan and bake for 10 minutes at 350 F.
PRO TIP: To make this recipe a COMPLETELY no bake refrigerator pie. Just don't bake the crust.
I have made many no bake graham cracker crusts by replacing the butter with melted coconut oil. Once the coconut oil is chilled you have a very solid refrigerator pie crust.
NOTE: Do NOT use any other oil. Coconut oil goes solid at room temperature. That is why it's a great choice for pie crusts.
Homemade food Junkie's No Bake blackberry Cheesecake bars use this method. So easy.
Pie Assembly: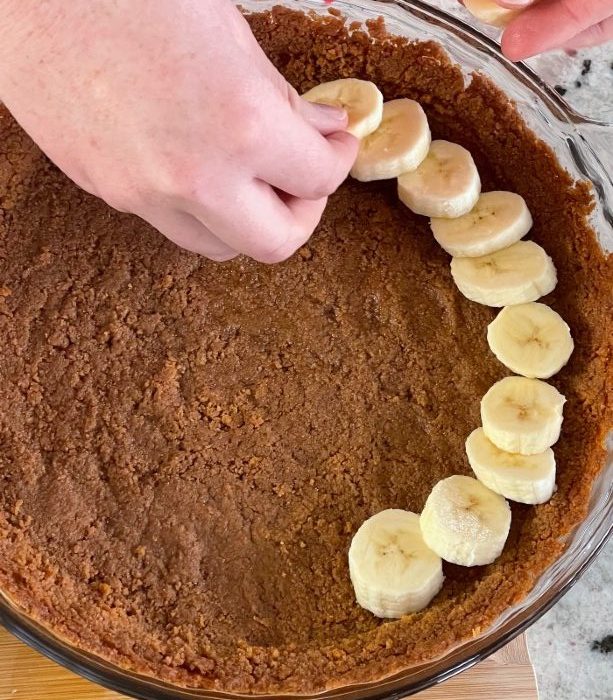 Topping:
We all know you can use a can of spray on whipped cream or just spread on some cool whip to REALLY simple up this pie. I've seen many banoffee pies made like that.
You do you.
I enjoy piping on real whipped cream flavored with a touch of vanilla. I don't add sweetener to the cream. There is NO need with richly sweet pie.
My design is an easy rose swirl pattern with wilton 2 D tip and a piping bag. Took 2 minutes. Viola. A fancy pie that looks great at any event.
Your friends and family will love you for making this pie. It's wonderful.
Yield:

10 servings
Banoffee Pie
Additional Time:
1 hour
30 minutes
Total Time:
2 hours
20 minutes
Delicious Banoffee pie filled with fresh toffee, delicious bananas, and topped with decadent fresh whipping cream. Garnish this sweet treat with a little chocolate shavings and you have a delicious dessert to share!
Ingredients
2 cans dolce de leche
3 ripe bananas
1 Cup heavy whipping cream, whipped
7 (to 10) graham crackers -they keep getting smaller
1/4 Cup melted butter
chocolate shavings to garnish
Instructions
Crust:
Preheat oven to 350 F.
Grind up graham crackers and mix together with 1 stick of melted butter until a sand like paste forms
Press the graham crackers into the bottom of a pie plate to form a crust
Bake the crust in the oven at 350 F for 10-12 minutes or until it starts to brown on the edges
Cool to room temperature.
Pie Assembly:
Slice bananas into1/4 inch thick slices.
Place in overlapping circles in the bottom of the pie plate.
Spread the dulce de leche over the top of the bananas. If the spread is too thick. Warm it in the micrwave 15 seconds or so.
Whipped Topping:
You can use cool whip or a spray whipped topping if you prefer. Just finish the pie as you like it.
Whip the whipping cream.
To PIPE: place in piping bag. Pipe a rosette design using a Wilton 2D tip. You don't have to do this step if you don't want to. It just helps pretty up the look of the pie
Sprinkle chocolate shavings over the top of the pie.
Refrigerate until serving
Enjoy!
Nutrition Information
Yield
10
Serving Size
1
Amount Per Serving
Calories

255
Total Fat

20g
Saturated Fat

12g
Trans Fat

1g
Unsaturated Fat

6g
Cholesterol

53mg
Sodium

133mg
Carbohydrates

19g
Fiber

1g
Sugar

10g
Protein

2g
Follow Us:
We enjoy meeting you on our social networks. Follow us on Facebook, Pinterest, Instagram . Tag us with your pictures of our recipes and comment on how it went for you. We would love to see what you do with them.
We often like, comment and share your posts of our recipes on our daily Instagram stories.
Ask questions and rate the recipe in the comments section below. Please share what you did with this recipe. We are always looking for more and better ways to make homemade food. Other cooks love your ideas!
Recent Posts: