This delicious Banoffee Pie is layered with dulce de leches, sliced bananas, and fresh whipped topping. Layered into a delicious graham cracker butter crust and garnished with delicate chocolate shavings for a scrumptious no bake cream pie.
Banoffee Pie was created by British restaurateur Nigel Mackenzie in 1972. He took a recipe that a fellow chef brought back from America called Blum's Coffee Toffee Pie, added bananas and made it his own. The tasty English Banoffee Pie took off and has been embraced as a favorite cream pie for decades now.
The billowy whipped cream topping can be an extravagant finish, or a simple final layer depending how you prefer to present this dessert. We love the addition of chocolate shavings or cocoa powder. Banoffee pie with chocolate is the perfect balance of sweet, rich flavors and silky textures.
Watch our video tutorial to make this easy Banoffee Pie recipe
This pie is only one of the delicious pies from our extensive dessert recipe library. If you are looking for more banana inspired treats, pies, or something else; make sure to explore the blog. Our fun banana desserts are the Banana Split Cake, the Banana Berry Trifle, and the Banana Split Cocktail.
Some of our most popular pies include our Lemon Meringue Pie, the beautiful Caramel Apple Pie, and the no bake Chocolate Pudding Pie.
What does Banoffee Pie taste like?
The classic British Banoffee Pie is a sweet, creamy pie that marries chocolate, caramel, banana and fresh cream in a thick buttery graham cracker crust that hardly anyone can resist. The dessert is easy to make with very few ingredients, and can be garnished with chocolate shavings, cocoa powder, crushed nuts, fresh banana slices, or a silky caramel chocolate drizzle.
What is the toffee caramel layer made from?
The Banoffee Pie is a combination of banana and toffee, hence the name Banoffee. This flavor combination is genius. Made from boiled condensed milk also known as 'dulce de leches' which is a sweet sauce beloved in Latin America.
You can make this Banoffee Pie with condensed milk from scratch, creating your own made from scratch caramel sauce; or, purchase a canned dulce de leches which is what we opted to do. You can see the difference in the pictures below. The canned sauce is much thicker and a bit heavier. Our homemade condensed milk caramel is soft, pourable and very silky. If you are wanting to make the sauce from scratch this recipe is wonderful.
How do you keep bananas from browning on a Banoffee Pie?
If you are making this banana cream pie ahead of time, and you wish to garnish the dessert with fresh bananas there is a risk of discoloration from the bananas being exposed to the air. Here are our suggestions for preventing this from happening.
Wait to garnish the pie with the banana slices until just before presentation or serving
Treat the bananas with a citrus juice. Either lemon, orange, or pineapple will prevent browning. Be sure to use only a little so as not to change the flavor of the pie
Use firm, young ripe bananas. Soft, overripe bananas will brown much faster
Cover the pie to keep the air off of it. Wrap it in plastic wrap, foil, or place it in a pie holder to minimize exposure to the air which causes browning on sliced bananas
How to make a graham cracker crust
The baked graham cracker crust is very simple to make. Simply grind up some graham crackers, mix it with a stick of melted butter, put it in a pie pan and bake for 10 minutes at 350 F. If you are looking to make a super quick Banoffee Pie you can always purchase a pre made graham cracker crust and it will taste just as delicious while saving you the extra steps of preparing the crust.
Assembling the pie
Cream pies are very simple to assemble, just build the layers and refrigerate to allow it to set and stiffen enough to be sliced and served. You can also take a cream pie and serve it as a 'deconstructed dessert' layered in cups or bowls. This creates more of an individual Trifle that would be perfect for group events or parties where folks can just grab their dessert and enjoy.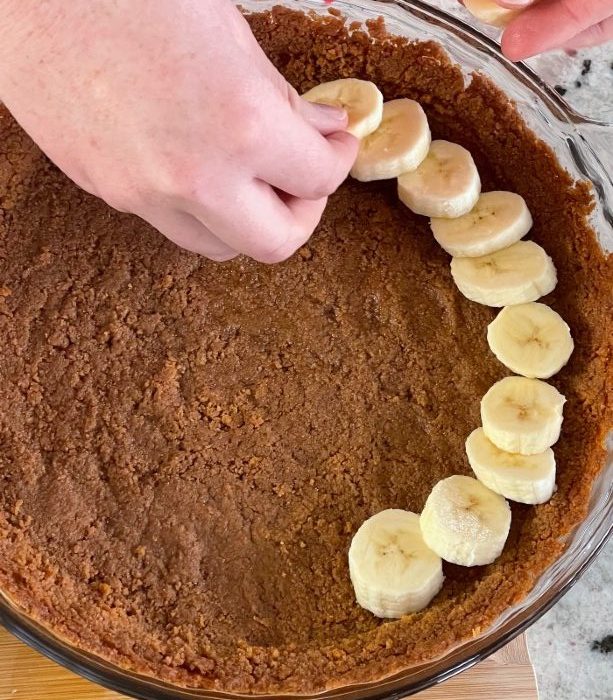 Making your own whipped cream
We all know you can use a can of pre made whipped cream or just spread on some cool whip to truly simplify this pie, but if you want a decadent pie that will stand out a homemade whipped cream is where it's at.
To make a homemade whipped cream purchase a carton of heavy cream and pour it into a stand mixer or mixing bowl. You will mix the cream on high for 3-5 minutes, until stiff peaks begin to form. Add a tsp or two of pure vanilla extract for flavor. Because it will be finishing such a rich, sweet dessert there really is no need to add any sweetener.
How do you decorate a cream pie?
Cream pies can be a simple or decadent as you want. We love adding a bit of flair and texture to creamy pies so we are sharing our favorite ideas with you to try.
Place homemade whipped cream into icing bags and decorate with rosettes, star designs, or swirls
Garnish with chocolate shavings or curls, or dusting of cocoa powder
Arrange fresh sliced bananas along the top
Drizzle with caramel or chocolate sauce
Sprinkle crushed nuts like pecans, walnuts or peanuts
Yield:

10 servings
Banoffee Pie
Additional Time:
1 hour
30 minutes
Total Time:
2 hours
20 minutes
Delicious Banoffee pie filled with fresh toffee, delicious bananas, and topped with decadent fresh whipping cream. Garnish this sweet treat with a little chocolate shavings and you have a delicious dessert to share!
Ingredients
2 cans dolce de leche
3 ripe bananas
1 Cup heavy whipping cream, whipped
7 (to 10) graham crackers -they keep getting smaller
1/4 Cup melted butter
chocolate shavings to garnish
Instructions
Crust:
Preheat oven to 350 F.
Grind up graham crackers and mix together with 1 stick of melted butter until a sand like paste forms
Press the graham crackers into the bottom of a pie plate to form a crust
Bake the crust in the oven at 350 F for 10-12 minutes or until it starts to brown on the edges
Cool to room temperature.
Pie Assembly:
Slice bananas into1/4 inch thick slices.
Place in overlapping circles in the bottom of the pie plate.
Spread the dulce de leche over the top of the bananas. If the spread is too thick. Warm it in the micrwave 15 seconds or so.
Whipped Topping:
You can use cool whip or a spray whipped topping if you prefer. Just finish the pie as you like it.
Whip the whipping cream.
To PIPE: place in piping bag. Pipe a rosette design using a Wilton 2D tip. You don't have to do this step if you don't want to. It just helps pretty up the look of the pie
Sprinkle chocolate shavings over the top of the pie.
Refrigerate until serving
Enjoy!
Nutrition Information
Yield
10
Serving Size
1
Amount Per Serving
Calories

255
Total Fat

20g
Saturated Fat

12g
Trans Fat

1g
Unsaturated Fat

6g
Cholesterol

53mg
Sodium

133mg
Carbohydrates

19g
Fiber

1g
Sugar

10g
Protein

2g
Follow Us:
We enjoy meeting you on our social networks. Follow us on Facebook, Pinterest, Instagram . Tag us with your pictures of our recipes and comment on how it went for you. We would love to see what you do with them.
We often like, comment and share your posts of our recipes on our daily Instagram stories.
Ask questions and rate the recipe in the comments section below. Please share what you did with this recipe. We are always looking for more and better ways to make homemade food. Other cooks love your ideas!
Recent Posts: