This grown up Banana Split Dessert Cocktail checks all the boxes for yummy. This decadent drink satisfies the sweet tooth.
The banana split cocktail is a yummy blend of banana, chocolate, and vanilla flavors. This drink is garnished with a swirl of whipping cream and a chocolate drizzle. Top with a maraschino cherry and add some strawberry and banana slices, on a cocktail pick.
For this drink we used banana liqueur, creme de cacao, and vanilla vodka to create the decadent banana split flavor in a cocktail.
Banana liqueur, creme de cacao, and vanilla vodka team up with chocolate syrup and whipped cream. Set a cherry on top. Who needs ice cream?
How do you make a Banana Split Drink?
To make a banana split drink, add the vanilla vodka, creme de cacao, and banana liqueur to a cocktail shaker. Fill the shaker with ice and shake for 30 seconds or until chilled. Pour the drink into a martini glass and garnish with a swirl of whipping cream. Drizzle chilled Hershey's syrup over the whipping cream. Top with a maraschino cherry and a cocktail pick with strawberry and banana slices.
What alcohol is in banana liqueur?
Banana Liqueur is schnapps. These liqueurs are made with a clear spirit as the base, sugar beet is a common base. The schnapps is then infused and distilled with bananas and sugar. This creates a delicious banana liqueur or banana schnapps.
Can Kahlua be substituted for Creme De Cacao?
Kahlua and Creme De Cacao both have a chocolate flavor profile. Kahlua is a popular substitute for Creme De Cacao. There are some differences between these two liqueurs. Kahlua is a coffee and chocolate liqueur that is made from coffee beans. Creme De Cacao is a chocolate liqueur that is made from cacao beans.
More Yummy Drinks for Dessert:
Visit our cocktail section to see all of our delicious adult beverages. We've got you covered.
Banana Split Drink Recipe:
You all know I'm a fan of sweet drinks. It's no surprise I love this simple dessert drink. Vanilla, chocolate and banana are always a favorite combination for dessert.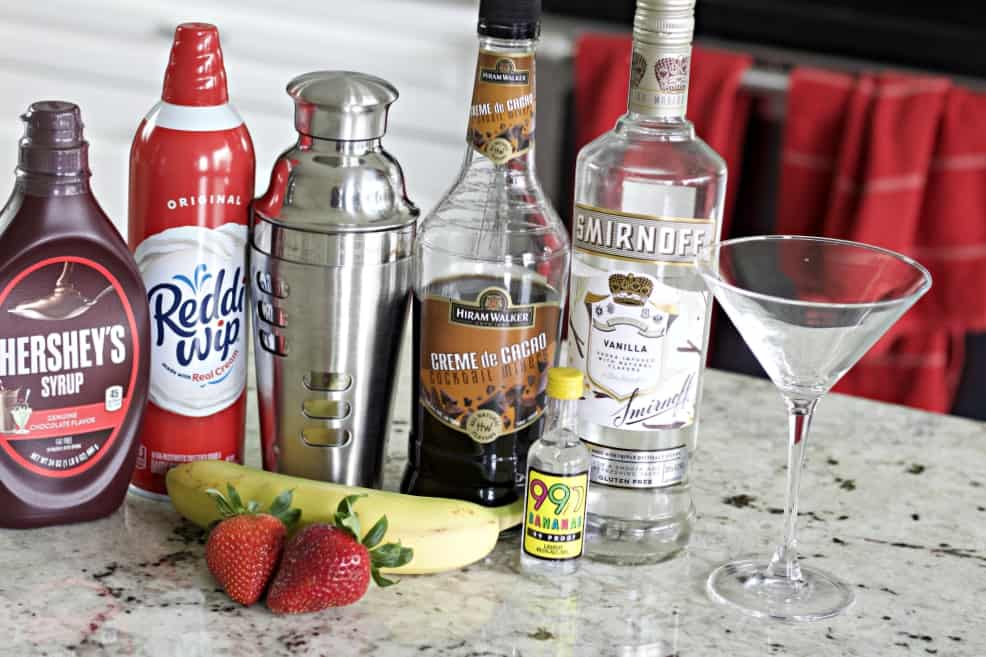 Add in the banana and strawberry garnish for fun with a cherry on top. So yum.
Ingredients List:
The alcohol in this recipe is mostly liqueur. So. Fairly benign you might think. Think again!
It turns out 99 banana liqueur is named after it's proof. That's correct. 99 proof or 49.5 % alcohol. Vanilla vodka is only 35 % and Creme De Cacao comes in last with around 20 %.
Considering the amounts of each alcohol used in this drink you will only need one of these to get pleasantly relaxed after dinner.
The Glass:
We are serving our Banana Split Cocktail in a chilled martini glass to give it a more sophisticated after dinner vibe. A coop glass or these beautiful Nick and Nora Cocktail glasses would also present this drink well.
Your Visual Process Guide:
Here is a quick visual guide to the steps of making this delicious dessert cocktail. Please also watch our recipe video demonstration .
Before you begin Set your martini glass in the fridge for 30 minutes to chill.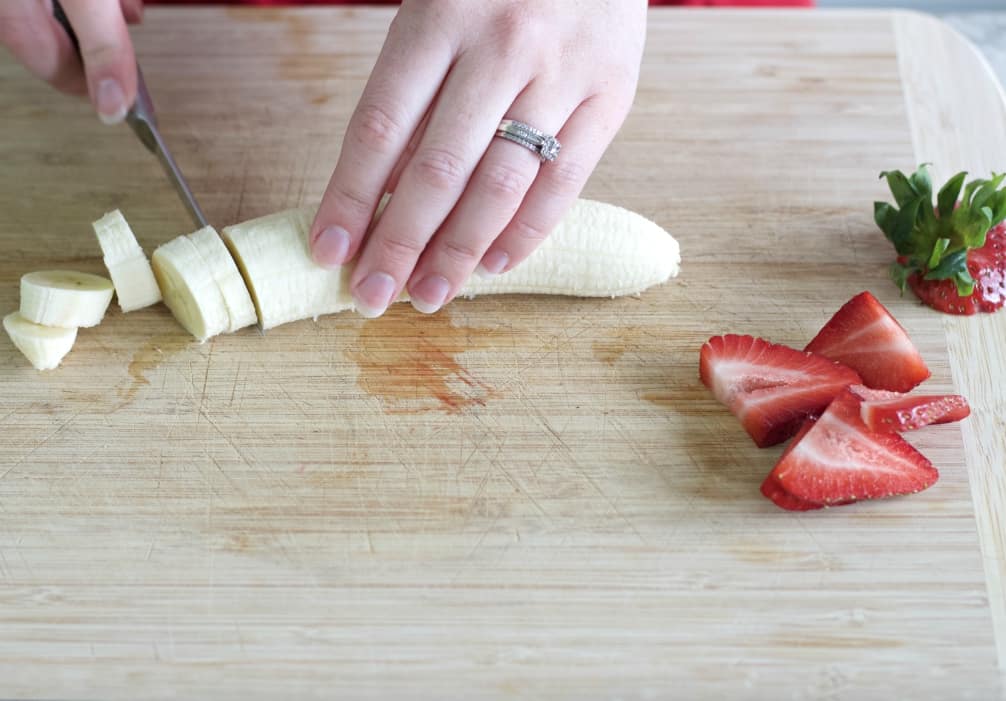 Your Printable Recipe Card: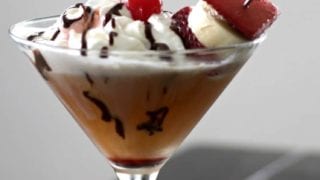 Yield:

1 banana split Cocktail
Banana Split Dessert Drink Recipe
The Banana Split Cocktail is a delicious dessert drink. It's a yummy blend of banana and chocolate liqueur and vanilla vodka with an appealing decadent presentation.
Ingredients
1 1/2 oz. Vanilla Vodka
1 oz. Creme de Cacao
1 oz. Banana Liqueur
1/2 Cup whipped topping
1 Tablespoon chocolate syrup
1 maraschino cherry
1 strawberry
2 banana slices
Instructions
PREP:
set a martini glass in the fridge to 30 minutes. (or freezer if you need a quick chill)
Slice the strawberry and banana slices. set aside.
Make the Cocktail:
Fill your cocktail shaker half full with ice.
Measure and pour into your shaker the vanilla vodka, crème de cacao, and banana liqueur.
Seal the shaker. Shake vigorously 30 seconds until the shaker is very cold.
Strain the cocktail into your chilled martini glass.
Spray on the whipped cream topping.
Drizzle the chocolate syrup over the whipped cream as desired.
Garnish:
Pierce two strawberry slices and a banana slice with a cocktail pick.
Set the pick into the glass.
Add a maraschino cherry on top.
Serve.



Notes
garnishings can be anything you like. Try salted caramel sauce for an added layer of fun indulgence. Share what you do with us!
Nutrition Information
Yield
1
Serving Size
1 drink
Amount Per Serving
Calories

413
Total Fat

10g
Saturated Fat

8g
Trans Fat

0g
Unsaturated Fat

1g
Cholesterol

0mg
Sodium

24mg
Carbohydrates

41g
Fiber

0g
Sugar

38g
Protein

1g
The garnishes in this drink have a lot to do with the final calorie count.
Follow Us:
We enjoy meeting you on our social networks. Follow us on Facebook, Pinterest, Instagram . Tag us with your pictures of our recipes and comment on how it went for you. We would love to see what you do with them.
We often like, comment and share your posts of our recipes on our daily Instagram stories.
Ask questions and rate the recipe in the comments section below. Please share what you did with this recipe. We are always looking for more and better ways to make homemade food. Other cooks love your ideas!
Recent Posts: