The Midori sour is a green cocktail with a yummy balance of sweet and sour flavor. Vibrant Midori Liqueur and Tito's vodka are the powerhouses of this Midori drink.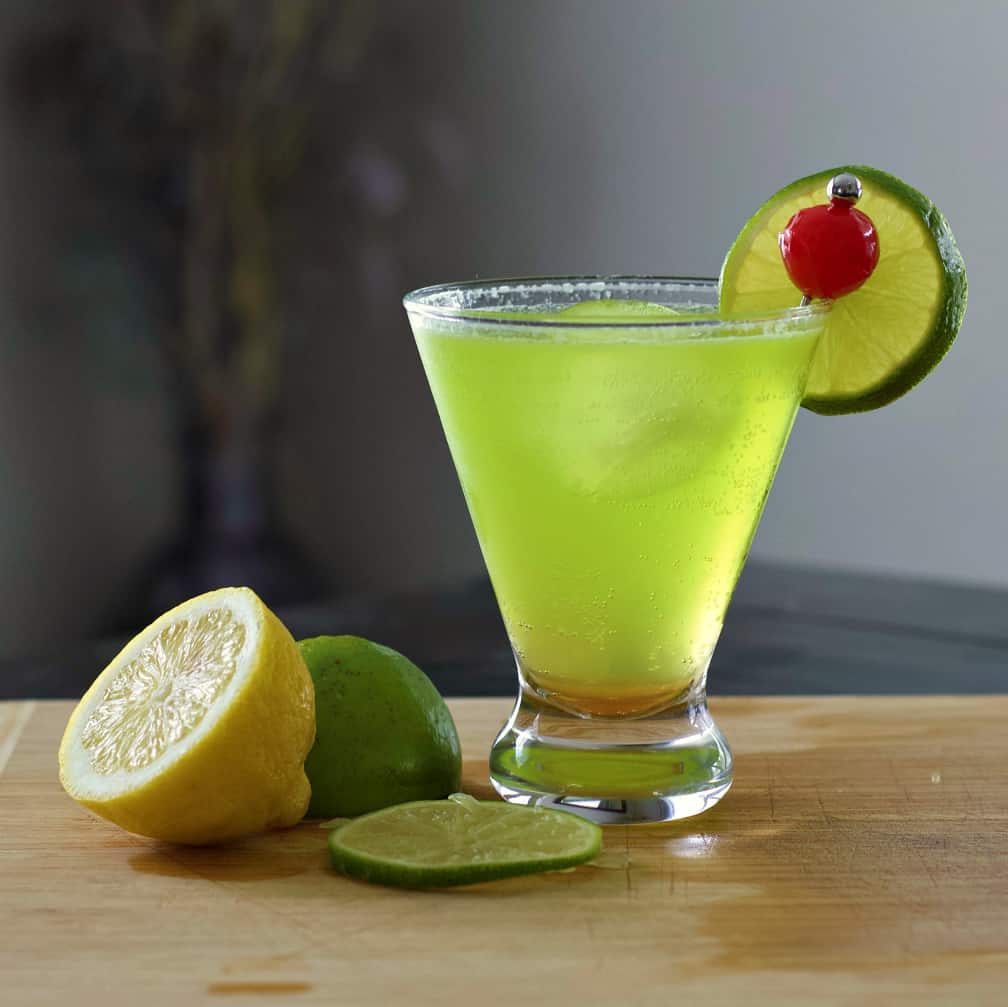 More Cocktail Recipes:
You'll find so many different adult beverages in our cocktail section. Be sure to check it out.
This melon liqueur originally created by Shinjiro Torii of Suntory company. He founded the Japanese company Midori to make this liqueur.
Blending Japan's world famous (and fabulously expensive) Musk melon and Yubari melons (a hybrid of two cantaloupes) made this divine flavor we all appreciate.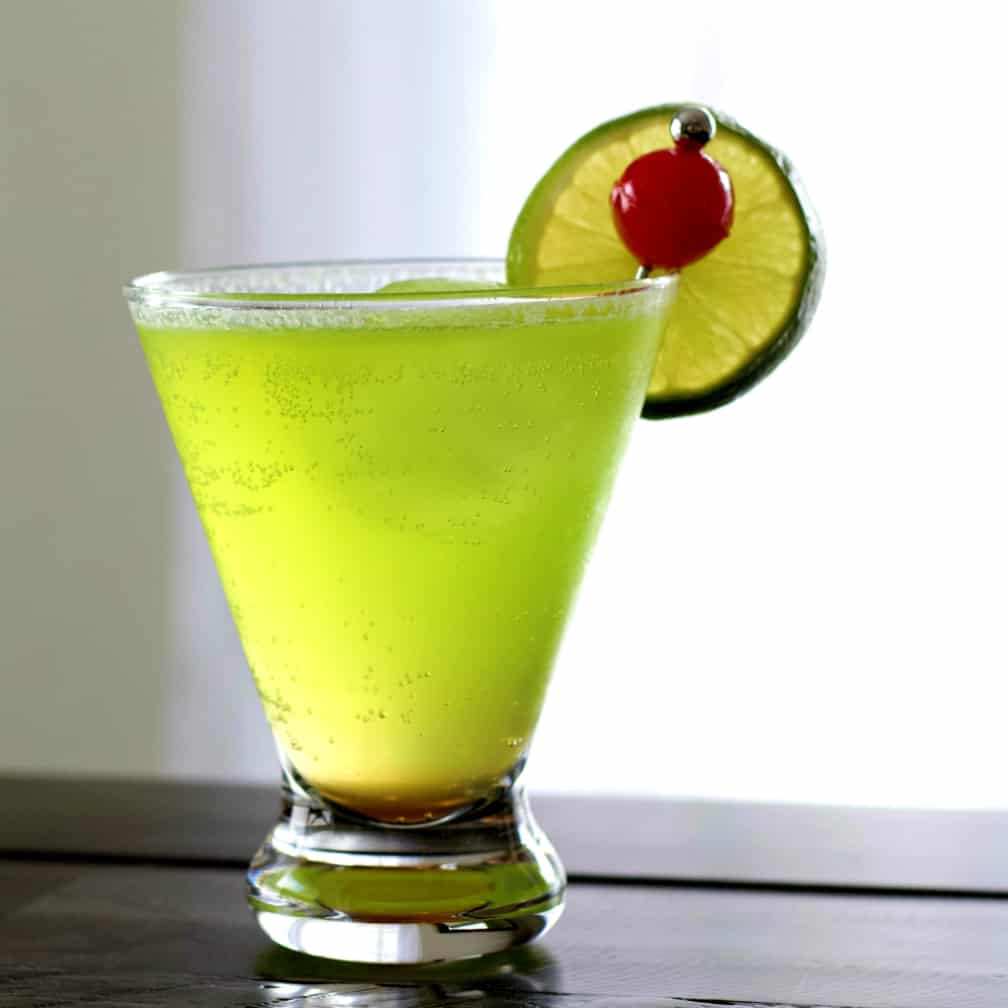 This Midori cocktail is so pretty and popular. Serve this beauty at an outdoor party or on a patio. It fits right in with the pool or garden party.
Midori Sour Recipe: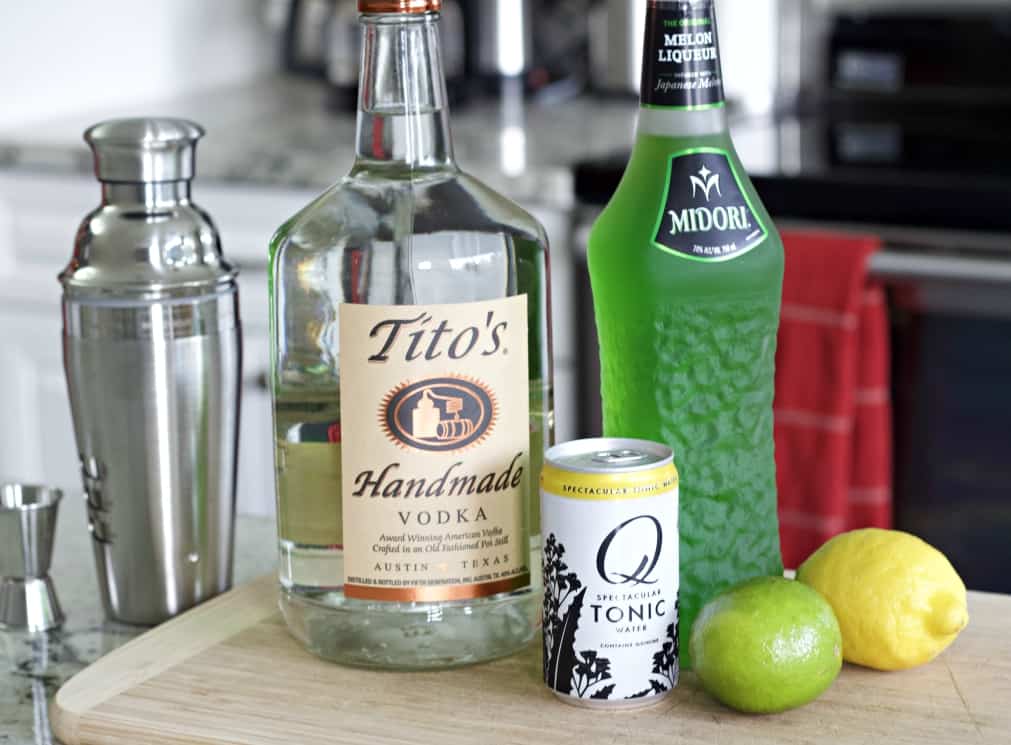 Ingredients:
Midori liqueur is a vibrantly green melon flavored liqueur with a wonderful sweet flavor.
Vodka- We chose Tito's Handmade Vodka for this recipe. Tito Beveridge's story is the epitome of American entrepreneurship. He makes a heck of a good vodka!
Tonic water – Q tonic is a great brand of tonic water that we use and has good results in our drinks. It has NO high fructose corn syrup. They sweeten with Agave. This brand is made in the USA and it very well rated on Amazon.
Fresh lemons and limes. Fresh is always the best when creating a cocktails.
CAUTION: you need the proper AMOUNT of fresh juice or the sour will be imbalanced. Be careful how much you squeeze!
Visual Process:
Please also watch our video demonstration of this recipe. Here is a quick walkthrough of the steps to create the Midori Sour.
Serving Suggestions:
Garnishing Tips:
I like the simplicity of a lime wheel and that pop of the bright red maraschino.
Set your wheel on the side of the glass. If you put it in the glass it will continue to flavor the drink. Unless you really want more sour?
If you use a cherry set it on a pick to keep it out of the drink. The red cherry juice will release into your bright green liqueur. Not the desired result. Set it on top or above the lime wheel.
How do you like to serve this drink? Let us know!
Your Printable Recipe Card: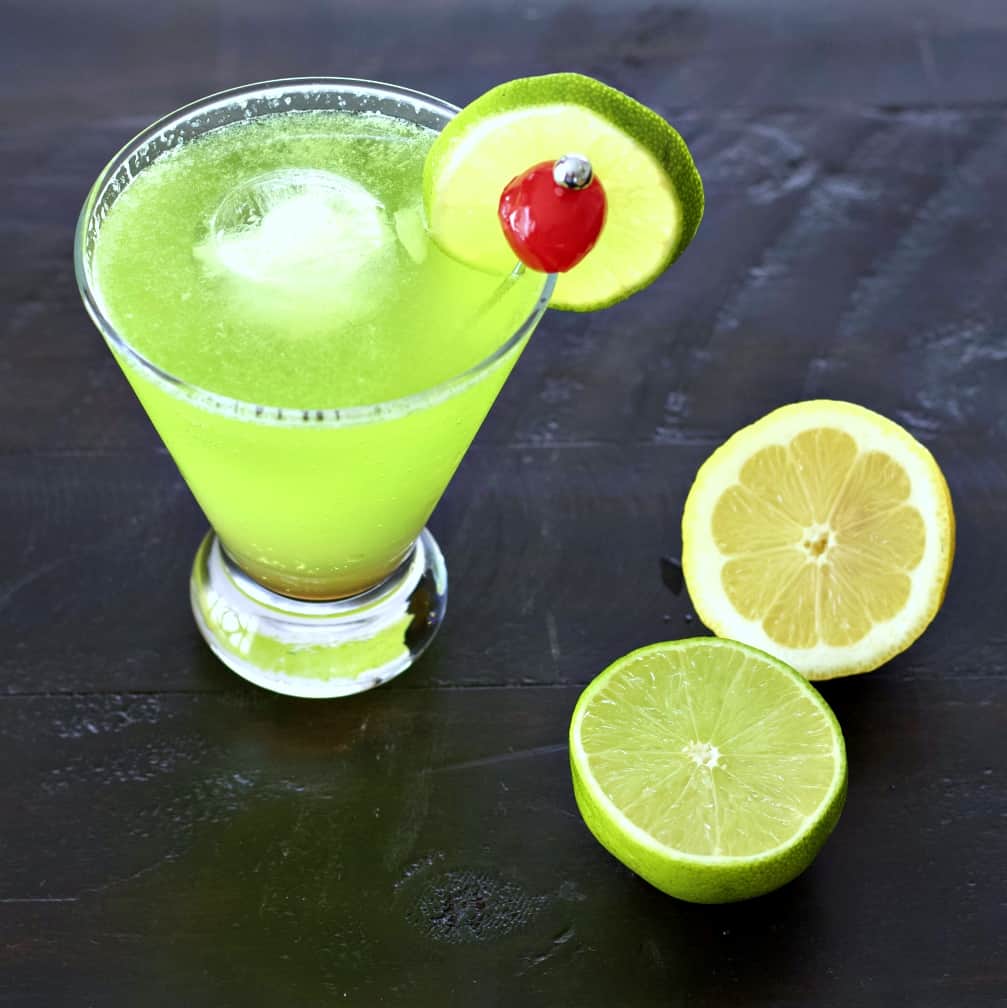 Yield:

1 Midori Sour
Midori Sour Drink Recipe
The Midori sour is a beautiful green colored cocktail with a yummy balance of sweet and sour flavor. Midori Liqueur and Tito's vodka are the powerhouses of this drink. Add a splash of lemon and lime for the sour.
Ingredients
1 oz. Midori Liqueur
1 oz. Tito's Vodka (or your favorite brand)
1/2 oz. fresh lemon juice
1/2 oz. fresh lime juice
Instructions
Pour ice into your cocktail shaker to half full.
Add the midori and vodka.
Squeeze in the lemon and lime juice.
Seal and shake the cocktail shaker vigorously until it's very cold.
Strain the drink into your glass over ice.
Garnish and serve.
Notes
If desired you can chill the glass ahead of time for at least 30 minutes. We use a large ice cube to reduce dilution. For small ice chilling ahead is recommended.
Nutrition Information
Yield
1
Serving Size
1
Amount Per Serving
Calories

94
Total Fat

0g
Saturated Fat

0g
Trans Fat

0g
Unsaturated Fat

0g
Cholesterol

0mg
Sodium

1mg
Carbohydrates

9g
Fiber

0g
Sugar

8g
Protein

0g