This fizzy and refreshing Mezcal cocktail makes a delicious and light summer refreshment.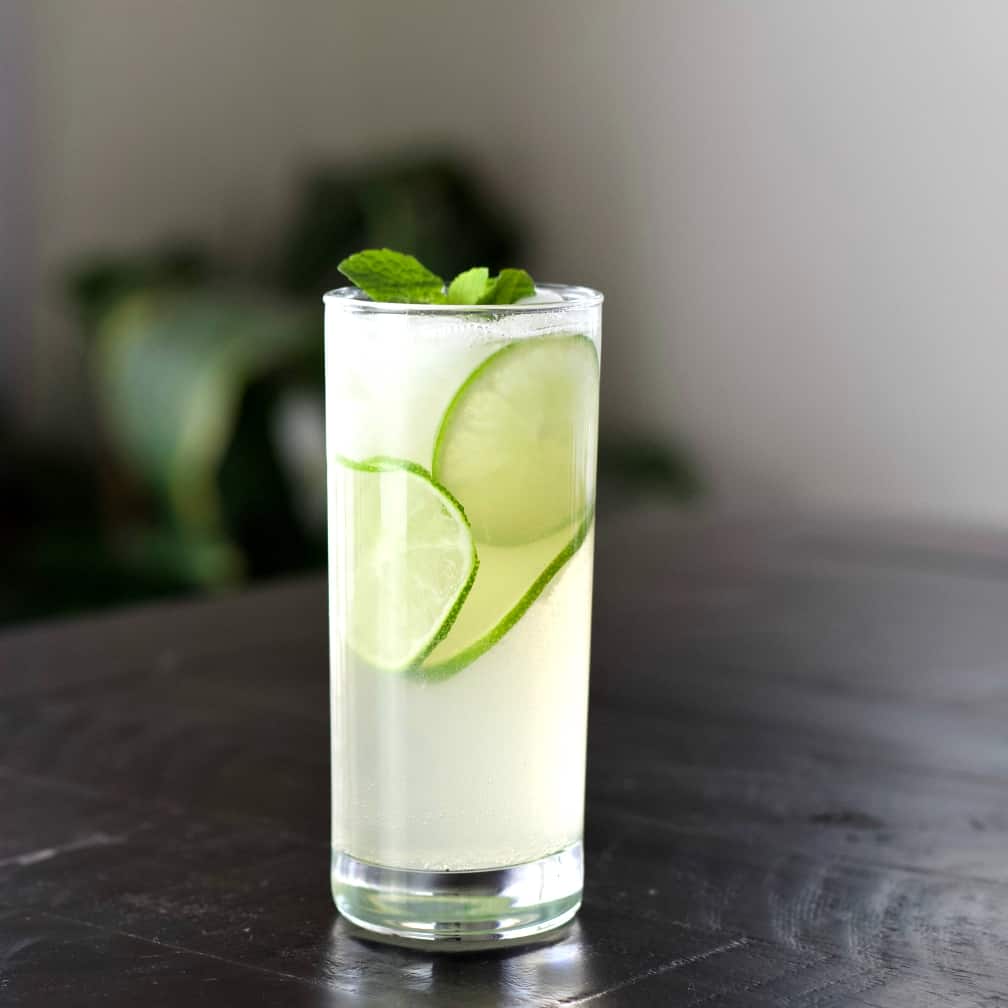 I found this recipe in my cocktail book. Mittie (the author) calls this recipe a Mezcal Buck. It's very similar to a Mezcal Mule in my opinion.
More Mexican Drinks:
Here are a few more Mexican cocktails to wet your whistle. Please let us know if you trade out the tequila in any of these drinks for Mezcal. How did that taste???
Mezcal vs. Tequila:
So Mezcal…Tequila. What's the difference? For the casual drinker it's all about the flavor.
Winemag.com has written an in depth article on the various differences between tequila and Mezcal. If you have the time it will fill you in on the differences between these Mexican spirits.
The short answer is tequila is a type of Mezcal. However, tequila originated in the town of tequila and can be made only with the blue agave plant.
Mezcal originated in Oaxaca uses any number of agave plants in its distillation process. And yep. All the different types of agave impact the flavor of your Mezcal.
Read the label on your bottle to determine more about how your particular Mezcal brand is made.
There are also some differences in the production process between the liquors.
The Mezcal Worm:
You DON'T need a worm in your bottle to prove it's really authentic Mezcal. In fact, the better brands do not include it.
I did buy a bottle with a worm (Not appealing in my opinion) Just so you can see it. What I won't do for you guys.
Some bottles of Mezcal do have either the white worm as you see below or red colored. They are found in the agave plant.
Legend has it 'The worm' was added as a proof of alcohol for tourists back in the day ("Oh you don't think we are selling you water do you? Look! There enough alcohol to pickle a worm").
Really? It also very macho. Get drunk and eat a worm. What else have you got to do anyway?
And it really is an aphrodisiac. HaHa! Just NOT for humans. So don't get sucked into that fantasy.

Bottom Line: Mezcal is getting more popular and the distilleries are working to upscale and market to a wider market.
Mezcal is coming into its own in the alcohol market place as a legit spirit. you need to do a bit of exploring and see what brand gives you the flavor profile you most enjoy.
The Mezcal flavors depend on the agave used mostly. So read your label and decide what agave nectar you like.
Ingredients:
Mezcal-use your favorite brand
fresh lime
ginger beer
simple syrup
Visual Guide to This Recipe:
Here's a quick walkthrough for you. for a complete recipe demonstration please watch our video. The printable recipe card is below this visual process tour.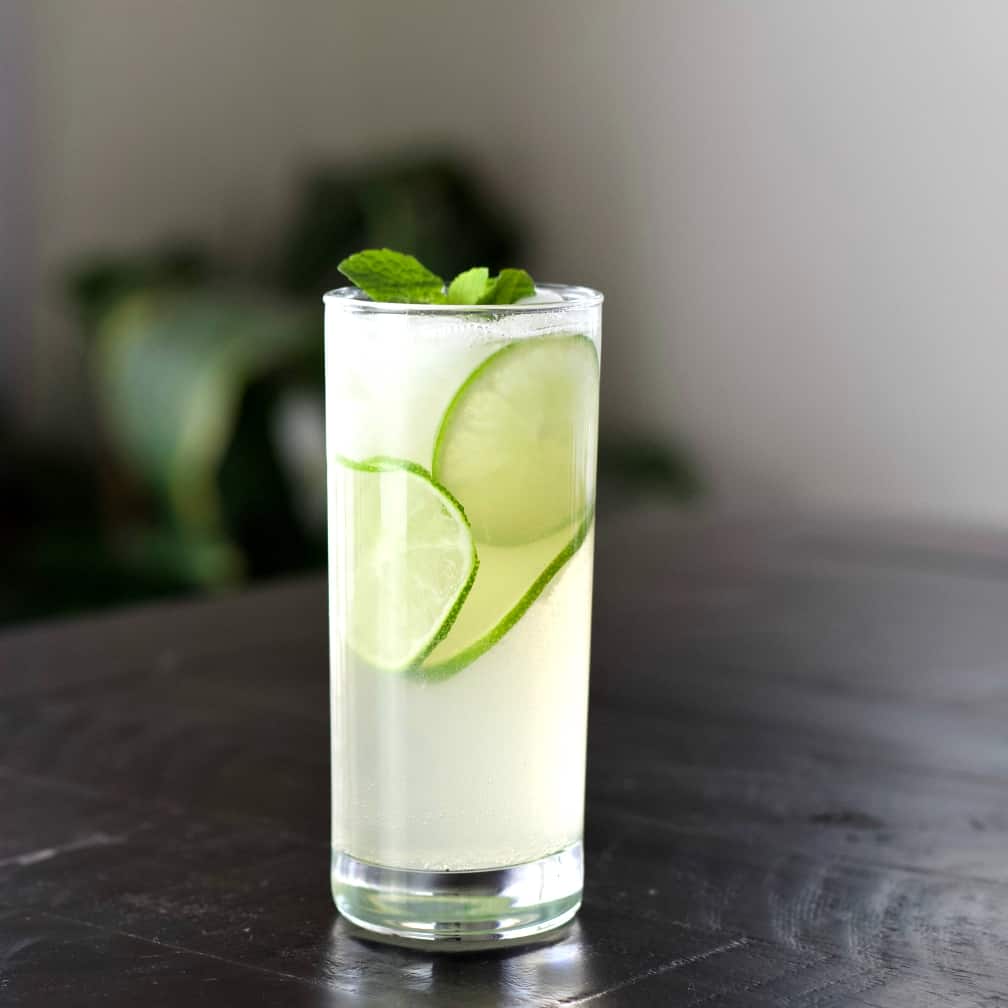 This Mexican drink is a light refresher. You will enjoy it in all kinds of situations. It's easy to make for a poolside drink, weekender or just pretty much anytime.
Drink responsibly. Making your drinks at home is cheaper and keeps you off the road. That's great. Just don't fall into your pool. 🙂
Helpful Amazon Products:
Paksh Novelty Italian Highball Glasses [Set of 6] Clear Heavy Base Tall Bar Glass – Drinking Glasses for Water, Juice, Beer, Wine, Whiskey, and Cocktails | 13 Ounce Cups
Mixology Bartender Kit with Stand | Bar Set Cocktail Shaker Set for Drink Mixing – Bar Tools: Martini Shaker, Jigger, Strainer, Bar Mixer Spoon, Tongs, Bottle Opener | Best Bartender Kit for Beginners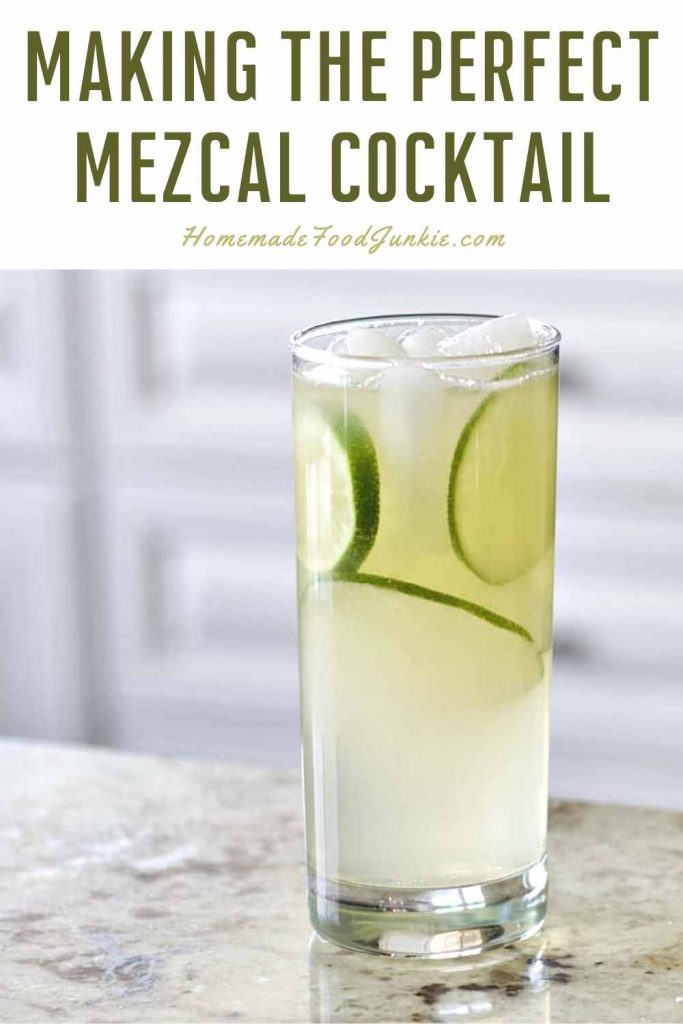 Your Printable Recipe Card:
Yield:

1 cocktail
Mezcal Cocktail
This fizzy and refreshing Mezcal cocktail makes a delicious and light summer refreshment.
Ingredients
2 oz. Mezcal
1 tsp. Simple syrup
1 oz. fresh lime
3 oz. ginger Beer
ice as needed for shaker and serving glass
Instructions
Slice 1/2 of your fresh lime into very thin slices. Set aside.
Pour ice halfway up your cocktail shaker
Add the Mezcal
Squeeze the unsliced half of the lime into the shaker.
Add in the simple syrup.
Seal and Shake the cocktail shaker at least 30 seconds until very cold.
Fill your glass half full of ice.
Strain the shaken mixture over the ice.
Fill the glass with the ginger beer.
Garnish with lime slices and a sprig of mint as desired.
Notes
Garnish Ideas:
We like the simple lime slices for a bit of color and the additional lime it adds to the drink.
A sprig of mint also help brighten the flavor if you bruise it.
Salting the rim is unnecessary but if you do want salt-keep it a light salted rim. (Maybe only half the rim or salt your wrist and do the lick and drink technique).
The drink flavors are well balanced with the brand of Mezcal we chose. Your brand choices matter with Mezcal. Feel free to adjust the drink ingredients to accommodate your preferred brand.
Nutrition Information
Yield
1
Serving Size
1
Amount Per Serving
Calories

196
Total Fat

0g
Saturated Fat

0g
Trans Fat

0g
Unsaturated Fat

0g
Cholesterol

0mg
Sodium

10mg
Carbohydrates

18g
Fiber

1g
Sugar

16g
Protein

0g
We'd love to SEE your Homemade food Junkie recipes. What are you doing with this drink? Follow us and Tag us with your pictures and stories on our instagram page.