These delicious Mistletoe Cranberry Margaritas are just the thing to spice up your holiday party or girls night. Add sugared cranberries and fresh mint leaves with a frosty rimmed glass for a wintery refreshment.
Made with cranberry juice, silver tequila, triple sec, and lime juice for a frozen margarita that is perfect as an icy, festive drink for the holidays.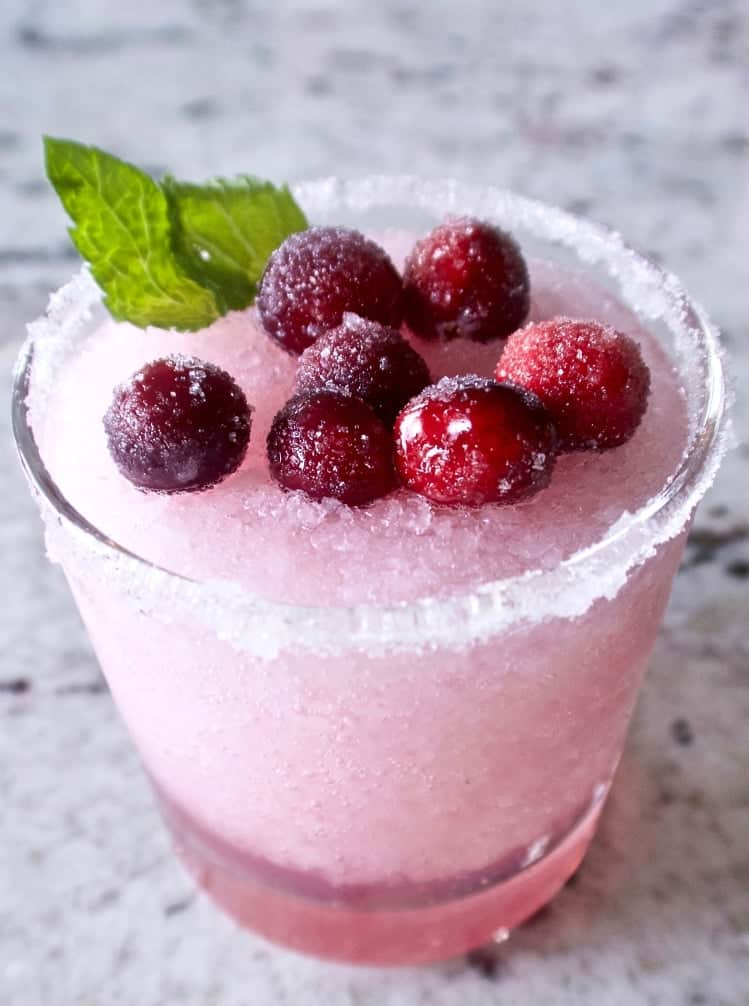 Mistletoe Margarita Demonstration:
This recipe makes a large batch of Mistletoe Margaritas making it a great choice for Thanksgiving and Christmas gatherings or group events.
We made these Cranberry Margaritas for the first time at one of our holiday poker parties. My friend Julie sent the recipe and special requested this particular margarita recipe. Everyone enjoyed the icy refreshment and the festive presentation.
It was a breeze to make these frozen beauties in my cherry red Kitchen Aid Blender. We had a group of 20 and it was a snap to prepare the drinks for that size of crowd.
What is the difference between a Margarita and a Frozen Margarita?
Frozen Margaritas are blended into an icy slushy with a thick texture. Margaritas on the rocks are simply poured over ice. While this drink could be served both ways, it is definitely a stand out when served as a Frozen Margarita.
Looking for more Holiday party drinks? Try these:
Are Frozen Margaritas more alcoholic?
The type of alcohol used is the biggest factor for the alcoholic content of the margarita. Triple Sec contains fewer calories and less alcohol than other types of orange liqueur however, when paired with tequila the alcohol content quickly climbs.
As a general rule, Frozen Margaritas do usually contain more alcohol and calories than non-frozen Margaritas. This is largely due to the difference in dispersement when the ice is blended as opposed to being left in cubes.
What is the best Tequila to use for Margaritas?
Reposado or blanco are the two types of tequilas used for margaritas. Silver tequila is what we used, it is a blanco tequila. Silver tequila is the best choice for margaritas because it is bottled right after distillation giving it a stronger, purer taste and a crystal clear color.
How to prepare Mistletoe Margaritas
These Mistletoe Margaritas come together in 5 minutes and create festive, beautiful statement drinks that are perfect for winter gatherings and Christmas parties.
How to do a sugar salted rimmed glass
Use lime wedges to wet the lip of your chilled glasses.
Flip your prepared glass upside down in your salt sugar and twist until the glass edge gets a frosty look.
How to make sugared cranberries
Roll the fresh cranberries in lime juice
Drain off the lime juice and sprinkle sugar on top of the berries until the get the 'snowy cranberries' look
Garnishing Mistletoe Margaritas
Add two fresh mint leaves
Drop sugared cranberries on top
Serving Size
6oz whiskey glasses are perfect for this recipe. You can also serve in a traditional margarita glass for a statement drink that creates a beautiful presence.
The single serving recipe works perfectly for one 12 oz. margarita glass.
For the party we used the pitcher recipe and 12 oz. margarita glasses. It filled about 6 margarita glasses per pitcher.
Proportions for a Pitcher
2 Cups Cranberry Juice
12 oz Silver Tequila
8 oz Triple Sec
3/4 Cup Lime Juice
6 Cups of Ice
Printable recipe card for a single Mistletoe Margarita
Yield:

2
Cranberry Margarita Recipe-single
These delicious Mistletoe Cranberry Margaritas are just the thing to spice up any party or girls night! They are very easy to decorate. Make them adorable with sugared cranberries, a frosty salt sugar rim and a fresh mint leaf for holiday color. These taste amazing.
Ingredients
1/3 Cup cranberry juice
2 oz. silver tequila
1/2 oz. triple sec
1/2 oz. lime juice
1 cup cubed ice (more as needed)
Instructions
Combine ice, tequila, triple sec, cranberry juice, and lime juice in blender.
blend until smooth.
Add more ice if necessary to your desired consistency.
Pour the margarita mixture into the rimmed glass and top with fresh sugared cranberries and mint leaves. (recipe for garnishes in notes section)
Notes
TIPS:
Chill the glasses 30 minutes in the fridge before decorating the rim, this will help the sugar and salt stick better.
Rim the glass and set aside before making the margarita.
Sugar the cranberries last(recipe below). The sugar tends to dissolve on the cranberries if left out too long before garnishing which means you won't get the cute snowy effect.
Feel free to add more cranberry juice if you like a nice red margarita.
To rim the glass:
2 tbsp. kosher salt
1 lime (used for rimming glasses)
Rim the glasses first by taking chilled glasses and rubbing the slice of lime over the rim.
Mix together sugar and salt on a flat plate.
Turn the glass over and press the wet rim into the sugar and salt.
Set glass aside to dry
For the sugared cranberries:
1/2 c. whole cranberries
1/4 c. granulated sugar, divided
Make sugared cranberries by putting 1/4 cup lime juice in a bowl and putting the fresh cranberries in it. Roll the cranberries around until the are covered in lime juice.
Drain out lime juice and sprinkle sugar on top of cranberries until they are liberally coated.
Use as garnish as desired.
Proportion of ingredients for a full pitcher- about 5 servings:
2 cups cranberry juice
12 oz silver tequila
8 oz triple sec
3/4 cup lime juice, divided
6 c ice
Nutrition Information
Yield
1
Serving Size
one margarita
Amount Per Serving
Calories

303
Total Fat

0g
Saturated Fat

0g
Trans Fat

0g
Unsaturated Fat

0g
Cholesterol

0mg
Sodium

2336mg
Carbohydrates

32g
Fiber

1g
Sugar

27g
Protein

1g
Follow Us:
We enjoy meeting you on our social networks. Follow us on Facebook, Pinterest, Instagram . Tag us with your pictures of our recipes and comment on how it went for you. We would love to see what you do with them.
We often like, comment and share your posts of our recipes on our daily Instagram stories.
Ask questions and rate the recipe in the comments section below. Please share what you did with this recipe. We are always looking for more and better ways to make homemade food. Other cooks love your ideas!
Recent Posts: