These delicious Mistletoe Cranberry Margaritas are just the thing to spice up any holiday season party or girls night.
Garnish your frozen margaritas. Add sugared cranberries and fresh mint leaves with a frosty rimmed glass.
Cranberry margaritas make an adorable and delicious drink for your holiday parties. Watch them fly off your party tray.
I highly recommend this margarita for a winter party drink. I've been trying very hard to step up my alcoholics drinks game.
Frozen margaritas that are pretty and yummy are going to be at my winter parties. Put them on your drink menu.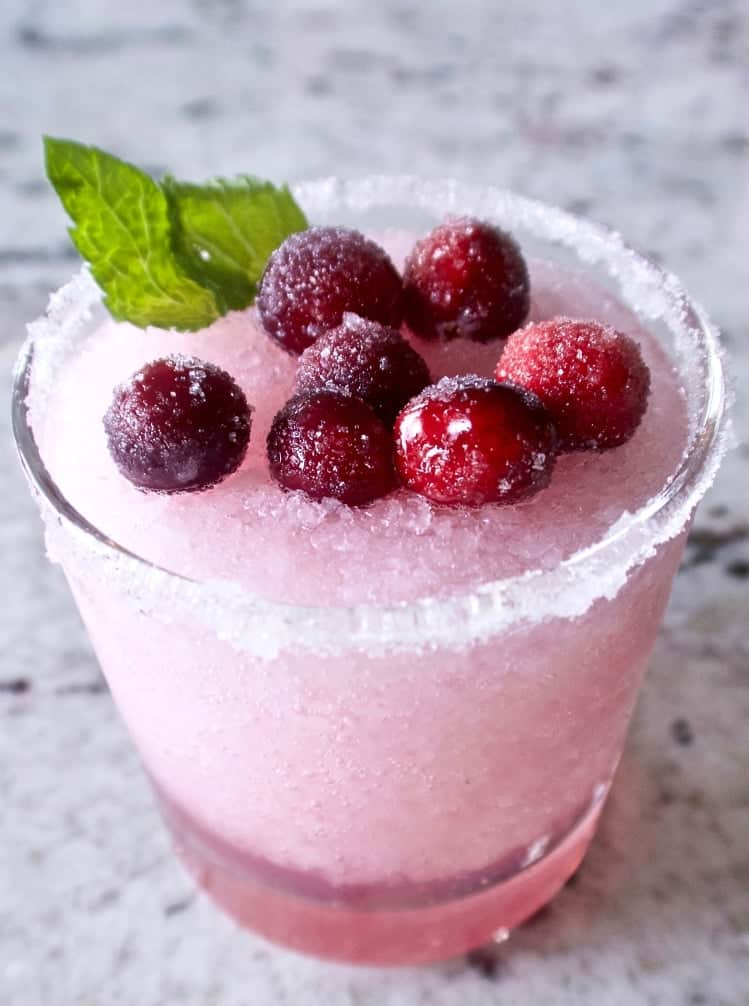 Mistletoe Margarita Demonstration:
This recipe is just the ticket for Thanksgiving and Christmas get togethers. Or any Fall or winter party drink.
Visit our Cocktail Section for our complete listing of delicious alcoholic drinks:
I served these cranberry Margaritas for the first time at our holiday poker party. My friend Julie sent the recipe to me and special requested this particular margarita recipe. They were a huge hit.
We had a group of about 20. It was SO fun to make these frozen beauties in my brand new cherry red kitchenaid blender.Watch me unbox my new kitchenaid diamond blender.
We had wine and other cocktails available but no one wanted anything but these margaritas. I ended up making two pitchers full of these tasty drinks. Everyone enjoyed them but be careful!
Looking for more Holiday party drinks? Try these:
Margaritas are sneaky. If you don't know your tequila limit then go easy on them. They are easy to drink. But they catch up to you quick. Don't drink them too fast.
A few of the girls that came to my party learned that the hard way, poor things. Drink margaritas with caution. Sip… and enjoy the party. Drink fast and spend the night in the bathroom…ahem.
How to prepare Mistletoe Margaritas:
When I say these are incredibly simple to make, I mean it! Once you get the hang of them it only takes about 5 minutes. Whip them together in the blender and add the garnish. You can enjoy the party and spend less time in your kitchen 🙂
To rim the glasses:
Use lime wedges to wet the lip of your chilled glasses.
Flip your prepared glass upside down in your salt sugar and twist until the glass edge gets a frosty look.
Sugared Cranberries:
Roll the fresh cranberries in lime juice
Drain off the lime juice and sprinkle sugar on top of the berries until the get the 'snowy cranberries' look.
Garnish:
Add two fresh mint leaves
Lay some Sugared Cranberries on top
you have a really showy little drink.
The girls were all very impressed with the pretty garnishes. (I kept it a secret that it was ridiculously easy to make pretty : ) .
Serving Size:
A couple 6 oz. whiskey glasses work great for an after dinner drink for two. It's Just enough to take the edge off ;).
The single serving recipe works perfectly for one 12 oz. margarita glass if you want a full one.
The recipe is enough for one full margarita glass cocktail, or use two smaller glasses to divide the recipe. The ones pictured are short 6 oz. whiskey glasses.
For the party I used the pitcher recipe and 12 oz. margarita glasses. I filled about 6 margarita glasses per pitcher.
Proportions for a Pitcher:
2 cups cranberry juice
12 oz silver tequila
8 oz triple sec
3/4 cup lime juice
6 c ice
Printable recipe card for a single:
Yield:

2
Cranberry Margarita Recipe-single
These delicious Mistletoe Cranberry Margaritas are just the thing to spice up any party or girls night! They are very easy to decorate. Make them adorable with sugared cranberries, a frosty salt sugar rim and a fresh mint leaf for holiday color. These taste amazing.
Ingredients
1/3 Cup cranberry juice
2 oz. silver tequila
1/2 oz. triple sec
1/2 oz. lime juice
1 cup cubed ice (more as needed)
Instructions
Combine ice, tequila, triple sec, cranberry juice, and lime juice in blender.
blend until smooth.
Add more ice if necessary to your desired consistency.
Pour the margarita mixture into the rimmed glass and top with fresh sugared cranberries and mint leaves. (recipe for garnishes in notes section)
Notes
TIPS:
Chill the glasses 30 minutes in the fridge before decorating the rim, this will help the sugar and salt stick better.
Rim the glass and set aside before making the margarita.
Sugar the cranberries last(recipe below). The sugar tends to dissolve on the cranberries if left out too long before garnishing which means you won't get the cute snowy effect.
Feel free to add more cranberry juice if you like a nice red margarita.
To rim the glass:
2 tbsp. kosher salt
1 lime (used for rimming glasses)
Rim the glasses first by taking chilled glasses and rubbing the slice of lime over the rim.
Mix together sugar and salt on a flat plate.
Turn the glass over and press the wet rim into the sugar and salt.
Set glass aside to dry
For the sugared cranberries:
1/2 c. whole cranberries
1/4 c. granulated sugar, divided
Make sugared cranberries by putting 1/4 cup lime juice in a bowl and putting the fresh cranberries in it. Roll the cranberries around until the are covered in lime juice.
Drain out lime juice and sprinkle sugar on top of cranberries until they are liberally coated.
Use as garnish as desired.
Proportion of ingredients for a full pitcher- about 5 servings:
2 cups cranberry juice
12 oz silver tequila
8 oz triple sec
3/4 cup lime juice, divided
6 c ice
Nutrition Information
Yield
1
Serving Size
one margarita
Amount Per Serving
Calories

303
Total Fat

0g
Saturated Fat

0g
Trans Fat

0g
Unsaturated Fat

0g
Cholesterol

0mg
Sodium

2336mg
Carbohydrates

32g
Fiber

1g
Sugar

27g
Protein

1g