Pumpkin Spice Eggnog Whiskey Cocktail is a Fall drink to enjoy clear through the New Year. Cold brew coffee flavored Whiskey and Kaluha contribute a distinct coffee undertone to the pumpkin spice eggnog. Cozy up to the fire with this delicious eggnog cocktail.
Eggnog alcoholic drinks are favorites for the holidays. Add this boozy eggnog drink to your Thanksgiving drinks list. Your guests will love it.
Questions and Answers:
Does Whiskey Taste Good In Eggnog? Whiskey is a great choice to add into eggnog. The whiskey adds its rich warm flavor and compliments eggnog quite well.
Does Whiskey Curdle Eggnog? Whiskey does not curdle in eggnog. The acids in dairy and whiskey don't tend to separate.
Pumpkin Spice Whiskey Eggnog Recipe
Ingredients List:
This eggnog cocktail recipe is a simple shake and pour drink with three ingredients. We like to support our local dairies and brewers here at Homemade Food Junkie, so we featured a local dairy eggnog and locally made whiskey for this eggnog whiskey cocktail.
Pumpkin Spice Eggnog:
We used a local brand of store bought pumpkin spice eggnog from Grace Harbor Farms here in Lynden Washington. We have used their products before on our site and really enjoy them. Whatever brand of pumpkin spice eggnog you choose should work fine. Kroger and Lucerne both offer pumpkin spice eggnog seasonally.
The Whiskey:
Pursuit Suspect is a whiskey made in Washington state by the Pursuit distilling company. We used their coffee flavored whiskey. We've linked the site for you if you want to order it.
We enjoyed the extra coffee flavor this whiskey offers. The coffee flavor does support the Kahlua quite nicely in this drink. However, If you don't have a cold brew flavored whiskey at your fingertips, use your favorite whiskey. It will still be a good cocktail.
Kahlua:
This popular coffee liqueur is distilled with rum and 100% arabica coffee beans. Kahlua is readily available in most groceries. If you are out of kahlua any good coffee liqueur will work as a substitute.
The mix of kahlua's rum and coffee flavors blend well with the coffee flavored whiskey we used. Kahlua brings in an extra bit of warm richness to this drink.
Here's the Ingredients List:
Instructions:
Use a 4 oz. whiskey glass. No ice.
Garnish with whipped cream and a sprinkle of pumpkin pie spice to emphasize those festive Fall vibes and aromas.
Your Printable Recipe Card:
Yield:

1-4 oz. cocktail
Pumpkin Spice Eggnog Whiskey Cocktail
creamy pumpkin spice eggnog with whiskey and kahlua make a gorgeous mouthful of flavors perfect for Fall and Christmas.
Ingredients
2 oz. pumpkin spice eggnog (we used a local dairy)
1 1/2 oz. whiskey (We used pursuit suspect whiskey)
1/2 oz. Kahlua
Optional Garnish:
Spray can Whipped cream on top of drink
Sprinkle pumpkin pie spice over whipped cream
Instructions
Add ice to your shaker
Pour in the whiskey, kahlua and pumpkin spice eggnog.
Seal the shaker.
Shake the shaker vigorously until it's very cold (about 30 seconds)
Strain the drink into your 4 oz. glass. No ice.
Spray whipped cream in a circle over the drink to make a yummy whipped cream top.
Sprinkle pumpkin pie spice as desired over the whipped cream.
Serve.
Notes
The garnish is optional. The spiced whipped cream does double down on the creaminess of this drink but is not necessary to enjoy it.
Nutrition Information
Yield
1
Serving Size
1
Amount Per Serving
Calories

222
Total Fat

7g
Saturated Fat

4g
Trans Fat

0g
Unsaturated Fat

3g
Cholesterol

66mg
Sodium

33mg
Carbohydrates

6g
Fiber

0g
Sugar

6g
Protein

3g
this calorie count is without the whipped cream garnish.
More Delicious Fall Drinks:
This is just a taste of our Fall Cocktail line up. We are always adding more ways to get cozy on cold blustery days.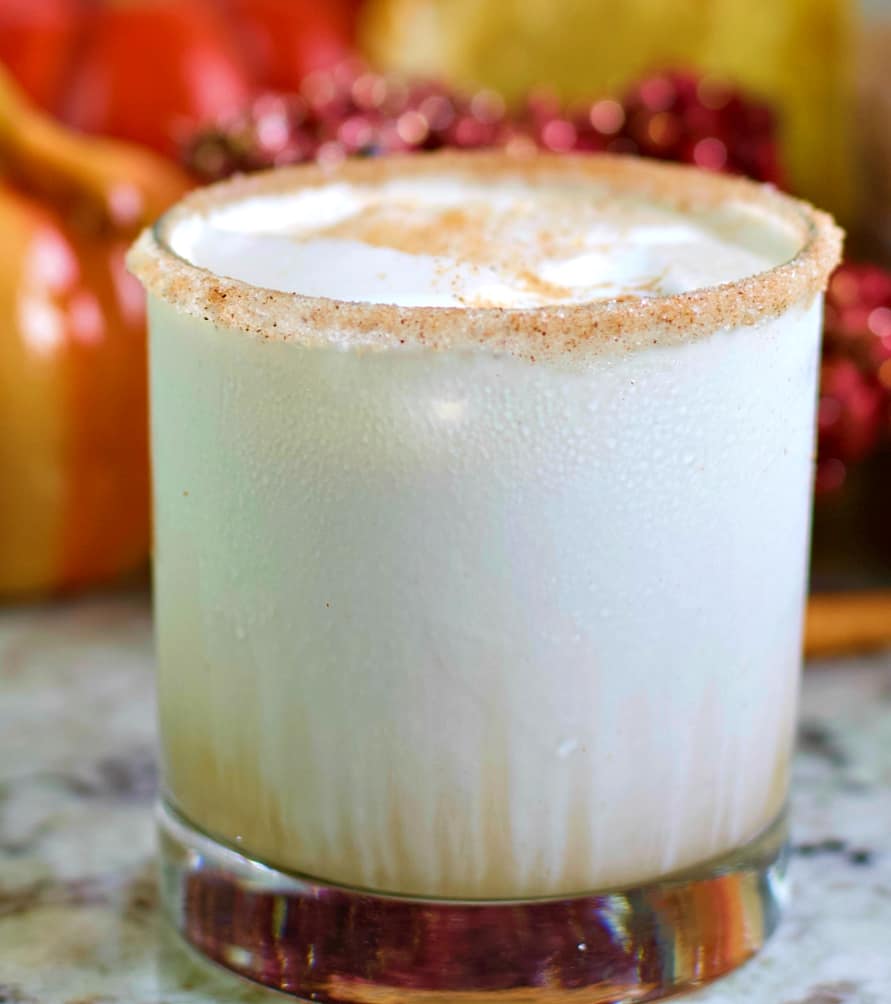 Follow Us:
We enjoy meeting you on our social networks. Follow us on Facebook, Pinterest, Instagram . Tag us with your pictures of our recipes and comment on how it went for you. We would love to see what you do with them.
We often like, comment and share your posts of our recipes on our daily Instagram stories.
Ask questions and rate the recipe in the comments section below. Please share what you did with this recipe. We are always looking for more and better ways to make homemade food. Other cooks love your ideas!
Recent Posts: