The Winter White Rum Drink has sweet, warm, rich flavors. Rumchata, Frangelico and Vanilla vodka mixed with cream blend beautifully with no curdling.
This winter cocktail is a perfect drink to sip on a cold winter evening. This drink is very smooth with a light, sweet, and creamy taste. If your looking for a cocktail to serve at a winter party, this one is perfect. It's easy to make and only takes a few ingredients.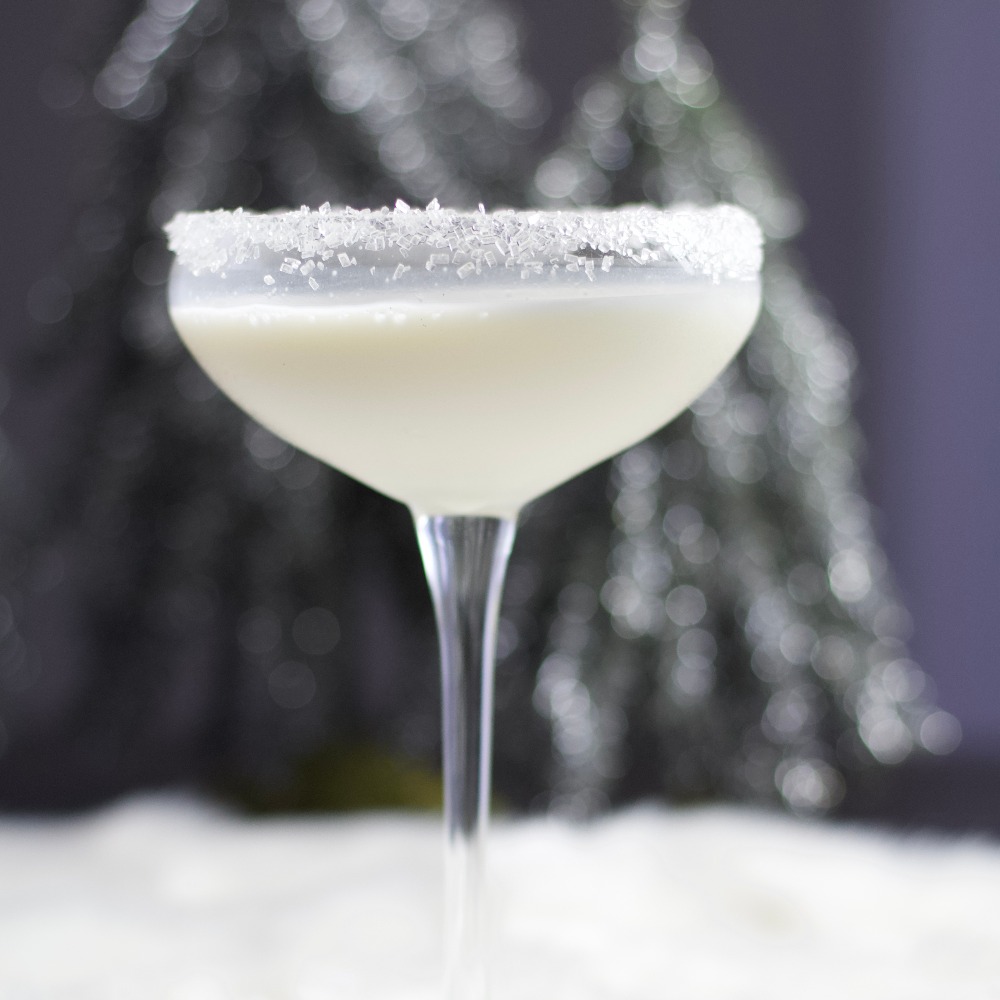 This white rum cocktail is perfect for after dinner sipping or a coze with your besties.
Notice the Sanding sugared rim. It resembles ice and presents a beautiful elegant winter drink. Snowy Alpine slopes anyone?
More Winter Cocktails:
Here more delicious drinks to enjoy on chilly winter days. Add whipped cream, fresh mint garnish, sugared cranberries and toffee to really bring in the winter vibe.
The flavors of these drinks are SO good. Give them all a try. 🙂
Winter Cocktail RumChata Recipe:
If you are looking to make a delicious rumchata drink here you go. We really love the beautiful warm flavors the rumchata creates in this drink. You will love it.
I have a large amount of bottles in my (not big enough) wet bar. So occasionally I dig through the bottles in there and invent new recipes to use them up and entertain my friends.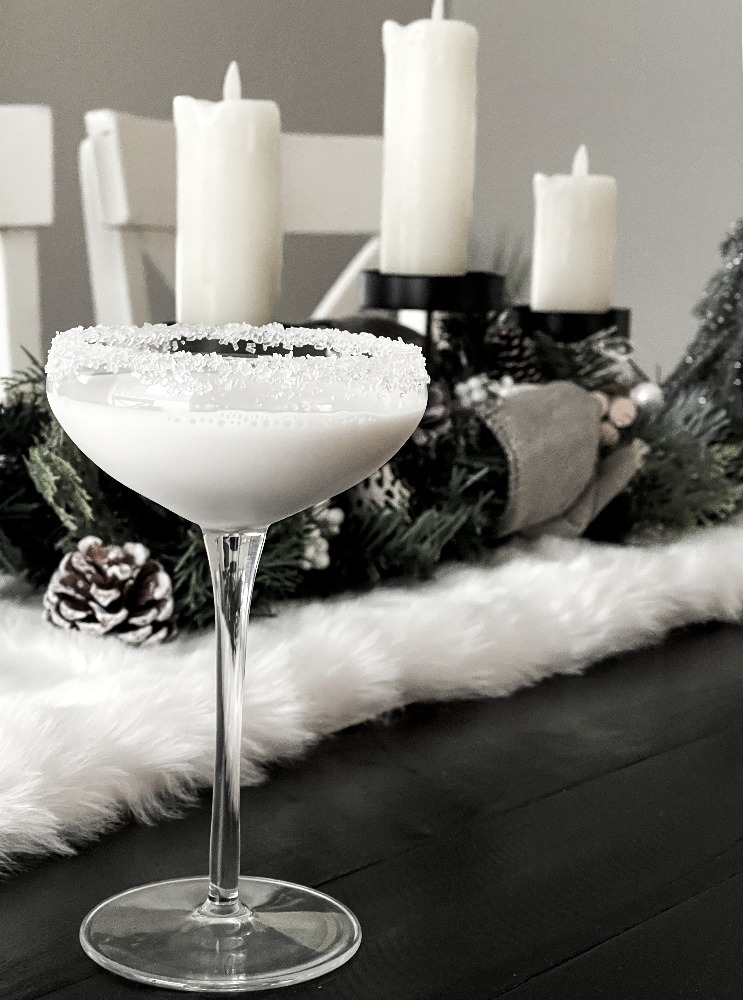 But what's the fun if you only reduce inventory? So I bought Rumchata.(which is why my wet bar is still stuffed).
Winter Rum Cocktail Ingredients:
Rumchata is a creamy rich rum liqueur (14% alcohol). And it is PERFECT for this winter cocktail.
The Frangelico liqueur was already in my bar. I used it previously for our Chocolate Cake Shot.
It's an expensive buy. So I'll be making more Frangelico drinks to use it up. Fortunately I love it!
Hazelnut liqueur is so good you can use it in baking recipes too. Plus, it works in lots of cocktail and shot recipes. Win win.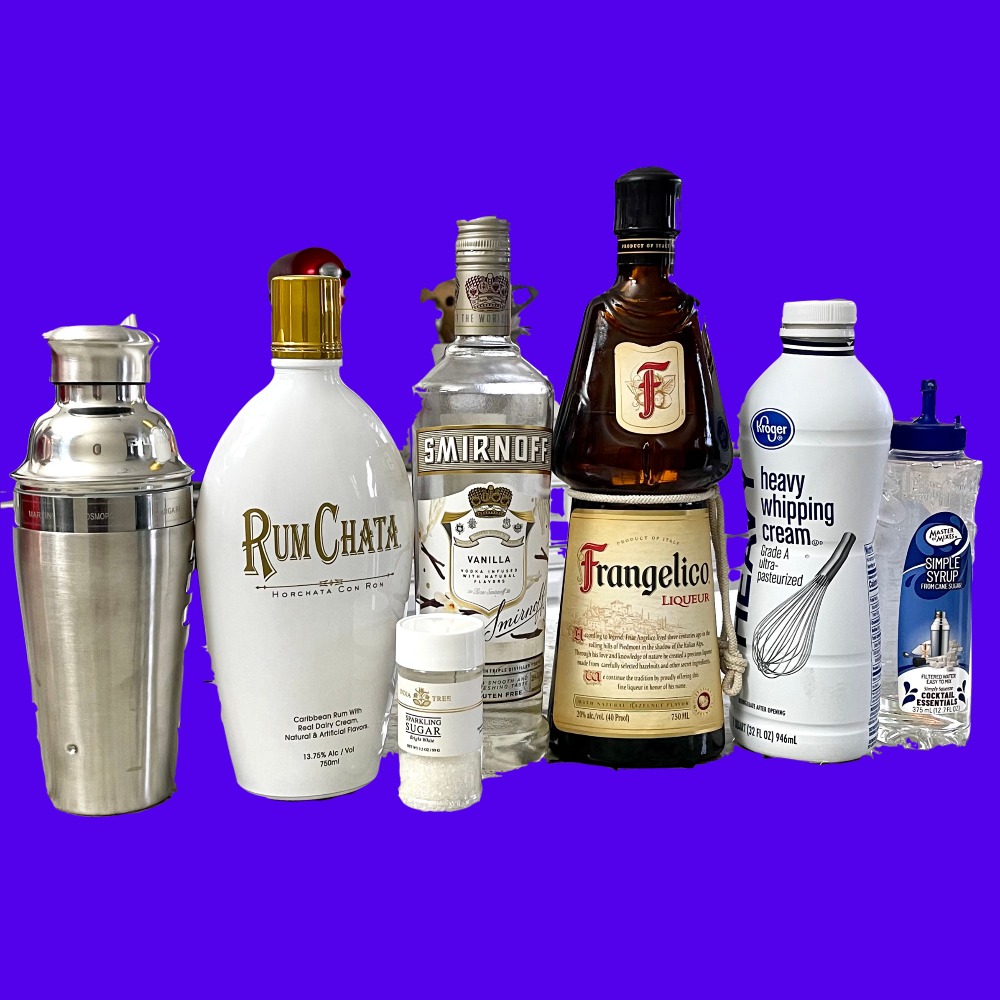 Ingredients List:
For the Cocktail:
Vanilla Vodka is one of the most useful liquors I own. I use it all the time.
Vanilla vodka flavor blends the Hazelnut and rum flavors in this cocktail like a bridge. It's an extra tweak of yummy you won't want to miss..
How to Avoid Curdling:
Rumchata is made with cream. We add even more fresh cream to make this drink recipe. Cream can curdle in cocktails.
According to Rumchata.com FACS page."RumChata is made with real dairy cream and it will curdle if mixed with anything that has a high level of citric acid. "
Our Winter White Rum Drink will not separate… IF you follow the recipe exactly and use these ingredients.
More TIPS: Use fresh cream that is not too close to it's sell by date. And DON'T mix fresh milk or cream with acidic sodas, mixer or citrus fruits. Also…keep the alcohol content of your alcohol mix ins to under 60% to be safe.
What if you make a cream or rumchata cocktail that does curdle? It only affects the texture and look of the drink. Curdling like this will not hurt you. The drink will just not be as appealing.
For the Sugar Rim:
The sanding sugar rim definitely enhances the elegance and winter vibe of this white cocktail.
We chose a long stemmed coupe glass to bring in a bit of retro class. It creates a lovely after dinner drink experience. Enjoy!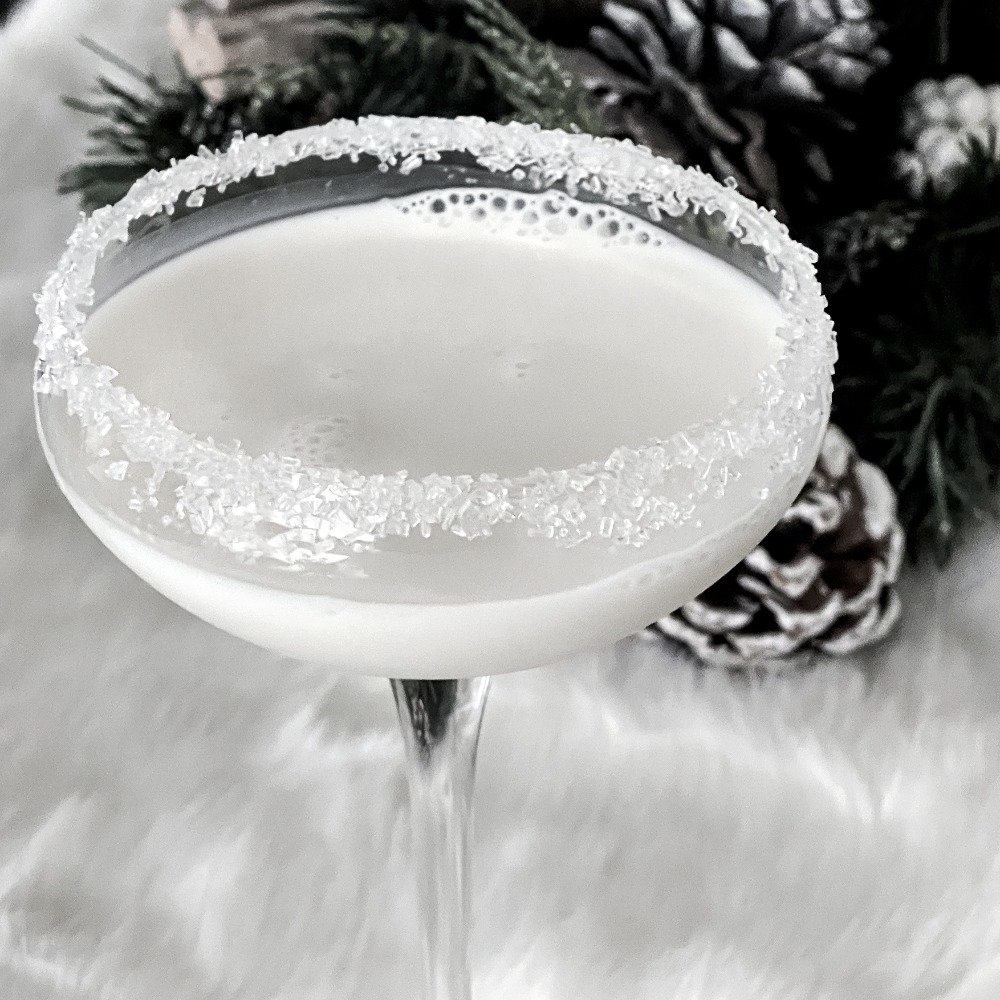 Your Printable Recipe Card:
Below is your complete recipe walkthrough. If you print out the recipe the pictures will not print. This is intended to save you paper and ink.
Please also watch our recipe demonstration video for this recipe. It is at the bottom of this printable recipe card and in the sidebar.
Yield:

1 Drink
Winter White Rum Cocktail Recipe
The Winter White Rum Drink has sweet, warm, rich flavors. Rumchata, Frangelico and Vanilla vodka mixed with cream blend beautifully with no curdling.
Ingredients
1 1/2 oz. RumChata
1 oz. Frangelico
1/2 oz.Vanilla Vodka
1 oz. Heavy Cream
For the Glass Rim:
Sanding sugar
Simple Syrup
Instructions

Chill the Glass:

Chill your glass t least 15 minutes before starting this recipe. We chose a long stemmed coop glass. It gives an elegant look. Any 6 oz. glass will work for this drink.
Rim The Glass:
Set out two flat plates
On one plate sprinkle a 1/4 inch layer of sanding sugar
On the other plate pour a puddle of simple syrup. Roll the chilled glass into the simple syrup until the rim of the glass is evenly coated.
Next roll the glass in the sanding sugar. You may need to use your fingers to push the sugar over the rim of the glass and make and even coating. (see video).
Make the Cocktail:
Fill your cocktail shaker with ice.
Measure and pour into the shaker the Rumchata, Frangelico, vanilla vodka and heavy cream.
Shake the shaker with a rolling motion until it is very cold. About 30 seconds.
Strain the cocktail into your rimmed glass.
Serve immediately.



Nutrition Information
Yield
1
Serving Size
1 cocktail
Amount Per Serving
Calories

286
Total Fat

15g
Saturated Fat

9g
Trans Fat

1g
Unsaturated Fat

4g
Cholesterol

46mg
Sodium

12mg
Carbohydrates

1g
Fiber

0g
Sugar

1g
Protein

1g
Follow Us:
We enjoy meeting you on our social networks. Follow us on Facebook, Pinterest, Instagram . Tag us with your pictures of our recipes and comment on how it went for you. We would love to see what you do with them.
We often like, comment and share your posts of our recipes on our daily Instagram stories.
Ask questions and rate the recipe in the comments section below. Please share what you did with this recipe. We are always looking for more and better ways to make homemade food. Other cooks love your ideas!
Recent Posts:
Follow Us on Instagram and tag us with your pics of our recipes. We love to like, comment and share on our daily stories. It's so fun to see what you do with our recipes.