Get ready to warm up this winter season with the delicious and indulgent Smirnoff Peppermint Twist Hot Chocolate cocktail. Made with the smooth and creamy Smirnoff Peppermint Twist Vodka, rich hot chocolate, and a hint of peppermint, this cocktail is the perfect treat for those chilly nights.
Whether you're curled up by the fireplace or enjoying a night in with friends, the Peppermint Twist Hot Chocolate is sure to be a crowd-pleaser.
This drink is the perfect balance of peppermint candy and rich chocolate. This hot cocoa drink will warm you through.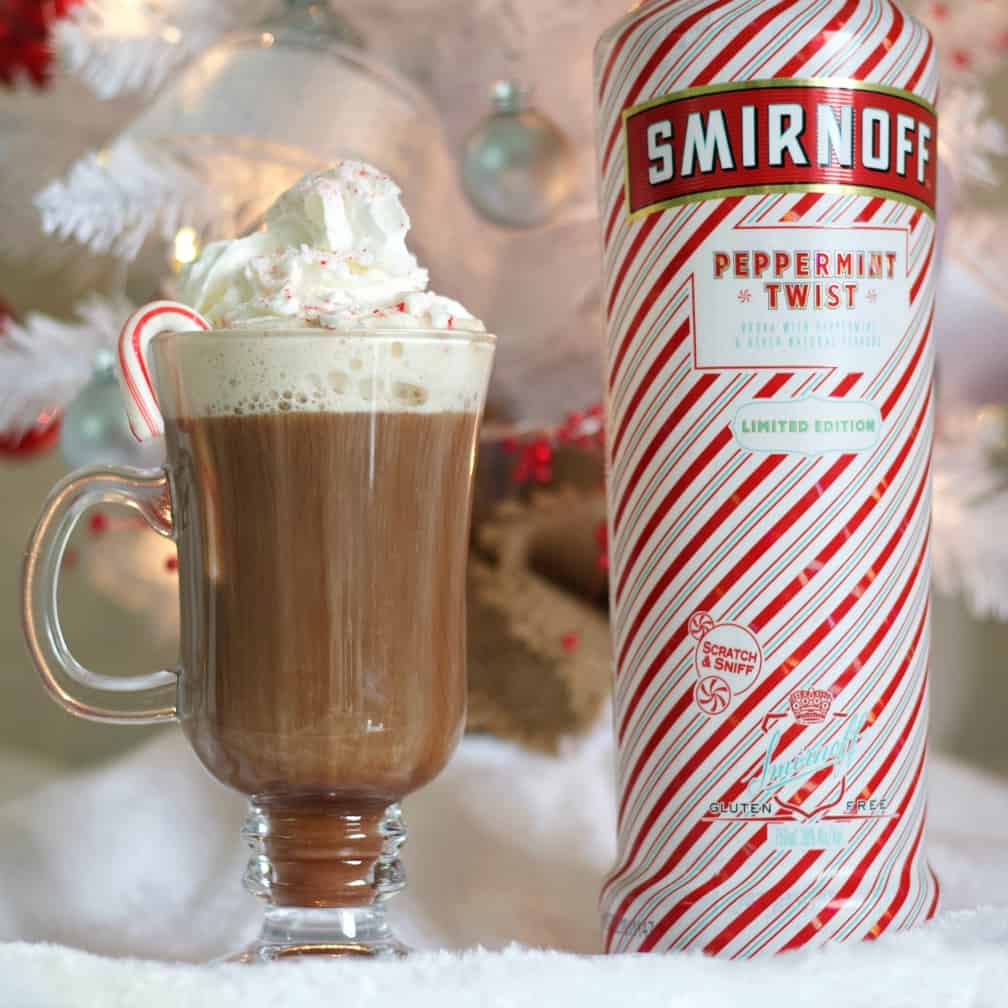 What is Smirnoff Peppermint Twist Vodka?
Smirnoff Peppermint Twist is a seasonal flavored vodka produced by the Smirnoff brand, owned by Diageo. It is a flavored vodka that is infused with peppermint and other natural flavors to give it a festive and sweet taste.
The Smirnoff Peppermint Twist release date may vary year to year, but it is generally available during the holiday season.
Smirnoff peppermint twist where to buy this delicious holiday alcohol. You can Google Smirnoff peppermint twist near me to find a local distributor of this vodka. To find smirnoff peppermint twist online try the Smirnoff official website, Drizly.com, or another online shopping site.
Smirnoff is one of the largest and most well-known spirits brands in the world, and the Peppermint Twist flavor is a favorite among many vodka drinkers during the holiday season. You won't have any trouble locating a bottle once it hits your local grocery shelves.
With its sweet and refreshing peppermint flavor, it is often used in holiday-themed cocktails and drinks, and is a popular choice for holiday parties and gatherings.
Smirnoff Peppermint Twist is a triple distilled vodka infused with candied peppermint flavor for a sweet wintery mint finish. You can enjoy it as a straight shot, on the rocks, or as a mixed drink like we have done with this hot chocolate recipe.
If you are looking for another delicious, wintery drink for your holiday season, try our Peppermint Milkshake made with schnapps. It's a thick and creamy shake that doubles as a holiday dessert and drink in one.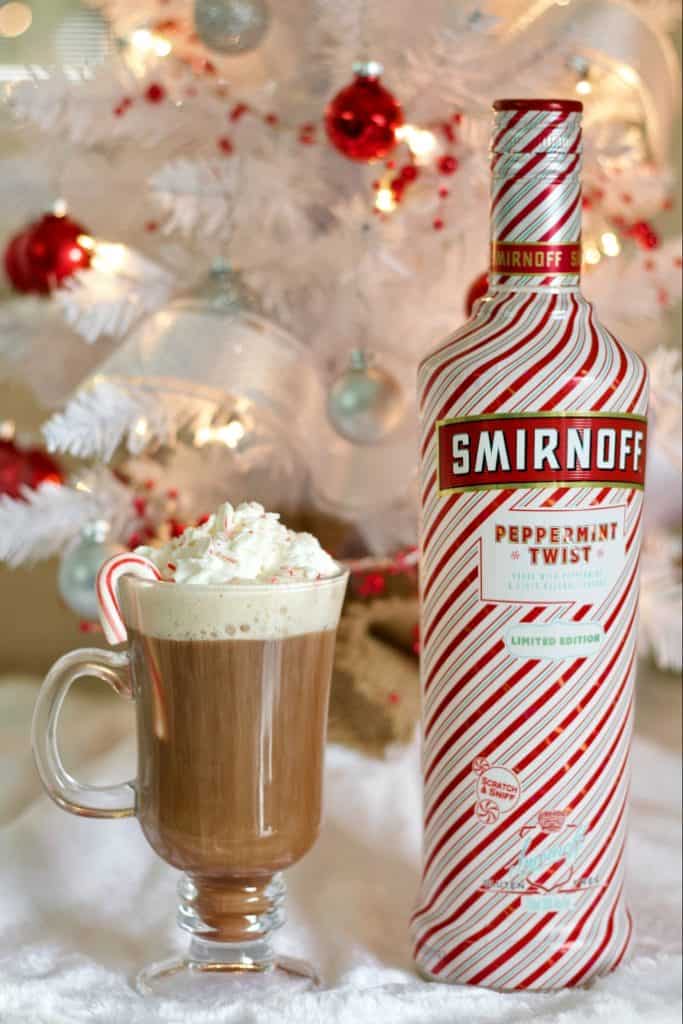 What does Peppermint Smirnoff taste like? The Peppermint Twist Vodka from Smirnoff is a beautiful blend of sweet candied peppermint and triple distilled vodka. The flavor is the perfect balance of cool mint and sweet candy canes with the classic Smirnoff vodka kick.
Because the Smirnoff Peppermint vodka has an alcohol content of 30% by volume, this is a very light cocktail that will not overpower you. There is just enough alcohol in it to call it an adult beverage.
How many carbs are in Smirnoff Peppermint Vodka? Despite it being a vodka the carb content of Smirnoff Peppermint is actually rather high, bringing this drink into the dessert category. Smirnoff Peppermint Twist has a carb content of roughly 25.6 net carbs per 240ml servings.
Our recipe calls for only 1/2 oz of peppermint vodka so the amount of alcohol is small and creates an enjoyable undertone to the drink.
Is Smirnoff Peppermint Twist gluten free? Yes, this peppermint infused vodka is Kosher Certified and gluten free making it a great mixer.
How to Make a Peppermint Hot Chocolate Stinger
Using your choice of hot cocoa, fresh brewed coffee, creme de cacao and a splash of Smirnoff Peppermint Twist; make this warming holiday drink for your friends and family.
Ingredients for the Peppermint Twist Hot Chocolate:
Fresh brewed coffee
Hot Chocolate
Smirnoff Peppermint Twist Vodka
Hiram Walker Creme De Cacao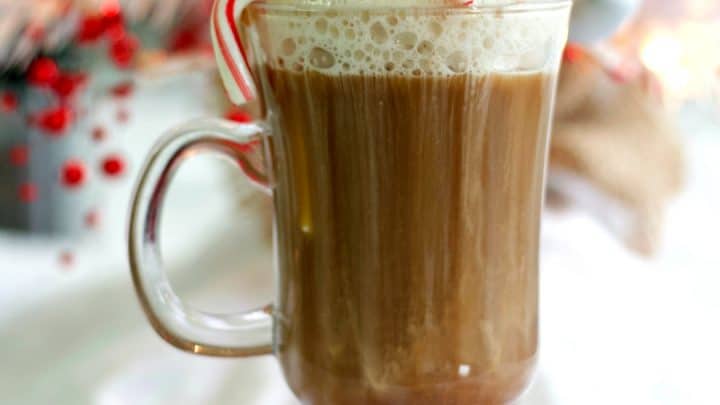 Yield:

1 Peppermint Hot Chocolate
Peppermint Hot Chocolate Stinger
A refreshing but cozy drink with all the flavors of winter. Smirnoff Peppermint Twist Vodka, Creme De Cacao and coffee create a gorgeous alcoholic hot chocolate drink perfect for a fireside chat or after dinner coze.
Ingredients
3 oz. hot coffee
2 oz. hot chocolate
1 oz. creme de cacao
1/2 oz. Smirnoff peppermint twist Vodka
Instructions
Measure and pour the crème de cacao into a heat proof mug.
Pour in the peppermint Twist Vodka
Add the fresh brewed hot coffee.
Stir.
Garnish as you prefer. Look at our notes section for instructions on how we garnished this coffee drink.
Notes
Our Garnishing Suggestions:
whipped cream
crushed candy cane
one whole mini candy cane

Instructions:
Stir the drink to mix the ingredients together
Spray on whipped cream to make a pretty top.
Sprinkle with 1/2 tsp. crushed candy cane
set one whole candy cane on the side of the glass.
Serve immediately

More Garnish Ideas:
Add mini chocolate chips to the whipped cream top
Chocolate covered espresso bean on the whipped cream.
Mini Marshmallows can replace the whipped cream (Or be added to it)
Also mix the marshmallows with the mini chocolate chips for fun.
Tie on a bright festive ribbon to the handle
Recommended Products
As an Amazon Associate and member of other affiliate programs, I earn from qualifying purchases.
Nutrition Information
Yield
1
Serving Size
6.5 oz.cocktail
Amount Per Serving
Calories

218
Total Fat

1g
Saturated Fat

0g
Trans Fat

0g
Unsaturated Fat

0g
Cholesterol

0mg
Sodium

57mg
Carbohydrates

20g
Fiber

1g
Sugar

16g
Protein

1g
For More Delicious Coffee And Chocolate Drinks…
Follow Us:
We enjoy meeting you on our social networks. Follow us on Facebook, Pinterest, Instagram . Tag us with your pictures of our recipes and comment on how it went for you. We would love to see what you do with them.
We often like, comment and share your posts of our recipes on our daily Instagram stories.
Ask questions and rate the recipe in the comments section below. Please share what you did with this recipe. We are always looking for more and better ways to make homemade food. Other cooks love your ideas!
Recent Posts: