These Blackberry Hand Pies are made from delicious glazed pie crust or puff pastry surrounding a thick rich blackberry filling. Perfect for a lunchbox snack, an afternoon treat or an addition to the dessert table for a Holiday or party.
This hand pie recipe can be made with any fruit filling that you choose; strawberry, raspberry, lemon, even Nutella! We have wild blackberries on our property and they are our favorite berry during late Summer so we filled ours with a fresh blackberry filling. We chose our favorite sourdough crust to make the pastry, and we have a couple of our favorite crusts linked for you along with the blackberry filling recipe.
If you're short on time you can always purchase a pre-made pie crust, but if you have the time we definitely recommend making your own. There is nothing better than a fresh, homemade pastry crust. These little pies also freeze really well, so you can make a lot at a time and save them for later.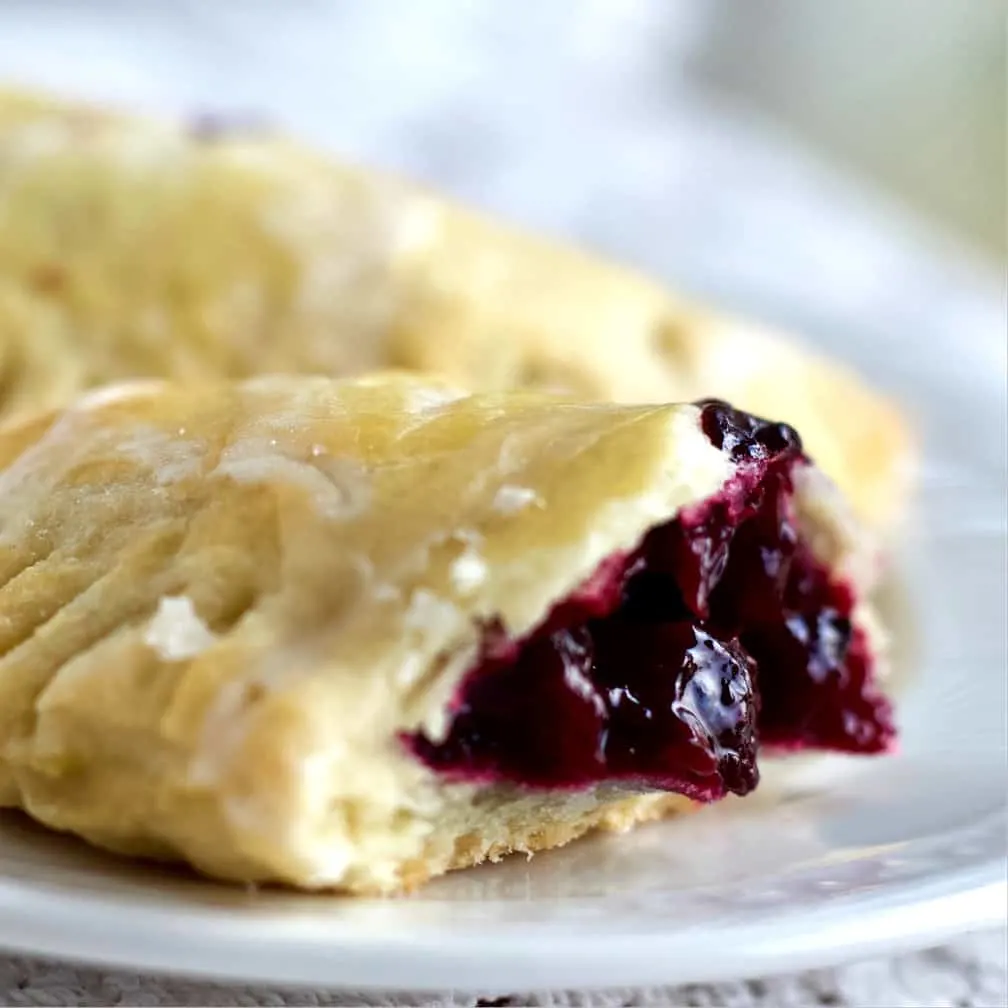 What is the difference between a hand pie and a turnover?
When it comes to the differences between tasty turnovers and hand pies, the difference are subtle and don't matter much in the final product. Turnovers and hand pies are both made with pie pastry or puff pastry; turnovers are sometimes made with a dough and shaped into a half circle shape much like a calzone. Hand pies traditionally are full circles all the way around.
As you can see from our little hand pies, they could be considered turnovers because of their shape…but that's about it. The differences between these two pastries is so slight, you will often times see them used interchangeably.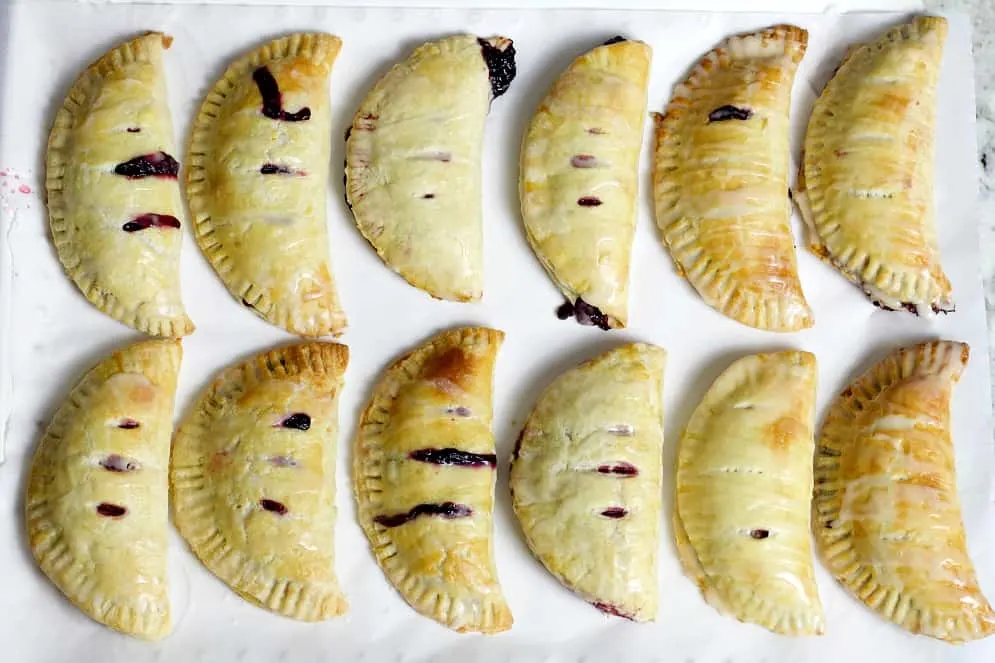 What can you fill hand pies with?
Hand pies and turnovers can be sweet or savory depending on your mood. You could make a chicken pot pie filling, a pizza filling, or even a veggie filling. We enjoy a sweet pastry with a fruit filling using either fresh or frozen fruit. Some ideas for different sweet fillings would be any berry or fruit you choose including caramel apple, cherry, peach, pumpkin, even peanut butter and chocolate. The possibilities are endless with these tasty single serve pastries.
All of the filling recipes below will be great for fruit hand pies. Just add some extra cornstarch to make sure they thicken up well.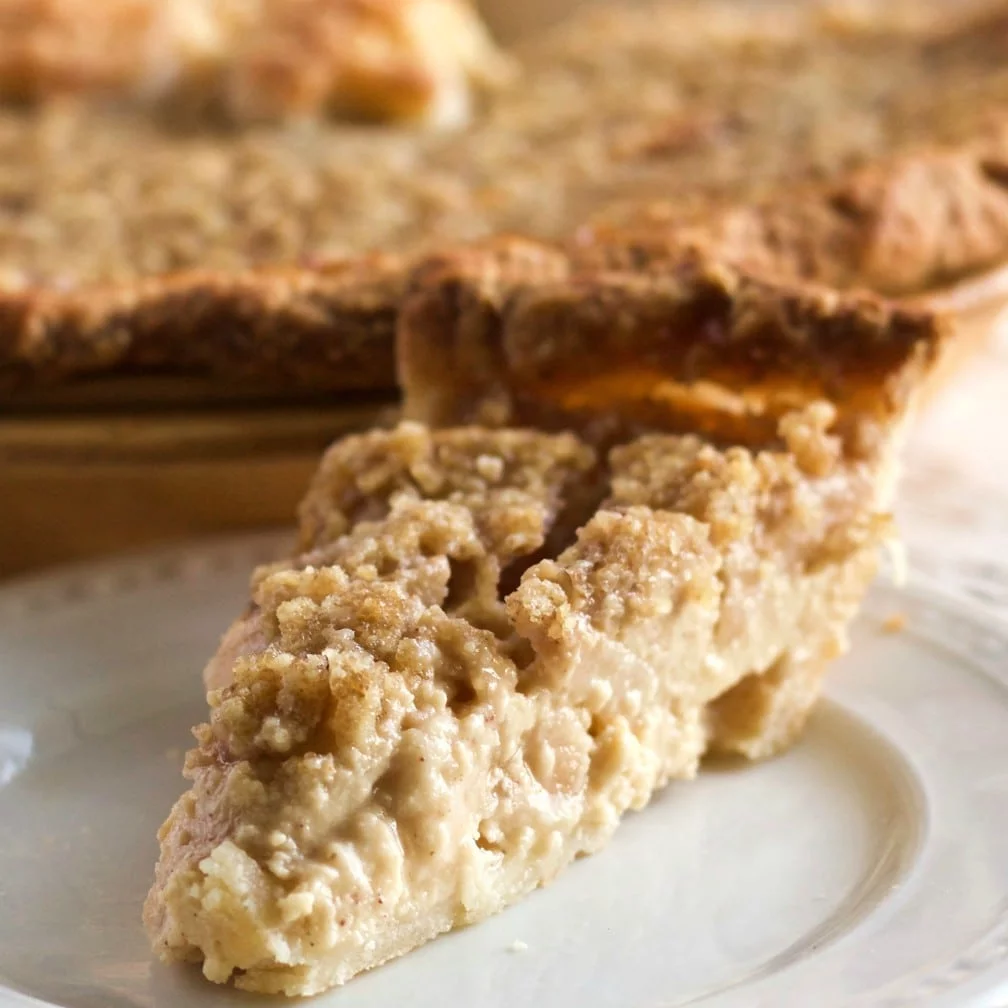 Click the links on the pictures to check out the pictured pie filling recipes.
How do I keep my hand pies from getting soggy?
If you are having trouble with soggy, or weak hand pies there are a few tricks that we suggest you try. Once your hand pies are assembled place them in your fridge and allow them to chill for at least 20 minutes. The dough will be warm from your hands and this will help bring structure back to the pies.
Baking temperature is also very important. An under baked hand pie or turnover will not be able to support the hot filling as well as a fully baked one, so be sure your oven is cooking at a hot enough temperature to fully bake the pies. For most regular ovens you will need your oven set between 400-425 degrees F.
Finally, be sure there isn't excess liquid in your filling. Fillings should be soft and moist, but not wet and drippy. If you are adding excess liquid to your pies you will undoubtedly encounter seepage which will prevent your pastry dough from cooking properly.
Different crusts for your hand pies
Our favorite perfect pie crust for this recipe is a sourdough crust. It will give you a deep rich flavor that's pretty hard to beat and compliments fruit fillings really well.
Sourdough pie crust also holds up well, makes a flaky pie crust and also has a bit of puff from the sourdough.
Use our sourdough pie crust or the coconut oil pie crust for a firmer crust.
Puff pastry is more tender and flaky. But it's much less the style of the old Hostess pies you get from the store. We use it for our apple turnovers and other tender puff pastry recipes.
If you're looking to make puff pastry hand pies use our homemade puff pastry below.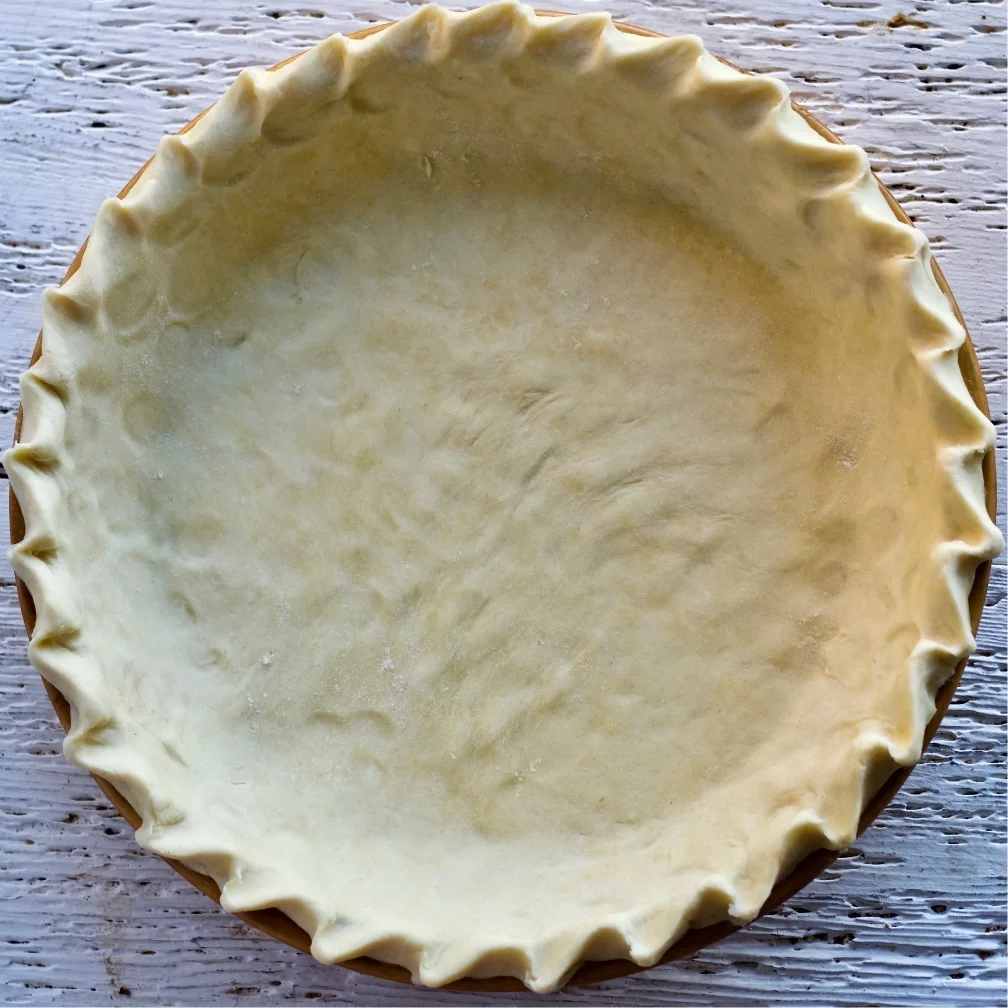 How should I store my hand pies?
Freshly baked hand pies can be kept safely at room temperature for two days, as long as your home isn't unusually warm. They can be stored in an airtight container in your fridge for up to four days without the flavor or texture being affected.
If freezing, allow your hand pies to fully cool. Wrap them in a dry paper towel and place them in an airtight bag. When they are all properly stored in airtight wrappings, they can be stored together in a large freezer safe container or freezer bag for up to three months.
When you are ready to thaw and warm your hand pies, remove them from the freezer and move them to your fridge to slowly thaw, or place them on your counter to thaw at room temperature for a bit. Unwrap them and place them on a baking sheet lined with parchment paper. Warm them on a low temperature for 10 minutes or until warmed through.
Blackberry Hand Pies:
This recipe makes about 16 single serving pies. If you don't need that many it's easy to cut the recipe for the filling and pie crusts in half to make 8 small pies. If you chose to purchase a pre-made pie dough, it may not yield a full 16 recipe as our homemade crusts tend to go further.
Visual Guide and Process Photos
Please Watch our video demonstration for the complete recipe. We have linked several homemade pie crust options for you in the gallery above.
Here is a visual walkthrough of the basic step of the recipe with two exceptions. We did not include pictures of the process for making the pie crust or the blackberry filling.
This post is focused on the process of making and baking the hand pies. Pretty much any pie filling or reliable pie crust will work well for hand pies. We offer several of ours linked above.
This is a guide to the assembling and baking the pies.
Assembling your hand pies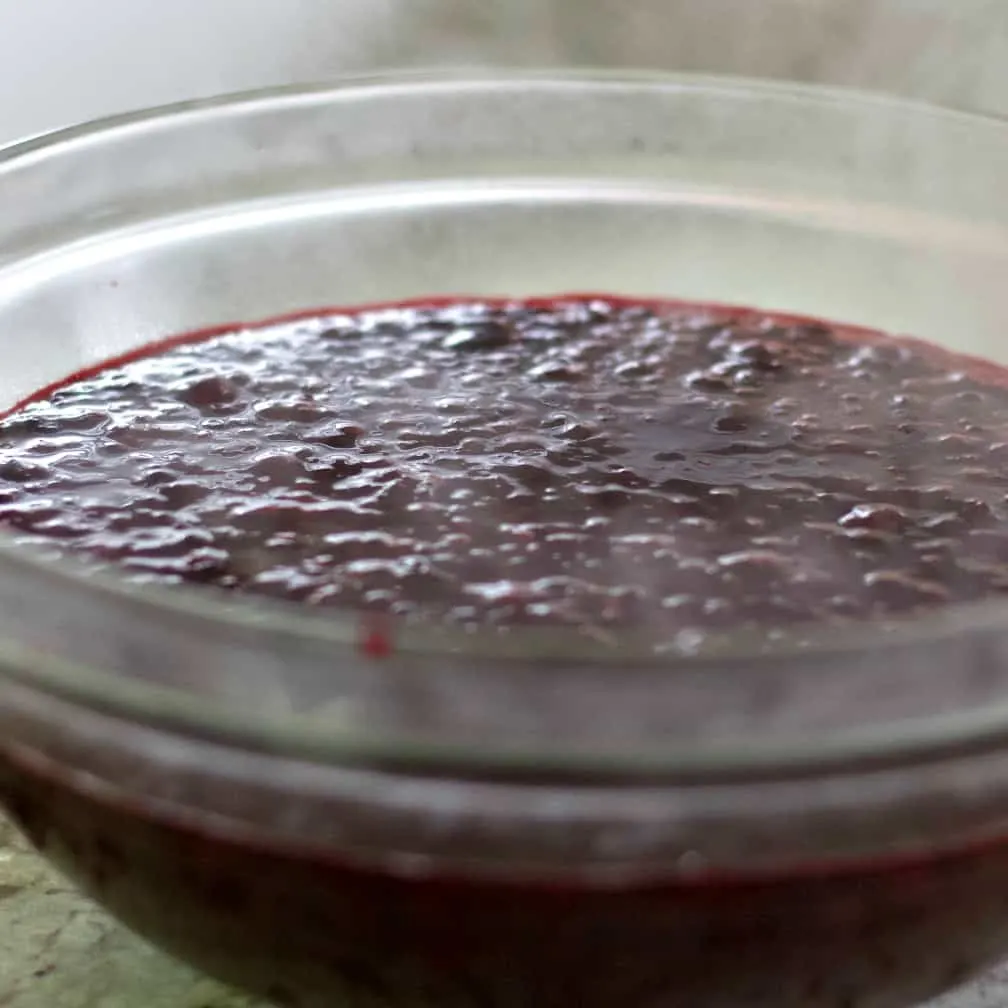 How to glaze your finished hand pies
We use a simple powdered sugar glaze. Once hardened it holds up well when using these pies as finger food.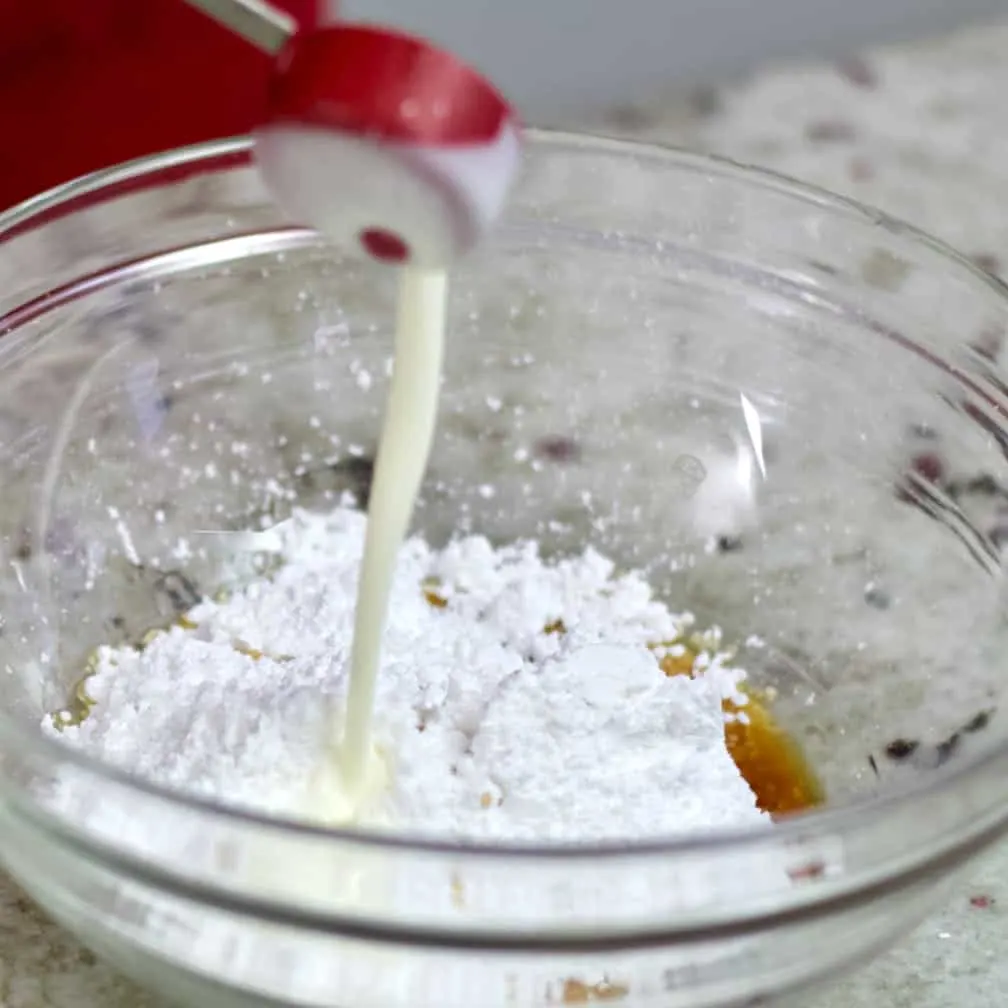 Your Printable Recipe Card: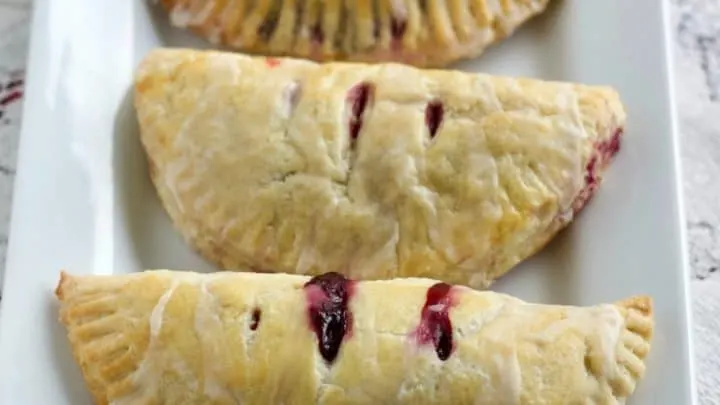 Yield:

16 hand pies
Sourdough Hand Pies with Blackberry Filling
Total Time:
1 hour
20 minutes
A flavorful glazed crust surrounds a thick rich blackberry filling. These pies make a sturdy treat you can easily eat in your hand without drips or crumbles. Great for lunchbox treats, dessert and breakfast on the go.
Ingredients
Crust:
Blackberry Filling:
4 cups fresh washed blackberries
1/4 Cup water
1 cup sugar
1 tablespoons cornstarch mixed with 2 tablespoons water
Glaze:
1 Cup Powdered sugar
1 tablespoon Vanilla
2 Tablespoons Heavy Cream
Water to thin
Instructions
Filling:
Put the blackberries, water and sugar into a 2 quart pot. Stir often. Bring to a boil.
While the blackberries are heating put the cornstarch in a small cup and add 2 tablespoons water. mix well.
Add the cornstarch to the berries and stir until thickened.
Remove from heat and set in the fridge or freezer to cool and thicken. At least an hour.
Crust:
Roll out chilled pie crust dough into a large rectangle about 1/8 inch thick.
Invert a six inch bowl onto dough (Or use whatever 6 inch circle cutter you have) and cut the dough into round six inch circles.
reroll the dough and continue step 2 until you have 8 circles. (enough to fill one baking sheet.)
Assembly Instructions:
Make an egg wash by whisking one egg with two Tablespoons water.
With a basting brush, brush the egg wash around the outer perimeter of the sourdough circle.
Place two Tablespoons (approximately) into the center of the dough circle.
Stretch the dough slightly and pull it gently over the filling to meet the opposite edge until a half circle is formed.
Crimp the edge of the dough with a fork.
Place each hand pie on your parchment or silicone mat lined baking sheet.
Brush the egg wash over the pies.
Score each Hand pie for venting.

Baking Instructions:

Bake in preheated oven at 400 Degrees F for 20 minutes.
Repeat assembly process for Second baking sheet while the first one bakes:
Cooling and Glazing:

Remove the baked hand pies from heat to cooling rack.
Cool to warm (about 75 degrees F) while making glaze.
Glaze:
Whisk together powdered sugar, vanilla and heavy cream.
Thin the glaze with water (or milk) until the glaze easily falls in a stream off your spoon.
Glaze the cooled hand pies by drizzling the glaze off your spoon onto the slightly warm pies.
Let the hand pie set until the filling is thick and the glaze hardens.
Notes
Some the of the success of these pies is personal to you. If you want a really well set up filling increase the cornstarch a little. (a teaspoon or so)
For the best results on the glaze allow the hand pies to cool until SLIGHTLY warm. That way the glaze will melt over them as they cool completely but will not run off the pies.
Nutrition Information
Yield
16
Serving Size
1 hand pie
Amount Per Serving
Calories

125
Total Fat

2g
Saturated Fat

1g
Trans Fat

0g
Unsaturated Fat

1g
Cholesterol

2mg
Sodium

42mg
Carbohydrates

27g
Fiber

1g
Sugar

22g
Protein

1g
The nutrition here is for the filling and glaze and any generic pie crust. It is not accurate since amounts and calories will change depending on which pie crust you choose.
Follow Us:
We enjoy meeting you on our social networks. Follow us on Facebook, Pinterest, Instagram . Tag us with your pictures of our recipes and comment on how it went for you. We would love to see what you do with them.
We often like, comment and share your posts of our recipes on our daily Instagram stories.
Ask questions and rate the recipe in the comments section below. Please share what you did with this recipe. We are always looking for more and better ways to make homemade food. Other cooks love your ideas!
Recent Posts: