This Coconut Oil Pie Crust is an easy vegan pie crust recipe. This Coconut oil Pie crust recipe is flaky and flavorful.
Bonus. Your kitchen won't look like a bomb exploded when you're done. The flour stays in the bowl. Not on your counter and floors.
This post is full of great tips and a very helpful method to make this crust even simpler. I have made this pie crust for decades. It's reliable and easy.
And ALWAYS tasty. Even kids can make this pie crust with little trouble and not much guidance.
My eleven year old granddaughter Aliyah recently made our Caramel Apple Pie all by herself for a school project with this crust. Proud Grandma here!
Coconut oil pie crust is easy to lattice as I did on my Blueberry Lime Pie. It's a durable stretchy dough so it tolerates the various motions required for a good lattice top.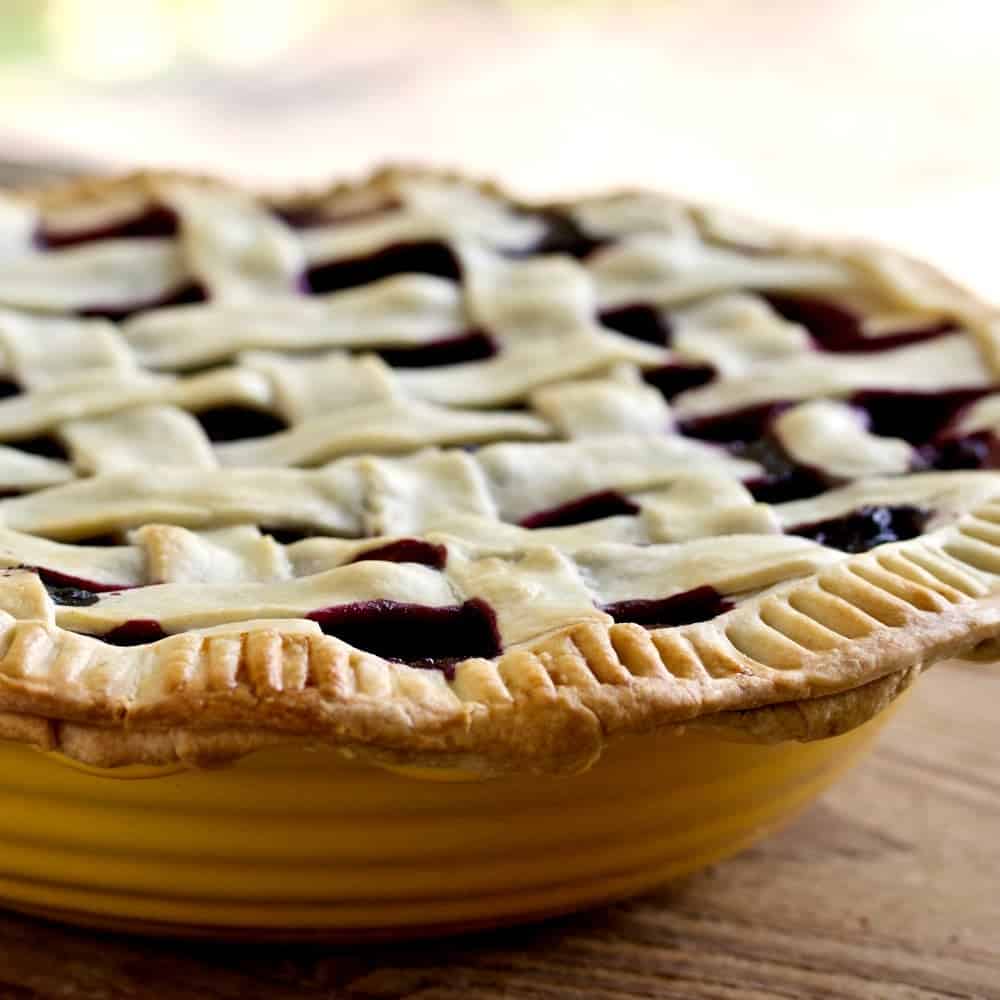 How To Make this Vegan Pie Crust:
NOTE:This pie crust is VERY different from a butter crust.
Tips:
You make a coconut oil pie crust at room temperature.
The coconut oil MUST be melted and even the water temperature is just tepid. You don't want them actually hot. Room temp is perfect.
If you are making this in a VERY hot kitchen you may want to use cold water and get the coconut oil to just semisolid and not fully melted for best handling.
Make the Dough:
Whisk the salt into the flour
Pour in the coconut oil and whisk it until the flour gets crumbly
Mix the water into the flour mixture until a dough forms that holds together but is not too gummy.
TIP: The water you need will change depending on your humidity, type of flour and other things. You may need 4 Tablespoons or triple that amount so start with a little and work the dough until you get it to a workable state.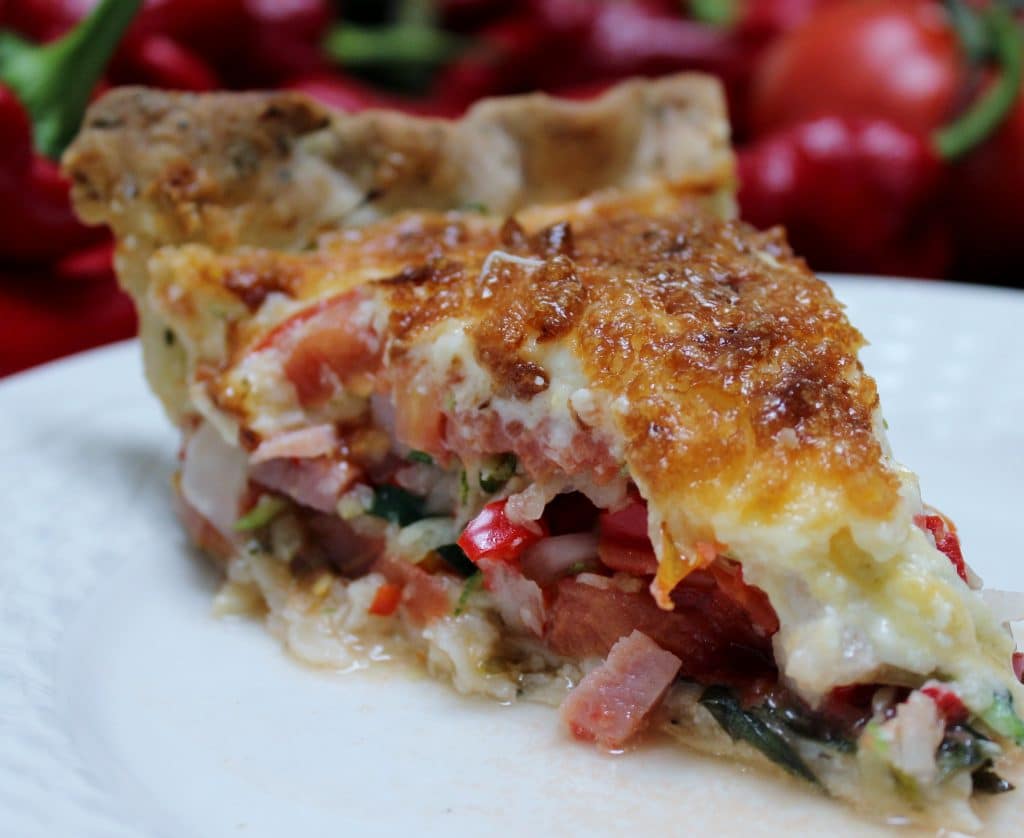 To Roll Out the Coconut Oil Pie Crust Easily:
Cut the dough into half and make two, same sized, balls of dough. Take one ball of dough and place it in the middle of the oiled parchment.
Flatten the dough into round shape with your hands before putting on a sheet of lightly oiled parchment.
Place the top oiled parchment on the flattened circle and then roll it out.
Tip: Catch the edges of the parchment between your hip and the counter to give you some leverage when rolling if necessary.
Roll the dough thin, and then turn the parchment and roll in a circular motion until it's 2 inches larger than the pie plate, in a nice, even circle.
Now…
Remove the top layer of parchment paper.
Put your hand under the bottom parchment and invert into your other hand. Carefully place the crust into the pie plate so it is centered.
Flute the edge, pierce the dough several times with a fork and place a pie weight on the bottom of the crust to prevent the crust bubbly up when baked. I used tinfoil in the bottom of the pie with pinto beans on top.
Bake at 425 degrees F for 10 minutes.
Lower oven temperature to 350 degrees F and bake another 25 minutes, or until lightly brown.
To Build a Two Crust Pie:
Pour the pie filling onto the bottom crust.
Make your top crust as above.
Place top crust over the filling and flute the edges
Make several small slits in the top crust
Whisk an egg white with a bit of water and brush it lightly on the top crust (for vegan use water for brushing)
Sprinkle sugar onto the top crust
*How to flute the pie crust edge:
Fold the top crust over the bottom crust and tuck it under.
Pinch, with a slight twisting motion the pie dough between your thumbs and forefingers in opposing directions. This is easy, but confusing at first. Keep trying!
Move to the next section of dough and repeat this action around the pie.
The idea of fluting is to seal the pie edge. It doesn't have to be perfect, or even fluted, just sealed. Fluting is a pretty way to do that. Flute or crimp the pie edge and brush with a slightly beaten egg white. Sprinkle sugar lightly over the top.
Put some slits in the top and It's ready to bake.
At this point you can do an egg wash and sprinkle the top with large grind sugar if you want.
Bake at 425 degrees F for 10 minutes.
Lower oven temperature to 350 degrees F and bake another 25 to 30 minutes, or until juice is bubbling through the slits and that gorgeous top crust is slightly browned.
Remove from oven to cool on a rack.
Serve as directed.
Recipe Yield: One Regular depth Double Coconut Oil Pie Crust-8 servings
Your Printable Recipe Card: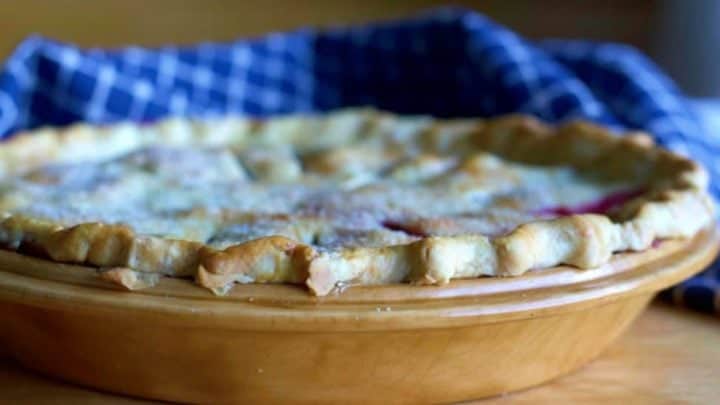 Yield:

one double crust
Simple Coconut Oil Pie Crust Recipe
A wonderful pie crust made with coconut oil. This is so easy to do, vegan and almost mess free in the kitchen.
Ingredients
2 1/2 Cups flour
1/4 tsp. salt
1/2 Cup melted coconut oil
6 tablespoons water adjust to your need
1 medium egg white slightly whisked (to brush on the finished pie crust)
Instructions
Stir salt into flour well.
Add coconut oil and stir with a fork until the flour forms into tiny, pea sized balls.
Add water a little at a time...
Stir until moistened and forms a ball of dough when squeezed gently.
Divide in half to make 2 dough balls. One for the bottom pie crusts, one for the top. Form each half into a ball.
Roll out one ball for the bottom crust *see note for tip.
Lay the rolled pie dough into a regular depth 9 inch pie pan. Adjust the dough so it evenly covers the plate with over hang of about a 1/2 all around.
Fill the pie plate with desired filling.
Roll the second ball of dough flat for the top crust.
Arrange evenly over the pie filling. Cut excess overhang. The top crust needs to be a little longer all around than the bottom crust when trimmed.
Crimp the top and bottom pie crusts together.
OPTIONAL TOPPING: whisk an egg white with a tiny bit of water and brush it on the pie crust. Sprinkle sugar over the wet pie crust. This adds a bit of shine and a touch of sweet to the pie top.
Bake as directed.
Notes
For easy handling and rolling out dough for the pie crust: roll it between 2 pieces of oiled parchment paper.
I have worked with saran wrap in the past and it works as well. But I prefer this because it's more supportive of the dough as I maneuver it and peel off the dough. Dough comes off the parchment easily and the dough won't stick!
To protect the pie from darkening more than desired. Bake to desired brown. Now press foil gently around the pie edge or use pie shields.
Recommended Products
As an Amazon Associate and member of other affiliate programs, I earn from qualifying purchases.
Nutrition Information
Yield
8
Serving Size
one double crust pie slice
Amount Per Serving
Calories

236
Total Fat

0g
Saturated Fat

0g
Trans Fat

0g
Unsaturated Fat

0g
Cholesterol

0mg
Sodium

0mg
Carbohydrates

0g
Fiber

0g
Sugar

0g
Protein

0g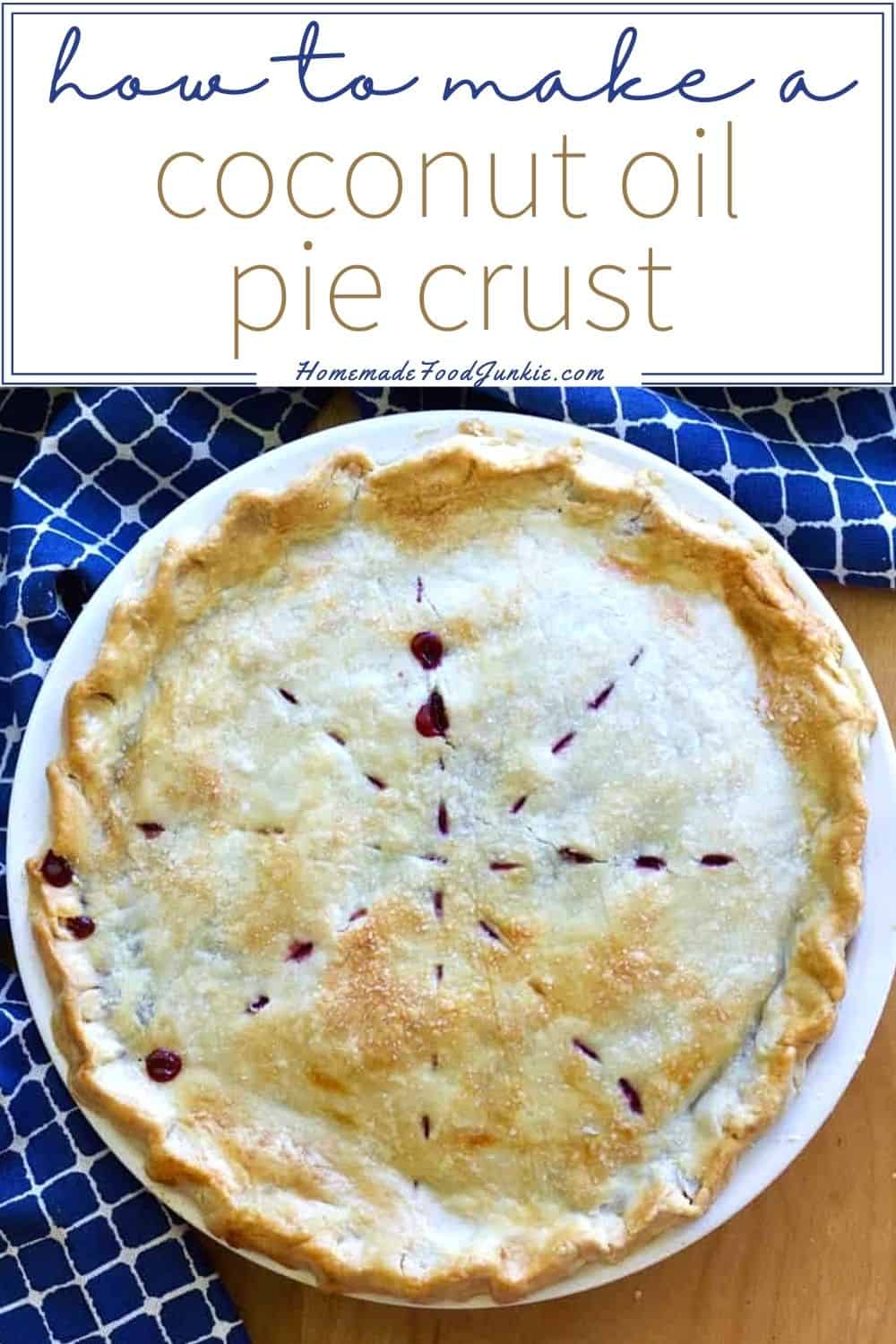 Pin it: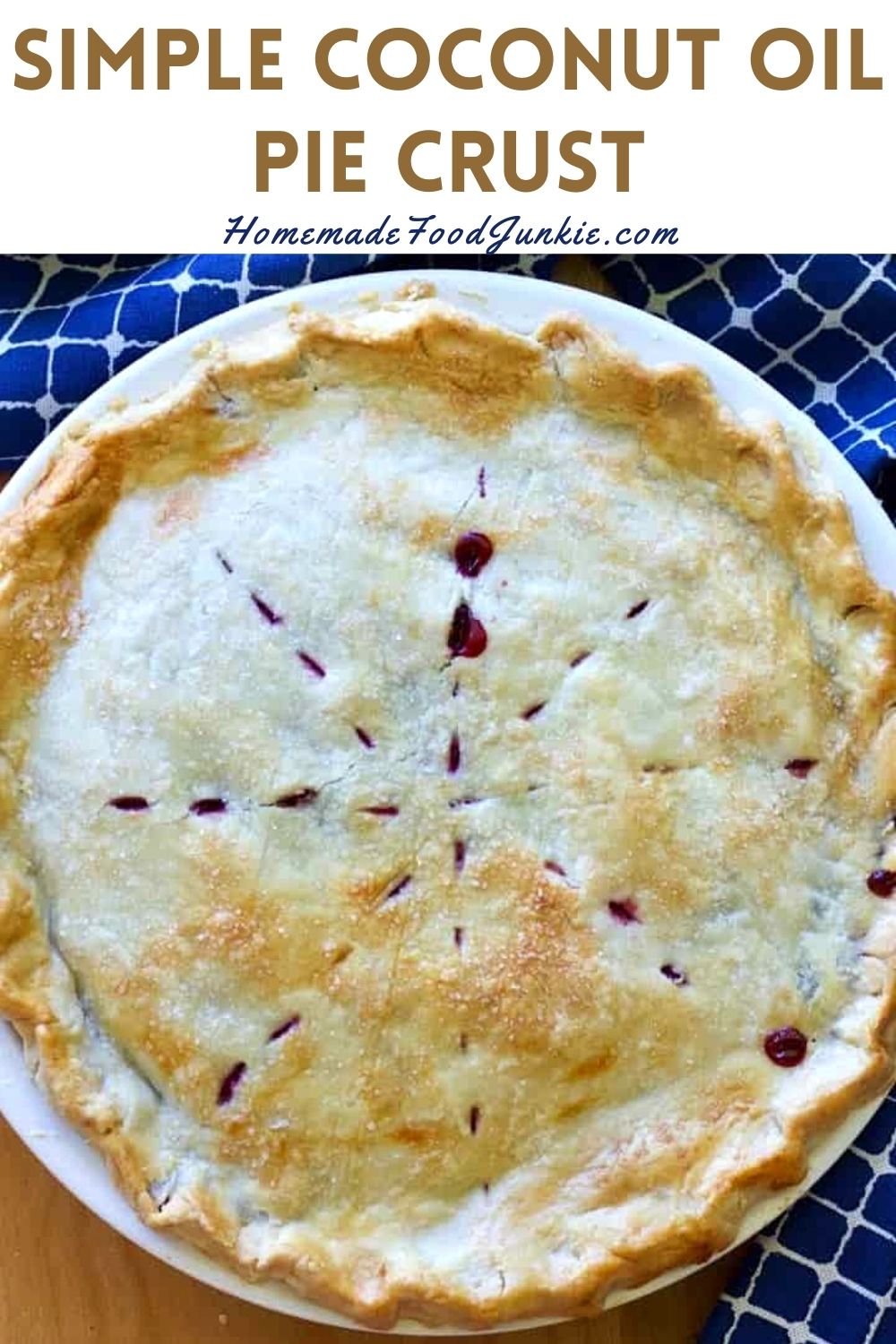 Pie crust-adapted from: Avon Church cookbook of the century 1983 Edition. Contributor Hannah Brandstrom