This is a Cheesy Chicken Alfredo lasagna recipe made with fresh Italian herbs and an excellent homemade Alfredo sauce.
It's delicious as a casserole in your oven. Slow Cooker instructions are also included for busy days. We enjoy it both ways and think you will too.
Slow cooking this meal works great for both the slow cooker. Your house will smell wonderful all day long.
Or you can have it on the table in an hour or so if you use our oven method with no cook lasagna noodles.
This recipe is a pleasing chicken Alfredo version of classic lasagna with ground beef and red sauce.
Chicken lasagna is a delicious family meal. Add the homemade Alfredo sauce and fresh herbs to really make this crockpot dinner a favorite.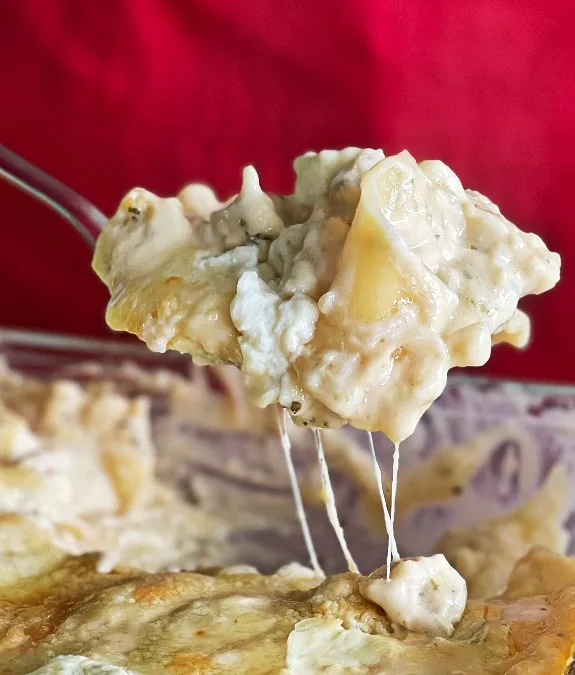 My favorite lasagna recipe IN THE WORLD is my mommas 5 Cheese Lasagna. But it literally takes all day. It is worth it. But when you don't have a day….
Chicken Alfredo Lasagna Recipe Notes:
This chicken recipe requires a bit of prep but it's so worth it. Cook your boneless skinless chicken breasts in a skillet (or in your multi cooker to save you a dish) while you make the sauce. That will keep the prep time down to about 20 minutes.
Once the prep is done just cover and cook it all day in your favorite slow cooker. Your home will smell delicious
Substitutions and Variations:
The sauce, spices, herbs and cheese are what makes this recipe so good. Homemade food is all about what you prefer. But here are some suggestions for substitutions if you want to skip a trip to the store.
You can also make this recipe quite a bit easier with bottled sauce and rotisserie chicken. It will still be yummy.
Shredded Monterey Jack can be used to replace the Mozzarella cheese.
Cottage cheese can be subbed in for the Ricotta
Use dried herbs or fresh . (add an extra teaspoon or so if using dried).
Rotisserie chicken can replace the raw chicken breasts.
Jarred Alfredo can be used in place of the homemade sauce.
Lower Carb Chicken Lasagna:
To make this Crockpot Chicken recipe MUCH lower in carbs:
layer in thinly sliced Zucchini instead of the lasagna noodles. Zucchini tastes really great in lasagna as a noodle substitute.
But Zucchini is not a noodle and will not absorb any liquid. So you will need to reduce the liquids in half to avoid a loose messy result.
Our white sauce is not low carb. However, Low Carb Yum Blog has a low carb alfredo sauce recipe if you REALLY want those carbs lowered.
NOTE: If you would rather buy your sauce than make it.
Buy a 32 ounce jar of Alfredo sauce to make this recipe with pasta.
FOR LOW CARB: Many brands Like Bertolli have low carb alfredo sauces.
You will need less sauce for zucchini noodles so a 16 oz. jar will work.
Your Printable Recipe Card: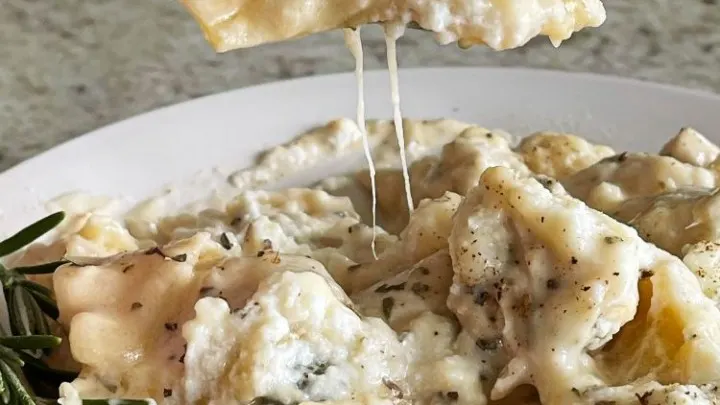 Yield:

10 servings
Chicken Alfredo Lasagna
Additional Time:
10 minutes
Total Time:
1 hour
15 minutes
Cheesy chicken Alfredo lasagna is made with Italian herbs and a wonderful homemade Alfredo sauce. Simmered in your crock pot or baked in a casserole. Winner chicken dinner.
Ingredients
THE CHICKEN:
4 cups chicken breasts cut into one inch cubes (or four cups rotisserie chicken)
1 Tablespoon parsley
2 Tablespoons rosemary (minced)
2 Tablespoons of garlic
1 Cup yellow onion (diced)
HOMEMADE ALFREDO SAUCE INGREDIENTS : (or use 32 oz jar of Store bought Alfredo sauce)
1/2 Cup butter
1/4 Cup white flour
3 Cups milk
1 Cup chicken broth (from the skillet)
1 Cup Parmesan cheese
1 Tablespoon Italian seasoning
1 Tablespoon garlic (minced)
REMAINING INGREDIENTS:
2 Cups shredded mozzarella cheese
2 Cups ricotta cheese (or cottage cheese)
1 Cup Parmesan Cheese
10 lasagna noodles depending on your crock pot size (Or an equal amount of thinly sliced zucchini FOR LOW CARB)
2 Tablespoons olive oil
Instructions
Instructions for chicken:
Sauté onions and garlic in the oil . Add the chicken pieces.
Add the seasonings and turn it to medium low.
Cover and cook until the chicken is thoroughly cooked.
Roughly shred the chicken into small pieces with your spatula as it cooks, stirring occasionally. (If using rotisserie chicken just stir it around and get it warmed as the vegetables cook. Then remove from heat.
About 10 minutes.
Make your white sauce while the chicken is simmering:
in a separate 2 quart saucepan melt butter on low with garlic and seasonings.
Stir it until well blended.
Add the flour and whisk it on medium high until the flour-butter mixture bubbles gently and thickens.
While whisking it continuously, Add the milk 1 cup at a time and cook until it thickens and then add the Parmesan. It will continue to thicken.
At this point, keep adding milk until it develops the sauce consistency you want, whisking constantly, OR, use the chicken broth in the bottom of the frying pan, for the last one cup of liquid, to give it a bit more flavor.

LAYERING THE LASAGNA:
Oil your baking dish or slow cooker.
Layer lasagna noodles into the bottom of your crock pot or casserole dish. breaking them to fit approximately.
Add half of the sauce),
Layer on HALF the mozzarella, parmesan and ricotta cheeses.
Repeat this layer once more
On the top of the last layer of cheese sprinkle the Parmesan to taste.

Slow Cooker Cooking Instructions:
Set the slow cooker on low for 5 to 6 hours.
OVEN BAKED CASSEROLE:

Preheat the oven to 350 degrees F.
Follow the instruction as listed but use a 9 x 13 baking dish.
Bake covered 40 minutes.
Remove cover and bake another 10 minutes to brown the top.
Let sit 15 minutes to set. Serve.

Notes
LOW CARB VERSION:
Substitute Thinly sliced zucchini for the lasagna noodles.
Reduce the alfredo sauce amount by up to 1/2 to thicken this recipe. Zucchini will not absorb the sauce and it itself juicy(depending on the zucchini) so watch the liquids.
Use a store bought low carb alfredo sauce if you prefer an even lower carb count.
Nutrition Information
Yield
10
Serving Size
1
Amount Per Serving
Calories

559
Total Fat

29g
Saturated Fat

15g
Trans Fat

1g
Unsaturated Fat

11g
Cholesterol

122mg
Sodium

775mg
Carbohydrates

34g
Fiber

2g
Sugar

2g
Protein

40g