Zucchini Casserole. It's Zucchini time again! Zucchini tomato casserole is one of our favorite summertime meals. It's  light, filling and fast to make! Easily adjust this recipe to vegetarian by removing the bacon. Enjoy  making the fresh vegetables mixed with parmesan and bacon into a delicious, new, family favorite! This casserole is reminiscent of a quiche, but made without a crust, in a pie plate or casserole.
My Grandma Cash shared this recipe decades ago when I needed some fresh ideas for our over abundant zucchini crop .  She was an avid gardener. Grandma's  cookbook was ever increasing with recipes her friends gave her, or she found in a magazine.
She took me with her to visit those friends sometimes and to see their gardens. She taught me that gardening is about community, sharing and bonding. This is the time of year your gardener friends will be looking to share their produce overloads, like zucchini!
Just remember, always say yes! Zucchini  bakes up wonderfully in recipes and  freezes really well.
I may have one or two recipes for this delicious squash you haven't tried.  Savory Zucchini Tart, Vegetarian Italian Stuffed Zucchini, zucchini fries; and zucchini pineapple bread are all very good recipes and use up your overload of zucchini. You may need tips on freezing zucchini as well!  Putting zucchini into your freezer ensures delicious quick breads and Zucchini cakes all through the year.
And for all we love it, Zucchini is straining it's welcome here at our house.
Yes, We are having an excellent gardening year and the zucchini is reproducing at speed supersonica!  I have several new recipes for this amazingly prolific vegetable this year; and some old favorites. We love them all. Zucchini is a chameleon. It tastes so good in savory and sweet recipes of all kinds.
Zucchini will give you many health benefits like these!
Zucchini is worth welcoming into your kitchen. It's cheap to grow, VERY versatile in recipes and healthy!
Organic facts  has lots to say about the outstanding health benefits of  zucchini. Zucchini is full of nutrients, and fiber. The folates in zucchini is highly recommended for pregnant women as well. And it's low in calories!
Try this recipe from my grandma.This is a tried and true family favorite for several decades now. It's a keeper!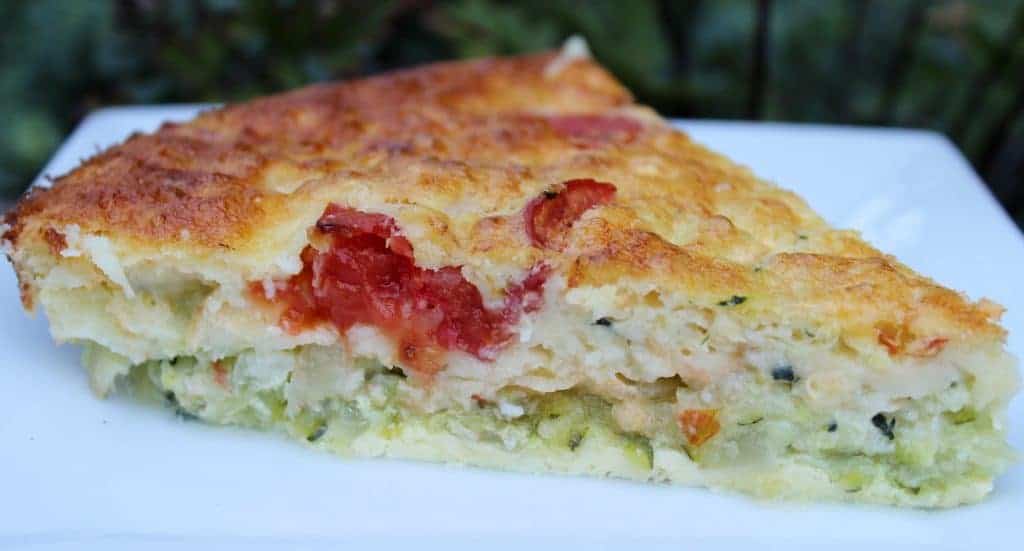 Zucchini Tomato Casserole:
Zucchini Tomato Casserole
Ingredients
2 Cups Chopped Zucchini
1 Cup chopped tomato
1/2 Cup diced onion
1/2 cup bacon crumbles(opt)
1/3 Cup grated Parmesan cheese
11/2 Cups milk
3/4 Cup Bisquick
3 eggs
1/4 tsp. salt
Instructions
Preheat oven to 400 degrees
Oil a 10 inch pie plate or 9 x 11 inch casserole
Sprinkle tomato, zucchini and onion onto the plate
Beat remaining ingredients in a mixing bowl until smooth.
Pour over fresh vegetables in the pie plate.
Bake 30 to 45 minutes until a knife come out of the middle clean
Cool 10 minutes and serve