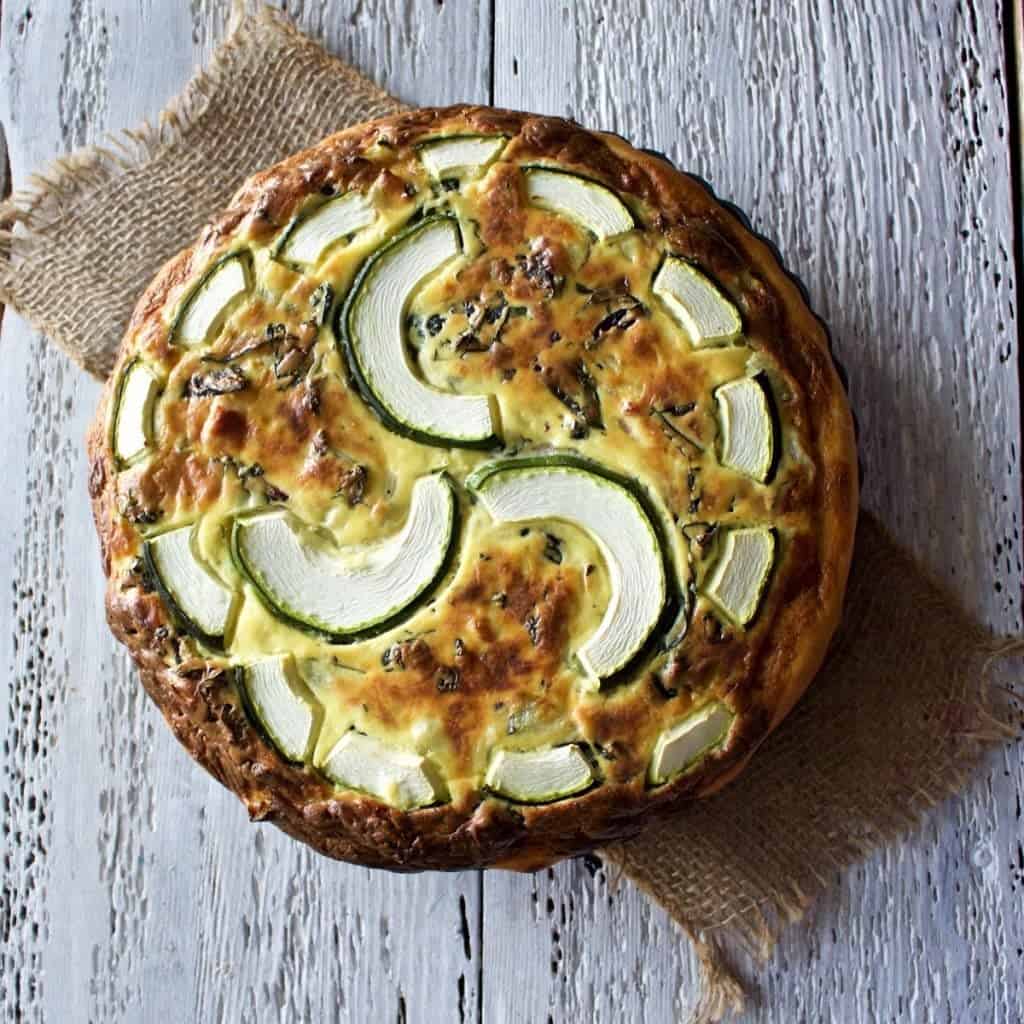 Savory Zucchini Tart is full of cheeses, greens and ham. This Tart provides all the food groups in every delicious bite. Make this for a complete, light dinner, or a special contribution for brunch or lunch.
I have been enjoying baking breads recently from my favorite bread recipe book, 'Baking Bread, Old and new Traditions , by Beth Hensperger'. I happen to have a LOT of ripe zucchini right now. This book has a delicious recipe for Torte d' Erbe, or Italian Green Tart that gives zucchini and leafy greens a prominent role, so of course, I had to make it!
Turns out this was a great choice for our dinner tonight. Dave is driving a LONG way to work right now (over an hour one way for the second week!) He had a flat way back up in the hills, and got home really late. This tart can be served warm or cold, and when made ahead, serves up in a minute to a tired husband that's had a tough day.
He enjoyed it. I felt satisfied that he had this special treat waiting for him (and Fresh Apple Cheesecake Bars for dessert!) and he didn't have to wait for dinner or eat something re-warmed.
This tart would also make a great lunchbox addition. Dave will get one of the mini tarts in his lunch tomorrow:)
Savory Zucchini Tart Recipe Notes:
Savory Zucchini Tart is a rustic tart made from a very old, Medieval recipe. The crust is a gorgeous soft yeasty pastry dough pressed into a 10 inch tart pan. ( I did not have a tart pan large enough so I made a couple of small 4 inch tarts as well). The filling is sautéed zucchini, leafy greens,(I used Tuscan kale from our garden), ham and lots of delicious cheeses!
I could just kick myself! I forgot to add in my peppers! I have a huge basket of lovely peppers staring at me accusingly as I write this. It you have fresh peppers, throw them in. I bet they would be great in this tart!
It's really not difficult to make this from scratch. It all goes together pretty easily. What I like to do is make things like this on the weekend and have them around for a quick slice of nutrition, throughout the week. Whack a hunk off and eat it like pizza, or saran wrap a piece to take with you. It travels well and can remain at room temperature a long time.
Let me know in the comments what you do with this delicious recipe. I'd love to hear from you!
Yield:

8 servings
Savory Zucchini Tart
Cook Time:
1 minute
15 seconds
Additional Time:
15 minutes
Total Time:
1 hour
16 minutes
15 seconds
Savory Zucchini Tart is full of cheeses, greens and ham. This Tart provides all the food groups in every delicious bite. Make this for a complete, light dinner, or a special contribution for brunch or lunch.
Ingredients
Yeasted Olive Oil Pastry
1 tsp. active dry yeast
1/4 tsp. sugar
1/3 Cup warm water (105 to 115 degrees F)
3 Tablespoons olive oil
1 egg
1/4 tsp. salt
1 1/2 Cup unbleached all purpose flour
Savory green Filling
3 Tablespoons olive oil
1/2 Cup yellow onion, minced
1 Cup ham, chopped
1/2 Cup diced Zucchini (or yellow summer squash)
2 Cups leafy greens (washed, stemmed and coarsely chopped)
1/4 tsp. black pepper
1/4 tsp. nutmeg
1/4 Cup basil leaves (I used home dried oregano)
1/4 Cup fresh chopped parsley
8 ounces cream cheese
1/2 Cup shredded Mozzarella
3 eggs
1/2 Cup heavy cream
1/4 Cup grated parmesan
Instructions
PASTRY:
whisk together lightly; the warm water, yeast and sugar. Let sit 10 minutes until foamy.
whisk in the olive oil, egg and salt.
Gradually beat in 11/2 Cups of flour to make a soft dough. about one minute.
Turn the dough out onto a board and knead a FEW times to make a soft, springy dough ball. (use a little flour to keep from sticking)
Place dough into a greased container and cover with plastic wrap. Let rise in a warm area until puffy, about an hour.
While dough is rising, make the filling:
Heat oil in a medium skillet and saute the onion, and zucchini until soft. Add the leafy greens and stir until just wilted. Drain any liquid. Stir in pepper and nutmeg.
Set aside to cool. Preheat oven to 375 degrees F.
In a separate bowl combine the cheeses, eggs and cream with the cooked filling ingredients. Set aside.
Roll out the dough onto a lightly floured surface to a 10 inch round.
Place the dough into a greased and cornmeal dusted tart pan.
spread the dough evenly over the bottom and up the sides of the pan.
Scrape the filling into the tart pan
BAKING INSTRUCTIONS:
bake for 35 to 40 minutes; until filling is set and golden brown.
Let cool 15 minutes before cutting.
Nutrition Information
Yield
8
Serving Size
1
Amount Per Serving
Calories

431
Total Fat

31g
Saturated Fat

13g
Trans Fat

0g
Unsaturated Fat

16g
Cholesterol

154mg
Sodium

490mg
Carbohydrates

24g
Fiber

2g
Sugar

3g
Protein

13g