Painting the red brick white on an old fireplace can make a STUNNING difference.
If you have a brick fireplace that needs refurbishing painting it might be just the thing to bring it into the modern age and make it beautiful!
We completed this fireplace overhaul three years ago.
We are STILL delighted with it. The best part is, we did it right. This paint job has stood the test of time. The paint did not flake or peel. The fireplace paint still looks lovely.
Watch our This is our Home YouTube Channel to see our current enormous remodel. It's transforming our whole house (including a complete basement transformation) into a wonderful family home we just love!
Welcome back to Our fireplace overhaul series (go here to get started) that shows all the ways we updated this ole brick fireplace. This post shows how we did the prep and painted our fireplace.
Our fireplace overhaul is moving forward and we love it.
You can read about our back story and the first step we did in our fireplace overhaul by clicking here.
If you have an old brick fireplace that has decent brick and it's still holding together well, PAINT IT. Just look at ours to see what a HUGE transformation a bit of paint can make on a well prepped fireplace.
Don't like white? Paint it whatever color you like. But BE careful about the quality of paint you choose. AND proper prep of the brick is important. Otherwise you may have flaking or peeling paint in the future.
HOW WE PAINTED OUR BRICK FIREPLACE:
Fireplace Overhaul materials list :
Valspar Aspire Pure White Eggshell Paint
Duct Tape (for masking off carpet)
2 1/2 Inch Purdy paint brush
1/2 Inch brush (for smaller spaces)
Roller with a thick matte (long and thick fibers)
Bucket filled with water and a few drops of dawn dish soap
Scrub brush
Paint Scraper (for masking with duct tape)
THE STEPS:
Masking off
Washing the fireplace
Paint!
The details:
One of the most important steps when you are painting in a living room full or beautiful carpet is to properly mask off the area.
My Dad is a professional drywall contractor so I always go to him when I need extra tips on how to get the job done right. He suggested we use a paint scraper to push duct tape down to protect the edge of the carpet nap. This is what that step looks like…
The next step is to wash all of the brick really well. This is very difficult if you have a sooty fireplace that has been used for over 60 years! there was a lot of scrubbing involved to get this baby clean enough to paint!
This is what we had to work with…that old fireplace was filled with soot and ash and a nasty old metal wood holder that was rusted beyond belief. That old purple candle was also something I found buried in the ash, wonder how long that's been in there!
The next step is the fun part. Paint away. I HIGHLY RECOMMEND the best paint you can find for this project so it holds up. We used Valspar paint.
I love this paint. My friends who are into doing home projects told me about it and I agree with them. It is the BEST.
I did not have to prime the fireplace at all. This was done in one coat and I love the results!! I found the paint at Ace Hardware.
We took two afternoons to paint our fireplace, we could have done it in one but we have a teething nine month old baby that likes to crawl in the paint so we are always chasing her around.
We love our fireplace so much now! The next step is creating the mantle and and building a wooden hearth for the bottom of the fireplace. Can't wait.
This is now a fireplace that fits better in our lovely plastered living room. Painting it white lifted the whole room into a lighter, beautiful center for our home.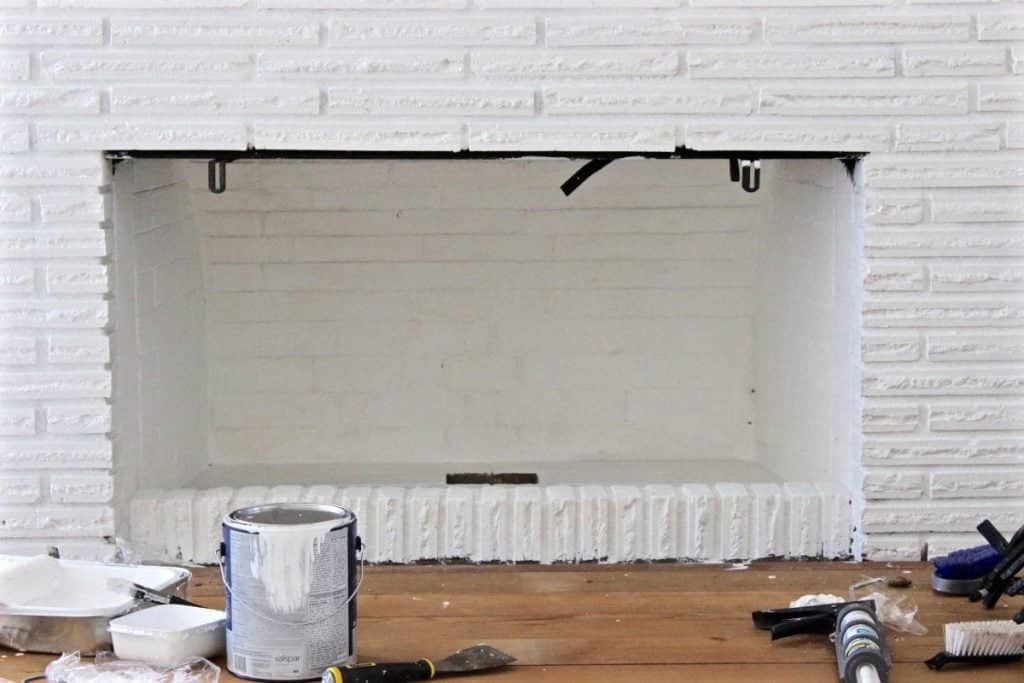 Follow Us:
We enjoy meeting you on our social networks. Follow us on Facebook, Pinterest, Instagram . Tag us with your pictures of our recipes and comment on how it went for you. We would love to see what you do with them.
We often like, comment and share your posts of our recipes on our daily Instagram stories.
Ask questions and rate the recipe in the comments section below. Please share what you did with this recipe. We are always looking for more and better ways to make homemade food. Other cooks love your ideas!
Recent Posts:
Pin it: