Our Homemade Coconut Oil Baking Mix is easy to make and use for all of your basic baking needs. Coconut oil, aluminum-free baking powder, sea salt, and organic all purpose flour make this recipe a kitchen staple you will want to have on hand.
By making your own baking mix you control exactly what goes into it, and you are able to avoid extra added ingredients like sugar and low quality cooking oils. This is the perfect replacement for bisquick mixes and has a shelf life of up to 6 months when stored properly.
Your search has ended for a healthy homemade baking mix. The convenience of just pulling out a box and whipping up a quick batch of something is possible with this healthy, homemade mix.
Homemade Coconut Oil Baking Mix works great and makes baking healthier simple and convenient.
Make a gift for your friends and family!
This mix is one of those thoughtful, personal gifts you can easily share as a holiday gift, thank you gift, or house warming gift. Introduce your friends and family to the wonders of coconut oil.
Homemade Coconut Oil Baking Mix is shelf stable. This mix works as a one to one substitute for bisquick and provides a much healthier baking option. Use organic flours, coconut oil, and aluminum free baking powder to bring this mix up to its highest health potential.
What is in Bisquick?
When Bisquick made its debut on our grocery shelves many cooks all over America were instant fans. That magical mix made baking biscuits and other recipes simpler, easier, and quick. But that doesn't mean it's the best for your health.
That box of instant mix is full of trans fats, preservatives, sugar and aluminum phosphate. When you look closer you find a long list of low quality fillers, processed sugar and low quality oils. Below we are sharing some of the worst offenders from the bisquick label.
Bleached wheat flour (enriched with niacin, iron, thiamine mononitrate, riboflavin, and folic acid)
Corn starch
Dextrose
Partially hydrogenated soybean and/or cottonseed oil, leavening (baking soda, sodium aluminum phosphate, monocalcium phosphate)
Canola oil
Salt
Sugar
DATEM, and distilled monoglycerides.
The aluminum Phosphate is linked to all kinds of neurological problems, including Alzheimer's. Food science researchers continue to condemn processed foods, so it is a great idea to remove them from your diet.
We made Quick and Easy Jam Scones to try this mix out and they became a favorite in our family. The results were fluffy and flavorful scones that delivered healthier fats and slower digesting ingredients that are satisfying and sustaining.
Healthy Homemade Coconut Oil Baking Mix Recipe
Coconut oil is a favorite in our family, we use it for cooking, baking and even skin care. It's rich in healthy properties, digestible fats and a dependable shelf life.
Coconut oil is the perfect oil for this baking mix. No need to refrigerate, you can choose either organic refined or organic unrefined coconut oil for this recipe. Refined organic coconut oil is still healthy and has no coconut oil taste which some folks prefer.
Use any organic flour you desire. We use organic all purpose flour.
You can use gluten-free flour blends to make this healthy baking mix gluten free. My friend used Namaste GF organic perfect flour blend. Natalie made the mix with her gluten free blend, she then made these quick scones with craisins and coconut yogurt.
Remember to use an aluminum free baking powder to avoid toxic aluminum phosphate in your diet
How do I make a Homemade Baking Mix?
Making your own Homemade Baking Mix is simple and a very quick process that combines flour, aluminum free baking powder, coconut oil and sea salt. Blend the ingredients together in your food processor or by hand with a pastry blender. Use it to make scones, pancakes, biscuits, cornbread and more.
Mix these few ingredients up to a fine consistency.
Pour the baking mix into an airtight container.
Store it in your pantry at room temperature for up to 6 months.
Is Baking Mix the same as Pancake Mix?
A basic Baking Mix is not exactly the same as a ready-made pancake or waffle mix. Baking mixes have little to no sugar so that they can be used for savory recipes. You can absolutely use them as a base for sweeter baked recipes, you will just need to add some sugar, or another sweetener of your choice, in the mixing process.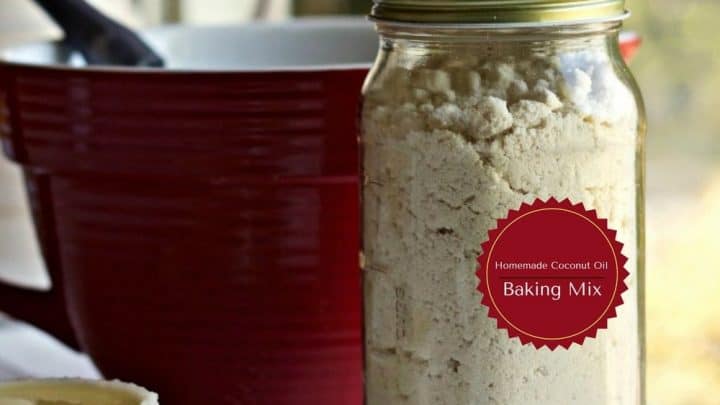 Yield:

4 Cups baking mix
Homemade Coconut Oil Baking Mix
Homemade Coconut Oil Baking Mix is Low-Sugar, Vegan, Vegetarian, and Dairy-Free. Cooking healthy recipes from scratch just got easier. Coconut oil, aluminum-free baking powder, sea salt, and organic all purpose flour make it easy to whip up a quick batch of healthier baked goods. This mix store well at room temperature for up to 6 months.
Ingredients
4 Cups organic flour
2 tsp. sea salt
2 Tablespoons baking powder ( I recommend a brand WITHOUT Aluminum phosphate like Rumford)
2/3 Cup coconut oil-room temperature
Instructions
Whisk the dry ingredients together into a large bowl. OR measure the dry ingredients into a food processor and pulse once or twice.
Add the melted coconut oil and whisk together OR pour the coconut oil into your food processor work bowl and pulse until its thoroughly blended.
Pour into an airtight container and store at room temperature for up to six months.
Nutrition Information
Yield
16
Serving Size
1 cup servings
Amount Per Serving
Calories

196
Total Fat

9g
Saturated Fat

8g
Trans Fat

0g
Unsaturated Fat

1g
Cholesterol

0mg
Sodium

474mg
Carbohydrates

24g
Fiber

1g
Sugar

0g
Protein

3g
Follow Us:
We enjoy meeting you on our social networks. Follow us on Facebook, Pinterest, Instagram . Tag us with your pictures of our recipes and comment on how it went for you. We would love to see what you do with them.
We often like, comment and share your posts of our recipes on our daily Instagram stories.
Ask questions and rate the recipe in the comments section below. Please share what you did with this recipe. We are always looking for more and better ways to make homemade food. Other cooks love your ideas!
Recent Posts: