A hearty breakfast for busy, calorie consuming days outdoors or a quick dinner, or even lunch! We love this Balanced, High-​Fiber, Low-​Sodium, Dairy-​Free, Gluten-​Free, light meal.
Welcome to a favorite breakfast , lunch or dinner at our house. We love breakfast for dinner and we always have fresh eggs to use up. Potato Sausage Stir-Fry, is One of my best quick skillet dinners. An especially nice meal for summer. No heating the oven and it's done in under 30 minutes! Out of eggs? Try my Savory Waffles and Gravy!
Today's version of fried potatoes is scaled down for breakfast. My hubby loves fried potatoes and eggs over easy, so I'm making him this recipe for a hearty start to his busy day out in the garden.
I'm adding sausage into the frying pan because I have some that needs using and it's so good with fried potatoes! You can also use ham or bacon if you have some handy. I recommend frying bacon separately, to get it crispy, and pat it dry to tone down the fat calories a bit. Although, bacon fat is a completely awesome extra flavor for the potatoes. You could eliminate the coconut oil and fry the bacon in the big skillet. Then add the fried potatoes in if you want to use the bacon fat. Fat calories should be about the same…just saying. This is a versatile recipe. Make it your own!
We have fresh strawberries right now so they are part of breakfast. Any fresh fruit can make a nice garnish and accompaniment to this meal. If you're a salsa fan, go for it! We chose to eat this plain today. It was fantastic all by itself!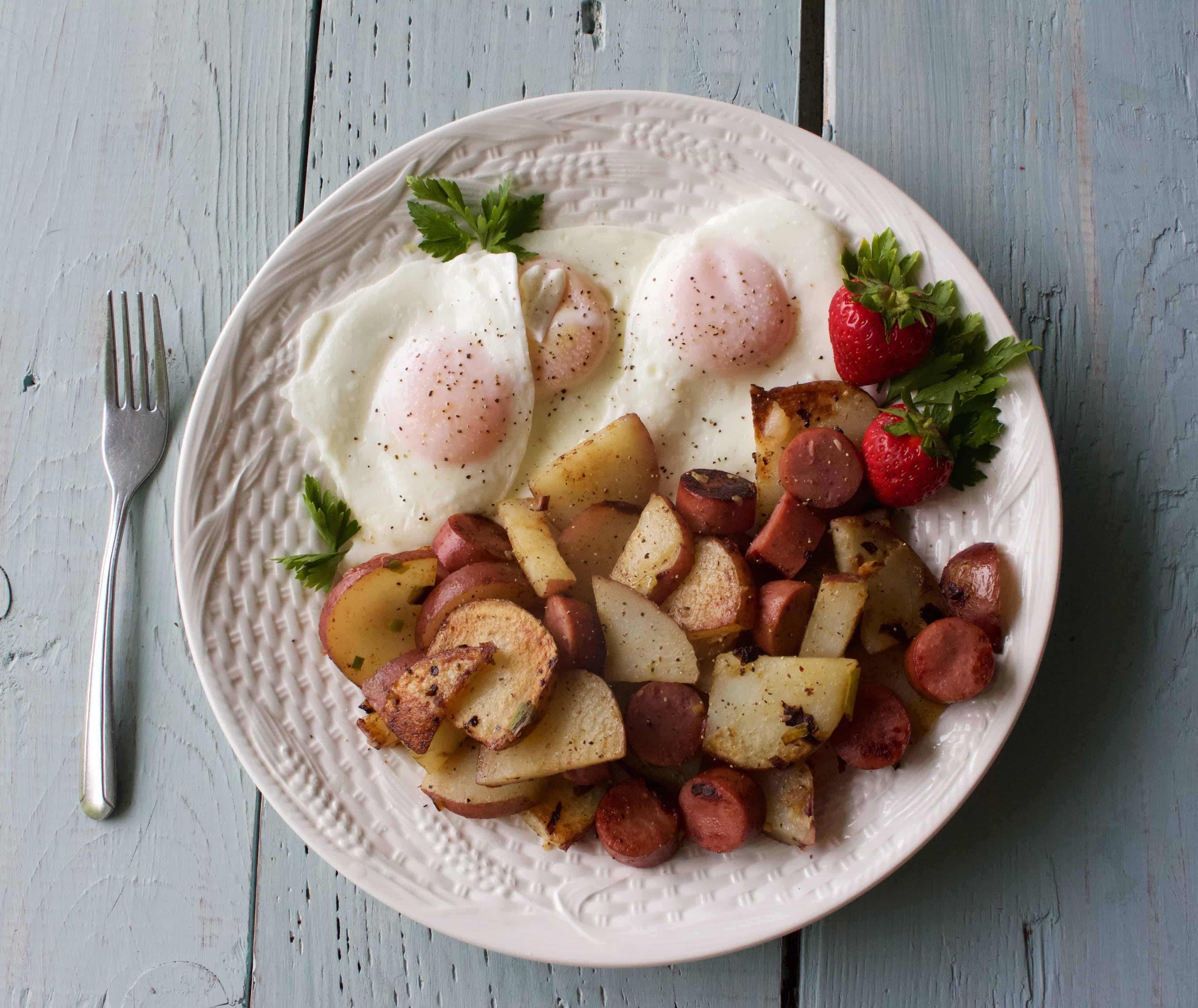 Ingredients
1 lb. red potatoes
2 Tablespoons coconut oil (or avocado oil)
6 garlic shallots,
Chicken Franks or sausage
sweet mesquite seasoning (available at Costco) or other smoky cajun seasoning should be good with this)
1 tsp. Red pepper flakes to taste
2 eggs
1 Tablespoon of water
salt and pepper to taste
cilantro and strawberries for garnish as desired
Instructions
Slice the potatoes into thin rounds.
Chop the shallots all the way up the stem. cut the sausage into 1/2 inch rounds.
In a large, shallow frying pan melt the oil on medium heat.
Add the potatoes, sweet mesquite, and cook, covered, 10 minutes until lightly browned. Add the garlic ,remaining seasonings, and sausage and cook until heated through, the garlic should be thoroughly wilted.
On a separate burner, place a medium frying pan over medium low heat and crack in two eggs. Add the water and cover until the egg top are just barely cooked.
Serve with the potatoes and eggs on a plate together. Season with hot sauce, slat and pepper as desired
garnish with strawberries and cilantro