Light, fluffy delicious and homemade from scratch! These KID APPROVED Greek yogurt pancakes will fill you up with good nutrients to get you off to an excellent start on your day!  Yummy! Use your imagination to load them up with your favorite toppings! Try fresh fruit or maple syrup.
I originally posted this recipe in 2014 when I was a baby blogger. It's an excellent recipe that needed a facelift so I reposted it. I just remade these and WOW! You really must give these a try. So Good!
My big breakfast menus always happen on weekends. I leisurely roll out of bed and down a few cups of coffee before tackling any recipe that requires more than pushing the button on my toaster. Today is Sunday, so I'm making pancakes from scratch. Just don't ask me what time it is.
These pancakes are amazing with Fresh raspberry sauce and homemade lemon curd topping to really dress them up.  Greek Yogurt Pancakes are also delicious with pure maple syrup, whipped cream and other yummy toppings and make a great special breakfast.
Step BACK from the horrible sugar water, artificial everything syrups. Don't ruin a good pancake. Buy a bag of Eggos if you're gonna go that direction. Homemade is worth the extra work. Amazing flavor, texture and some health with your carbs never hurts. 🙂
These pancakes are also Perfect for those early morning dynamo's that want to make breakfast for the family in the wee hours before work or school. My oldest daughter does that. I take my hat off to her and to you. By the time I get going it's definitely brunch!
Greek yogurt Pancakes . Even yogurt haters love these!
This  Greek yogurt pancake recipe is an excellent pancake recipe that is also pretty good for you.
I made this recipe with flax, yogurt and healthy fats. Choose either coconut oil or avocado oil and AVOID all processed oils. This is a filling delicious breakfast. I love these pancakes with pure sweet butter and maple syrup. You can top it with anything you like or nothing at all. I have eaten these cold as leftover finger food with a trace of sugar on top. Yum!
If you are looking for low carb pancakes, I found a REALLY good site that concentrates on healthy food and fitness called The Fit Blog. Christel has a recipe for Low Carb Cottage Cheese Pancakes! It looks so good. Go check out her site if you're into low carb healthy living. She can help you out!
For the rest of us…here's breakfast 🙂 This is a reliable recipe. It has a reputation in my family. A good one! I made these last week for three of my granddaughters. I have two out of three that steadfastly REFUSE to touch yogurt. They were not happy when they saw me add yogurt to the batter.
I wondered if they would eat a bite and politely decide they were not hungry. NOPE! All three girls wolfed down several of these beauties. I added a cup of frozen blueberries into the batter for them which they LOVED. That's a nice variation if your interested!
If you purchase items from our affiliate links we may receive a small commision at no extra charge to you. Thank you for supporting Homemade Food Junkie.
GREEK YOGURT PANCAKES RECIPE:
The ingredients list has some nutritional champs. Coconut oil, flax meal and Greek yogurt all combine perfectly to add healthy fats, fiber, and protein to your day. Try using my homemade Greek yogurt and add in some of the strained out Whey. Water will work just as well, but if you have whey…the lightness and flavor factor are improved.
You can see the light color of these pancakes and the tiny flecks of flax in the batter. The only trick to these pancakes is getting the right consistency. They tend to be a bit thick (If you are using very thick homemade yogurt like I do). They can be doughy in the middle if you don't thin them a bit. I wrote into the recipe one cup of water or whey because that's how much I needed to perfectly cook these. Feel free to adjust the liquid amount to whatever suits your family.
These pancakes are perfectly done. The middle is moist but not doughy. The pancakes are light and delicious. So Worth the little bit of extra work required to make these from scratch!
VARIATION: Add one cup of frozen or fresh blueberries.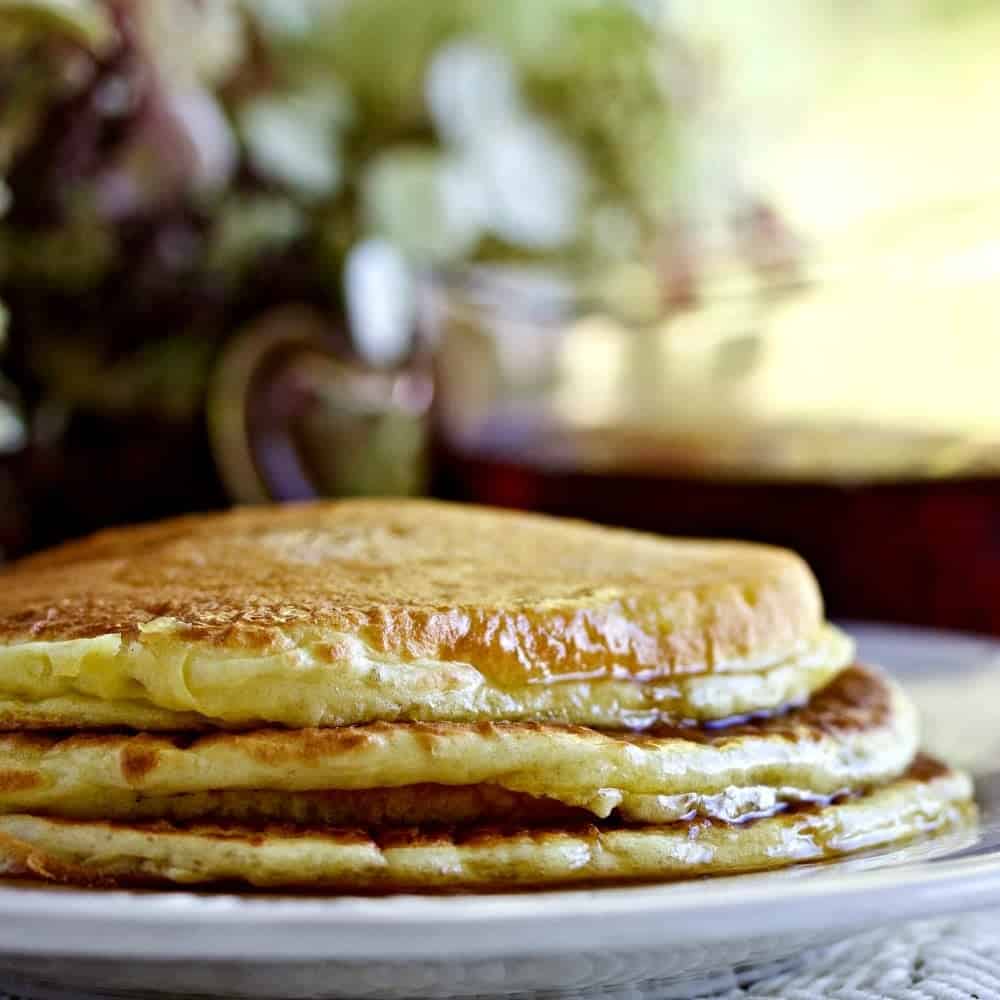 Ingredients
2 Cups all-purpose flour
3 tsp. baking powder
1/2 tsp. baking soda
1/2 tsp. salt
1/4 Cup flax
1 Tablespoon Sugar
3 eggs
1/2 c. melted coconut oil or avocado oil
1 Cup Greek yogurt
1 to 11/2 Cup water or whey
Instructions
Preheat griddle to medium heat
Whisk together dry ingredients in a large bowl.
In a medium sized bowl beat the eggs.
Add the melted coconut oil to the eggs and whisk together.
Add the remaining ingredients and whisk thoroughly
Combine the wet and dry ingredients, stirring well.
Adjust the consistency of the batter until it pours thickly or use a large spoon to put dollops on the griddle.
Pour by 1/4 cup fills onto the griddle. Turn when the top begins to bubble. Remove from the griddle when golden brown and done in the middle.
Pin it: