Fluffy and light, these Greek yogurt pancakes are made with no added sugars and have a beautifully rich depth of flavor that you will love.
Greek yogurt can be used in so many ways when you are baking and cooking. It makes a fantastic substitute for sour cream, increases protein in recipes such as smoothies or baked goods; and adds a rich, creamy element to sauces and sweet bakes.
We have lot's of tips and tricks in this post to help you make the fluffiest, tastiest pancakes ever. It is optional to use extra yogurt whey in place of water in this recipe, however, it is not required. We make our own Greek yogurt, and rather then discarding the whey we use it in recipes such as this.
If you do not have yogurt whey on hand no need to worry, all you need is a good quality Greek yogurt and you will have some seriously delicious, and actually pretty healthy, pancakes to enjoy.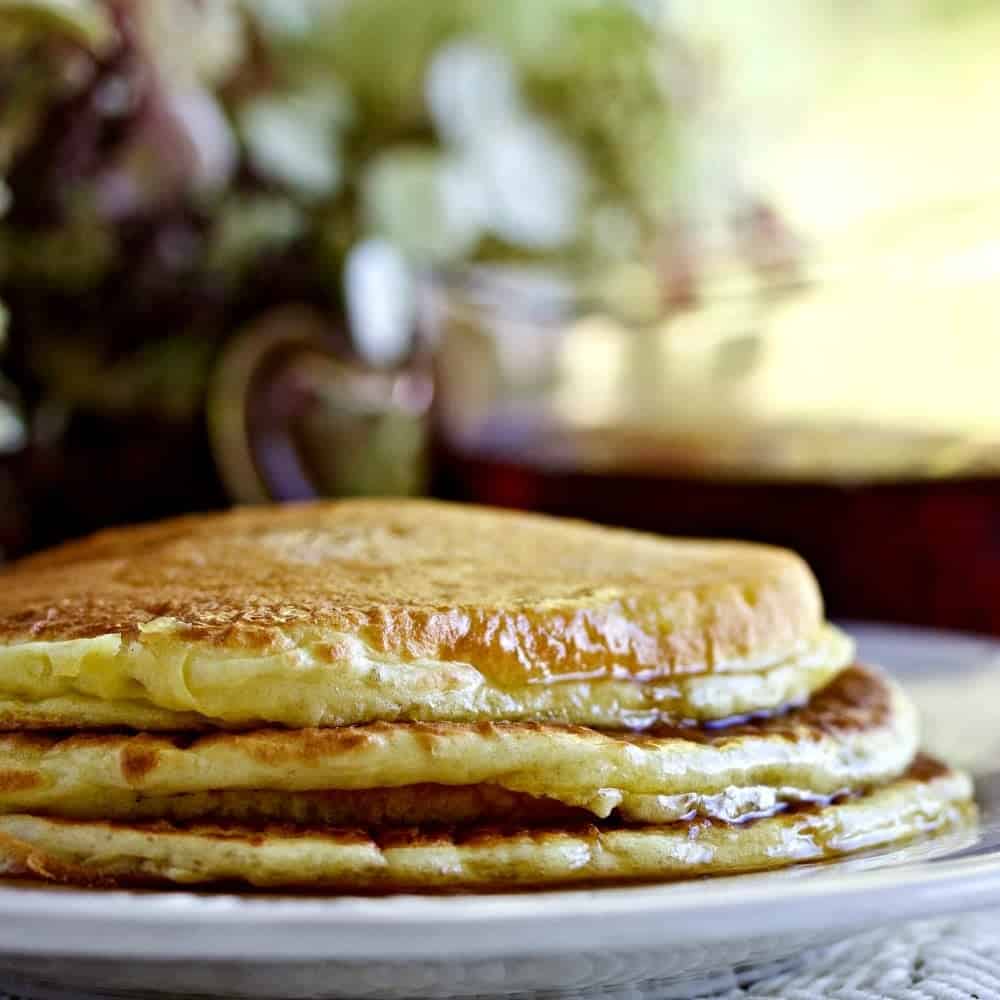 What makes fluffy pancakes?
Everyone wants light and beautifully fluffy pancakes, it's arguably the most important factor when making the perfect pancake. Using rising agents such as baking powder and baking soda are important and do give pancakes their ability to rise and puff up, but another factor that is often overlooked is the use of higher fat dairy products such as yogurts.
By adding, or even completely substituting Greek yogurt for the milk in your pancake recipe you will undoubtedly yield a thicker and fluffier pancake batter which will result in beautifully puffy pancakes. The yogurt not only adds more creaminess to your cakes, the acidity of the yogurt will create a stronger chemical reaction with the baking powder, producing even more fluffiness.
These pancakes are divine topped with Fresh Roasted Raspberries and Homemade Lemon Curd. If you are looking for a recipe to make your own Greek Yogurt, we have some to share with you.
If you are looking for low carb pancakes. I found a very helpful site that concentrates on healthy food and fitness called The Fit Blog.
Christel has a recipe for Low Carb Cottage Cheese Pancakes! If you are looking for a low carb pancake option this would be a delicious one.
What is the key to perfect pancakes?
While yogurt will play a large role in yielding light and fluffy pancakes, there are some other techniques and factors that you need to be aware of if you want the very best pancakes.
Mixing the batter to the proper consistency is very important. Over mixing your pancake batter will make your pancakes tough, flat and much thinner; the best rule of thumb is to only mix your ingredients to the point of a moistened, lump-free consistency.
Heating the griddle to the proper temperature is also important to ensure you neither burn, nor undercook your pancakes. Aim for a medium temperature, testing it before you pour your first ladle of batter on. Sprinkle a few droplets of cold water directly onto your griddle surface. When they sizzle and dance around the griddle is ready for the batter.
Be careful to watch your pancakes and flip them at the right time. A burnt pancake is such a sad sight, and not only taste less favorable, it will be tough and crusty. Flipping your pancakes at the right time is a very important factor in getting golden, fluffy cakes. Pancakes are ready to flip when bubbles have risen to the top of the batter and the edges are beginning to lift and dry slightly.
Keep in mind that the first side of you pancake will typically cook in 2-3 minutes, and the second side (after you have flipped it) will cook much faster, usually half the time of the first side. Don't leave them once you have flipped them, and turn pancakes only once.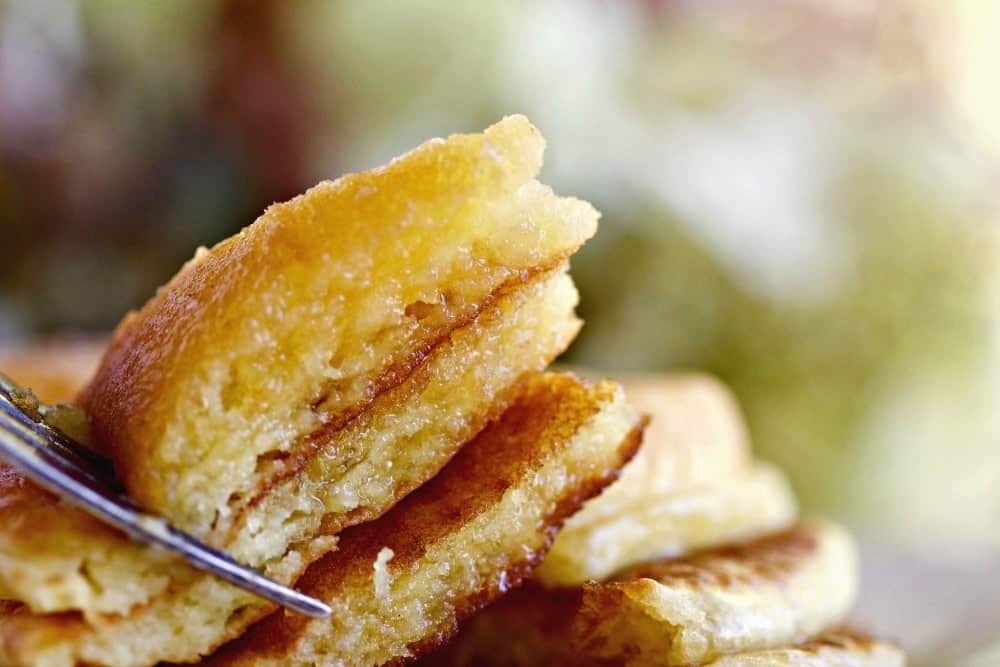 Greek Yogurt Pancake Recipe Notes:
Recipe Ingredient Notes:
The ingredients list has some nutritional champs. Coconut oil, flax meal and Greek yogurt all combine perfectly to add healthy fats, fiber, and protein to your day.
The Oil:
Choose either coconut oil or avocado oil. It is important to select high quality oils from trusted sources and avoid all processed seed oils.
Greek Yogurt:
Use plain greek yogurt to get the best results. You can use vanilla yogurt or any regular yogurt if it's what you have. It will taste great but may not be quite as creamy, and it will increase the sugar content slightly.
Flour:
Use a good quality white flour for light, fluffy pancakes. We use an organic all purpose flour. Mixing 50/50 whole wheat will add nutrition to the pancakes but they will be a bit heavier and typically take longer to cook.
Egg Free Pancake Option:
If you prefer an egg free pancake, flaxseed can replace the eggs in this recipe or you can omit them completely as the yogurt adds more moisture and girth to the recipe. If you are looking to use flax as an egg replacement here is how we do it.
Flax as Egg Replacer:
YOU WILL NEED TO OMIT the flax and eggs called for in this recipe if you use flax as an egg replacer. Otherwise you are doubling the density of the batter and they will not cook correctly
Use one Tablespoon flax meal soaked in three Tablespoons water to replace each egg.
So for this recipe you will need 3 tablespoons flax meal soaked in 9 Tablespoons of water
Let it sit for about 5 minutes. It should fully absorb the water before adding to the batter.
Instructions:
To keep it simple use a batter bowl. Just mix everything in it as instructed in the recipe card.
Pour the batter straight from the batter bowl onto a preheated griddle.
Find a good batter bowl with a spout and simply pour the batter onto your griddle.
Here is what the batter looks like when it's correctly mixed. It's thick with lots of body but spreads well before setting up on the hot griddle.
Pancake Cooking tips:
NEVER pour pancake batter on a cold griddle or even under heated. Throw a drop of water on your griddle. it should skid across the surface in a steamy sizzle and evaporate..
Pour 4 inch or smaller pancakes with some room around them in your griddle for best results and even cooking.
Watch the batter as it cooks. Wait until bubbles form on the surface of the batter. The sides of the pancakes will also firm up before you flip them.
The cakes should be golden brown before turning them over.
Your Printable Recipe Card:
Yield:

12 pancakes
Greek Yogurt Pancakes
Greek Yogurt Pancakes are Light, fluffy delicious and homemade from scratch! These KID APPROVED Greek yogurt pancakes will fill you up with good nutrients to get you off to an excellent start on your day! Yummy! Use your imagination to load them up with your favorite toppings! Try fresh fruit or maple syrup
Ingredients
2 Cups all-purpose flour
3 tsp. baking powder
1/2 tsp. baking soda
1/2 tsp. salt
1 Tablespoon maple syrup: Omit if you prefer
1/4 Cup Flax meal: Optional-flax will make the pancakes heavier
3 eggs
1/2 c. melted coconut oil or avocado oil
1 Cup Greek yogurt
1 to 1 1/2 Cup water or whey
Instructions
Preheat griddle to medium heat
Whisk together dry ingredients in a large bowl.
In a medium sized bowl beat the eggs.
Add the melted coconut oil to the eggs and whisk together.
Add the remaining ingredients and whisk thoroughly
Combine the wet and dry ingredients, stirring well.
Adjust the consistency of the batter until it pours thickly or use a large spoon to put dollops on the griddle.
Pour by 1/4 cup fills onto the griddle. Turn when the top begins to bubble. Remove from the griddle when golden brown and done in the middle
Notes
This is tried and true recipe our family has enjoyed for years. Many variations are possible. Add blueberries or other things your family will enjoy. We'd love to know how these turn out for you!
The flax meal is optional. Flax has healthy properties but is not necessary to this recipe. flax offers more fiber but makes the pancakes denser.
FYI: if you need an egg free pancake flax CAN replace the eggs in this recipe. I have done this when I'm out of eggs and it works just fine. Here's how.
Use one Tablespoon flax meal soaked in three Tablespoons water to replace each egg.
So for this recipe you will need 3 tablespoons flax meal soaked in 9 Tablespoons of water.
Nutrition Information
Yield
12
Serving Size
1
Amount Per Serving
Calories

237
Total Fat

14g
Saturated Fat

8g
Trans Fat

0g
Unsaturated Fat

4g
Cholesterol

50mg
Sodium

317mg
Carbohydrates

19g
Fiber

2g
Sugar

1g
Protein

9g
Follow Us:
We enjoy meeting you on our social networks. Follow us on Facebook, Pinterest, Instagram . Tag us with your pictures of our recipes and comment on how it went for you. We would love to see what you do with them.
We often like, comment and share your posts of our recipes on our daily Instagram stories.
Ask questions and rate the recipe in the comments section below. Please share what you did with this recipe. We are always looking for more and better ways to make homemade food. Other cooks love your ideas!
Recent Posts: