Scratch made Sausage Gravy makes a flavorful and filling breakfast, brunch or dinner when served over fresh waffles or homemade biscuits. You can change the flavor and spice level of your gravy by your selection of seasoned sausage meat, and how you choose to serve it.
We enjoy this hearty, southern style breakfast gravy over our fresh Light and Crispy Waffles, and it is of course an iconic garnish when paired with warm, Homemade Biscuits. Anyway you choose to serve it up, this recipe is sure to become a favorite in your home too.
What is the difference between Country Gravy and Sausage Gravy?
We have all heard the terms country gravy and sausage gravy, sometimes even being used together. So is there a difference? Actually, there is! It is slight which is why the two are interchanged and often times combined. Country gravy is a bit more of a traditional gravy as it is made without meat. A simple recipe of flour, butter and spices is all that's needed to create a Country Gravy that can be enjoyed over a multitude of dishes.
Sausage gravy has a base of pork sausage that once cooked has flour and whole milk mixed into it to create a thick gravy. It is traditionally seasoned with salt and pepper, and sometimes, red pepper flakes for added heat. Sausage gravy is of course much heartier and is most often only used to pour over flapjacks, waffles, and biscuits.
Watch our quick video tutorial for how to whip up this hearty breakfast meal
If you would like to pour this Sausage Gravy over crisp waffles, any of the waffles recipes below are low sugar so they lend themselves very well to this savory gravy.
What makes Sausage Gravy thicker?
The secret to any thick gravy is the flour ratio. If you have a thin gravy simply add more flour while constantly whisking to blend it in. Do this slowly, if you add too much flour it can become a noticeable flavor.
If you prefer not adding any additional flour you can use a cornstarch and water mix. Mix roughly 1 tablespoon of cornstarch with 3/4 cup of water and whisk it into the thin gravy. Allow it to cook a bit longer so that it can thicken.
Sausage Gravy And Biscuits
Biscuits and Sausage Gravy are a well loved American breakfast combination.
The Quick N Easy Baking Powder Biscuit recipe pictured below uses my Homemade Coconut Oil Baking Powder Mix. It has a shelf life at room temperature of 6 months and creates fluffy biscuits that are great with everything from jams and marmalades to bacon and egg breakfast sandwiches.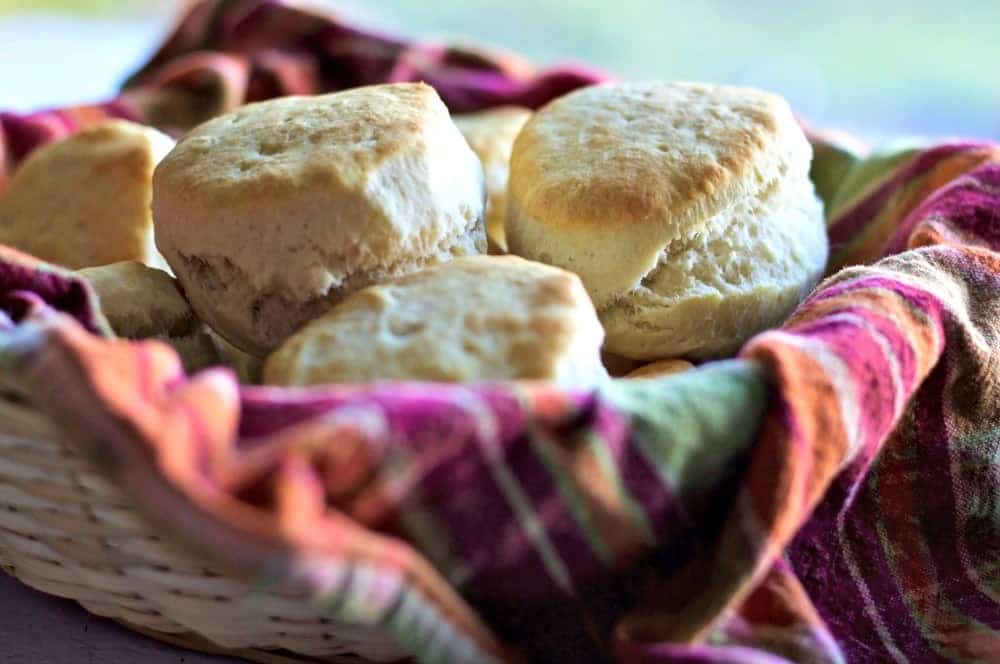 What do you add to Sausage Gravy to make it taste better?
The main factor in the flavor of your sausage gravy will be the seasoning of the sausage. You can find sweet maple breakfast sausage, hot pepper sausage or traditionally seasoned sausage with thyme, sage, fennel and nutmeg.
If you are looking to liven it up even more you can add a bit of Worcestershire sauce or apple cider vinegar for a more complex flavor, additional red pepper flakes for added heat, and additional aromatics like onion or basil to enhance the experience.
What else is Sausage Gravy good with?
Although Sausage Gravy is most often paired with breakfast foods like biscuits, waffles or flapjacks, it is wonderfully versatile and can accompany a variety of dishes depending on your preference. Some other popular options would be
Breakfast potatoes or hash browns
Make a plate of breakfast nachos with tortilla chips
Drizzle over English Muffins
Pour over a thick slice of Texas style toast
Enjoy with a side of grits
Pair with over easy eggs and fried potatoes
Pour over a Bacon Frittata
Make a cheesy biscuit and gravy breakfast casserole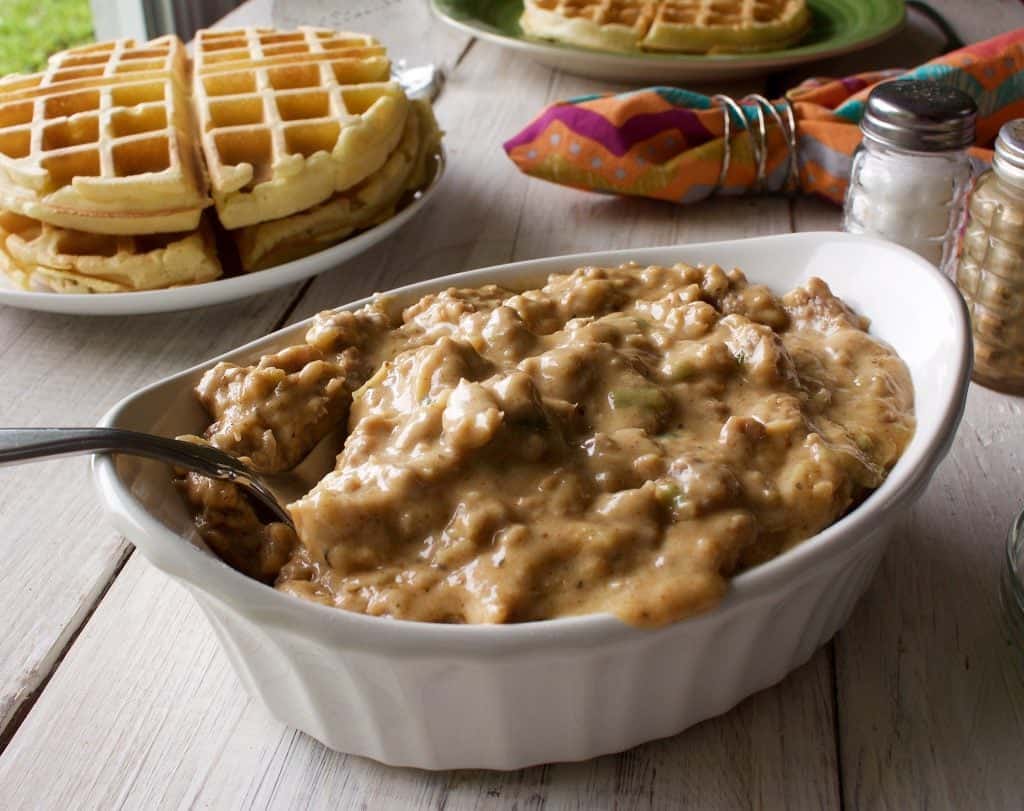 How to make the Sausage Gravy
Ingredients Notes:
Any bulk Italian sausage or your favorite breakfast sausage will work.
Fresh chopped garlic is a better choice than garlic powder. You'll enjoy the texture and increased flavor of the garlic bits in the gravy.
Add any additional seasoning you prefer, but be mindful of the base flavors that are in the sausage.
Green onions are a wonderful addition to this at serving. Little power bits of onion are just great over the top of the gravy.
Here is your visual walkthrough for this recipe. The printable recipe card has complete details for you.
In a large skillet over medium heat add your sausage and seasonings.
While it's cooking mince the onion and garlic.
Add the garlic and two of the chopped onions in with the sausage and chop it all up until the sausage is thoroughly evenly chopped with the onions and garlic. The sausage should be in very small evenly sized pieces.
Whisk together the flour milk, salt and pepper.
Pour the milk mixture into the skillet over medium high heat stirring frequently.
Bring to a boil and then Immediately reduce heat to simmer. Thicken to your desired consistency then remove from heat.
Pour the gravy over your waffles or biscuits.
Your Printable for Sausage Gravy Recipe:
Yield:

5
Sausage Gravy Recipe
Sausage gravy makes a flavorful and filling breakfast, brunch or light dinner when served over waffles or biscuits. It's easy to make and very popular with the family. Great Breakfast for dinner recipe.
Ingredients
16 oz bulk mild Italian sausage
1 tsp. Italian seasoning
1 tsp. Chipolte seasoning
1/4 Cup flour
2 Cups milk
3 green onions chopped
2 cloves garlic minced
salt and pepper to taste
Instructions
Sausage Gravy
In a large skillet, put the bulk sausage and seasonings and turn to medium.
While it's cooking mince the onion and garlic.
Add the garlic and two of the chopped onions in with the sausage and chop it all up with your spatula until the sausage is thoroughly, evenly chopped with the onions and garlic. The sausage should be in very small evenly sized pieces.
Whisk together the flour milk, salt and pepper and pour into the skillet stirring constantly.
Immediately reduce heat to simmer. When thickened to your taste the gravy is done.
To serve:
Pour the gravy over biscuits or waffles. Garnish with onions.
Recommended Products
As an Amazon Associate and member of other affiliate programs, I earn from qualifying purchases.
Nutrition Information
Yield
5
Serving Size
1
Amount Per Serving
Calories

359
Total Fat

28g
Saturated Fat

10g
Trans Fat

0g
Unsaturated Fat

14g
Cholesterol

63mg
Sodium

1166mg
Carbohydrates

12g
Fiber

1g
Sugar

1g
Protein

15g
Follow Us:
We enjoy meeting you on our social networks. Follow us on Facebook, Pinterest, Instagram . Tag us with your pictures of our recipes and comment on how it went for you. We would love to see what you do with them.
We often like, comment and share your posts of our recipes on our daily Instagram stories.
Ask questions and rate the recipe in the comments section below. Please share what you did with this recipe. We are always looking for more and better ways to make homemade food. Other cooks love your ideas!
Recent Posts: