This Classically elegant white cranberry juice mimosa recipe is so easy to make and perfect for a large brunch or holiday event.
Sweet Sparkling white wine adds bubbly fizz to this white cranberry juice. drink. It makes a lovely clear elegant bubbly cranberry fall wine cocktail.
This cranberry champagne cocktail compliments any fall holiday table setting. Fizzy and light with a delicate cranberry rosemary flavor. Your guests will love it.
With just a hint of rosemary to compliment the sweet cranberry fizz. I really love this flavor blend.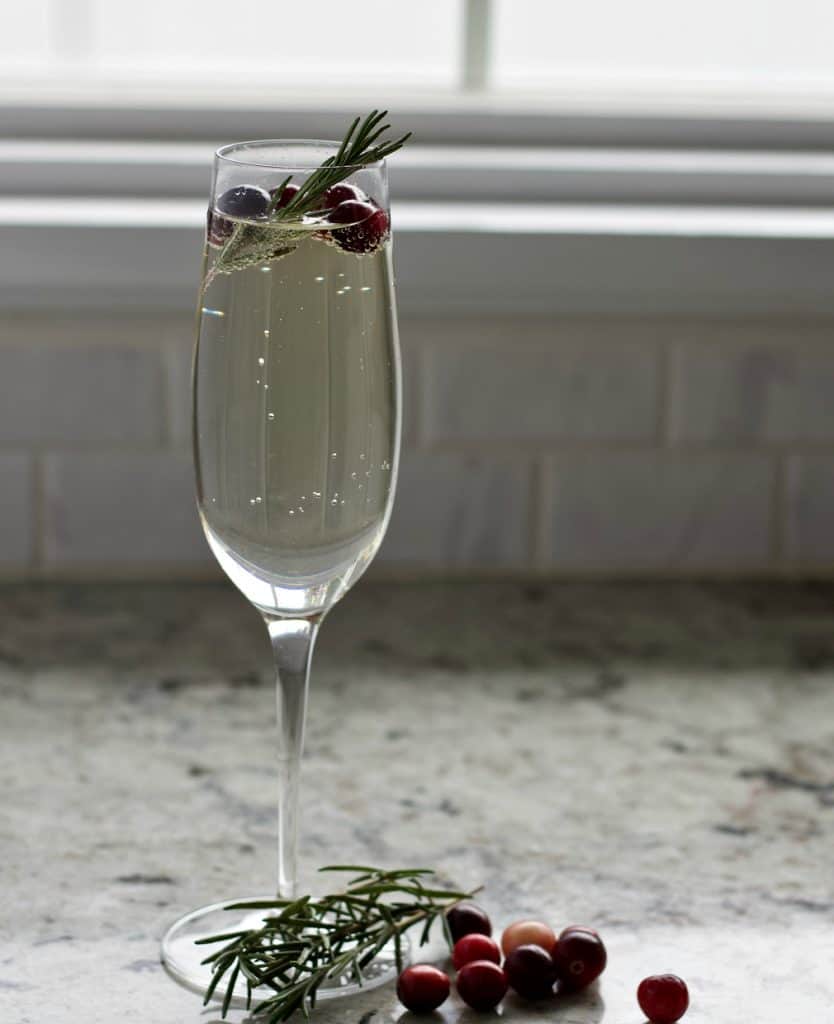 The rosemary sprig will infuse it's flavor into the cranberry and wine. Let it drop into the bottom of your glass and infuse right into this fall drink.
More Fall Mimosas:
Traditional or classic mimosas are made with orange juice. But why stop there? If you love sparkling wine and champagnes try mimosas made with other juices that compliment your mood, the season and the event.
Mimosas are so easy to make. And universally popular for special brunches and party events.
This white wine cocktail is a great Christmas brunch menu idea. Beautiful clear elegance and the holiday red green garnish will look great on your Christmas breakfast table.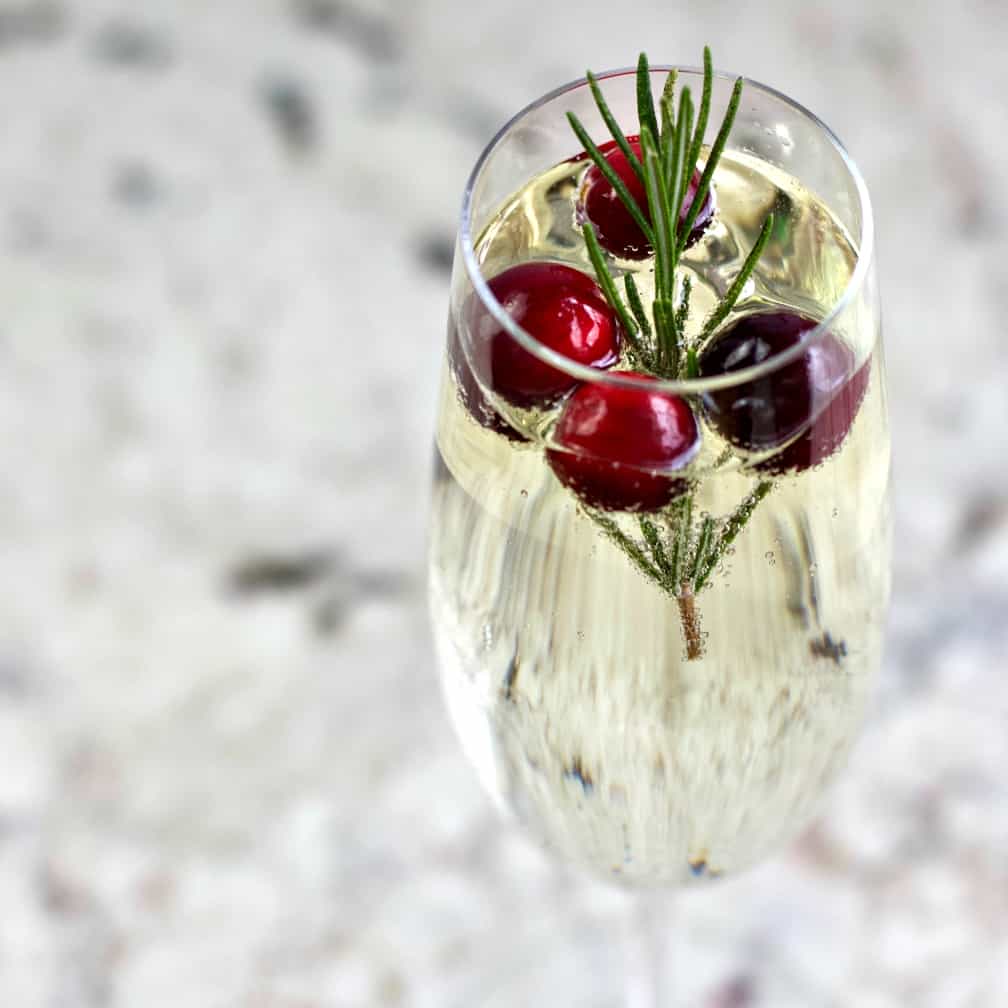 Group Event Ideas:
All of these Fall mimosa recipes are great choices for Fall and winter group events, brunch recipes or a relaxing refreshment anytime.
See our ENTIRE cocktail recipe selection Here:
Mimosa bars are more casual than setting out a beautiful punch bowl. And they make sense.
You can offer various mimosa ingredients and garnishes and let your guests choose the proportions of juice to wine as they prefer.
A Cranberry Rosemary Mimosa punch may better serve your party needs. You will find tips on making this recipe into a punch in this post above the printable recipe card below.
Mimosa glass:
ALWAYS use a tall narrow glass for serving champagne cocktail of all kinds. Those lovely bubbles escape easily from a wide mouth glass with a short base. Champagne glasses are tall and narrow for just this reason.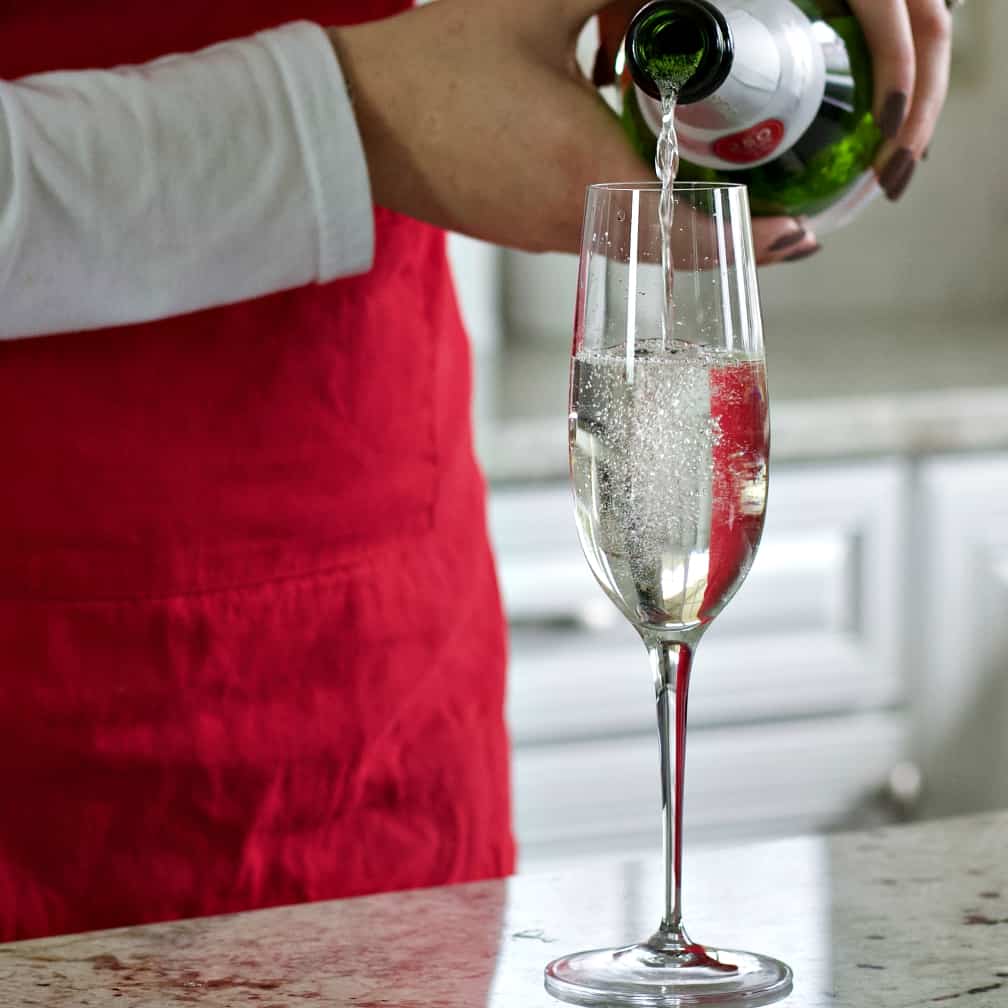 Ingredients:
I REALLY like this mimosa sweet with the rosemary. So I chose sparkling white wine for this mimosa recipe.
I chose inexpensive sweet Ballatore sparkling wine and I'm very happy with it. A white sparkling Prosecco wine will also work and should be easily available in stores.
IF you prefer LESS sweet. Choose extra dry Brut Champagne. White of course. If you prefer less sweet you may enjoy Brut better. They are about the same price.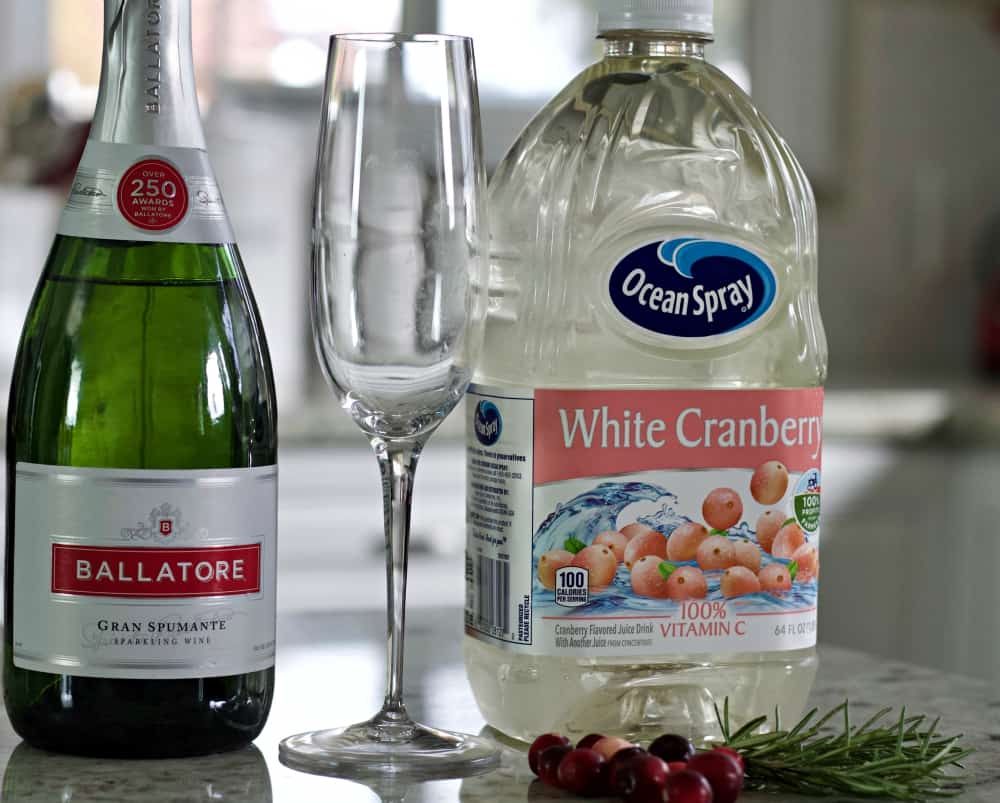 White Sparkling wine- Ballatore or prosecco are both fine
white cranberry juice
4 fresh cranberries
sprig fresh rosemary
You MAY have a bit of trouble locating white cranberry juice.
I finally had to resort to Amazon for plain white cranberry juice. The stores only had white cranberry juice blends.
I've linked pure white cranberry juice in the recipe card ingredients list for you if you can't find it at the store.
The result is worth it. The transparent bubbling grace of this mimosa will grace your table setting and NOT overpower it.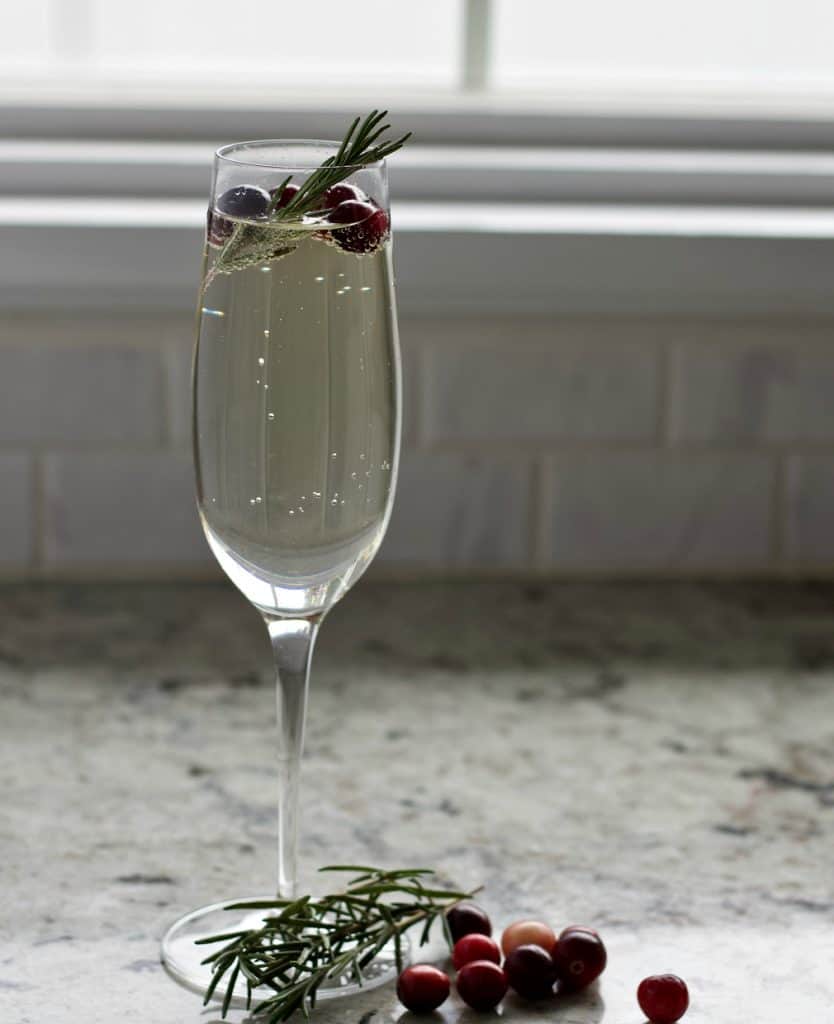 How to make this mimosa:
This fall cocktail is incredibly simple to make. It's just two ingredients and the garnishes.
TIPS: The Proportions:
You will want to adjust the amounts to suit yourself. Start with a one to one ratio of juice to wine. Some people enjoy 2 parts wine to one part juice.
I'm happier with only one part wine to two parts juice. I know. Call me a lightweight. Sweet and fizzy work for me.
How do you like this yummy brunch cocktail?
Visual Walkthrough:
As you can see it's just a simple poured champagne cocktail. No shaking or stirring. In fact, DON'T ever shake or stir sparkling wine or champagne. You'll quickly lose that gorgeous fizz.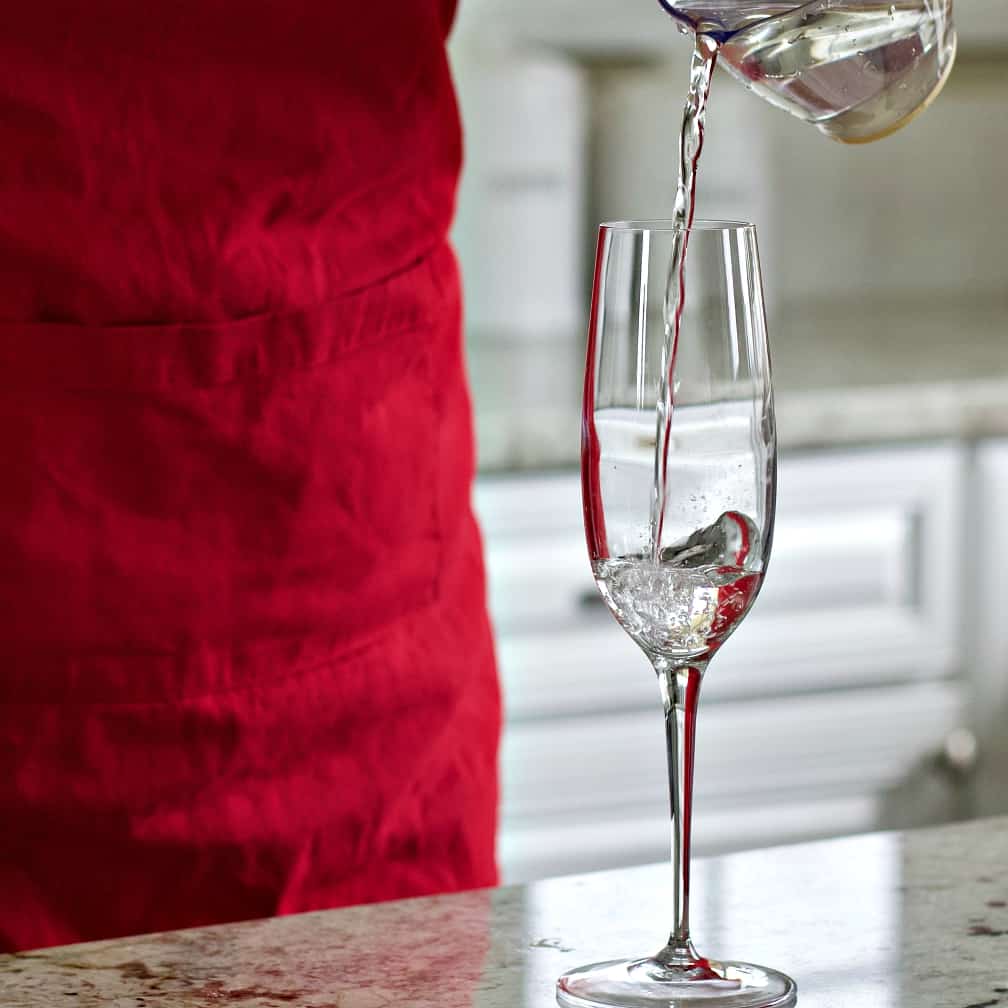 Fizzy Cranberry Wine Punch:
If you are serving about 8 people in 8 oz. glasses you will need:
One 750 ml bottle of sparkling wine or champagne
One 32 oz. bottle of white cranberry juice.
fresh cranberries
fresh rosemary
TIPS: The fizz will quickly escape a large punch bowl. Expect the fizz to last about two hours.
Chilling everything in advance will help keep the bubbles longer. This means the punch bowl as well.
Do not use ice. It will melt and dilute the bubbles and flavor.
Pour the juice first and add the bubbly JUST before setting out the punch. Try to time it so the punch is served quickly after pouring the champagne.
Float the cranberries on top of the punch and put the rosemary in the bottom of the bowl so infuse into the juice.
Arrange fresh rosemary sprigs as desired around the punch bowl.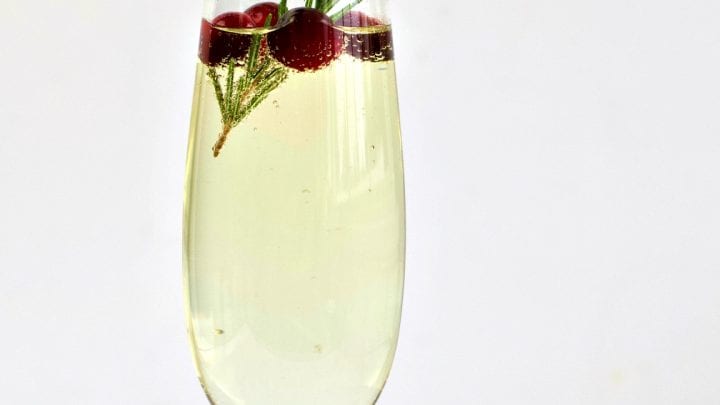 Yield:

8
White Cranberry Mimosa with Rosemary
Set your Christmas brunch table with the gorgeous White Cranberry Mimosa. This is a simple and elegant champagne cocktail. The rosemary is essential to the flavor of this fall cocktail. It's a perfect counterpoint to the white cranberry juice.
Ingredients
32 oz. white cranberry juice](https://amzn.to/2PkhWa0)
750 ml white champagne or sparkling white wine.(I suggest Cava, Prosecco or Brut.)
Instructions
Pour the white cranberry juice into each glass
pour in the champagne.
Add the sprig of rosemary to the glass.
Add 4 fresh cranberries.
serve.
Notes
Alternate Garnish Idea.
NOTE: This will give you a sweeter drink. Use the Brut extra dry champagne with this garnish.

Cinnamon Sugar Rim on your Glass:
Mix equal parts sugar and cinnamon on a flat plate.
On a separate small flat plate pour some simple syrup.
Invert the glasses so just the rim is wetted with simple syrup.
Now set the wet rim into the sugar cinnamon mixture.
Set the glasses up and you are ready to pour your mimosas.

The Recipe Yield for this recipe assumes an 8 oz. glass and using 2/3 wine to 1/3 juice. You will get more wine yield if using 50/50 proportions.
Recommended Products
As an Amazon Associate and member of other affiliate programs, I earn from qualifying purchases.
Nutrition Information
Yield
8
Serving Size
1 mimosa
Amount Per Serving
Calories

111
Total Fat

0g
Saturated Fat

0g
Trans Fat

0g
Unsaturated Fat

0g
Cholesterol

0mg
Sodium

17mg
Carbohydrates

16g
Fiber

0g
Sugar

11g
Protein

0g
More Great Fall Cocktails: