This Cinnamon Pear Mimosa recipe makes a beautiful cocktail perfect for a special brunch, a fall dinner party, or autumn bridal shower. Made with high quality pear juice, Prosecco or brut champagne and served in a cinnamon sugar rimmed champagne flute. This drink is beautiful when garnished with a pear wedge for a sophisticated sparkling drink.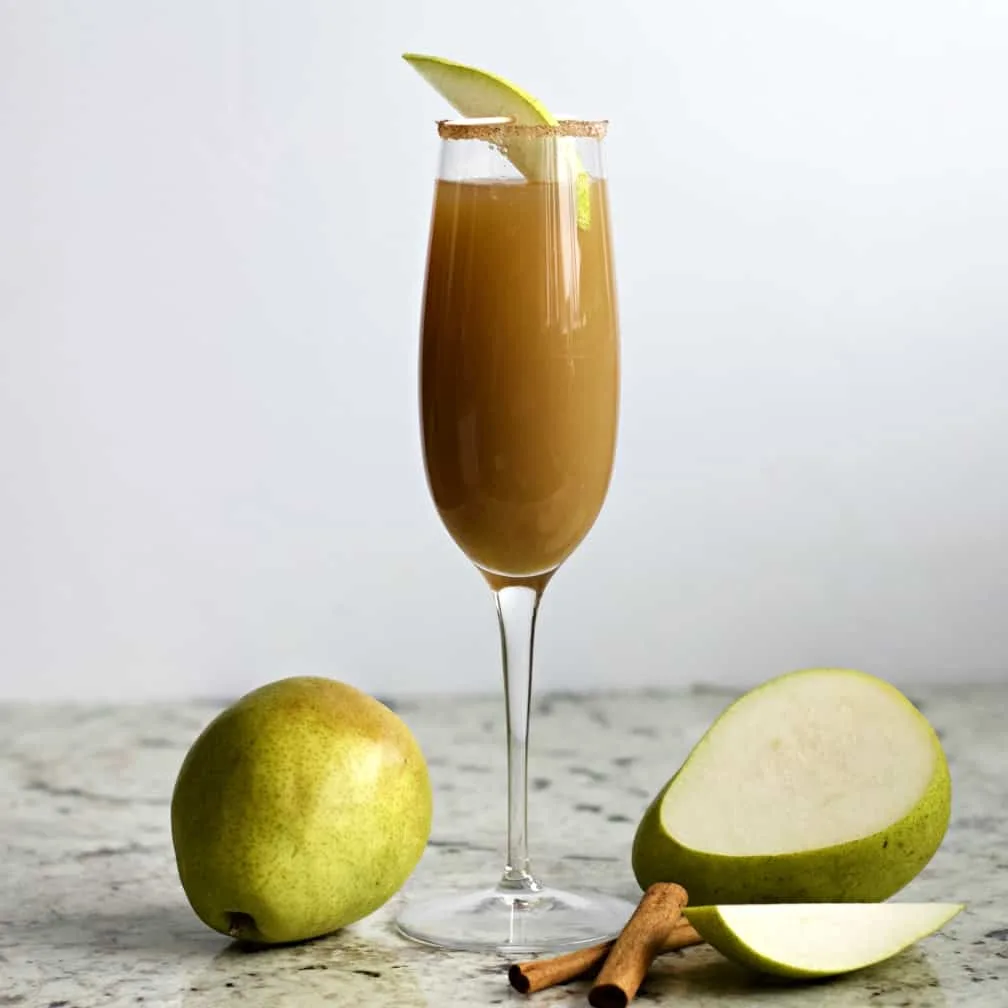 What fruits go in a Mimosa?
Mimosas are a refreshing drink often made with champagne or sparkling wine and infused with fruit juices or purees. Although they are popular during the summer months, mimosas can be enjoyed year round with fresh seasonal fruit juices and garnishes.
The most popular juices for mimosas include orange juice, pineapple or mango juice, peach and strawberry. But, they can also be made with fruits that are in season or popular during the winter months; these include pomegranate juice, apple or pear juice, cranberry and even a mixed berry blend.
The Cinnamon Pear Mimosa is a fantastic brunch refreshment for Thanksgiving or Christmas morning. It's easy to make and classy, providing a delicious cocktail that fits the season.
More Mimosa Recipes
All of these mimosa recipes work well for your Christmas brunch menu, winter bridal shower or any time you want a light, sweet adult refreshment.
What do you serve at a Mimosa Bar?
Mimosa bars are a great way to set up for a large group event. They are often more casual and provide the opportunity for your guests to build their own drink and garnish it to suite their preferences. For a mimosa bar it's best to have options of at least 4 different juices and an array of garnishes for your guests to choose from.
Set out the chilled juices in carafes.
Keep the sparkling white prosecco wine or champagne chilled in an ice bucket.
Place the glasses at the front of the table.
Garnishes and add-ins should be provided in separate bowls with spoons, picks or tongs provided.
What garnishes or add-ins should be at a Mimosa Bar?
For large groups rimming the glasses can be done ahead and set in the fridge or on your counter to keep things simple and mess free for your guests. It's a great idea to have both rimmed and non-rimmed glasses available for your guests to choose.
If the cinnamon sugar rim is omitted you may miss that bit of cinnamon flavor this mimosa recipe is named for. So serve it with a cinnamon stick inside the glass instead. Garnishes provide a scrumptious, visually attractive and fun way for your friends and family to personalize their drink even further. We are listing some of our favorite mimosa garnish and add-in ideas below.
Selections of fresh berries
Sliced fruit wedges such as apples or pears
Orange, lemon or lime wedges
Sprigs of rosemary, mint or basil
Sugared cranberries
Maraschino cherries
Grapefruit or pineapple slices
Sherbet for mimosa floats
Cinnamon sticks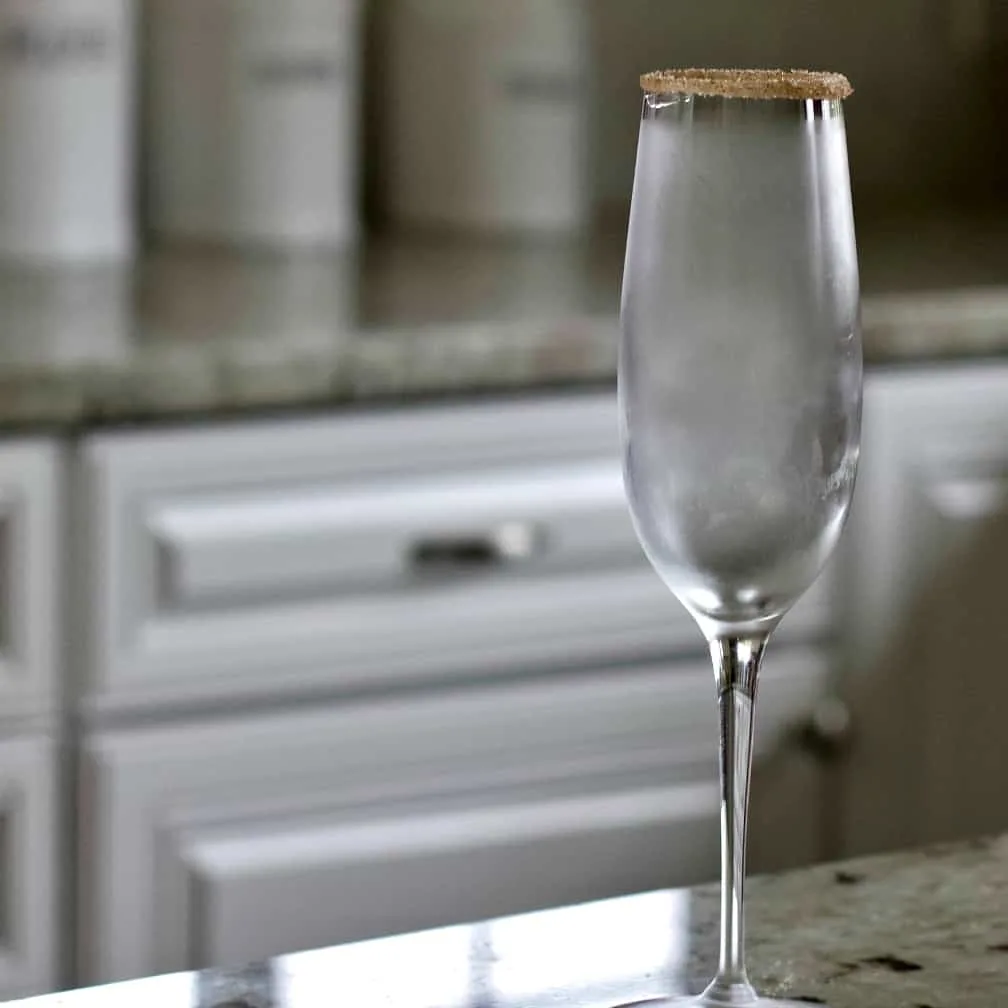 What glasses work best for Mimosas?
For mimosas and other champagne cocktails choose tall narrow glasses like champagne flutes. Stemless flutes are great for less formal events and more durable, but they do sweat and can be challenging for your guests to hold.
If a champagne flute is not to be found a stemmed wine glass is the next best choice. Stay clear of the short round whisky and scotch glasses. A narrow, high tom collins glass will also work in a pinch.
How much champagne is needed for Mimosas?
So, how many mimosas can you make out a 750 ml bottle of bubbly? You'll get around 8 mimosas if you are using 9 oz flutes, and If the proportions are roughly 1/3 juice to 2/3 sparkling wine.
Champagne flutes come in various sizes so this can vary, as well if your guests are serving themselves. A good rule of thumb to go with is one 750ml bottle of champagne for every 3 guests. This will allow for a variety of juice to bubbly ratios without the risk of running out.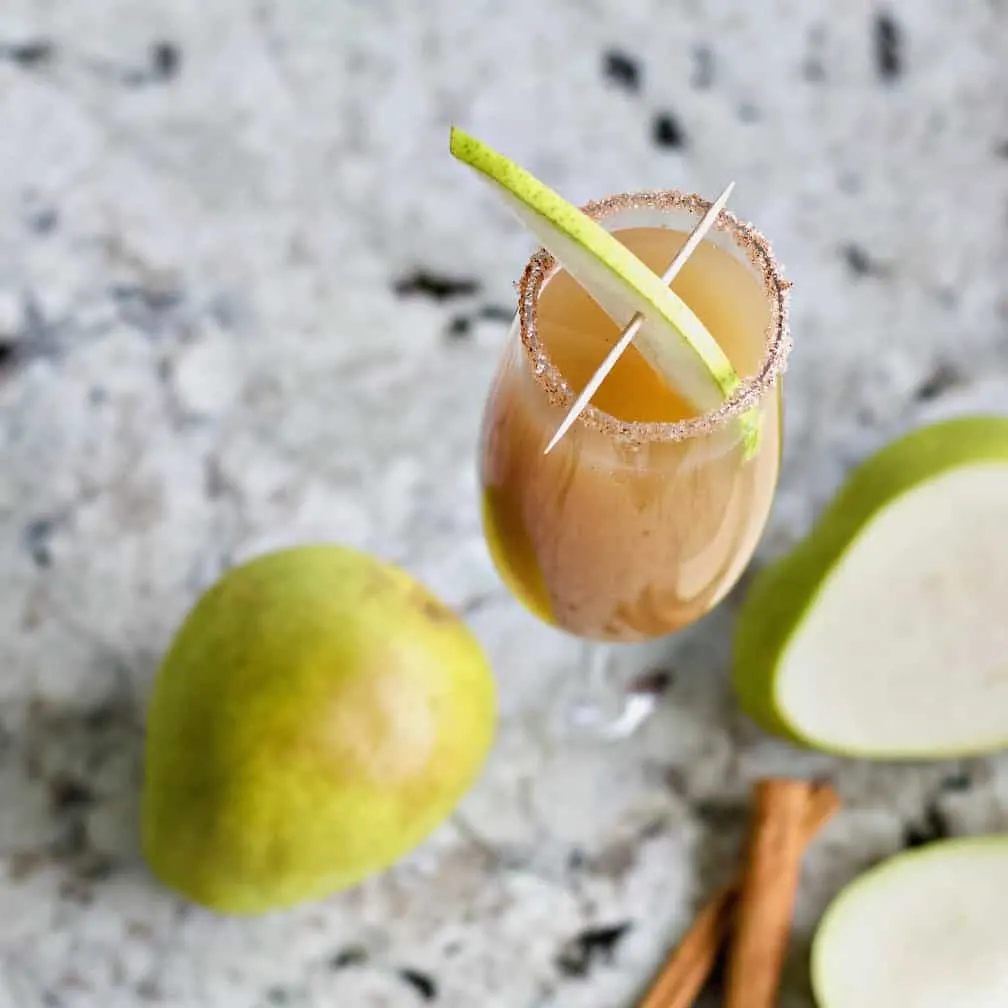 What kind of Champagne is best for Mimosas?
Brut champagnes or dry sparkling white wines are best for mimosas. Mimosas are usually very sweet given the ratio of juice, so you don't want to use a sweet champagne or sparkling wine and overpower the drink.
Chill Everything
Chilled glasses are optimal for mimosas but not always possible depending on your setting.
Set your bubbly in the fridge an hour or so before serving.
Make sure the juice is chilled for a refreshing drink.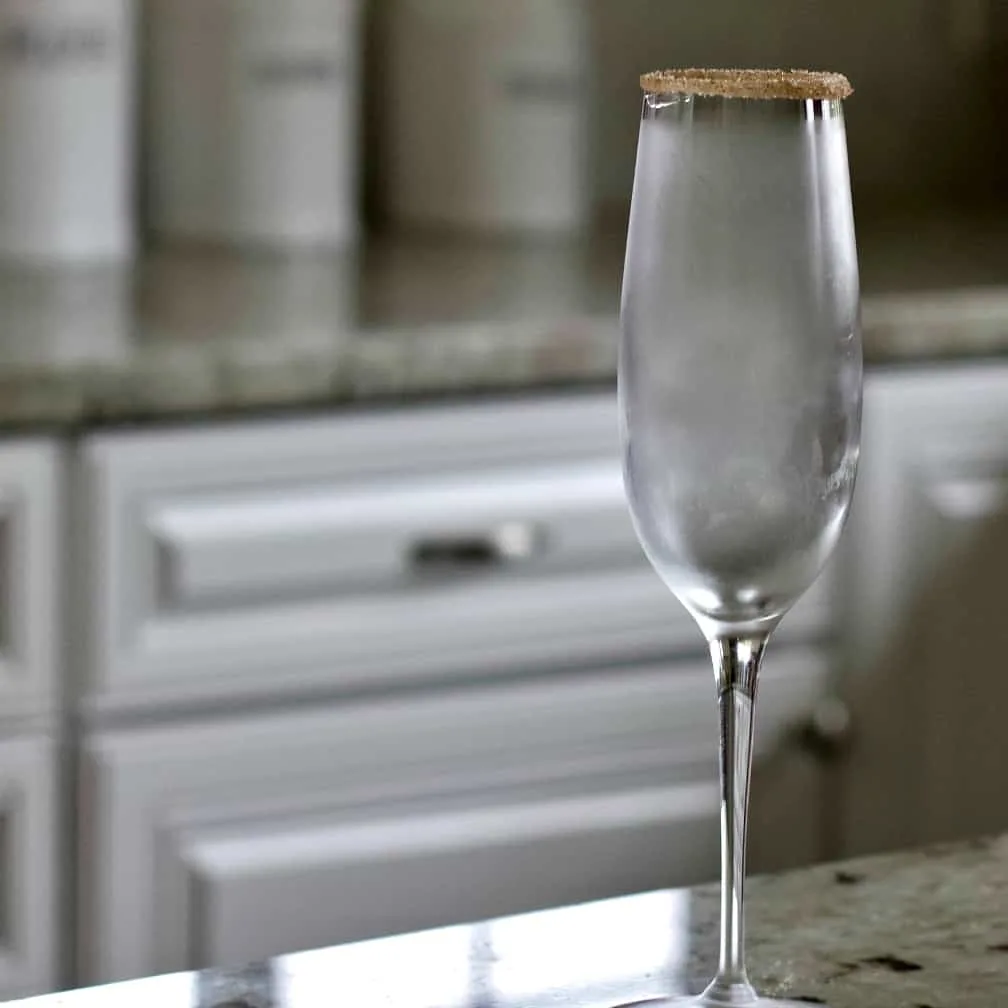 How to rim a Champagne Flute
Cinnamon Pear Mimosa Recipe
Sparkling dry Champagne or a dry sparkling white wine
Filtered pear juice.
Pear slices for garnish
Cinnamon and sugar to rim the flutes
Simple syrup
Making a Mimosa
Mimosas are beautiful champagne cocktails that can be customized to suite your preferences. Simple and basic, or fancy and unique; it's all up to you.
If you have an over spill try pouring in the bubbly first. Slant the glass a bit to help the champagne slide down the sides without creating bubbles. Next, pour in the juice nice and gentle. Finish with garnishes if you choose.
Pour the champagne slowly and carefully into your glass.
Make sure you leave headroom for the bubbles.
Serve it soon after it's made for the best chilled refreshing cocktail.
Visual Walkthrough
This is a two ingredient cocktail. Never shaken or stirred. Just pour and drink.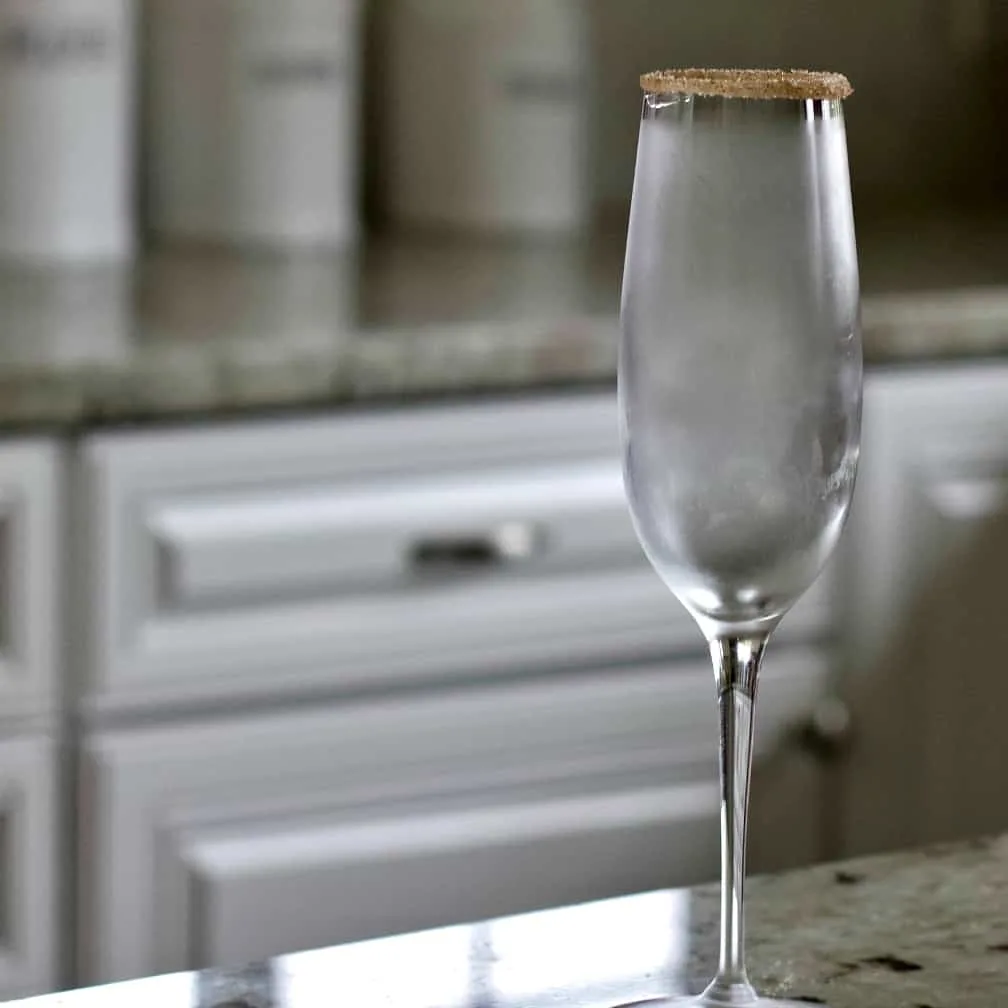 The Garnish
Slice off a thin quarter piece of pear. You want a pretty piece well proportioned to the glass you choose.
Put a toothpick or bamboo pick through the pear and set on top of your glass.
Your Printable Recipe Card: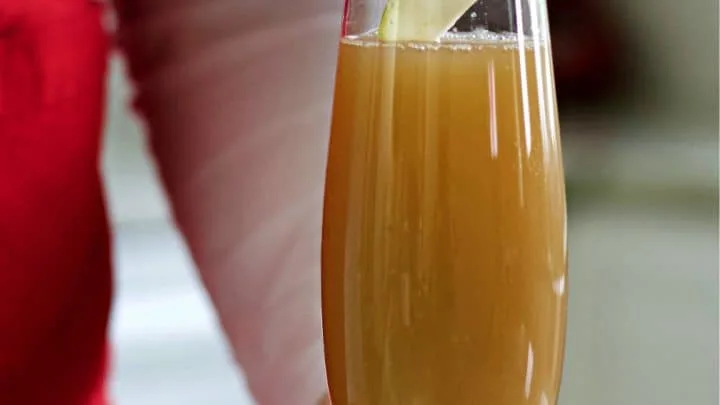 Yield:

8 mimosas
Cinnamon Pear Mimosa Recipe
Cinnamon pear mimosa recipe is a beautiful pear juice champagne cocktail. Perfect for a cozy moment with your bestie, special brunch or a larger group.
Ingredients
32 oz. bottle filtered pear juice
750 ml bottle Prosecco, Spanish cava sparkling wine (OR Brut champagne)
Instructions
Preparations:
Chill glasses, wine and pear juice ahead.
Rim your Glasses:
Mix equal parts sugar and cinnamon on a flat plate.
On a separate small flat plate pour some simple syrup.
Invert the glasses so just the rim is wetted with simple syrup.
Now set the wet rim into the sugar cinnamon mixture.
Set the glasses up and you are ready to pour your mimosas.
Make the Mimosa:
Pour equal parts pear juice to sparkling wine or champagne into a champagne flute.
TIP: Slanting the glass will help with the pour. Watch so the bubbles don't get too high.
Garnish and serve.
Notes
GARNISH:
This mimosa looks simple and elegant without garnish. To change the look for a particular event or just for fun try this.

Pear Garnish:
Slice one to three thin slices from a pear quarter.
Skewer the pear slices and set on top of your mimosa.
This works well with the sugar rim as shown in this post.
Glasses:
Always chose a tall narrow glass for best presentation. A champagne glass has the best proportions of width to length for champagne cocktails like this one.
Chilling the glass ahead and the shape both help give you the best bubbles and they last the longest with the small top of the glass to keep them in.


Rimming the Glass with Cinnamon Sugar:
Mix equal parts sugar and cinnamon on a small flat plate
Spread simple syrup on a separate flat plate.
Invert your CHILLED glass into the simple syrup to wet the rim.
Now set the wet rim into the sugar cinnamon mixture and swirl until it is well coated.
The Glasses:
Use champagne flutes stemless or stemmed as you prefer.
Other tall narrow glasses to keep the bubbles in your bubbly.
Or use a wine glass.
Yields for this recipe:
You will get different yields for this recipe depending on your glass size and the proportions of wine to juice you choose.
This recipe yield is assuming a 8 oz. glass and 2/3 wine to 1/3 pear juice. Do as you like. 🙂
Recommended Products
As an Amazon Associate and member of other affiliate programs, I earn from qualifying purchases.
Nutrition Information
Yield
8
Serving Size
1
Amount Per Serving
Calories

111
Total Fat

0g
Saturated Fat

0g
Trans Fat

0g
Unsaturated Fat

0g
Cholesterol

0mg
Sodium

12mg
Carbohydrates

13g
Fiber

0g
Sugar

8g
Protein

0g
The information shown is an estimate provided by an online nutrition calculator. It should not be considered a substitute for professional nutritional advice.
More great fall cocktails for you to explore
Follow Us:
We enjoy meeting you on our social networks. Follow us on Facebook, Pinterest, Instagram . Tag us with your pictures of our recipes and comment on how it went for you. We would love to see what you do with them.
We often like, comment and share your posts of our recipes on our daily Instagram stories.
Ask questions and rate the recipe in the comments section below. Please share what you did with this recipe. We are always looking for more and better ways to make homemade food. Other cooks love your ideas!
Recent Posts: