Apple Cider mimosa is a delicious champagne cocktail with white sparkling wine and apple cider. Grace the top with a few apple slices and it's ready for your Fall holiday brunch tables.
This fall cocktail is perfect for your Thanksgiving or Christmas brunch menu. It shines beautifully with a gorgeous amber color that works wonderfully well with Harvest and Christmas decor.
The flavors are of course extremely popular.
Who doesn't love bubbly apple cider? This tastes just like Martinelli's sparkling cider with an adult twist. So nice.
In fact, it also makes a good mocktail for kids. Club soda or Martinelli's can easily replace the sparkling wine.
This garnished champagne cocktail is a brilliant match for your brunch menu idea. If you have a wedding shower planned for the fall and winter months consider setting this out for your guests.
Glowing Amber Apple cider cocktails sparkle and shine in the light. The apple slices garnishing the top give off a foody vibe. I'm telling you. Brunch recipe, mimosa bar or special event toasting cocktail right here.
It's light enough not to worry overmuch about your guests driving home. Just one of these apple cider drinks will provide a bit of the social lubrication needed amongst friendly strangers.
More Fall Mimosa Recipes:
All of these mimosas will work for a brunch cocktail. They are all easy enough to be a large group drink.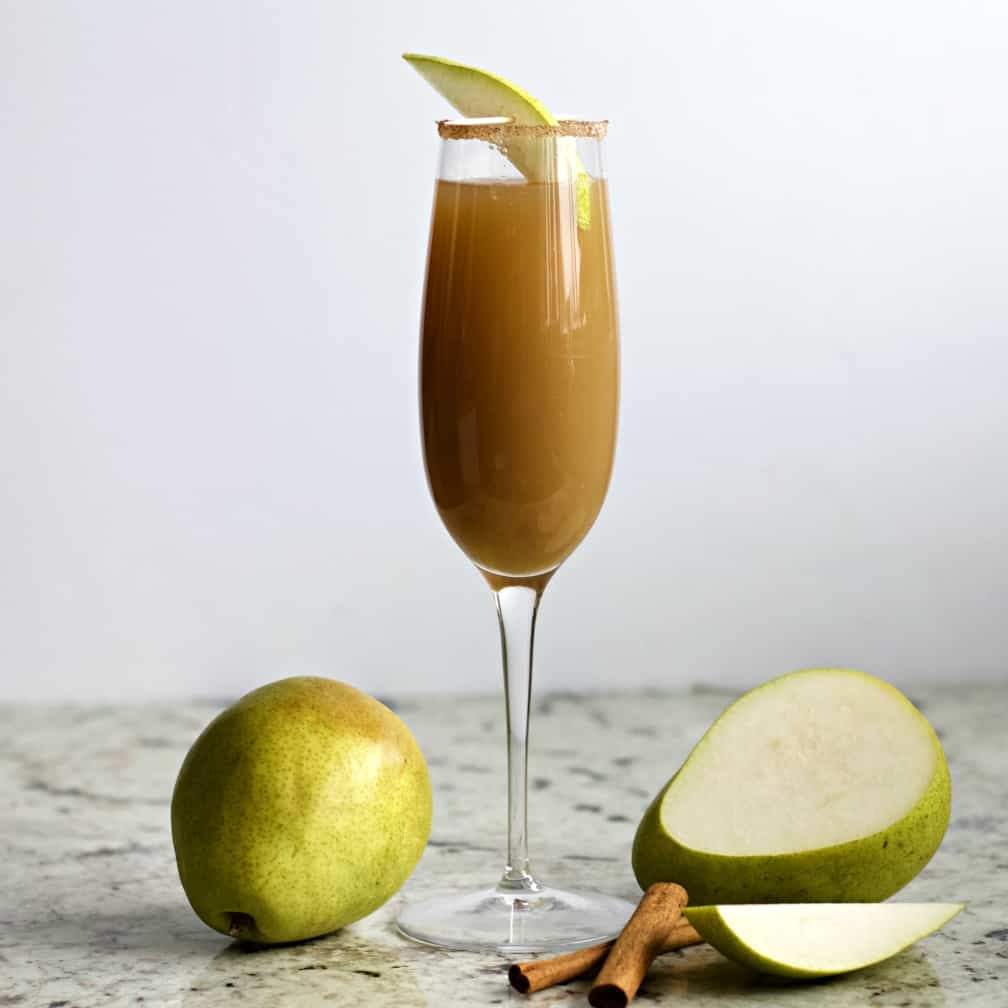 Not a party person? Enjoy this sparkling white wine cocktail whenever you want a light adult refreshment for a quiet winter coze. It's a wonderful way to relax.
Large group Serving Idea:
Put this apple cider champagne cocktail on the list for your next mimosa bar, special event, tailgate party, super bowl gathering or girls night out.
The garnish is optional of course. Just pour and serve if that's your pleasure.
The Proper Mimosa Glass:
Champagne cocktails look elegant in champagne flutes. But that's not the only reason a flute is preferred.
The tall narrow proportions of the champagne flute serve a purpose. The narrow profile and mouth of the glass retains more bubbles. True!
The bubbles can't get out as easily and so the drink stays sparkling longer in a flute. Stemless flutes or similar glasses work just as well as the fancy stemmed champagne glasses.
Apple Cider Mimosa Recipe:
I DO use both champagne and sparkling white wine for mimosa recipes. They are all fairly inexpensive.
Ingredients:
Choose your bubbly according to your own tastes. An extra dry brut champagne is less sweet than a white sparkling prosecco wine.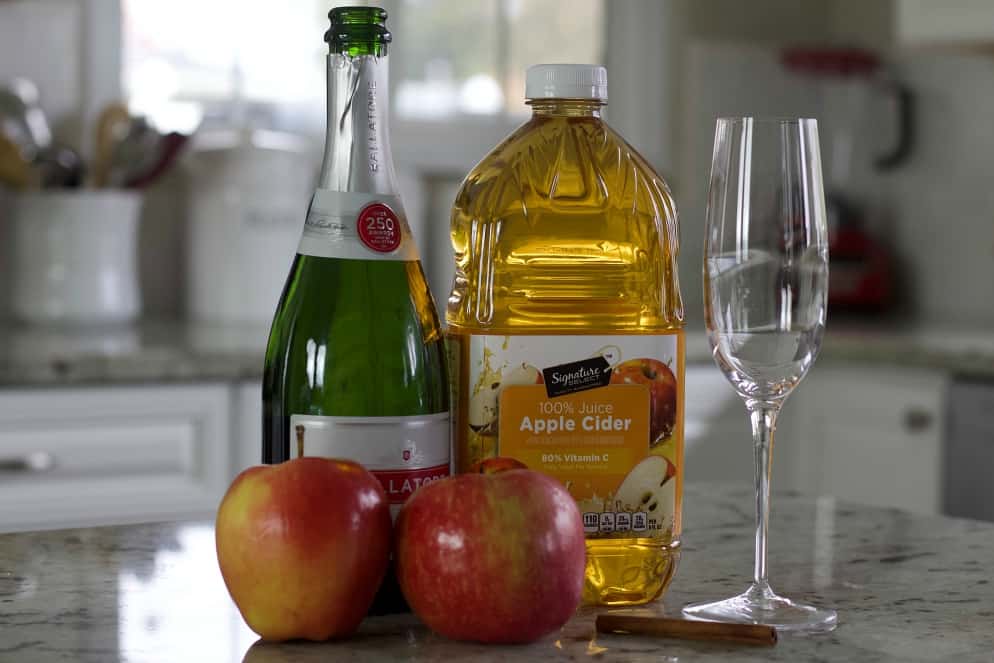 Sparkling white wine or Champagne
Filtered Apple cider
Fresh apple slices for garnish
The Visual Guide to Making This Mimosa Recipe:
This is a simple pour and serve drink. Do NOT shake or stir champagne cocktails. The bubbles you know.
Tips For the Mimosa Recipe
Chill the sparkling wine and juice at least an hour before serving.
Make the mimosa just before serving to get the best refreshing sparkling result.
Watch when pouring to leave headroom. The bubbles will froth a bit.
Garnish Ideas:
Slice three Apple slices. Skewer on a pick and set across the top of the glass.
Cinnamon Sugar Rim: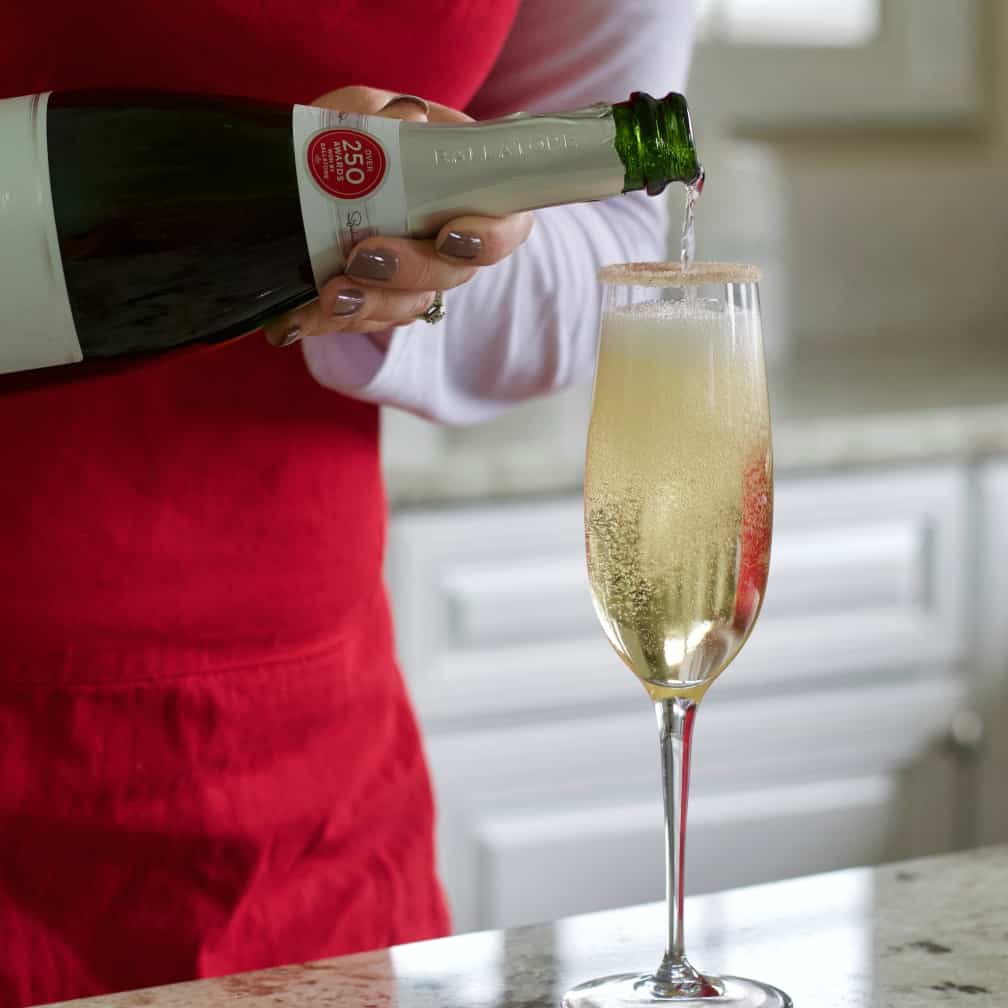 OPTIONAL: Cinnamon Sugar Rim:
We love this rim for bringing is a new element of warmth. The cinnamon sugar rim adds more Fall flavor to this apple cinnamon drink. You KNOW it's good. Apples and cinnamon are perfect together. So try it!
Chill the flutes ahead. The condensation will help the glasses grab the cinnamon sugar
Mix equal parts sugar and cinnamon on a flat plate.
On a separate small flat plate pour some simple syrup.
Invert the glasses so just the rim is wetted with simple syrup.
Now set the wet rim into the sugar cinnamon mixture.
Set the glasses up and you are ready to pour your mimosas.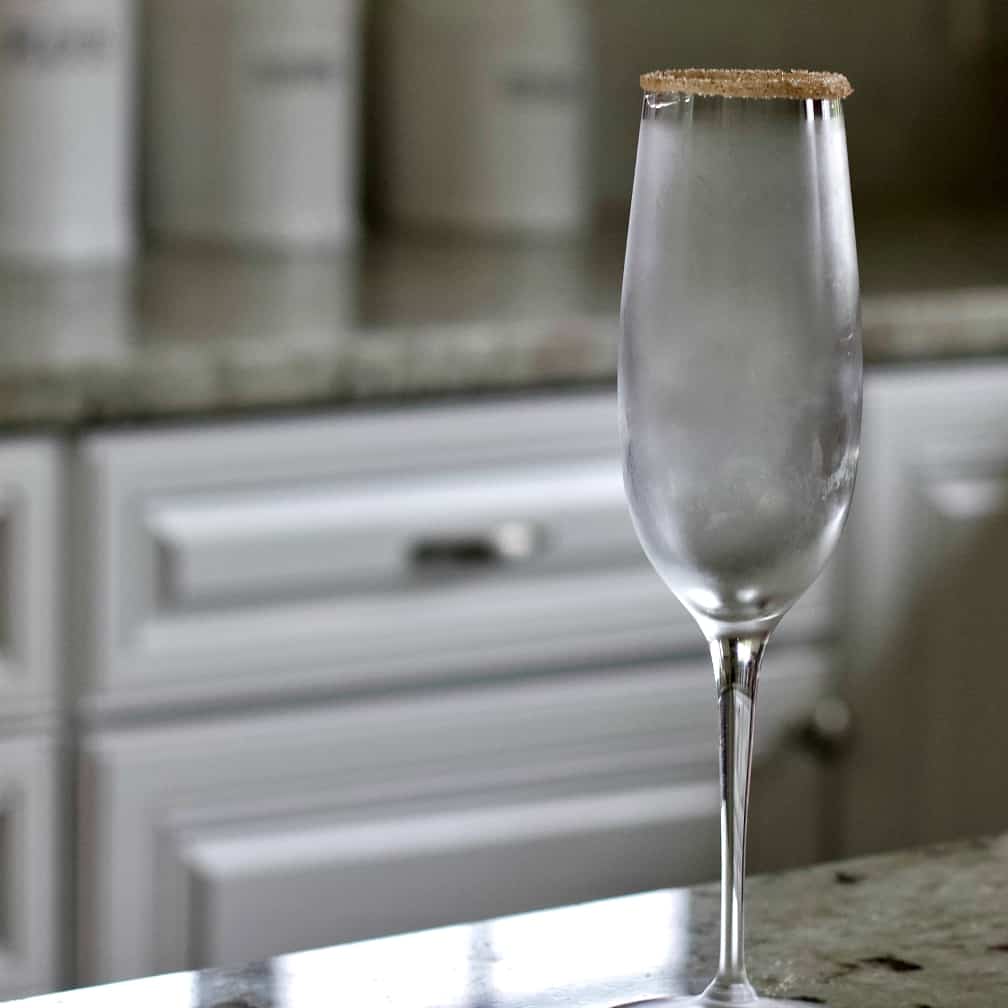 We'd love to know how this recipe works for you. What are you using this mimosa for? How did you garnish it? What is your favorite bubbly for mimosa?
Please Leave a comment in the section below the post and rate this recipe. Thank you from the team at Homemade Food Junkie.
Your Printable Recipe Card: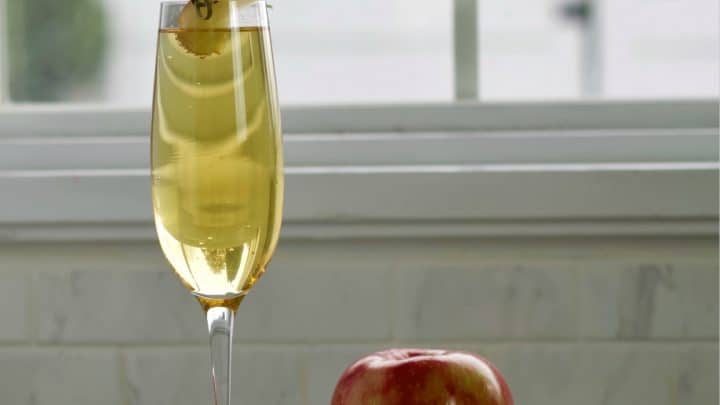 Yield:

8 mimosas
Apple Cider Mimosa Recipe
Apple Cider mimosa is an inexpensive and delicious fall cocktail with sparkling wine and apple cider. This wine cocktail works well for a special breakfast or brunch table. Your guests will love it.
Ingredients
4 Cups apple cider
750 ml bottle Prosecco Wine (OR Brut Champagne)
Instructions
Prepare:
Chill the apple cider and sparkling wine one hour or more ahead.
Chill the champagne flutes if rimming the glasses at least 15 minutes.
Mimosa Recipe:
Pour chilled clear apple cider into bottom of champagne flute to half way.
Carefully pour chilled wine to top.
Garnish as preferred.
Notes
Presentation:
This apple cider Mimosa recipe is beautiful and easy to garnish for guests with a few apple slices on a bamboo pick. Or rim the glass with cinnamon and sugar for a warm cozier look.
For best results use a CLEAR filtered apple cider.
Chill your cider and sparkling wine ahead for the most refreshing results.
Use a tall narrow glass like a champagne flute for the prettiest presentation of this champagne cocktail.
A champagne flute is also perfect to retain the fizzy bubbles in mimosas. Use either stemmed flutes or stemless.
Never shake or stir a sparkling wine cocktail.
RIMMING THE GLASS WITH CINNAMON SUGAR:
Mix equal parts sugar and cinnamon on a small flat plate
Spread simple syrup on a separate flat plate.
Invert your CHILLED glass into the simple syrup to wet the rim.
Now set the wet rim into the sugar cinnamon mixture and swirl until it is well coated.
Recommended Products
As an Amazon Associate and member of other affiliate programs, I earn from qualifying purchases.
Nutrition Information
Yield
8
Serving Size
1
Amount Per Serving
Calories

125
Total Fat

0g
Saturated Fat

0g
Trans Fat

0g
Unsaturated Fat

0g
Cholesterol

0mg
Sodium

8mg
Carbohydrates

13g
Fiber

0g
Sugar

10g
Protein

0g
The information shown is an estimate provided by an online nutrition calculator. It should not be considered a substitute for professional nutritional advice
More Great Cocktails For Fall
Find our complete selection of cocktail recipes in our COCKTAIL SECTION.