Sweet potato pumpkin pie is a marvelous pie for your Christmas and Thanksgiving Dessert menus. The pumpkin spice-sweet potato flavors are rich and deep.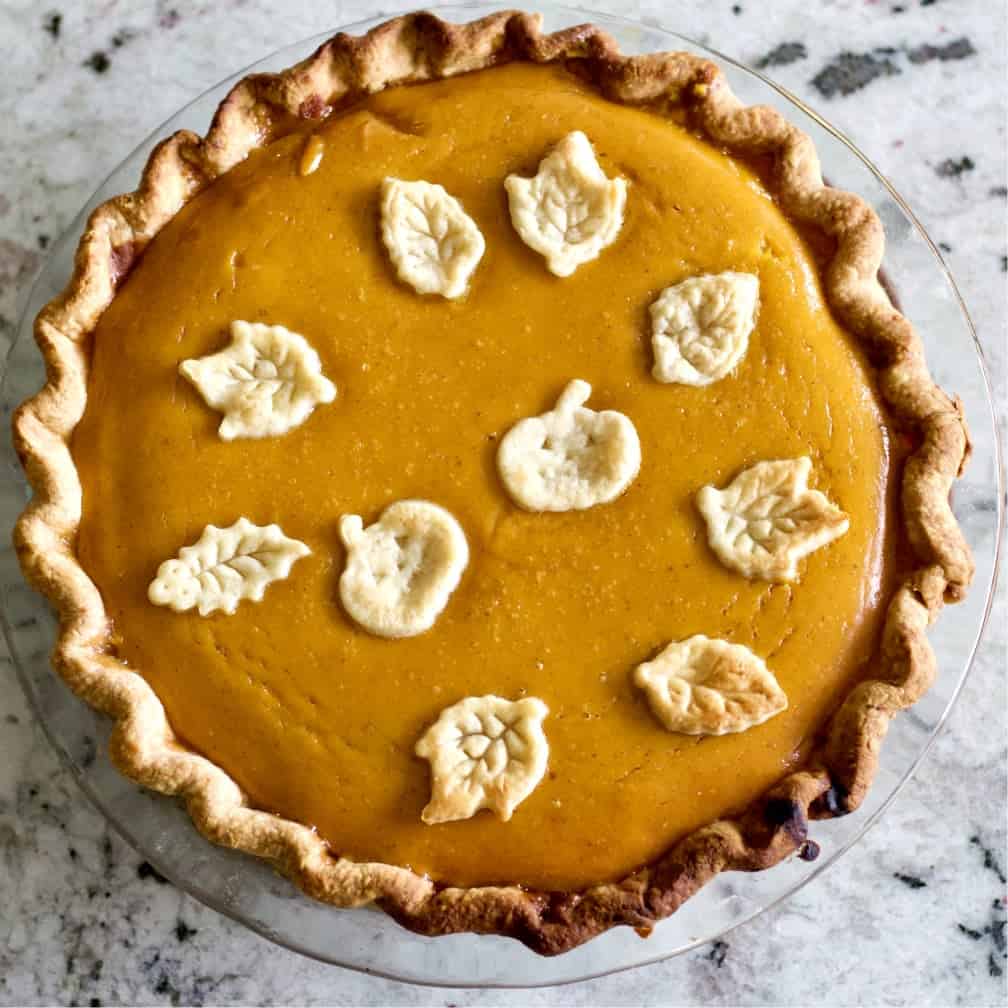 Pumpkin pie is always on the traditional Thanksgiving menu. Sweet potato pie is also a favorite. This pie is the BEST of both.
This recipe is an OLD favorite. I've made it for years and years. It's universally loved at our fall family potlucks. If you need a Thanksgiving dessert idea or Christmas party offering this is a good one.
Recipe Video Demonstration:
We have made this pie many different ways. The video shows you the easiest method.
The proportions of ingredients used in the video are for only ONE 9 inch pie. The Printable recipe card below gives you the proportions for TWO 9 inch pies.
All the ingredients we used in the video were purchased. This is the quickest way to make this recipe. I wanted to test store bought purees and pie crusts to see if this pie filling still passed the taste test. It did!
Pie Crust Suggestions:
You will need two single crusts for your 9 inch pie plates.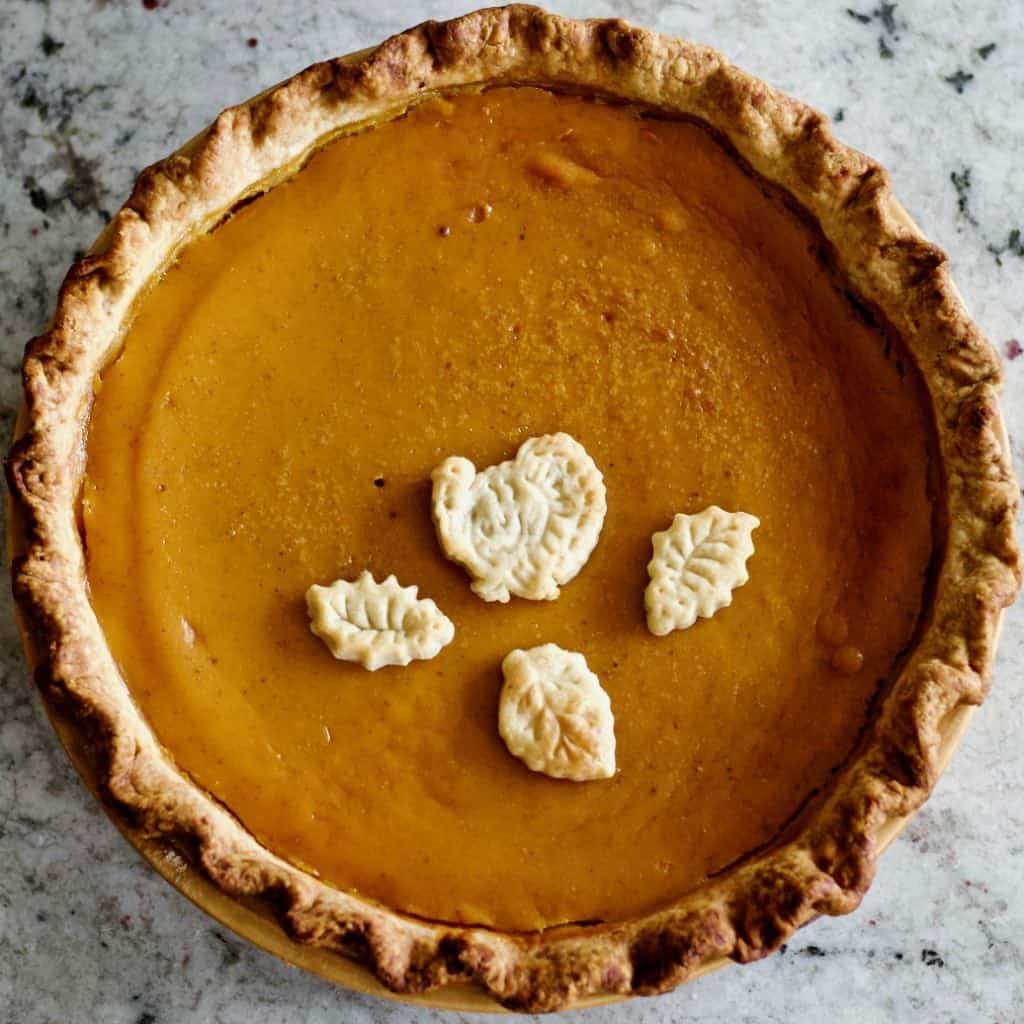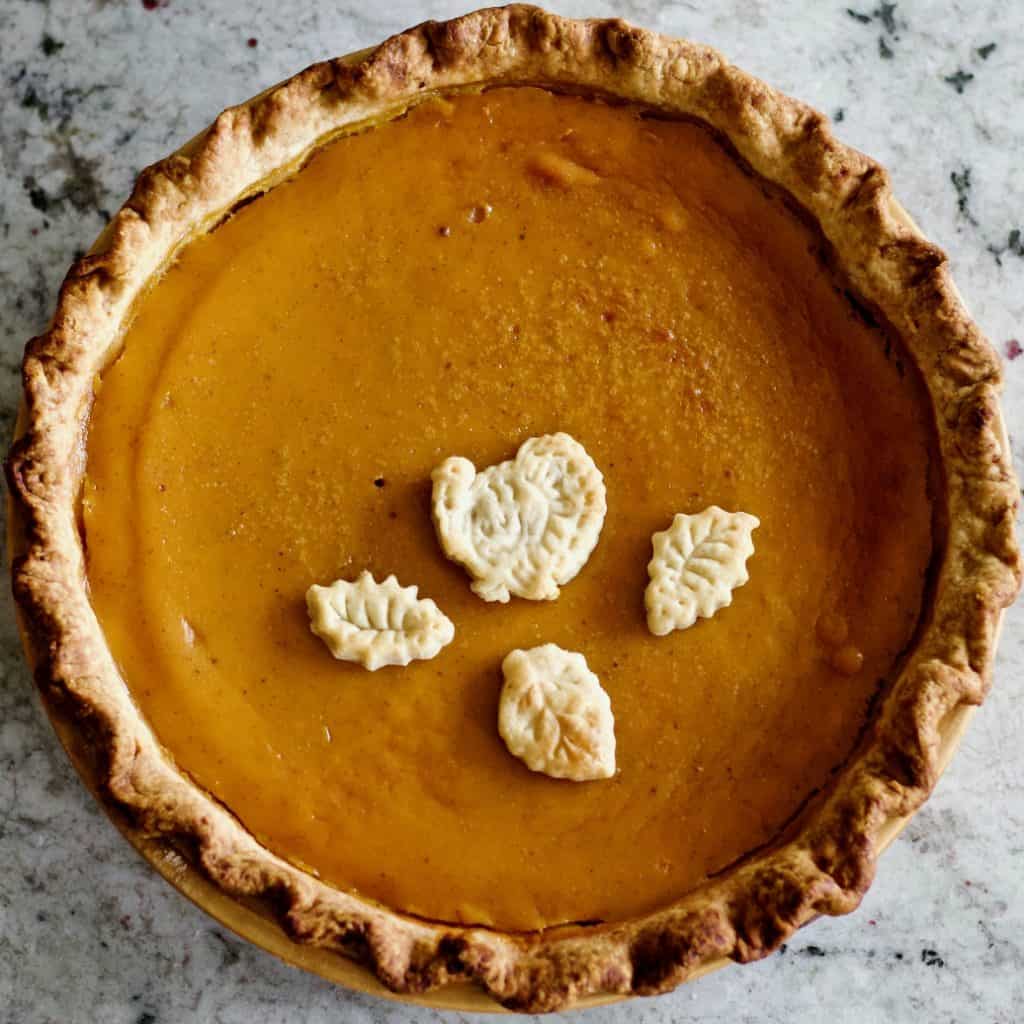 This post is all about the pie filling and the dough decorations on top. I leave the crust to you. However…if you don't have a personal favorite homemade pie dough recipe….
I recommend either of these crusts. They add a LOT of flavor to your pie and the texture of these pie crusts are wonderful.
If you're in a time crunch go ahead and buy your favorite store bought crust. Homemade is always best for flavor and texture. However…
Needs must when baking time is short….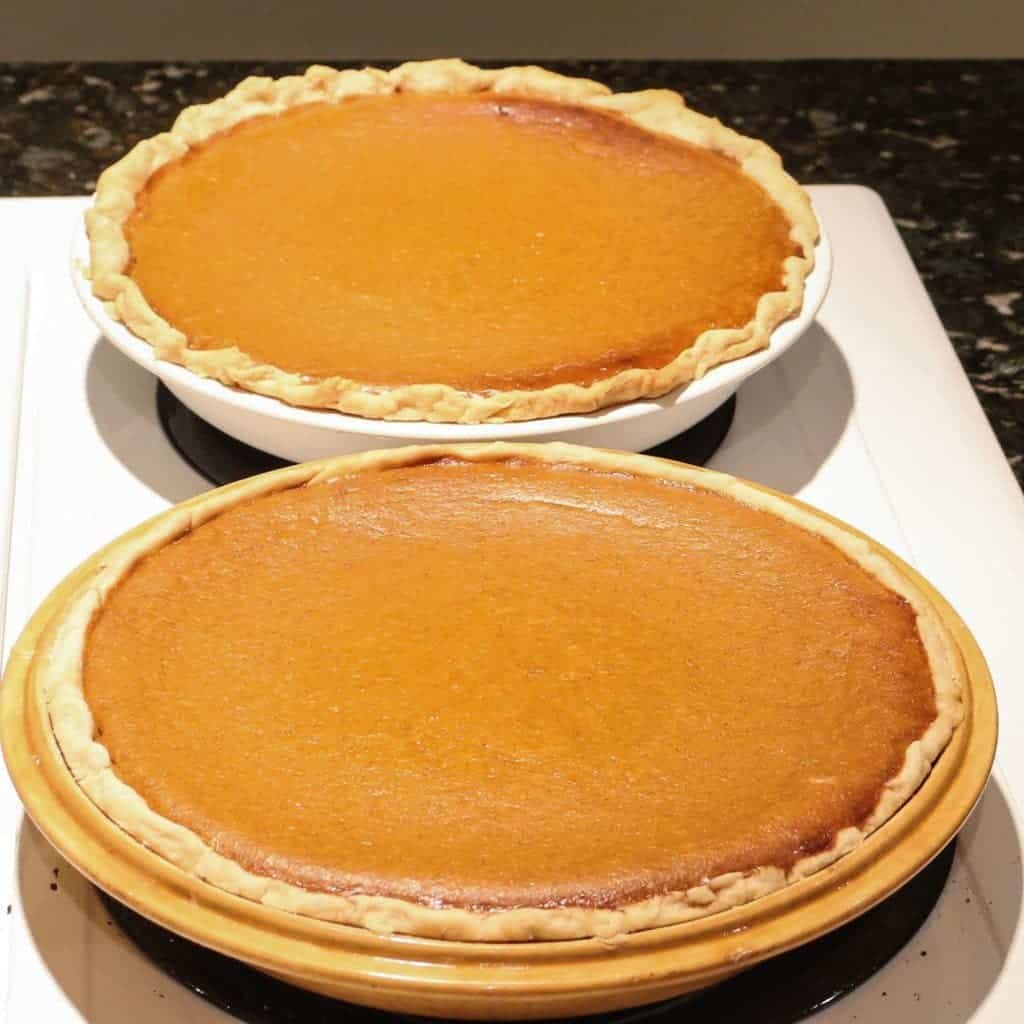 Using fresh sweet potatoes and fresh pumpkin:
Fresh roasted pumpkin and sweet potato give a richer deeper flavor to your pie. If you have the time using fresh roasted puree is going to improve the filling.
Seed and cut the pumpkin in half and lay the halves face down on a baking sheet
Bake in the oven at 400 degrees F. for 30 to 40 minutes until fork tender.
Cool to handle able temperature, peel and mash.
Sweet potatoes can go on the baking sheet with the pumpkin.
Peel and mash the pumpkin and sweet potato and proceed with the recipe.
OR Use your instant pot. I show you how in this post.
Sweet Potato Pumpkin Pie Recipe:
This recipe makes two tasty 9 inch pies.
This is a great pie recipe for kids. Older children can make it by themselves.
Baking is a great learning experience for children and good bonding time. Kayti and Ellie bake together all the time. Special memories.
Ellie was home from school unexpectedly. She was excited to join our video shoot for this pie. Parental help advised for the preschool set. 🙂
Ingredients for this pie filling:
Two 9 inch Pie Crusts
Pureed Sweet potato
Pumpkin puree
evaporated milk
eggs
sugar
salt
cinnamon
pumpkin pie spice
Visual Walkthrough:
Here are the steps used in this recipe. At the end I show you how to add the raw dough toppers to the partially baked pie. BE CAREFUL doing this. That pie is HOT.
The cutouts make an EASY way to top a two crust pie. The Complete tutorial for making the dough cutouts is below the recipe card.
Useful tools for Pie Baking:
Your Printable Recipe Card:
Yield:

16 slices in two pies
Sweet Potato Pumpkin Pie Recipe
Total Time:
1 hour
20 minutes
Delicious Sweet potato pumpkin pie is a marvelous pie filling combination for the holiday season. The flavors are so rich and deep. This recipe makes two easy to make 10 inch pies.
Ingredients
1 15 oz canned pumpkin purée or about 2 cups fresh roasted mashed pumpkin
2 cups fresh roasted or boiled, peeled and mashed sweet potatoes
11/2 Cups sugar
1/2 tsp. salt
2 tsp. cinnamon
2 Tablespoons pumpkin pie spice
4 large eggs
2 12 oz. cans evaporated milk
Instructions
Prepare the pumpkin and sweet potatoes ahead of time as necessary.
Prepare two single crust unbaked pie shells. Either VERY full nine inch pies or 10 inch pies.
Pre heat oven to 425 degrees
Mix sugar and spices together in a small bowl and set aside.
Beat eggs in a large bowl with electric mixer.
Add in sweet potato and pumpkin and sugar spice mixture, beating after each addition.
Continue beating while gradually adding the evaporated milk.
Pour into the pie shells.
Bake for 15 minutes at 425 degrees.
Reduce heat to 350 degrees F and bake for 40 to 50 minutes or until a knife or toothpick in the center comes out clean.
Notes
The results of this recipe are always good. the BEST results are obtained with the fresh puree and homemade pie crusts. We just tested this recipe with all store bought ingredients and it was just fine too. Your guests will love it either way.
Nutrition Information
Yield
16
Serving Size
1 slice
Amount Per Serving
Calories

385
Total Fat

6g
Saturated Fat

3g
Trans Fat

0g
Unsaturated Fat

2g
Cholesterol

63mg
Sodium

155mg
Carbohydrates

81g
Fiber

1g
Sugar

77g
Protein

5g
How to Make Pie Dough Cut Outs:
Make dough toppers for a pretty look for your Thanksgiving Feast single crust pies.
Roll the dough to 1/4 Inch thick.
Cut out shapes from your pie scraps and bake them on a cookie sheet
Brush with an egg white wash for shiny baked toppers. (Brush with water if you only want cinnamon and sugar sprinkles to stick)
Bake 10 minutes at 350 degrees until golden brown.
When the pie is baked and cooled arrange the pie toppers.
ALTERNATELY: Bake the pie until 10 minutes before finished. Remove pie from oven and CAREFULLY arrange raw dough shapes on the pie top. Return pie to oven to finish. This will help seat the toppers better into the pie.
Dought topper Ideas:
You'll notice some of the dough decorations pictured below are baked into the pie and others were baked separately and added after baking.
The baked in dough toppers will stay on the pie better. But they are more difficult to make since you add them to a very hot partially baked pie.
Choose whichever method suits you best. You can also bake the pie completely with a lot of dough decorations on.
Pictured below notice the caramel apple pie. My granddaughter Lainy and I did that one together.
We used a whole pie crust for the top by stacking leaf cut outs. It gave the apple pie a cute Falling feaf look. I just baked it like a normal two crust pie. Watch for for browning if you do this.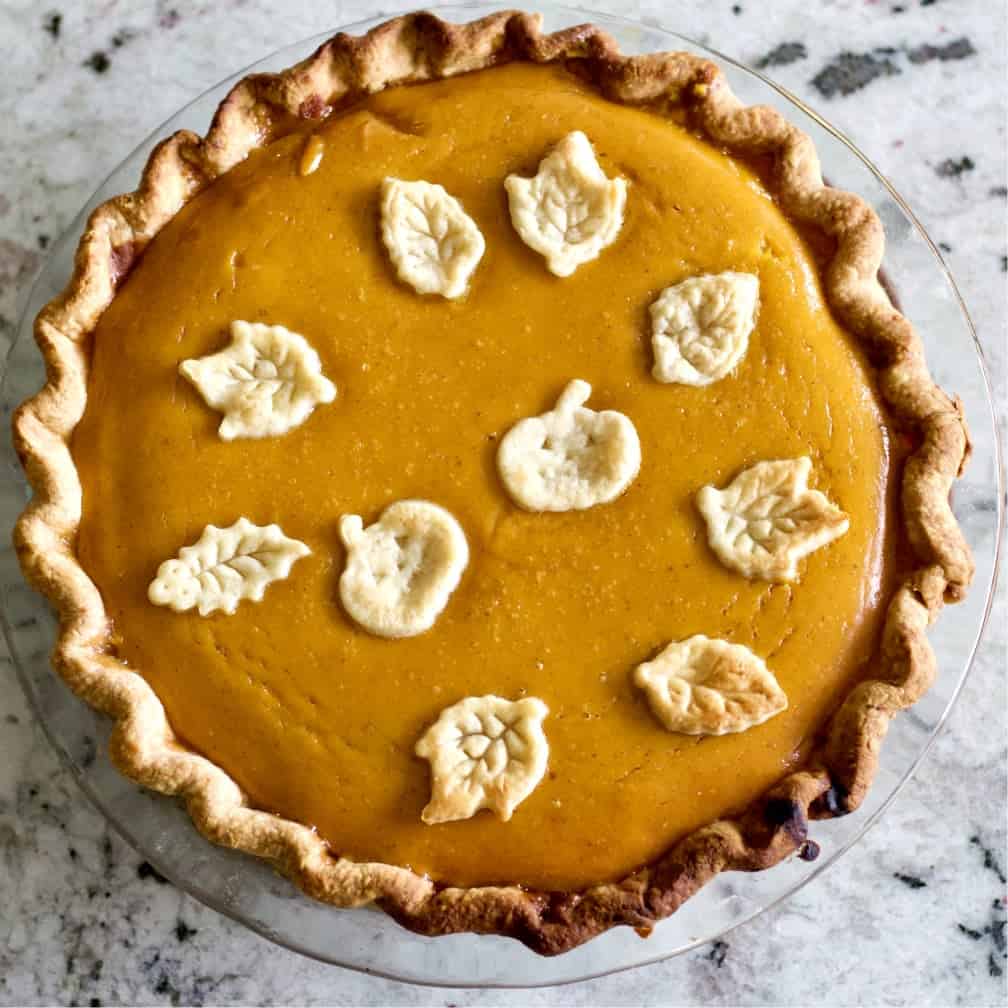 More Sweet Potato Recipes
It's always nice to have recipe ideas to use up your extra Sweet Potatoes and puree. Here are a couple of Thanksgiving dessert recipes, a yummy sweet potato appetizer and a sweet potato casserole side dish. They are all tested tried and true recipes.