Watch Us Make Pumpkin Pie. Sweet Potato Pumpkin pie is very similar!
Delicious Sweet potato pumpkin pie is a marvelous pie filling combination for the holiday season. The flavors are so rich and deep. This recipe makes two easy to make 10 inch pies.
Pumpkin pie is a traditional hallmark of the Holiday season. Sweet potato in with the pumpkin makes it even better.
RECIPE BONUS! Here's a cute idea for finishing your holiday single crust pies.
These adorable pie dough toppers are easy to make with cookie cutters.
Just cut out as many pumpkins as you like from your pie scraps and bake them on a cookie sheet (an egg white wash will help them shine and stand out).
I baked mine for about 10 minutes at 350 degrees until they were golden brown.
When the pie is baked and cooled arrange the pie toppers as you wish.
These pies and toppers are fun for kids to help with too. My granddaughter helped me make a Fall leaf top on my caramel Apple Pie. And just last week I added some leaves to my sour apple pie for fun. Check out those posts and their pictures if you need more inspiration. The cutouts make an EASY way to top a two crust pie for anyone having trouble with their top crusts….Just sayin.
Sweet Potato Pumpkin Pie Recipe:
We do potlucks at our family functions. My family is used to me bringing new recipes and bugging them all for a review. (Plight of the food blogger family don't you know).
After I made Sweet Potato Cinnamon Cake (which they also loved) I had about 2 cups mashed sweet potatoes left over. So, viola! This recipe was born and shared at our last Thanksgiving dinner. Yep, it was a hit with family. So I'm putting this well vetted holiday recipe on the blog for you.
Turns out Sweet potatoes and pumpkins partner very well in pies. Put that awesome, flavorful filling into a coconut oil pie crust OR Sourdough Pie Crust for happy taste buds and smiling faces. We found out that homemade cranberry sauce and whipped cream on top of your sweet potato pumpkin pie is Delicious.
Our family never tried topping pumpkin pie with cranberry sauce UNTIL Dave dared Brian to try it out of the blue. He liked it! And we all found out how good it really is. And then…yeah we found out we were actually late to the party on this idea. Apparently lots of people like their pie this way. Who knew?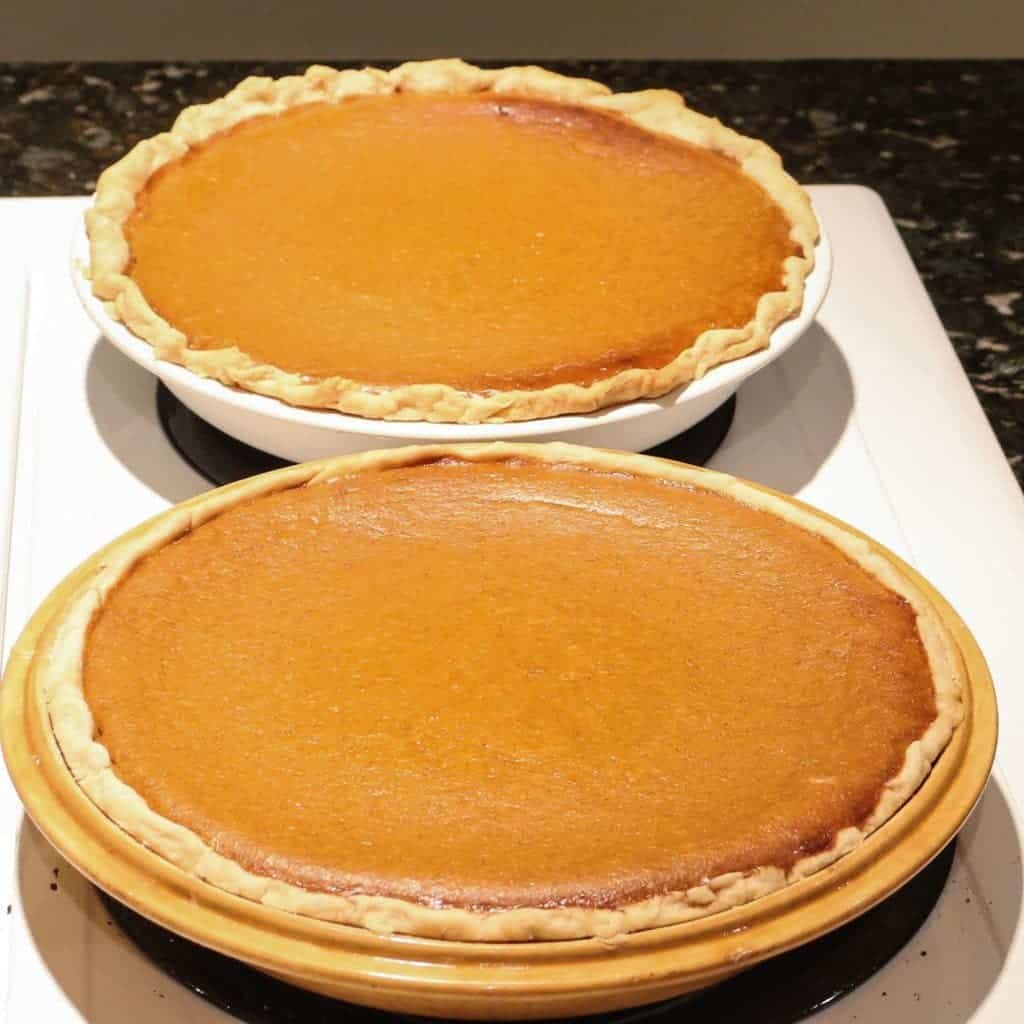 Sweet Potato Pumpkin Pies with coconut oil pie crust perfectly done.
The comments I received from devoted pumpkin pie fans ranged from great pie to "the most flavorful pumpkin pie I've had." The crust compliments were huge too!
This was another successful coconut oil crust début. My family of pie devotee's loved the texture and flavor of this crust. Smiling here. Coconut oil pie crusts are very easy to make!
Recipe Notes on Sweet Potato Pumpkin Pie:
This recipe makes two nice, tasty, very full 10 inch pies.
In order to use fresh sweet potatoes and pumpkin in this recipe:
Seed and cut the pumpkin in half and lay the halves face down on a baking sheet in the oven at 350 for 30 to 45 minutes until fork tender.

Cool to handle able temperature, peel and mash. Sweet potatoes can go on the baking sheet with the pumpkin and bake until tender.

Peel and mash the pumpkin and sweet potato and proceed with the recipe.
NUTRITIONAL INFORMATION:
372
Calories / Serving
Fat 7% 5 g
Carbs 24% 80g
Protein 9% 5 g
Yield: 16 slices in two pies
SWEET POTATO PUMPKIN PIE
Prep Time: 30 minutes

Cook Time: 1 hour

Total Time: 1 hour 30 minutes

Delicious Sweet potato pumpkin pie is a marvelous pie filling combination for the holiday season. The flavors are so rich and deep. This recipe makes two easy to make 10 inch pies.
Ingredients
1 15 oz canned pumpkin purée or about 2 cups fresh roasted mashed pumpkin
2 cups fresh roasted or boiled, peeled and mashed sweet potatoes
11/2 Cups sugar
1/2 tsp. salt
2 tsp. cinnamon
2 Tablespoons pumpkin pie spice
4 large eggs
2 12 oz. cans evaporated milk
Instructions
Prepare the pumpkin and sweet potatoes ahead of time as necessary.
Prepare two single crust unbaked pie shells. Either VERY full nine inch pies or 10 inch pies.
Pre heat oven to 425 degrees
Mix sugar and spices together in a small bowl and set aside.
Beat eggs in a large bowl with electric mixer.
Add in sweet potato and pumpkin and sugar spice mixture, beating after each addition.
Continue beating while gradually adding the evaporated milk.
Pour into the pie shells.
Bake for 15 minutes at 425 degrees.
Reduce heat to 350 degrees F and bake for 40 to 50 minutes or until a knife or toothpick in the center comes out clean.
Nutrition Information:
Yield:
16
Serving Size:
1 slice
Amount Per Serving:Calories: 372

If you purchase items from our affiliate links we may receive a small commission at no extra charge to you. Thank you for supporting Homemade Food Junkie.
SaveSave
SaveSave
SaveSave
SaveSave
SaveSave
SaveSave
SaveSave
SaveSave
SaveSave
SaveSave