Instant Pot Steamed Sweet Potatoes cook evenly and thoroughly in short order. Cooking any vegetable under pressure with an instant pot is a quick, easy and nutritious cooking method. Learn how to make Instant Pot Steamed Sweet Potato puree in this video. This process works for all squash that are seeded and chopped into 3 inch or smaller chunks. I use this process to make my Instant Pot Butternut Pumpkin Soup.
Cook up a batch of Instant Pot steamed sweet potatoes ahead as puree and store it in the fridge or freezer for quick yummy recipes like Sweet sweet Potato Cinnamon cake and Sweet Potato Pumpkin Pie. What is Thanksgiving and Christmas holiday without a good Sweet Potato Casserole? Pureed Sweet Potatoes are tasty!
This Naturally sweet, no fat, high fiber root vegetable adds an incredible wealth of nutrients and flavor options to your family diet. Sweet potatoes are loaded with antioxidants, beta carotenes, and much more.
If you are a homemade food junkie like me the Instant Pot opens new and better possibilities in the kitchen. Making puree with your instant pot is simple to do and store for later.
Wanna invite sweet potatoes to your breakfast menu? Try our Chocolate Chunk Sweet Potato Granola. Kids love it and this granola will fill them with delicious nutrients not a lot of unnecessary sugar.
Make your own baby food! Sweet potato puree is so easy, nutritious and inexpensive to make and babies love it. If you are a healthy meal planner, sweet potato puree is handy to keep in your fridge to freezer to add to smoothies, recipes and eat for snacks.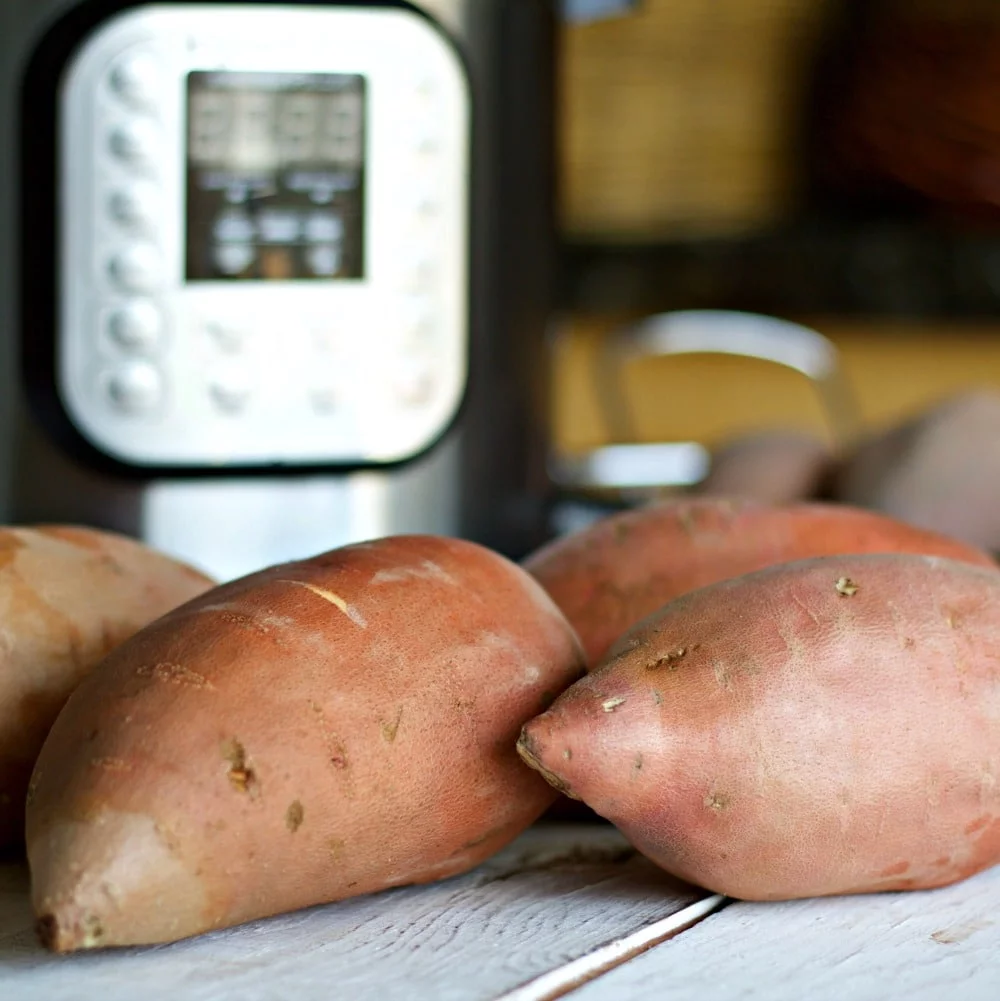 For further in depth nutritional information on sweet potatoes go to this fascinating WHFoods article. This is a vegetable you need to eat often! Back in the day, I used a metal steamer on the stove in a pot of boiling water to steam my veggies. Steaming under pressure with my Instant pot and Cuisine work steamer and mitt set is my favorite steamer method now.
This silicone steamer is so easy to maneuver in and out of the instant pot. The steamer has two separate handles that can lock together at the top to form a handle and help keep the food in the steamer.
The handy silicone mitts that came with my steamer don't let steaming hot water pass through to my fingers when I lift the steamer out of the pot. I appreciate that!
Steaming vegetables of all kinds in the instant Pot is incredibly easy. You will have to make a judgement call on how big your chunks are and what the exact chunk size calls for. Allowing the instant pot to natural release for 10 minutes before opening the lids will ensure the sweet potatoes are tender.
If you prefer, you can increase the time on the manual function to 9 minutes and then quick release. It's pretty much the same time frame to get your potatoes tender. I prefer the natural release method.
Why is the Instant Pot cooking more nutritious than my stove and oven?
Using organic sweet potatoes and Instant Pot 6 quart duo for quick cooking actually saves more nutrients than even stovetop steaming. Cooking with the instant pot retains up to 90 to 95% of the nutrients. And most often the lost nutrients are still live in the cooking water. Read this article by Wellness MaMa for more information on how cooking under pressure saves nutrients in food.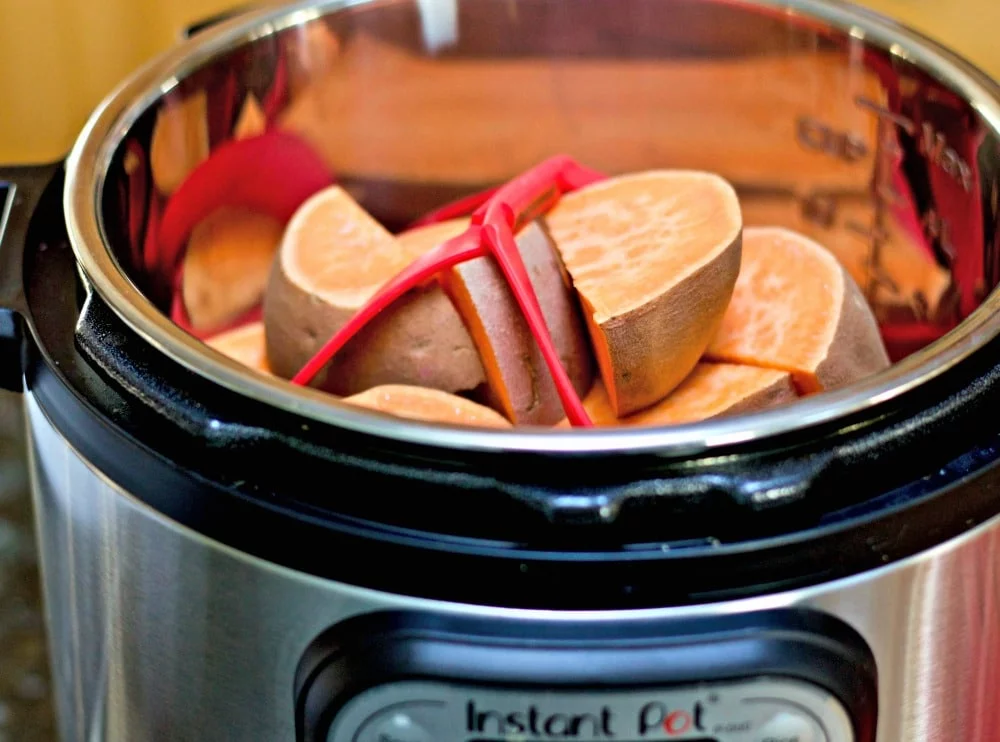 The instant pot heats up no more than a pot boiling on the stove or your slow cooker. Because Pressure cooking uses steam pressure instead of prolonged super high and damaging heat, nutrients survive Pressure cooking quite well. It is a very fast cooking method so food is subjected to damaging heat for a very short time.
Want to REALLY get nutritious? Use the cooking liquid left in the Instant pot bottom. The nutrients that are extracted while cooking are often live in the juices under the food. That's why I'm using the instant pot cooking water to thin my puree in the video. It adds lost nutrients back into the puree.
The instant pot is a healthier, easier and faster way to cook food. And it does not steam up my kitchen. Much of the nutrients and flavor go back into the food.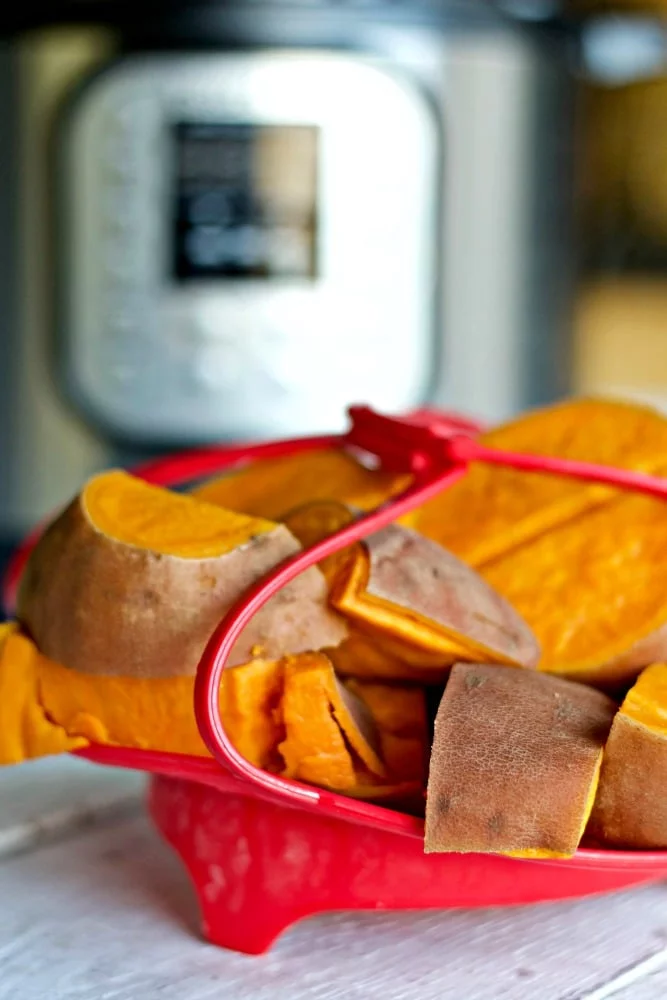 Instant Pot Steamed Sweet Potatoes Puree Recipe:
Making sweet potato puree is so easy! If you need to thin the puree for your recipe or baby simply add the cooking water back into the puree as you mix it. Adjust the consistency until you are satisfied.
Cook the sweet potatoes in your instant pot as shown in the video and the printable recipe details
Remove the sweet potatoes from the instant pot.
Slip off the skins and discard.
Puree sweet potatoes when fork tender.
Throw the cooked sweet potato chunks into a bowl.
Using a potato masher, electric mixer or your food processor mash them up. Sweet potatoes are dense with fiber so they will have characteristic fibers all through the mash. That is normal.
If the mash is thicker than you like, add the liquid remaining in the instant pot after you steam them (for an extra nutritional boost too) until you like the consistency of your puree.
Just scoop the pureed sweet potatoes into a covered bowl and refrigerate until needed; or freeze in an airtight freezer bag, ice cube tray or any airtight container
The Sweet Potato puree is so good and sweet just grab a spoon and eat it up. No further sweetener required. Instant Pot Steamed sweet potato puree will last several days (up to a week) in your fridge and several months in your freezer, properly stored.
That makes it easy to throw this healthy vegetable into many recipes all year long, like delicious (Chocolate Chunk Sweet Potato Granola ) without a lot of time and fuss. According to the WHFoods article I referenced, sweet potatoes actually offer more nutrients if served with a healthy fat.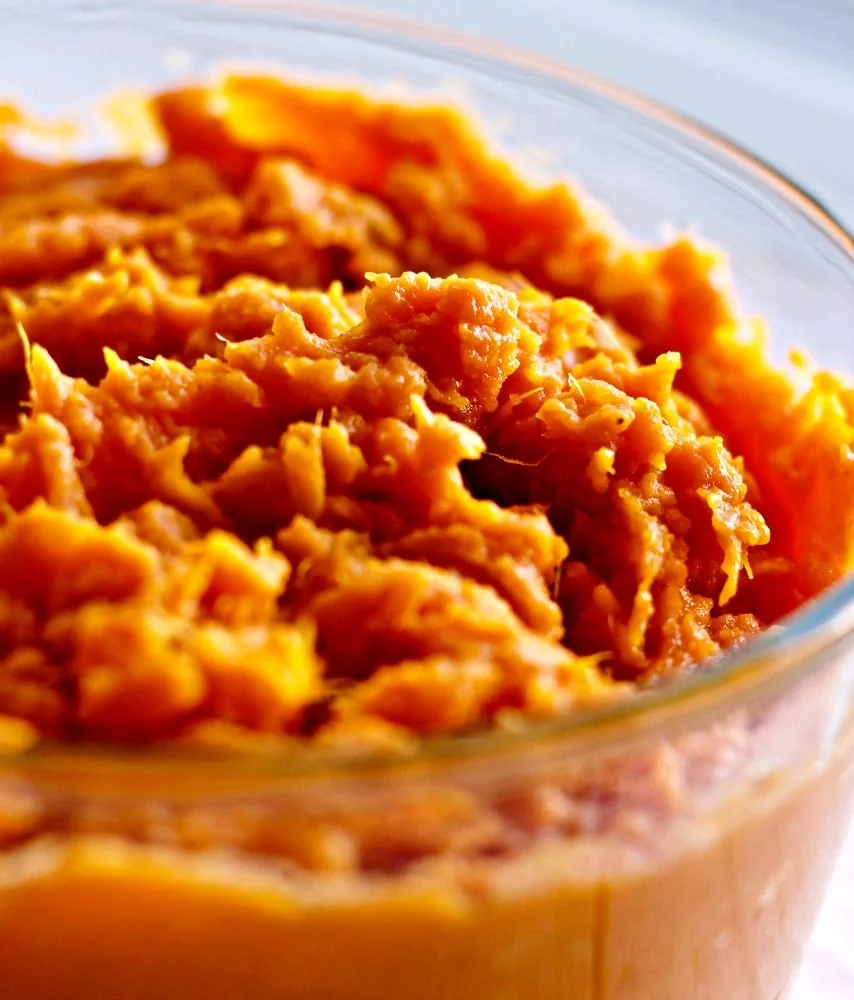 Instant Pot Steamed Sweet Potatoes make a great puree. Sweet enough to eat as a snack. Delicious!
Your Printable Recipe Card: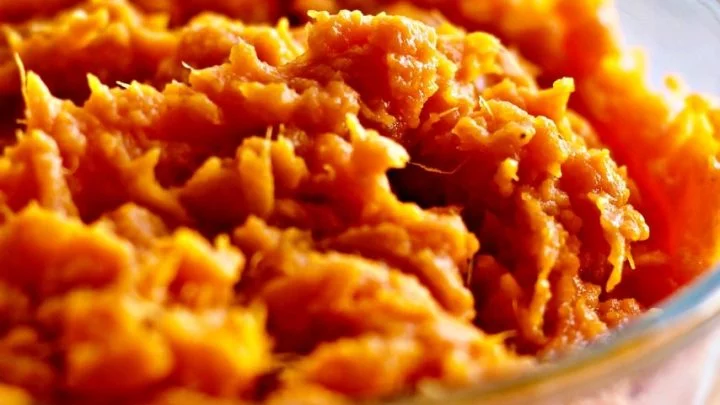 Yield:

4
INSTANT POT STEAMED SWEET POTATOES PUREE RECIPE
An easy way to make healthy sweet potato puree. Keep some on hand stored in your fridge for recipes. This method also works well for other winter squash.
Ingredients
2 Medium sized Sweet Potatoes cut into large chunks
1 Cup water
Instructions
Pour the water into the instant pot cooking insert
Load the sweet potato chunks into your steamer
Set the steamer into the instant pot cooking pot insert bottom over the water.
Lock the lid onto the instant pot and seal the vent.
Press the steam function key and adjust the minutes according to your sweet potato size. (I used 3 minutes and my chunks cooked perfectly.
Natural release for 10 minutes then remove lid and pull out the steamer.
Remove the skins from the sweet potatoes as soon as handleable.
Pour the sweet potatoes into a large bowl or food processor and mash them as desired
Adjust the puree consistency by adding the cooking water a little at a time as you mix until it's right.
Use puree warm in recipes or store in an airtight container in your fridge for up to a week.
Notes
This handy kitchen technique will also work to puree other hard shelled squash like pumpkin, acorn or butternut.
Keep puree handy in your fridge for soups and other recipes or a handy side dish for the family.
This puree freezes well for several months when properly stored in ziplock freezer bags.
Nutrition Information
Amount Per Serving
Calories

52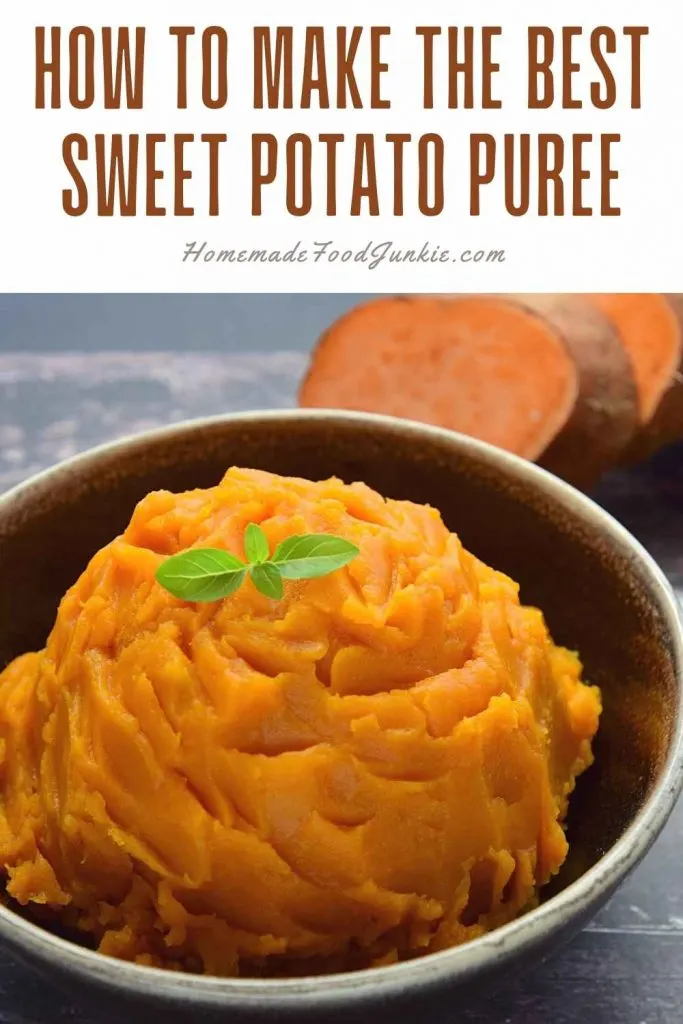 Follow Us:
We enjoy meeting you on our social networks. Follow us on Facebook, Pinterest, Instagram . Tag us with your pictures of our recipes and comment on how it went for you. We would love to see what you do with them.
We often like, comment and share your posts of our recipes on our daily Instagram stories.
Ask questions and rate the recipe in the comments section below. Please share what you did with this recipe. We are always looking for more and better ways to make homemade food. Other cooks love your ideas!
Recent Posts:
Video Music courtesy of: www.bensound.com SaveSave SaveSave SaveSaveSaveSaveSaveSaveSaveSaveSaveSaveSaveSaveSaveSave

If you Purchase Items from our affiliate Links we may receive a small commission at no extra charge to you. Thank you for supporting Homemade Food Junkie.