Instant Pot Butternut Pumpkin Soup is a beautiful healthy Fall or Winter Vegan, gluten free, soup with pureed butternut and pumpkin squash. This is a lighter soup with a bit of smoky curry and apple cider and honey sweetness.
If you don't have pumpkin make Butternut squash soup instead. It's easy. Use this recipe but replace the pumpkin with MORE butternut. The flavor will be almost the same.
This soup companions well with a hot sandwich or a piece of our homemade sourdough toast.
Welcome to our world of home made food. We organically grow lots of our food and almost never eat out. Dave and I have always stretched our dollars until they yell ouch! That means he eats what I cook, even leftovers. And He eats a packed lunch…mostly. Sometimes he sneaks off to the local food truck when he feels like splurging.
Puree your own whole butternut and pumpkin squash or use prepared or canned pureed squash as you like. Instructions are included for both methods. The slivered dates and cream (or any non dairy milk) on top add an extra bit of sweet and creamy to this soup. Pumpkin seeds would also give bit of crunch.
Watch me Demonstrate How Easy it is to quickly cook up a batch of ANY squash in the instant pot. The video shows you how!
I mostly cook REALLY cheap, but healthy food.
It's a good life. We are debt free now. Those dollars got a bit of a break when the mortgage was paid way ahead of schedule.
Over the years we have learned patience and self discipline. Fortunately we love to cook and eat our own food and grow a garden. Food is cheap and healthy. Life is good.
Our organic garden delivered us amazingly tasty organic pumpkins and butternuts in ABUNDANCE this year. Our friends and family got a few.
But! There are a ton of butternuts and sugar pie pumpkins sitting on a table in our cold back room,(Someday it will be our new living room-Patience!) waiting to be used up. .
It's time to make puree for the freezer and make Instant Pot butternut soup while I'm at it. I love my chest freezer and my instant pot. They make processing our garden much more doable.
Making puree out of squash on the stove takes forever and makes a wet steamy mess of my kitchen. I can cook a LOT of butternut and pumpkin in the instant pot very quickly and it's not so messy. I do this in small batches when I have a bit of time while I'm doing other things(Like baking sourdough bread.) that don't require my instant pot.
I HATE peeling raw squash. And pumpkin? Forget it. Those skins are tough. They laugh at my puny potato peeler. So I cook all my squash and anything else I am pureeing (I also use this method for sweet potatoes), in my instant pot. And then the peels fall right off. Much easier!
I'm thinking I might invite Kayti and Heather's 8 quart instant pots over for a butternut and pumpkin puree party.
I have made roasted Butternut Pumpkin soup on my stove top for years and years. Roasting the squash before pureeing intensifies and sweetens the squash flavor. Like squash candy! But it takes a lot longer to do than steaming it my instant pot for 5 minutes under pressure.
With this much squash I'm sticking to the instant pot to get through my garden bounty. It's much less work. Butternut and pumpkin puree are very healthy and have excellent flavor when pressure cooked.
Pressure steaming the squash OVER a small amount of water instead of boiling the squash chunks IN a huge pot on the stove also saves both water and nutrients. TIP: When you blend the peeled squash chunks add the steam water into the puree to save every nutrient.
I changed up my trusty Butternut Pumpkin soup recipe to do this vegan version in my instant pot. So I replaced the heavy cream with almond milk. It's delicious!
A simple healthy soup like this is what I want after the holidays are over. That extra five pounds of heavy post Holiday calories I'm carrying is about to get flushed out with healthy light soups like this one and my detox Red lentil soup.
This easily digestible soup is FULL of fiber to clear the digestive tract. Winter squash is also VERY good for you.
BUTTERNUT PUMPKIN SOUP RECIPE NOTES:
This is an incredibly easy soup to make. Even the squash peeling and pureeing is no problem with your instant pot. Visit my post about pureeing sweet potatoes in the instant pot if you have further questions on the process. Watch the video to see how I cook, peel and puree, sweet potatoes in the instant pot. The process is the same for all squash. Just the time of processing is different. I use about 3 to 5 minutes on manual high pressure for squash and pumpkin. It depends on your chunk size.
There are several methods to make this pumpkin butternut soup. Choose whatever works best for you. I am assuming you have a fresh whole butternut and pumpkin like I do. That's why I'm showing you the method I use to peel and puree the squash.
If you have either frozen thawed homemade puree or canned puree this recipe gets even easier. Skip the first instruction group entirely and hop down to the make the soup section.
We enjoy curried butternut soup. And I added curry to this butternut pumpkin soup too. Curry brings in a nice flavor component we enjoy. If you are not a fan of curry, Just omit it.
Your Printable Recipe: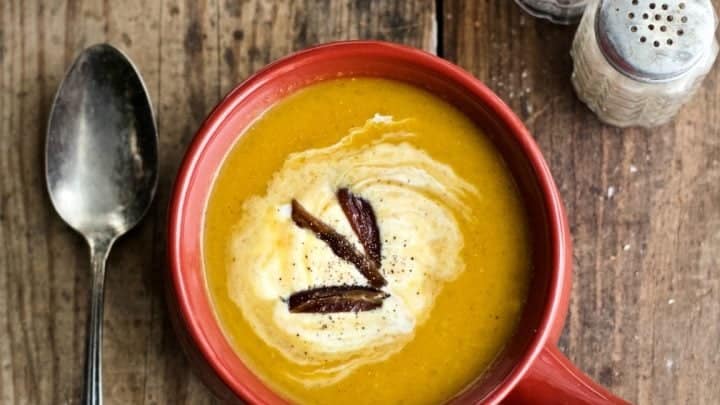 Yield:

8 servings
Instant Pot Butternut Pumpkin Soup
Instant Pot Butternut Pumpkin Soup is a beautiful vegan, gluten free soup with pureed butternut and pumpkin squashes. A lighter soup with a bit of apple cider sweetness. Make it from whole butternut and pumpkin squash or prepared puree. Instructions included for both methods.
Ingredients
1 medium sized Butternut Squash OR 8 cups butternut puree
2-15 oz Cans Pumpkin Puree OR 1 Medium sugar pie pumpkin, or 4 cups fresh pumpkin puree
1 1/2 Cup Water
2 cups Vegetable Broth
1 1/2 cup Apple Cider
1 1/2 cups unsweetened almond milk
2 tbsp Honey
1 tsp Curry Powder
2 tsp Cinnamon
2 tsp Salt
1/2 tsp Black Pepper
(for garnish)
1/4 Cup Cream, or non dairy milk, Pumpkin Seeds and slivered dates all make good garnishes for this soup
Instructions
To make squash puree in the instant pot from raw unpeeled squash.
Cut the UNPEELED butternut and pumpkin into large chunks and place them into the instant pot on the insert tray or a steamer.
Pour 1 1/2 Cup water into the instant pot and lock the lid with the steam vent closed.
Press the manual function on your instant pot and set the time to 5 minutes. Quick release.
Open the lid and remove the cooked squash pieces to a silicone matt or clean cutting board. (KEEP The COOKING WATER IN THE POT)
Allow the squash to cool about 10 minutes(Or peel immediately using the silicone mitts to handle the squash). Remove peels easily with a knife.
To make the soup from Hot cooked peeled squash with retained water in the instant pot
Return the puree to your instant pot with the retained cooking water and mash with a potato masher, electric mixer or immersion blender. Or blend the peeled chunks in your blender with the cooking water.
In your instant pot, combine butternut squash puree, pumpkin puree, vegetable broth, apple cider with the retained cooking water already in your pot.
Stir the almond milk, honey and spices into the cooked soup.
Serve if the soup is warm to your liking. Further warm the soup on saute function on high heat stirring often so it doesn't burn(or warm in your microwave a soup bowl at a time. (that's what we do).
Garnish with pumpkin seeds, coconut or almond milk and cinnamon as desired.
To make this soup using already PEELED uncooked squash chunks
Add all ingredients to the instant pot-except any CANNED puree and garnishes
Lock the lid and seal the steam vent. Press the manual function and set for 10 minutes. Quick release.
Use an immersion blender to blend the soup smooth or put it through your blender in batches. Add in your canned puree if using and stir it all together.
Garnish with date slivers, pumpkin seeds and non dairy Almond milk as you prefer.
Notes
The thickness of this soup is easily adjusted to suit your tastes. Simply increase the liquids or the squash amount as you prefer.
If using canned or frozen purees instead of fresh cooked and pureed squash with the cooking liquid retained. add an extra 1 1/2 Cups of water or broth to the soup or adjust the thickness to your preference
Nutrition Information
Yield
8
Serving Size
2 cups
Amount Per Serving
Calories

341
Total Fat

8g
Saturated Fat

4g
Trans Fat

0g
Unsaturated Fat

4g
Cholesterol

12mg
Sodium

930mg
Carbohydrates

66g
Fiber

16g
Sugar

27g
Protein

8g
Are you looking for
more soups
or
Instant Pot recipes?
Please share this recipe and comment and rate it below if you make it and love like we do. Thank you! We are always here to answer your questions and help when we can. Lets chat!
Pin it:
SaveSave
SaveSave