Maple Date Bars are a gooey, yummy bar dessert that replaces granulated sugar with the natural sweetness of dates and Pure Maple syrup.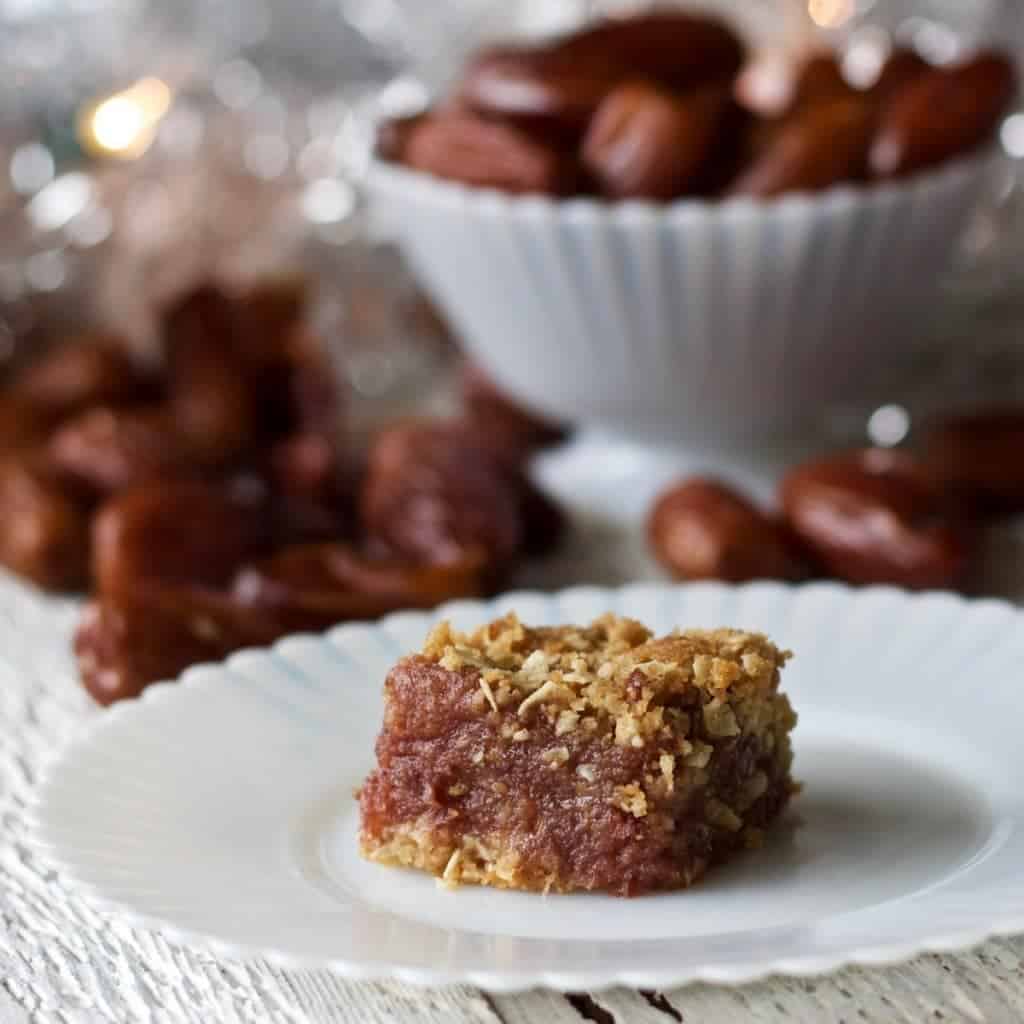 I found this yummy bar dessert digging around in my grandmother's old Betty Crocker cookbook. How fun to discover it's not only nostalgic, but also a rather trendy and, for a treat, a healthier recipe. I recently became aware, after perusing my grandma's recipes and doing a little online research, that dates were a mainstay sweetener in the kitchen back in the World War 2 era.
Sugar was rationed at the time, and very expensive! Home cooks substituted dates in their recipes. Many cookbooks also published low sugar recipes, using dates.
Is this recipe actually healthy? That depends on what your definition is. These days the healthy word is very overused. Any two people will have a different take on it. Let me say this recipe is full of natural unprocessed (mostly) ingredients. There is brown sugar in the crumble though.
What's so great about Dates?
Dates are about half way up on the glycemic scale. According to this article by From the Grapevine.com, dates make an excellent sweetener and will replace granulated sugar (which is very high on the glycemic index )in many recipes just fine. This is great news for anyone trying to reduce their sugar intake. Dates do not cause sugar spikes in the blood either. They are full of excellent health properties(see below) and can be used to sweeten recipes instead of sugar in either a date sugar form or a cooked mash.
Nutrition of dates:
These wonderfully delicious fruits are very good for you! Among the health benefits listed by NutritionandYou .com are the following:
high fiber content
excellent source of iron, and other minerals like calcium, manganese, copper, and magnesium
source of Tannins and vitamins and carotenoids.
When used as a sweetener they are Much lower in calories than sugar!
For more in depth reading on dates nutrition, follow the link.
Your NOT going to need to defend this dessert on the basis of healthiness (It's still FULL of carbs). These bars stand up to the pickiest of eaters. Even kids love them. The flavor of these bars is well enhanced by the addition of maple syrup.
Recipe Notes For Maple Date Bars Recipe:
Bake Maple Date Bars a day or two ahead if you like, keep them wrapped in the fridge and cut them cold at serving time. A healthier, sweetly rich addition to your party tray, dessert board or snack plate. Or use this recipe as a last minute extra.
These bars are quick to make and can be cut as soon as they are cooled to room temperature, BUT, they will be gooey. Still very well received, but you will need a plate and fork and they will be tricky to cut! Definitely cool them completely to help reduce the crumbles and improve the ease of cutting them into cute bars.
I had absolutely NO complaints about the crumbles, or gooeyness. Just lots of " Yummy" remarks and "seconds please!" Even my pickiest eaters love these grandkids approved treats. These are definitely going on my Christmas menu. I hope you enjoy them as much as we have.
You CAN cut the filling half and still have a nice bar that is flatter and not quite as messy. I'll leave that up to you. Enjoy!
Nutrition Information:
184 calories/bar
Fat

7 g

Carbs

32 g

Protein

2 g
Yield:

36 bars
MAPLE DATE BARS
Maple Date Bars is a quick and easy dessert easily made ahead for desserts or parties. Full of healthy dates and sweetened without granulated sugar for a healthier flavorful yummy treat the whole family will enjoy.
Ingredients
(for the filling)
3 Cups chopped pitted dates
1 1/2 cups water
1/2 cup maple syrup
(For the Bar crust and topping)
1 cup packed brown sugar
1 cup coconut oil melted
1 3/4 cups all-purpose or whole wheat flour
1 1/2 cups quick-cooking or regular oats
1/2 teaspoon baking soda
1/2 teaspoon salt
Instructions
Heat oven to 400°F.
Grease bottom and sides of 9x9-inch pan.
In 2-quart saucepan, cook filling ingredients over low heat about 10 minutes, stirring constantly, until thickened. Cool 5 minutes. Pulse the filling in your blender to smooth it out.(if desired, I did.)
Meanwhile, In large bowl, stir brown sugar and coconut oil until well mixed. Stir in flour, oats, baking soda and salt until crumbly.
Press half of the crumb mixture evenly in bottom of pan.
Spread with filling. Top with remaining crumb mixture; press lightly into the filling.
Bake 25 to 30 minutes or until light brown.
Cool in pan on cooling rack.
Cut into 6 rows by 6 rows when set up at room temperature.
Notes
Cut the filling in half to lower the calories and make a flatter bar.
Allow the bars to chill thoroughly for best cutting results.
Nutrition Information
Amount Per Serving
Calories

184
Pin it:
Recipe adapted from Betty Crocker.com