Luscious Blueberry Apple Overnight Bread Pudding is an easy overnight breakfast casserole ready to bake first thing in the morning. Make this sumptuous recipe the night before a special occasion like Christmas morning, birthdays, or Easter breakfast.
This recipe also makes a decadent French Toast when made with a thick brioche or Texas toast. Top with our homemade icing, a light powdered sugar dusting, or a drizzle of pure maple syrup.
We love breakfast meals that can be prepped and assembled the night before. Our Homemade Cinnamon rolls are a favorite sweet recipe that can be done the evening before and finished in the morning for fresh sweet rolls. We also have a savory Sausage Breakfast Casserole and a Smokey Zucchini Casserole for a hearty, healthier start to your day.
Does Bread Pudding keep overnight?
Bread Pudding is a great make ahead dish that can be assembled and stored in the fridge the night before a busy morning. Simply prep the ingredients in your baking dish, cover and place in your fridge. Just bake it in the morning!
It also reheats well, if you have leftovers they can be stored in the fridge for 3 days. When you are ready to finish them up, simply remove and reheat for a few minutes in your microwave.
Why is my Bread Pudding mushy?
If you are finding that your Bread Pudding bakes mushy, there are a few things you can try to prevent this from happening
Let the bread sit out and become slightly stale. This will reduce the moisture in the bread which will help it retain its shape and texture during the baking process.
You can toast the bread slightly before assembling the bread pudding if you wish.
Be mindful of your overall liquid ratio. Too much liquid is usually the main culprit in soggy Bread Puddings.
Try swapping out the fruits you use. Opt for fruits with lower liquid content, and toss berries in a light dusting of flour to help absorb the juices that they release during the baking process.
Blueberry Apple Overnight Bread Pudding Recipe
This BlueBerry Apple Overnight Bread Pudding casserole is a make ahead baked french toast you finish in the morning. All the prep and clean up is done before bed the night before. Simply wake and bake.
Making the icing for your Bread Pudding
If you are choosing to top your Bread Pudding with a homemade icing, you can whip it together quickly while the breakfast casserole is cooling. Now, it's ready to serve warm with a bit of pure maple syrup.
The icing is a simple combination of powdered sugar, milk, and vanilla extract. It brings a beautiful touch of sweet for those special occasions.
What do you serve with Bread Pudding?
Bread Pudding is a sweet bread casserole that can be made in a variety of ways, and served with a wide range of sides and toppings.
Drizzle with pure maple syrup
Cover in a light powder sugar dusting
Top with homemade vanilla whipped cream
Serve alongside eggs, bacon, or sausage for protein
Whip up a Brandy Butter Sauce to top it with
Top with a homemade buttermilk caramel sauce
Enjoy with a side of fresh seasonal fruit
Your Printable Blueberry Apple Overnight Bread Pudding Recipe Card:
Yield:

14 servings
Blueberry Apple Overnight Bread Pudding
Total Time:
1 hour
15 minutes
Luscious, eggy, BlueBerry Apple Overnight Bread Pudding. An easy overnight breakfast casserole ready to bake first thing in the morning. Make this sumptuous recipe the night before a special occasion for a big crowd. Perfect for Christmas morning or special large crowd breakfast.
Ingredients
3 Cups chopped apples (fresh or frozen-well drained)
3 Cups Blueberries (fresh or frozen)
1 Large loaf french bread
3 Cups milk
6 large eggs
1/4 Cup Maple syrup
11/2 tsp. vanilla
11/2 tsp. almond flavoring
1 Tablespoon cinnamon
1 tsp. apple pie spice
1 Tablespoon butter
(For the Icing)
Cup powdered sugar
1 Tablespoon milk
1 tsp. vanilla
Instructions
Grease a 9 x 13 baking dish
Cut the loaf of french bread in half long wise and tear into large chunks. Lay the chunks into the pan bottom making a layer.
Whisk eggs, milk, syrup and flavorings in a large bowl. Pour over the bread.
Sprinkle the cinnamon over the bread layer.
Pour the chopped apples over the bread chunks and push the apple pieces into the crevices.
Repeat with the blueberries.
Drop the butter in small chunks over the pudding.
Cover the baking dish and store in the fridge overnight (up to 24 hours)
IN THE MORNING:
Bake at 350 degrees for about an hour, until golden brown. Remove from oven.
Whisk together the icing and put into a sandwich bag. Cut off a small corner of the bag. Drizzle the icing over the cooled pudding. Serve
Recommended Products
As an Amazon Associate and member of other affiliate programs, I earn from qualifying purchases.
Nutrition Information
Yield
14
Serving Size
1 Cup
Amount Per Serving
Calories

290
Follow Us:
We enjoy meeting you on our social networks. Follow us on Facebook, Pinterest, Instagram . Tag us with your pictures of our recipes and comment on how it went for you. We would love to see what you do with them.
We often like, comment and share your posts of our recipes on our daily Instagram stories.
Ask questions and rate the recipe in the comments section below. Please share what you did with this recipe. We are always looking for more and better ways to make homemade food. Other cooks love your ideas!
Recent Posts: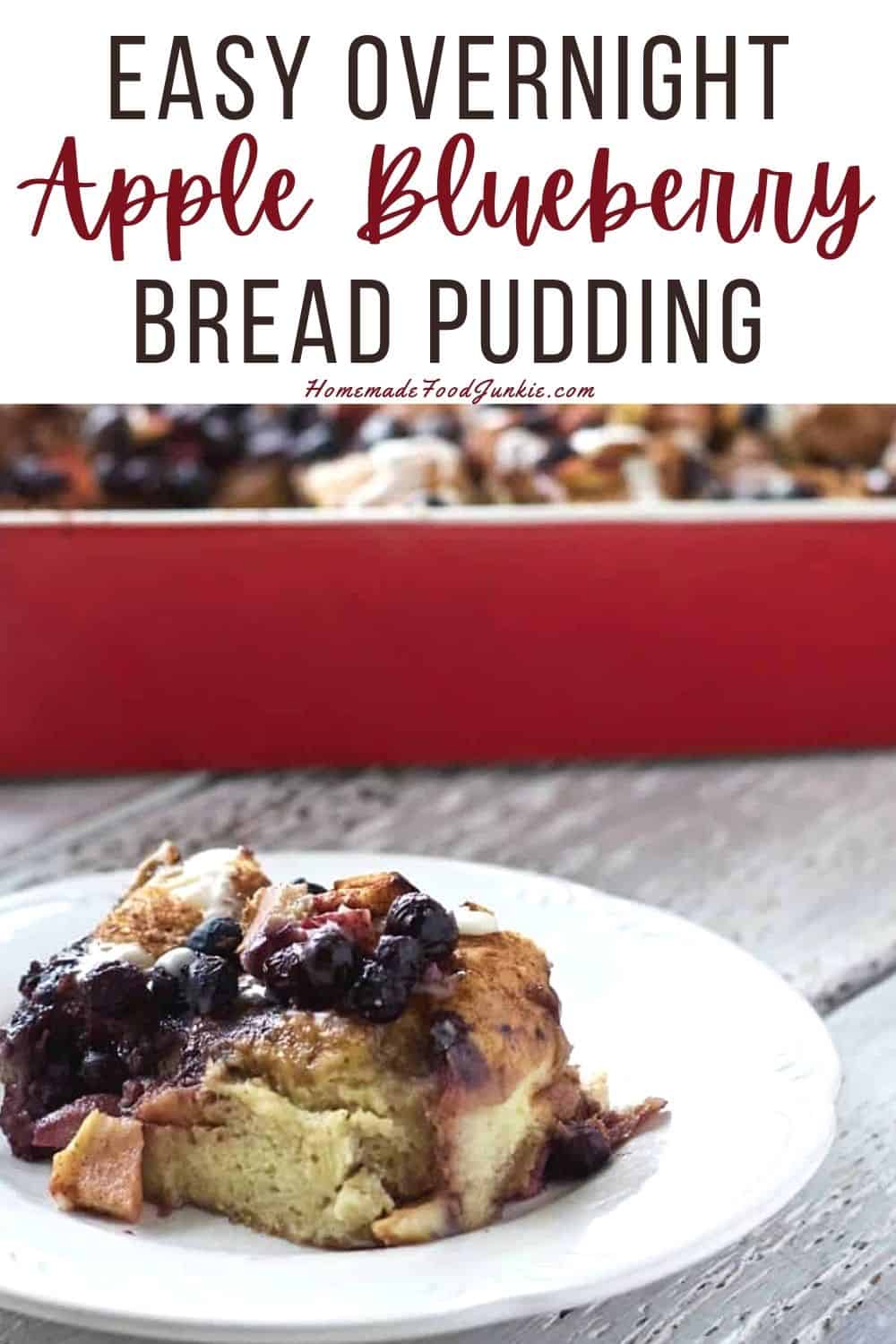 Adapted from Women's Day Overnight Bread pudding