Homemade Buttermilk Caramel Sauce is rich, thick and delicious. This sticky, buttery sauce uses real butter and buttermilk for a decadent dessert condiment. Pour it over your ice cream, cheesecakes, and cookies; use it to make caramel desserts, finish your chocolate cocktails, and top your iced coffees.
Buttermilk Caramel Syrup is easy to make and a fantastic way to enjoy caramel with a healthier edge than what you will find in store bought brands.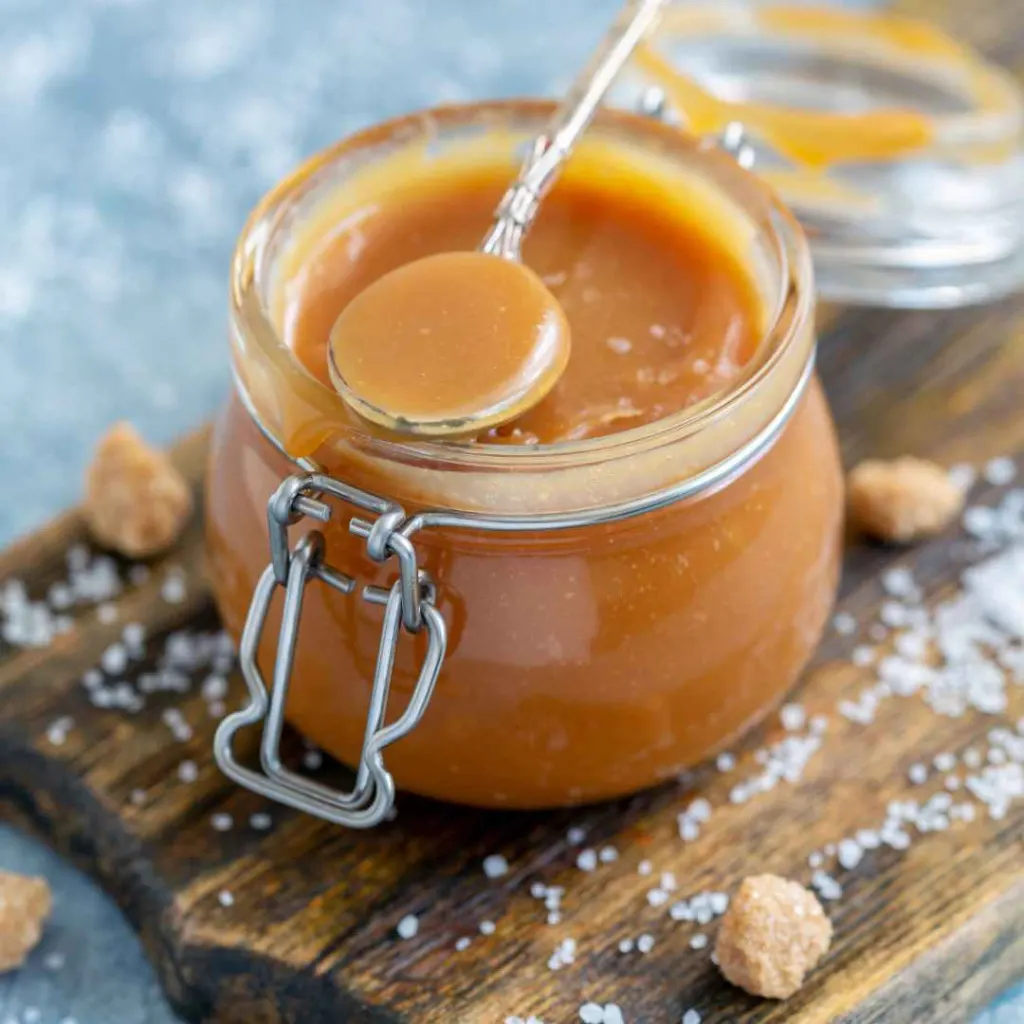 What is Buttermilk Caramel Sauce?
Buttermilk Caramel is a type of caramel sauce that is made with buttermilk and sugar. It is typically made by cooking sugar until it reaches a golden brown color, then adding buttermilk and butter and continuing to cook until the mixture thickens. The resulting sauce has a rich, creamy texture and a tangy flavor from the buttermilk.
If you need a thicker, more spreadable caramel sauce, try Inger's Single Ingredient Caramel Spread. It is made with condensed milk and yields a heavy, butter like spread perfect for cookies and caramel tray bakes.
What does adding butter do to Caramel?
The use of butter, cream, and buttermilk in caramel creates a chemical reaction due to the proteins they contain. This reaction happens when they mix with the hot sugar, creating a noticeable depth and flavor to the caramel sauce. The texture of the sauce will also be improved as the added fats yield a thick, creamy consistency.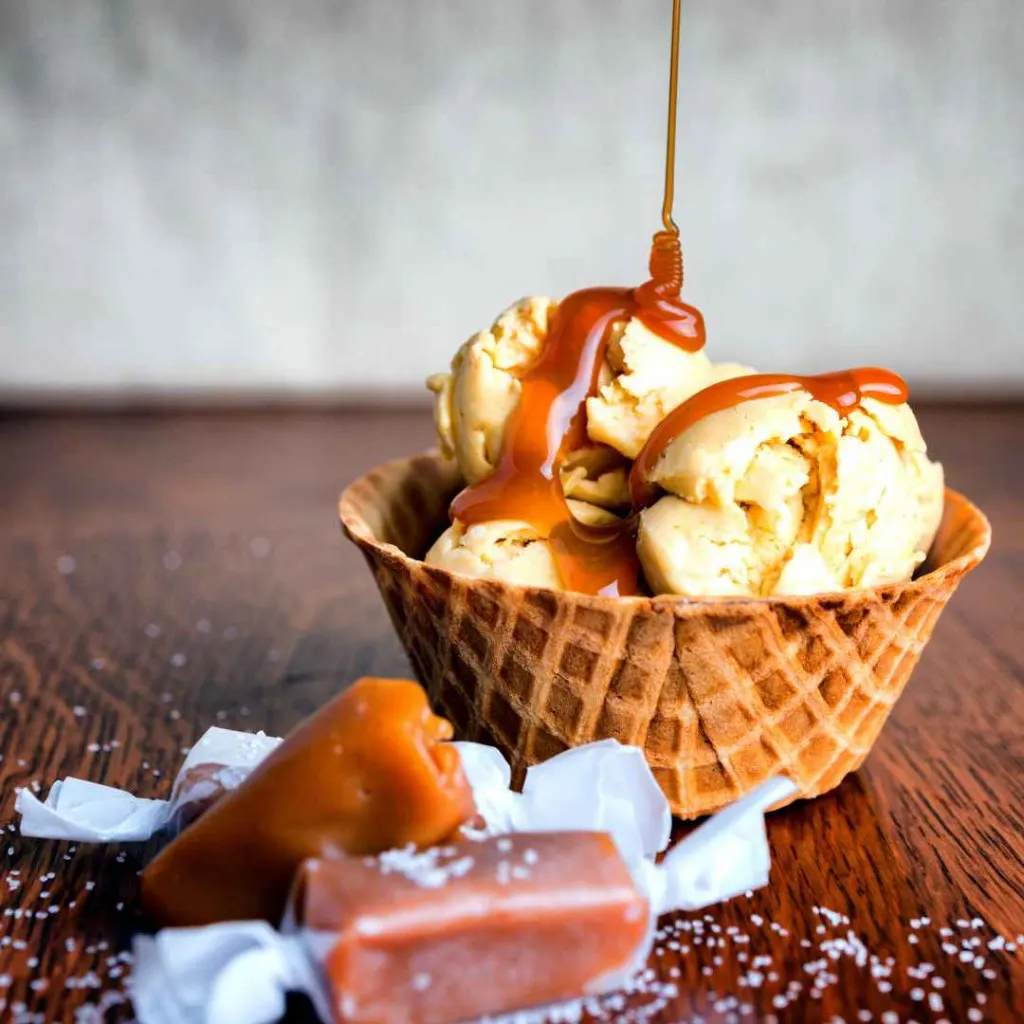 Why is my Caramel Sauce grainy?
Caramel Sauce that has a grainy consistency is caused by sugar crystallization. Fortunately, it is a simple fix and can be completely avoided by using proper technique when cooking caramel. Heating the sugars evenly and slowly will prevent it from burning, it will also keep it from crystallizing which happens when the heated sugars come in contact with cool temperatures, causing them to loose moisture and turn back into sugar crystals.
How do I keep my Caramel Sauce from hardening?
There are a few things you can do to help prevent your caramel sauce from hardening, we are sharing a few tips for you to try if you are encountering this problem.
Adding lemon juice will aid in preventing the sugars from crystallizing and forming a hard, thick sauce. The use of butter and cream will also help to keep caramel sauce soft and creamy because the proteins act as a barrier, keeping the sugars from crystallizing.
Use a lower cooking temperature. This can help to prevent the sugar from caramelizing too much, which can cause it to harden. To do this, reduce the heat slightly while cooking the caramel and be sure to stir it frequently to help prevent it from burning.
Caramel sauce can harden when it is stored in the refrigerator, especially if it is allowed to cool too quickly. To help prevent this, make sure to store your caramel sauce in an airtight container and let it cool to room temperature before refrigerating. You can also store the sauce in the refrigerator in a heat-proof container, such as a glass jar, and warm it up in a pan of hot water before serving.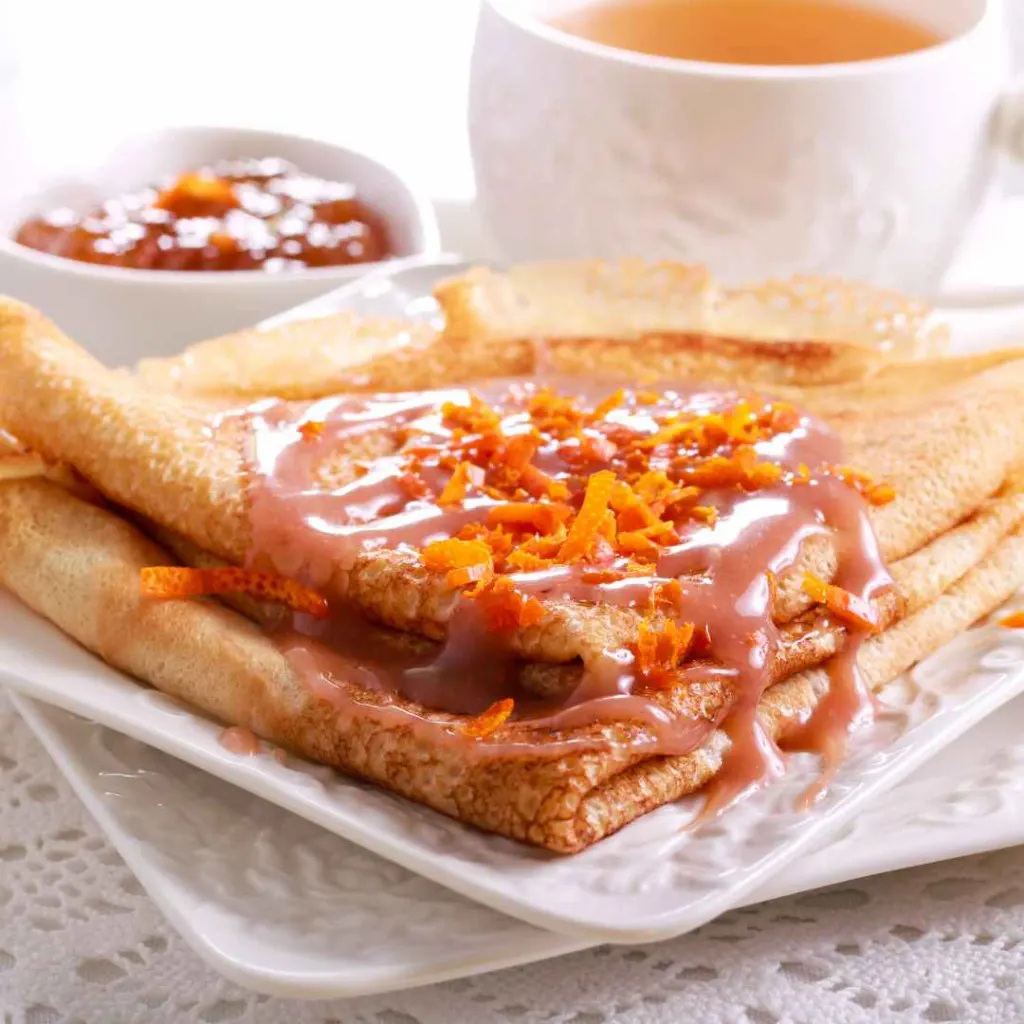 What can I serve with Buttermilk Caramel Sauce?
This sauce is creamy and decadent making it a fantastic dessert condiment and sweet treat. Here are some of our favorite ways to enjoy it
As a topping on ice creams, cheesecakes, and cookies
Enjoy with crepes, waffles, muffins and other breakfast pastries
Serve as a fondue sauce with fresh fruits, pastries, or cookies
Use to finish Kahlua, chocolate or espresso based cocktails
Drizzle over iced coffees and hot chocolate drinks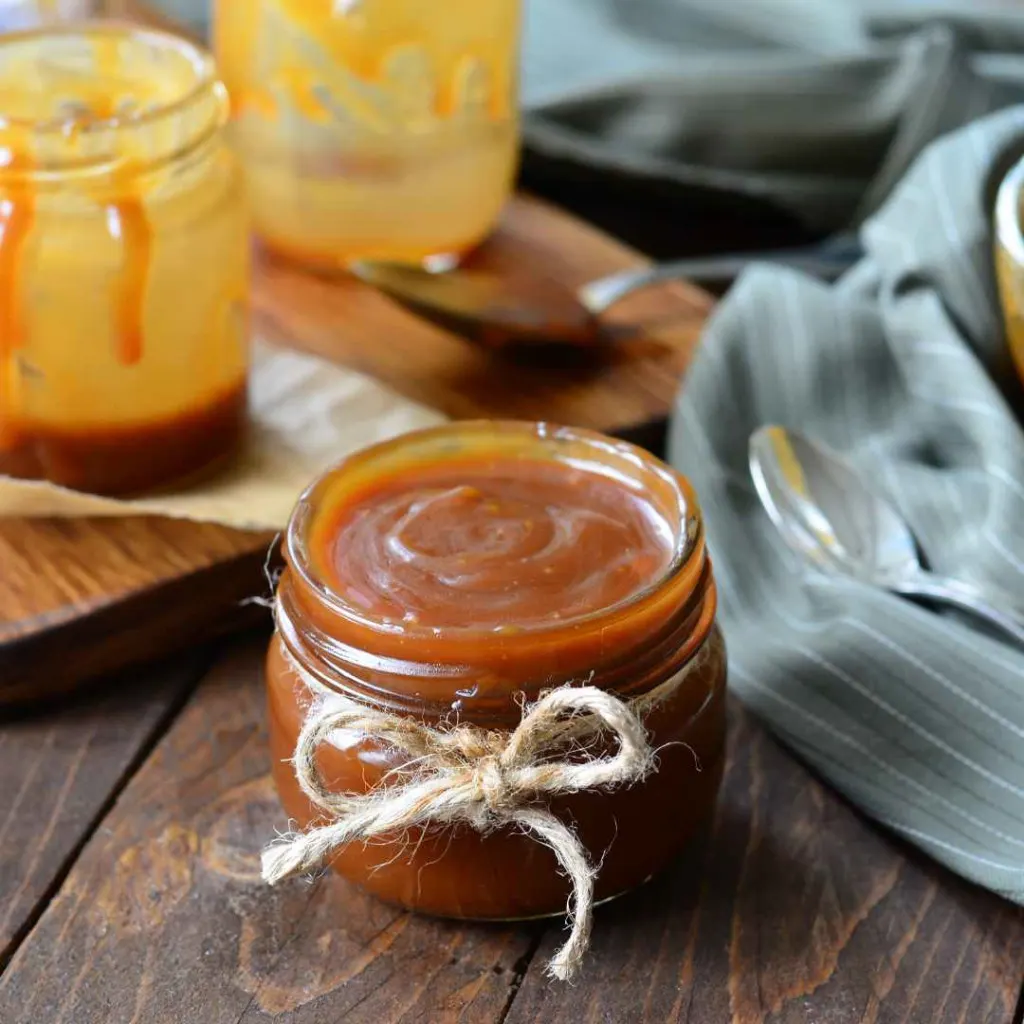 Here is your printable recipe:
Yield:

16 servings
Homemade Buttermilk Caramel Sauce
Additional Time:
20 minutes
Homemade Buttermilk Caramel Sauce is Rich, thick and delicious. This sticky, buttery sauce uses real butter and buttermilk. The flavor is outstanding! You won't buy syrup for ice cream, desserts or pancakes after tasting this delectable sauce!
Ingredients
3/4 Cup buttermilk
1 1/2 Cups sugar
1/2 Cup butter
2 Tablespoon corn syrup
1 tsp. baking soda
1 tsp. vanilla extract
Instructions
Measure out buttermilk, sugar, butter, corn syrup and baking soda into a very large pot
Heat to medium high and gently stir together until it boils
After it bubbles, reduce heat to low and maintain a simmer
Stir another 8 or so minutes until the caramel turns deep golden brown and slightly transparent. It will be slightly foamy
Remove from heat, stir in the vanilla and let cool
The foam will form a skin on top. Remove that foamy skin for best, prettiest syrup
Nutrition Information
Yield
16
Serving Size
1
Amount Per Serving
Calories

136
Total Fat

6g
Saturated Fat

4g
Trans Fat

0g
Unsaturated Fat

2g
Cholesterol

16mg
Sodium

148mg
Carbohydrates

21g
Fiber

0g
Sugar

21g
Protein

0g
Follow Us:
We enjoy meeting you on our social networks. Follow us on Facebook, Pinterest, Instagram . Tag us with your pictures of our recipes and comment on how it went for you. We would love to see what you do with them.
We often like, comment and share your posts of our recipes on our daily Instagram stories.
Ask questions and rate the recipe in the comments section below. Please share what you did with this recipe. We are always looking for more and better ways to make homemade food. Other cooks love your ideas!
Recent Posts:
Recipe from: our best bites